Craving a filling meal that's easy to make? You'll definitely want to whip up this tuna potato salad! It's packed with nutrient-dense veggies and protein-rich tuna to help fuel your body. And there's no mayo in this main dish – instead, everything is tossed in a delicious honey mustard dressing.
Disclosure: This post is sponsored by Blue Harbor Fish Co. As always, all opinions are my own.
How to make tuna potato salad
This is going to be a bit different from your standard tuna salad or potato salad recipes. We're skipping over the mayo and packing in some extra veggies to make this a one-bowl meal that will satisfy the family.
To make this hearty dish, you only need 10 ingredients – most of which are simple things you probably already have on hand in your pantry, freezer, or fridge:
Potatoes
Olive oil
Salt
Frozen spinach
Blue Harbor Wild Albacore Tuna in Water with Sea Salt
Cherry Tomatoes
Red onion
Grainy Mustard
Honey
Cider Vinegar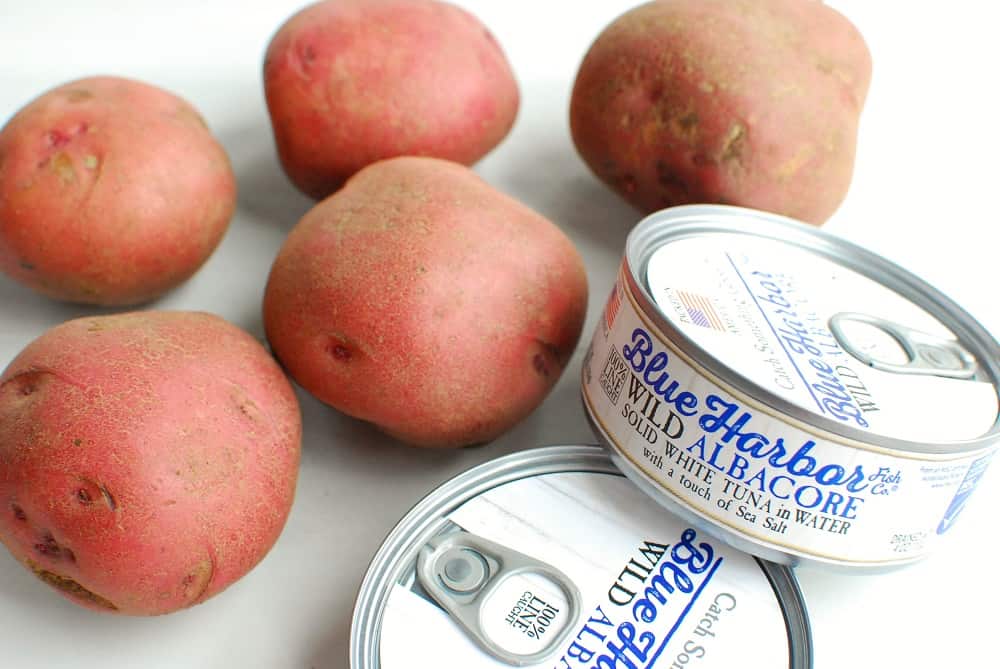 You might notice I personally use Blue Harbor's canned tuna – definitely grab it for this recipe. Their albacore tuna is high quality with a great taste. Plus, Blue Harbor is also invested in sustainability, making sure they fish from waters with healthy levels of fish species, and ensuring minimal ecosystem impacts. You can find locations where it's sold (or buy it online) using their product locator!
Alright, got all your ingredients? You'll start by chopping up those potatoes and tossing them in a little olive oil and salt, then roasting them in the oven. Roasting helps bring out the flavor and makes for that perfect crispy-outside-yet-tender-inside texture.
While the potatoes are cooking you can get everything else ready for the salad, like chopping up the tomatoes, cooking your frozen spinach (I just microwave it!), and preparing your honey mustard dressing.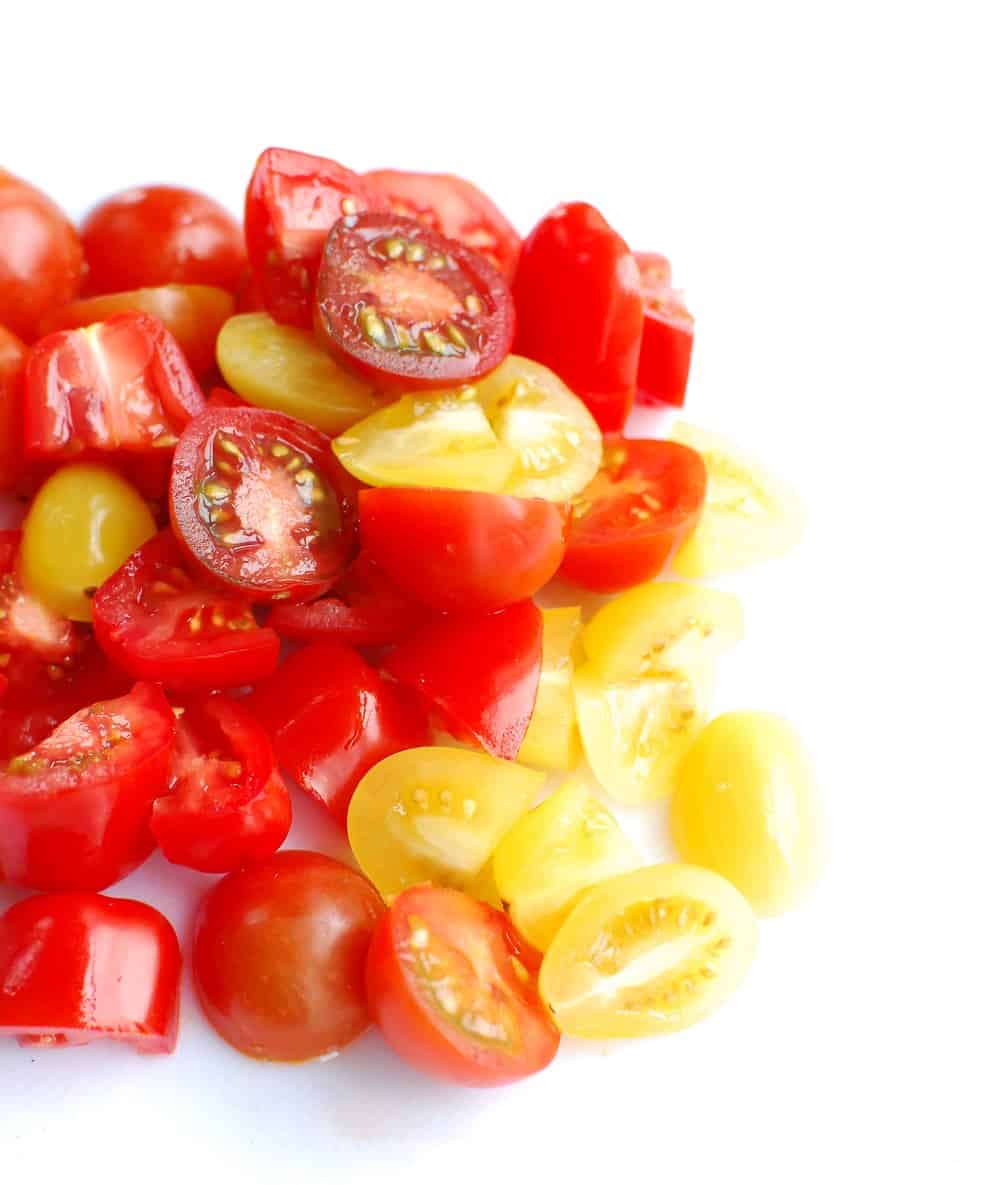 Then when the potatoes are done, you're ready to toss everything together. Voila – your dinner is ready.
It might seem like an odd combination, but it is so darn delicious! My husband's reaction when he tasted a bite? "Wow. I wasn't expecting that." I inquired for more and he replied "When you think tuna potato salad it sounds a little weird – but this is really, really good."
Ingredient Substitutions
One of the best things about this salad is it's really flexible depending on what you have on hand or what you can find at the store.
If you can't find red potatoes: Any potato will work! Yukon gold, white, or any of the baby potato varieties are excellent substitutions.
If you can't find frozen spinach: Fresh spinach or kale can both be used! Just sauté it for a few minutes first. Of look for other frozen greens – like frozen mustard greens or collard greens. Those can be substituted in as well.
If you can't find cherry tomatoes: See if you can find beefsteak tomatoes, roma tomatoes, or tomatoes on the vine. If not, substitute in about half of a can of diced tomatoes.
If you don't have cider vinegar: Regular white vinegar is just fine.
If you don't have red onions: Yellow onions or scallions also taste great.
If you don't have honey: Use pure maple syrup.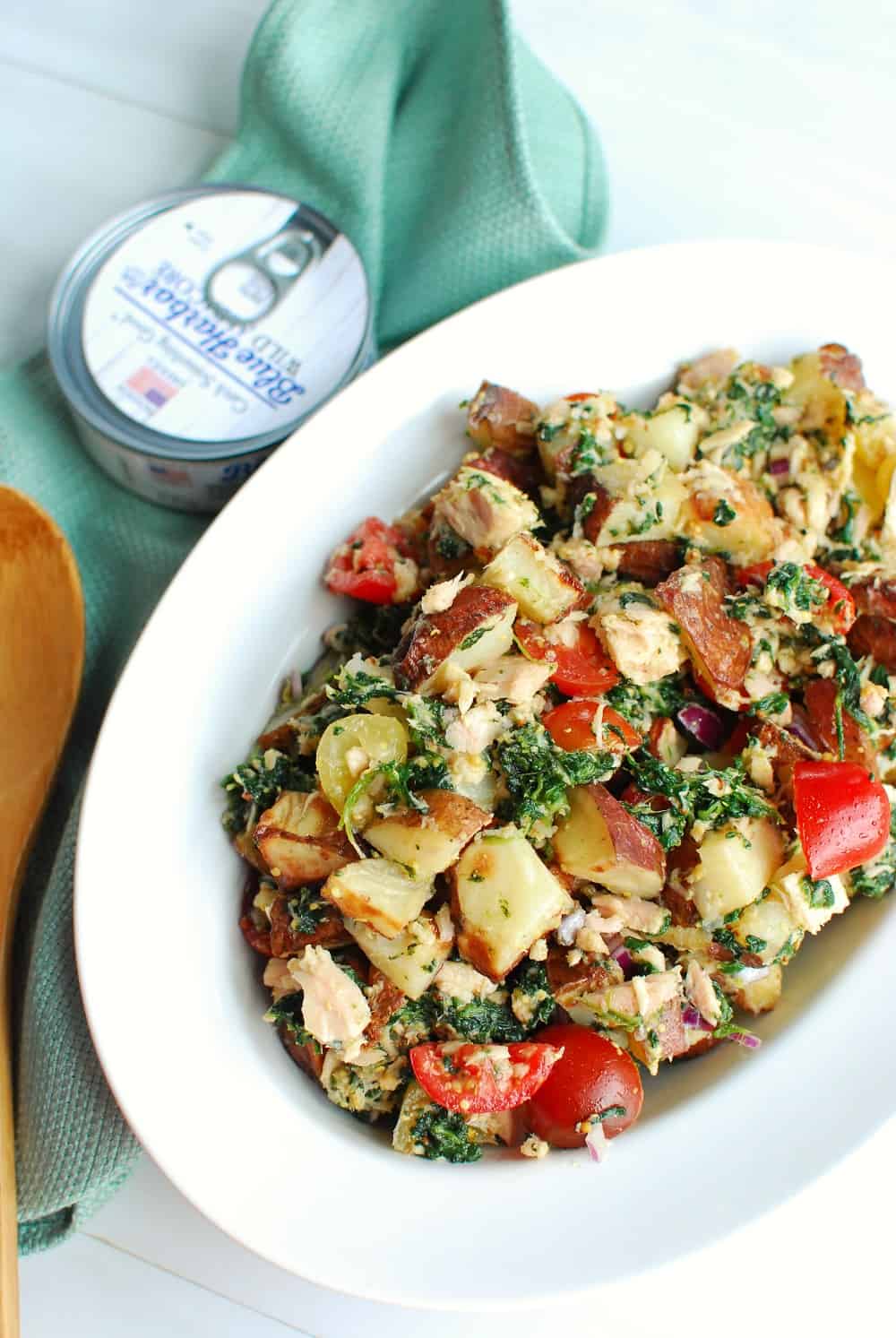 Nutrition benefits
As a Registered Dietitian, I absolutely love this recipe, especially for active women. It's got a great blend of all three macronutrients – carbs, protein, and fat. The carbs provide energy for your workouts, the protein helps with muscle repair and recovery, and the fat helps with vitamin absorption and keeps you feeling full longer.
Right now, while many of us are perhaps not on the same fitness routine as a few months ago – it's also nice that this is a calorie-controlled meal, clocking in right around 390 calories per serving. That's helpful for any of us who are trying to manage weight (myself included!).
During the in-season, you can easily adjust the portion size to make it bigger for heavier training schedules that require higher calorie needs.
Lastly, this tuna potato salad is a good source several different vitamins and minerals. For example, you're getting…
38% of your daily potassium needs, a key electrolyte lost in sweat that's also involved in blood pressure regulation
47% of your daily Vitamin C needs, involved in immune function
19% of your daily iron needs, necessary for a healthy blood system that transports oxygen currently during exercise
More than a day's worth of Vitamin A, essential for eyesight
I hope you love this tuna potato salad as much as my family did. If you get a chance to try it, don't hesitate to leave a recipe rating or comment below letting me know your thoughts. And if you're looking for more canned tuna ideas, be sure to check out my tuna quesadilla recipe.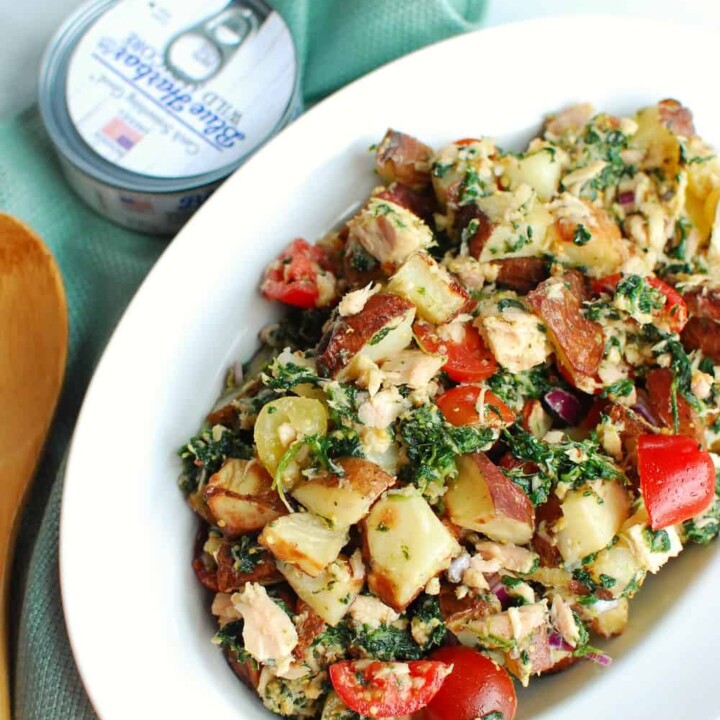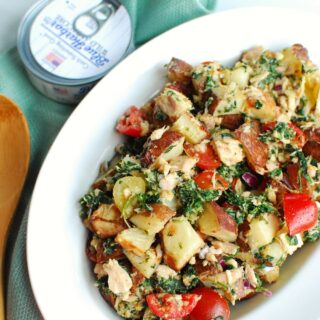 Tuna Potato Salad with Honey Mustard Dressing
This tuna potato salad is a nutritious lunch or dinner recipe that's packed with flavor!
Ingredients
For the potato salad:
24

ounces

red potatoes, chopped into 1-inch pieces

2

tbsp

olive oil

1/2

tsp

salt

10

ounce

box of frozen spinach

2

4.6-ounce

cans Blue Harbor Wild Albacore Tuna in Water with Sea Salt, drained

15 to 20

cherry tomatoes

2

tablespoons

finely diced red onion
For the dressing:
2

tbsp

olive oil

2

tbsp

grainy mustard

2

tbsp

honey

1

tbsp

apple cider vinegar
Instructions
Preheat the oven to 400 degrees F.

Spread the chopped potatoes onto a large baking sheet. Drizzle 2 tablespoons of olive oil over the potatoes, and sprinkle with the salt. Toss everything around to ensure the potatoes are evenly coated.

Bake the potatoes in the oven for 40-45 minutes, or until they're tender.

Meanwhile, as the potatoes are baking, cook the spinach according to package directions using the microwave or stovetop.

When the spinach is done, pour it in a large bowl. Add the tuna, cherry tomatoes, and red onions to the bowl.

When the potatoes are done, add the warm potatoes to the bowl with the other ingredients.

Now, prepare the dressing: In a small bowl, whisk together the olive oil, mustard, honey, and vinegar. Pour the dressing into the large bowl with the other ingredients, and toss everything together so it's evenly coated. Serve and enjoy!
Notes
Notes:  I prefer this served warm immediately after preparing, but it can also be stored as leftovers and served reheated or cold.
Nutrition analysis (approximate per serving):  390 calories, 16 g fat, 2.5 g saturated fat, 450 mg sodium, 42.5 g carbohydrate, 6 g fiber, 13.5 g sugar, 20 g protein, Vitamin A: 178%, Vitamin C: 47%, Calcium: 13%, Iron: 19%, Potassium: 38%
Nutrition
Share: What's your favorite way to use canned tuna?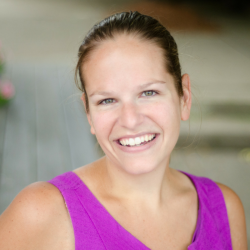 Latest posts by Chrissy Carroll
(see all)