Thinking about training for a 10 miler? Yahoo! This is a really fun race distance, straddling the line of speed and endurance. And what better than a free 10 mile training plan to get you to the finish line successfully!
Everything you need to know to train for a 10 mile road race:
First off, the actual training plan that you can download or print is located towards the bottom of this post. You can scroll to the bottom to check out the plan now, but I recommend reading the rest of this first. It will break down everything you need to know about how to use this 10 mile training plan successfully.
Who is this 10 mile training schedule for?
This plan is ideal* if you are…
A beginner runner that wants to challenge yourself to your first 10 miler.
An intermediate runner looking to train for your first 10 mile race.
A beginner or intermediate runner that's done a 10 mile race, but you want to add some speedwork to improve your finishing time.
This plan is probably not for you if you are an advanced runner looking to PR – you'll need a higher training volume.
*Disclaimer: I am not a physician; check with your doctor prior to starting any new exercise program.
What level of fitness do I need to start?
You should be able to comfortably run (or run/walk) 3 miles to start this plan.
If you cannot yet comfortably do 3 miles, you might want to check out my 15K training plan for beginners which can be used interchangeably with a 10 mile race. That plan can be started when you can comfortably run (or run/walk) 1.5 miles.
Or, you can work your way up to 3 miles, and then start this plan.
Training Volume
This 10 mile training plan includes 4 days per week of running, with total weekly mileage ranging from just under 10 miles to a peak of 23 miles.
Modifications for Beginners Vs. Intermediate Runners
This plan includes one day of speedwork each week. However, speedwork should be done by those who have been running consistently for a while. If you just started running and only recently reached the ability to do 3 miles comfortably, you'll want to skip the speedwork and do another easy run on those days. This is because speedwork increases the risk of injury in those who are not fully accustomed to regular running yet.
Beginner runners would substitute either of the following on the speedwork day:
2-3 mile easy run
Cross training activity of choice for about 30 minutes
Intermediate runners would follow the speedwork as listed.
Depending on your level of fitness, you might adjust the intervals or speed to meet your particular needs. For example, if you veer more towards the intermediate-beginner side, you might do your 800 meter intervals at 10K pace, while if you veer more towards a solid intermediate level, you might do them at 5K pace.
[Tweet "Check out this free 10 mile training plan – options for beginner & intermediate runners!"]
Types of Running Workouts in This Plan:
This 10 mile training plan is broken down into 4 days of running: Days 1 and 3 are easy short runs, Day 4 is your long run, and Day 2 is speedwork.
Here are your instructions for each of these:
Easy Short Runs – These are just like they sound – short, comfortable paced runs. They should be done at a conversational pace and at a speed less than your race pace.
Long Runs – Your long runs are done once each week, and are the highest mileage for the week. Run them at a comfortable, steady pace. If you're a beginner, you might notice that it gets challenging to keep your normal comfortable pace for an entire long run. That can be normal – it means that you should either a) slow down at the start and run at a pace that's easier the whole time, or b) incorporate some walking breaks as needed to keep your legs fresh and bring your heart rate down a bit. The primary goal for long runs is just to meet the mileage – don't worry about how fast it takes you to do it.
Fartlek – Fartlek is a sweedish term for "speed play." It's an informal way to do intervals. What you want to do is spend the first 5-10 minutes warming up at a comfortable pace. Then for the rest of your run, build in short sprints. The key is to make them fun and random – like alternating paces when you hear the chorus of the song you're listening to, sprinting to every other mailbox, etc.
Intervals (i.e. 4×800) – Similar to the fartlek, this is a type of speed workout – but in this case, it's more structured. You want to spend 5-10 minutes warming up at a comfortable pace. Then run the intervals described – for example, 4×800 @ 5K pace means you want to run an 800 on the track (2 laps) at your 5K pace, then recover with a jog or walk for a few minutes, then repeat that another 3 times for 4 total intervals.
Paced Runs (X @ Y Pace) – You'll see a few of these runs on the plan. For most runners, these should be done around 10K pace plus 10-20 seconds. Spend the first 5-10 minutes warming up comfortably, then run the mileage listed at that pace. For example, if you can run a 10K in around 50 minutes, your 10K pace is 8:03 per mile. For these runs, you'd want to run around 8:13-8:23 per mile.
Other Helpful Training Tips:
Warm Ups & Cool Downs
Warm ups help to increase circulation and get your heart rate up gradually, while cool downs help bring your heart rate down gradually. Incorporate a few minutes of easy jogging/walking into all your runs at the start and finish.
Stretching
Research has shown that poor range of motion can lead to some muscle stiffness during runs. Stretching regularly not only feels good, but can increase this range of motion and prevent stiffness.
Strength Training
I recommend including 1-2 days of strength training each week in your schedule, particularly if you already have a strength training routine.
If you don't, you can simply incorporate some body weight exercises like push ups, lunges, squats, planks, etc as you can find time throughout your week. These will help maintain strength in your legs and core.
Injury & soreness:
Soreness is a normal side effect of runs, especially long runs or speed work. However, pain – particularly pain that affects your stride – is not normal. If you're experiencing an injury that affects the way you run, see a doctor for an evaluation.
Your 10 Mile Training Plan:
Here is the 10 mile training schedule – feel free to save the image and print it out so that you can check off the days as you complete them. Scroll below this plan to find some race suggestions!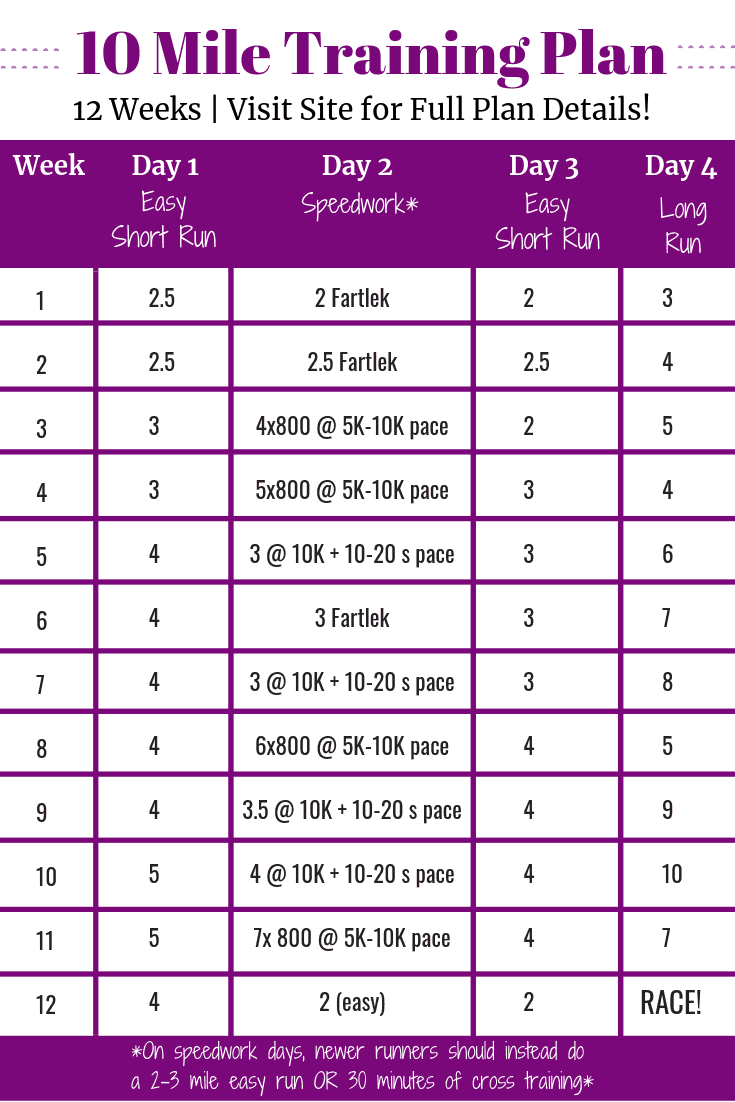 10 Mile Race Suggestions:
Now that you've got your training plan, it's time to sign up for a race! If you haven't done so yet, you'll want to put your money down and commit to one – it makes it much easier to stick with the training plan.
Here are a few 10 mile race suggestions here on the East Coast:
Good luck as you train for your 10 mile race! 🙂
Share with me: What 10 mile race are you thinking about doing? Have you ever done one before? Do you think this 10 mile training plan will be helpful for you?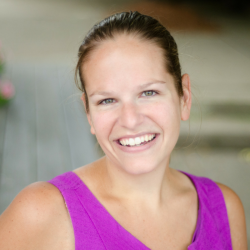 Latest posts by Chrissy Carroll
(see all)