Have you done your first 5K and are looking for a new challenge? Or maybe you just started taking up running and want to jump right into a longer distance? Either way, this 15K training plan for beginners might be a perfect option for you!
A 15K is approximately 9.3 miles, so you're looking at a distance right in-between the 10K (6.2 miles) and half marathon (13.1 miles). Because it's so close to the 10-mile mark, you can also use this training plan interchangeably to get ready for a 10-mile race too.
The 15K (or 10-miler) is a great race for beginners to push themselves, as it requires more time and training than short-distance races – but not so many workouts that it takes a ton of time out of your schedule. In fact, the 15K training plan I've provided here only includes three days a week of running – two short runs and one long run.
You should be able to start this plan anytime, as long as you can currently run (or run/walk) 1.5 miles comfortably. Most people get scared thinking "yes, I can do a few miles now, but how will I do almost 10 in just a couple months?!". Don't focus on that. If you can do 1.5 miles now, this plan will get you to that 15K finish line successfully.
If you can't do a mile and a half now, spend a few weeks working up to that – and then you'll be ready to start this 12 week schedule.
Training for a 15K With This Plan:
Here is some essential information to know when using this training program…
Your Running Schedule:
This 15K training plan involves running three days per week for 12 weeks. It focuses on gradual increases in mileage from week to week, and a few "drop down" weeks where you have less mileage to give your body a chance to recover.
Space out your running days. For example, you might choose a Tues/Thurs/Sun schedule or a Mon/Weds/Sat schedule.
Since this plan is developed for beginners, I have not included any speedwork. However, if you've done several races and are looking to improve your speed, you can add an additional speedwork or hill training day to your schedule.
Your Pace:
Try to move at a pace where you can comfortably complete the distance. Avoid going out too fast and then having to slow down considerably on the second half of your run. A better approach is to go out a little slower than you feel you need to, and you can always pick up the pace at the end if you'd like.
You can also use a run/walk combination, like running for 5 minutes and walking for 1 minute. Many beginners find that method easier than running straight the entire time. The choice is yours!
You can also use this plan for walking. Just follow the same mileage recommendations but walk briskly rather than run.
Warm Up/Cool Down:
Start each run with 5-10 minutes of slower walking/running to warm up, and a similar time frame on the end to cool down.
Cross Training:
You should add in 2 days a week of cross training outside of your running days.
That can include things like swimming, cycling, the elliptical, yoga, etc. These exercises involve different movements that will help balance training and prevent overuse injuries from the repetitive motions of running.
Strength Training:
I recommend adding 1-2 days a week of strength training as well, if you can fit it into your schedule. It's not necessary for being able to complete the race successfully, but it will help strengthen the muscles which can improve your speed and reduce the risk of injuries. And of course, it's just good for overall health.
Soreness/Injuries:
Soreness can be a normal side effect of starting to increase the intensity and duration of your training. Stretching, icing, and foam rolling can help with that.
If you are injured though, you may need to take time off and/or see a doctor or physical therapist. The best tip I've heard was that if you are having any kind of pain that affects your stride while running – you need to get some medical attention for further evaluation or advice.
15K Training Plan for Beginners
Here is the full 15K training plan – enjoy! Be sure to scroll below to find some good race suggestions.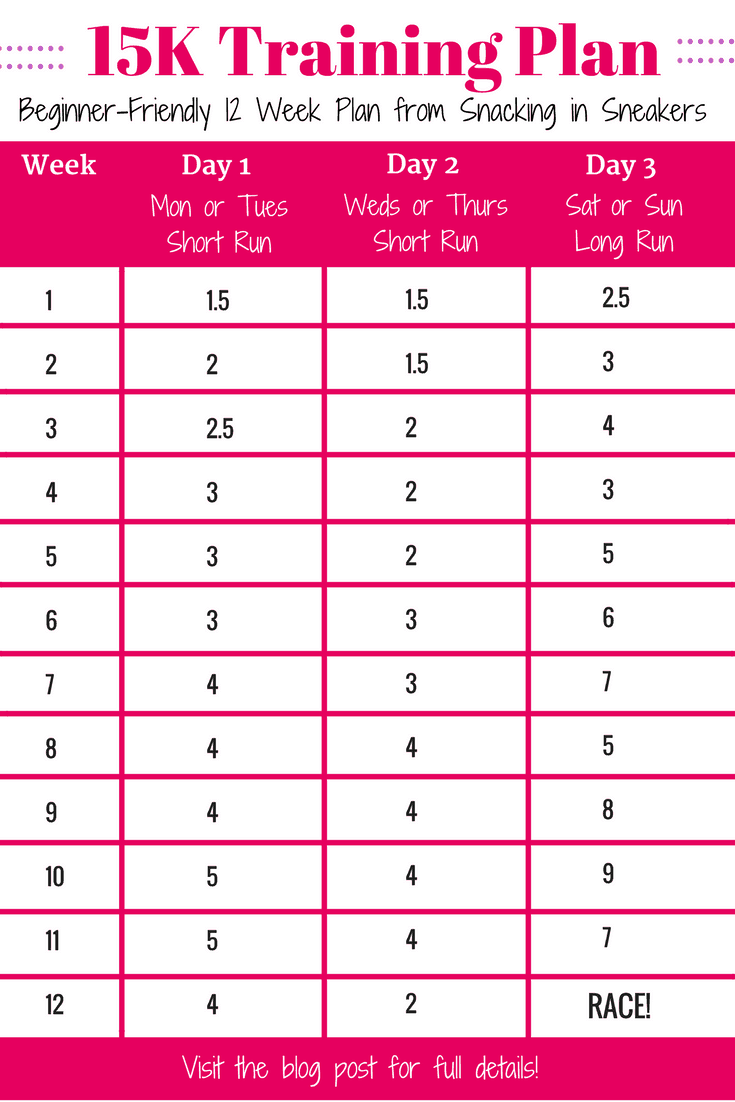 15K Race Suggestions:
So you've got your 15K training plan, you're feeling all pumped up – now it's the perfect time to sign up for a race! Here are a few suggested options (though by no means a comprehensive list):
Need another training plan?
If this race distance isn't quite your cup of tea, here are a few more training plans that might fit your needs for other race distances!
Share with me: When did you start your running journey? Have you ever done a 15K race or a 10 mile race? If you're following this 15K training plan, let me know how it's going!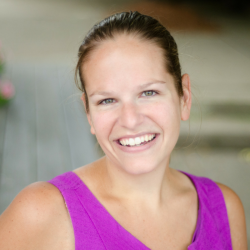 Latest posts by Chrissy Carroll
(see all)