This 12 week half marathon training plan is a perfect option for beginner runners, or for experienced runners who are looking for no frills half marathon training with just 3 days a week of running.
Highlights of this 12 week half marathon training plan:
I used this half marathon when I was training for the Earth Rock Run half marathon in 2016. That was my first half marathon back after having a baby in 2015, so it was important to me when I designed this to fit a few of my needs:
Included 3 days a week of running – I was a new mom and was running this blog while also teaching as an adjunct professor, so I was still figuring out how to best manage my time.
Was built as a 12 week half marathon training schedule – This brought me up to race day perfectly. At that point I was running regularly a few times a week, but I needed structure with my short and long runs to get me up to race day.
Built in recovery weeks. Every plan should include these, and you'll notice it here on the long runs. Every 3-4 weeks, the mileage drops down to give your body a chance to repair and recover.
Who is this plan for?
This 12 week half marathon training schedule is perfect for those of you who can run (or run/walk) about 3-4 miles comfortably. If you're not comfortable yet with that amount, check out my 20 week half marathon training plan which starts out with short runs of just 1.5 miles and long runs of 2 miles.
Will this training plan help me meet a time goal?
It can, but if you're an experienced runner looking to PR, it's probably not the plan for you.
This plan is structured to be very simple, with no bells and whistles. It will take you from being able to do a few miles a day to being able to complete a half marathon. It's not meant for people that want to finish super speedy – it's meant for those of us that want to be prepared enough to cross the finish line without collapsing. 😉
I've followed this kind of training program for just about all of the half marathons I've completed and have never had a DNF. I'm slow, but I'm steady and always finish the race.
Of course, you can certainly set a time goal for your race based on your typical long run speed. Following any training plan will help you meet a reasonable time goal, thanks to the consistency in training.
Tips for using this 12 week half marathon training schedule:
It is pretty simple to follow this! Just choose 3 days a week and follow the recommended mileage for each day. I recommend picking days that are not back to back, like Mon/Weds/Sat or Tues/Thurs/Sun.
The mileage in this plan increases slightly from week to week (around 2 mile jumps each week) and there are several taper weeks built in. So while it's a short plan in the sense that it's only 12 weeks, it's as gradual as you can get given the time frame.
You should also plan to cross train at least one other day per week – it improves cardiovascular endurance and also strengthens different muscles, thus preventing injuries. Think of the elliptical, swimming, cycling, or something else you enjoy.
Modifications for more experienced runners:
If you wanted something a bit more advanced or you wanted to work on your time at all, you could follow something similar to this but add in a 4th day of running. You'd follow something similar to below, but your 4th day built in here would be a short run (2-3 miles) where you are focused on speed.
If you are a more seasoned runner looking for a more intense plan that will help you set a PR, I recommend checking out our 12 week half marathon training schedule for intermediate runners. This plan is a 5 day-a-week training schedule, and has a lot more speed work built in.
Don't forget to go ahead and pin this 12 week half marathon training plan now so you've got it saved – just hover over the image and the 'pin it' button should appear. 🙂
Happy running!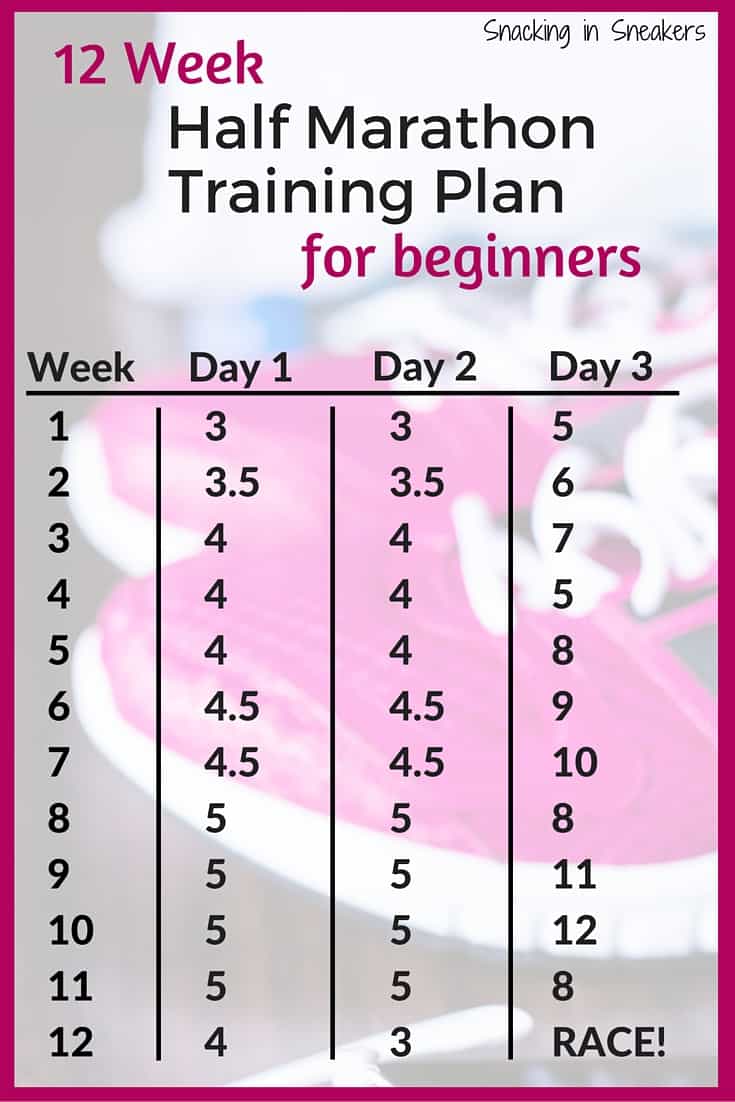 Share with me: Are you signed up for any half marathons this year? Have you ever done one before? Do you think following this 12 week half marathon training schedule will help you?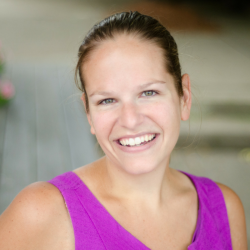 Latest posts by Chrissy Carroll
(see all)