Craving a delicious burger? Look no further than these air fryer feta stuffed lamb burgers! Think juicy, flavorful patties stuffed with salty feta cheese, then topped with a tangy, herbaceous Greek yogurt sauce, peppery greens, and tart pickled red onions.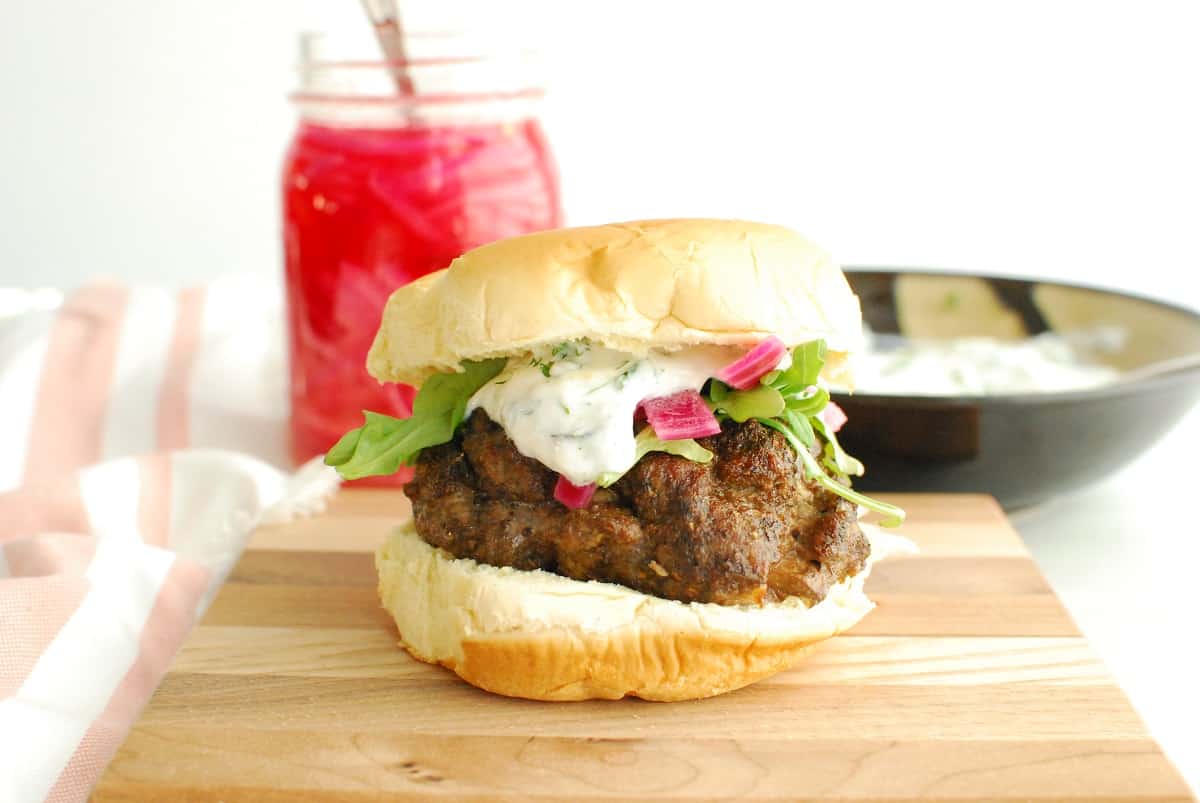 Ingredients
Here's a quick photo of what you'll need for the patties and assembly, along with selected ingredient notes: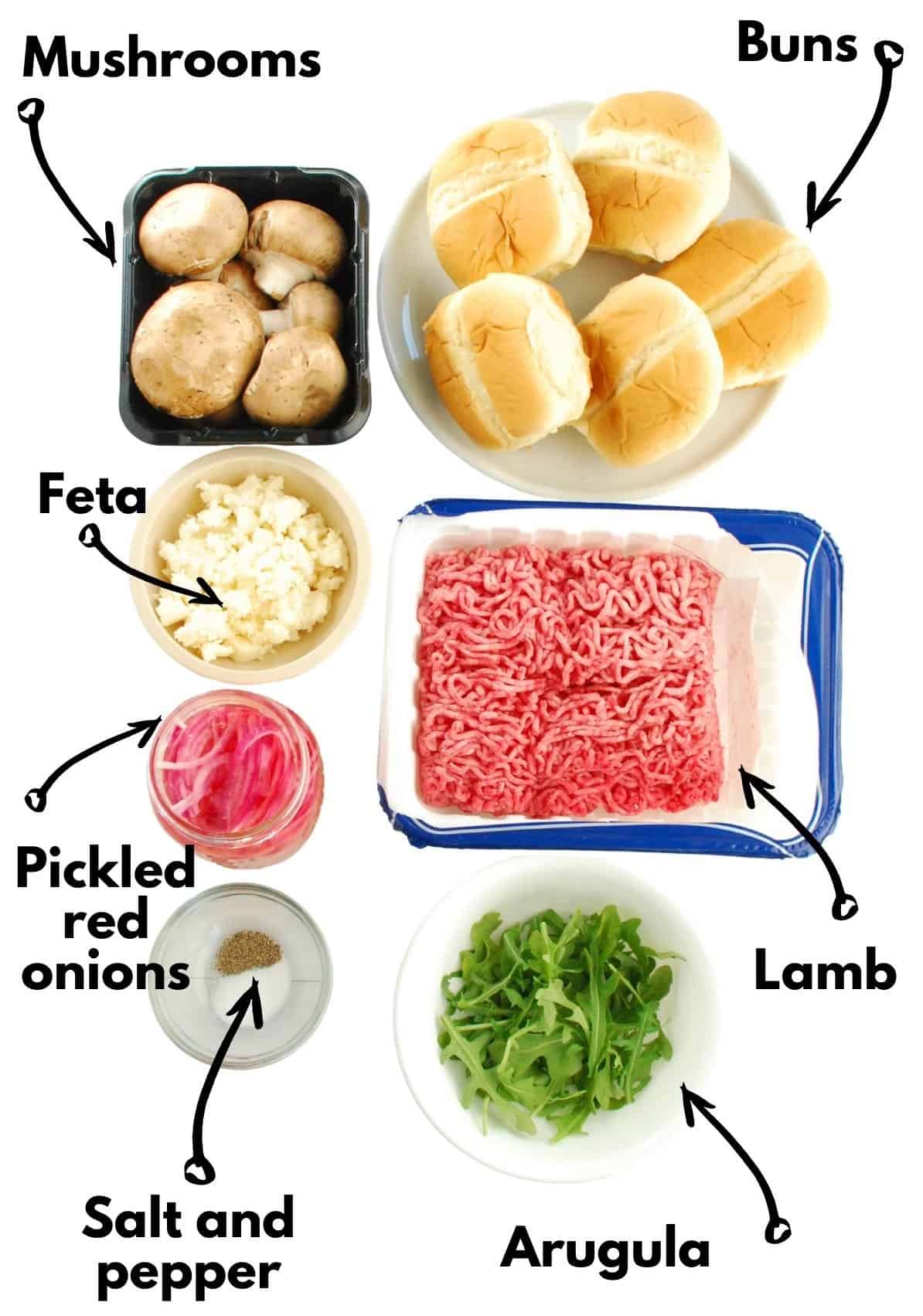 Ground lamb –Lamb is a great source of protein to incorporate in your diet, as it's nutrient-rich and versatile. If you've never purchased ground lamb at the grocery store, you can usually find it near the beef section. It has a very distinct taste that's different from other meats. You can experiment with different flavor combinations, from Mediterranean to North African to Latin. These burgers have some Mediterranean vibes with the feta and dill.
Mushrooms – Baby portabella mushrooms are always my go-to for blended burgers, but regular white mushrooms work just fine too. (Looking for more blended burger recipes? Try my beef and mushroom breakfast burger.)
You'll also make a Greek yogurt sauce to go on top of these burgers. Here's what you'll need for that: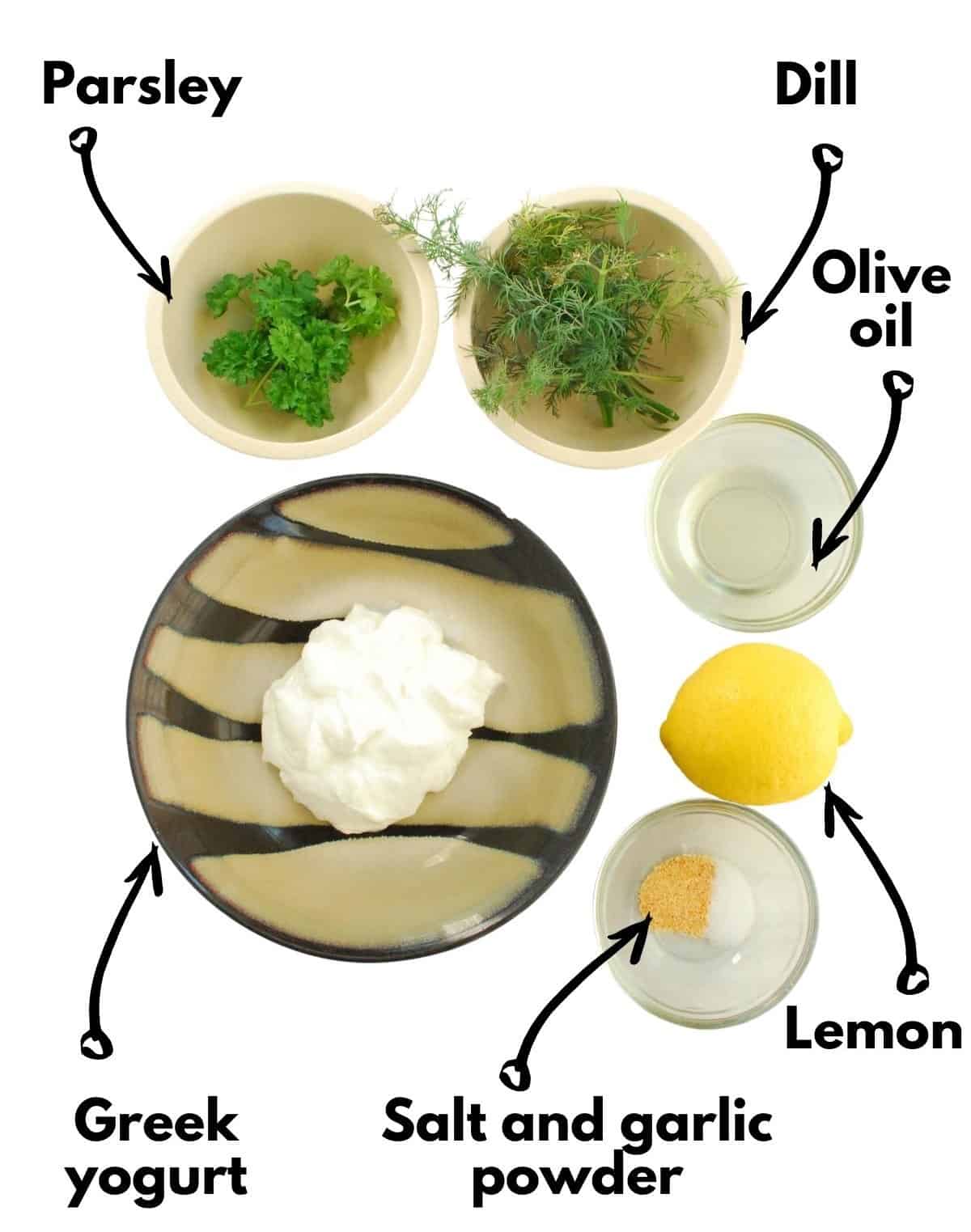 Selected ingredient notes:
Greek yogurt – I used nonfat plain Greek yogurt as that's what I've always got on-hand in the fridge, but feel free to use a full fat version if you prefer.
Fresh dill and parsley – These herbs add a bright, earthy note to the sauce. If you don't have the fresh herbs on hand, you can substitute in a teaspoon of dried dill and parsley instead.
Instructions
You'll find the full recipe amounts and instructions in the recipe card at the bottom of the post, but here's a helpful overview with photos.
Let's start with the lamb burger patties. You'll want to first roughly chop the mushrooms, then toss them in a food processor. Pulse several times until they're very finely chopped, like this: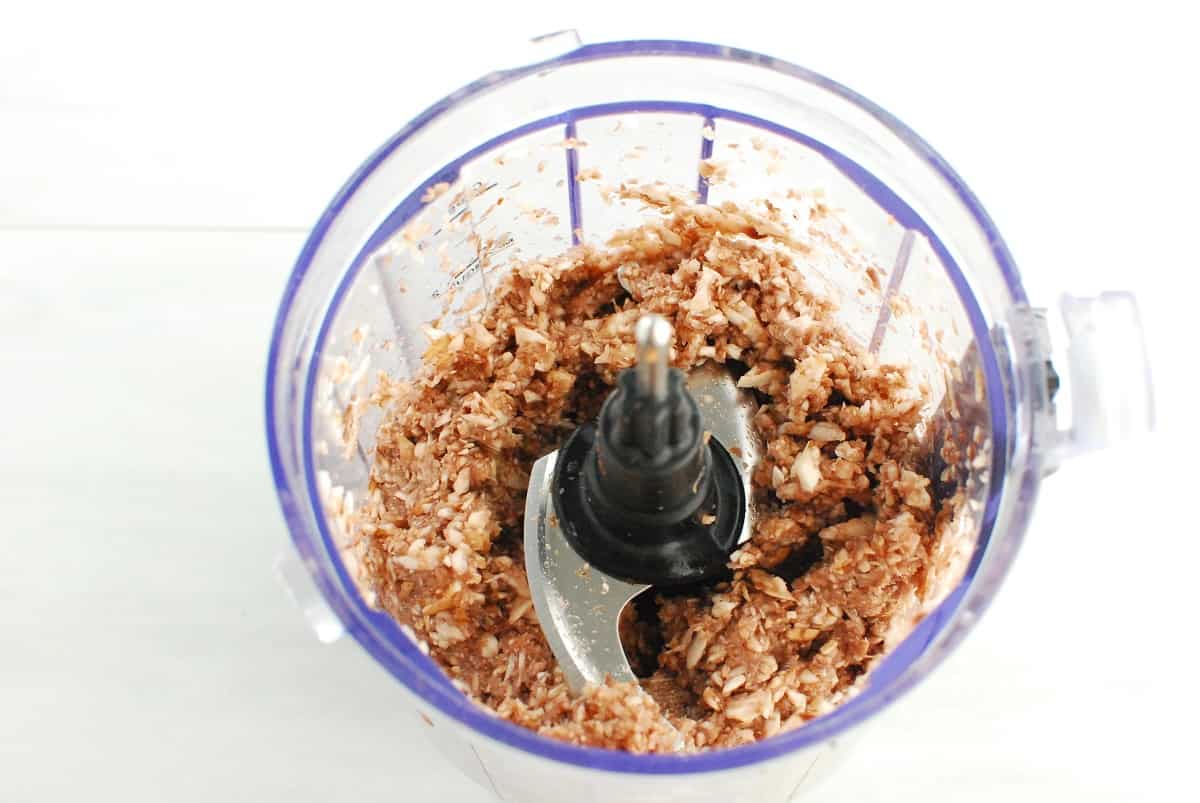 In a bowl, combine the mushrooms, ground lamb, salt, and pepper. Mix with your hands until combined. (Note – for a little extra flavor, you can sauté the mushrooms ahead of time, but I find adding them in raw works just fine!)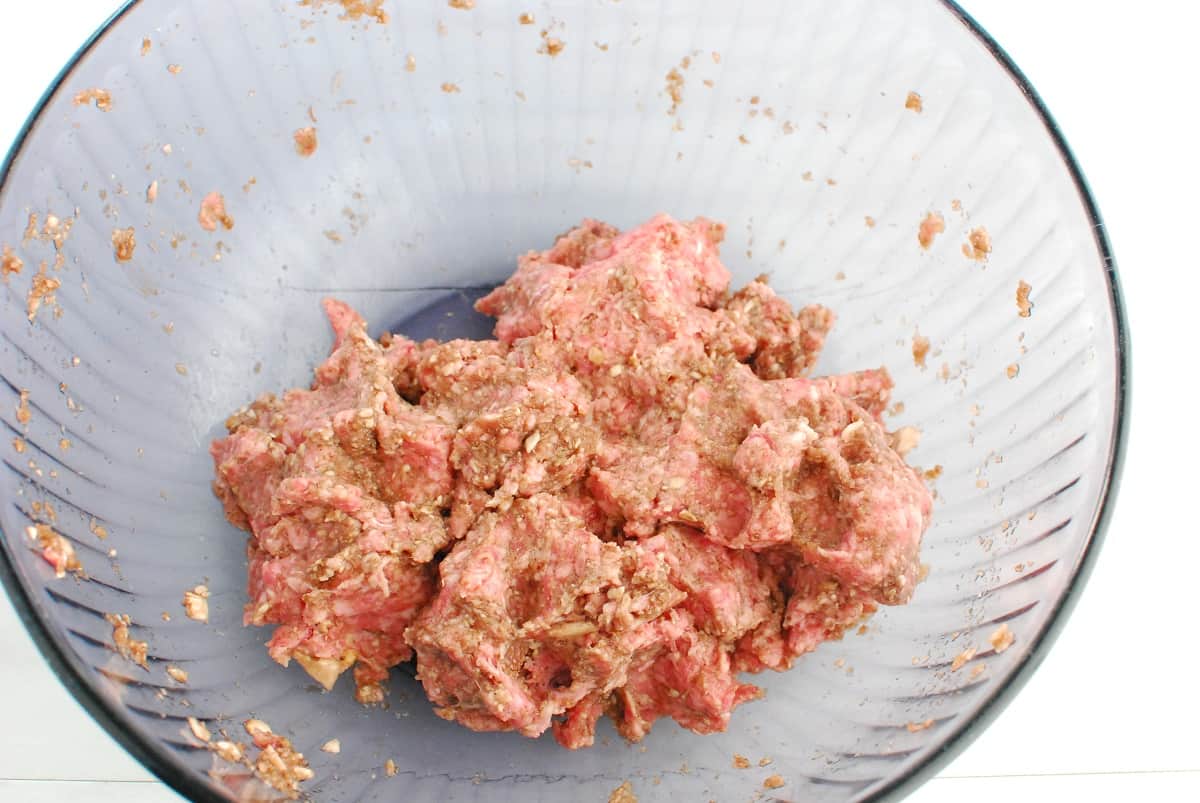 Separate the mixture into ten portions. Take one of those and form a patty. Take some feta and press it into the center of one, like this: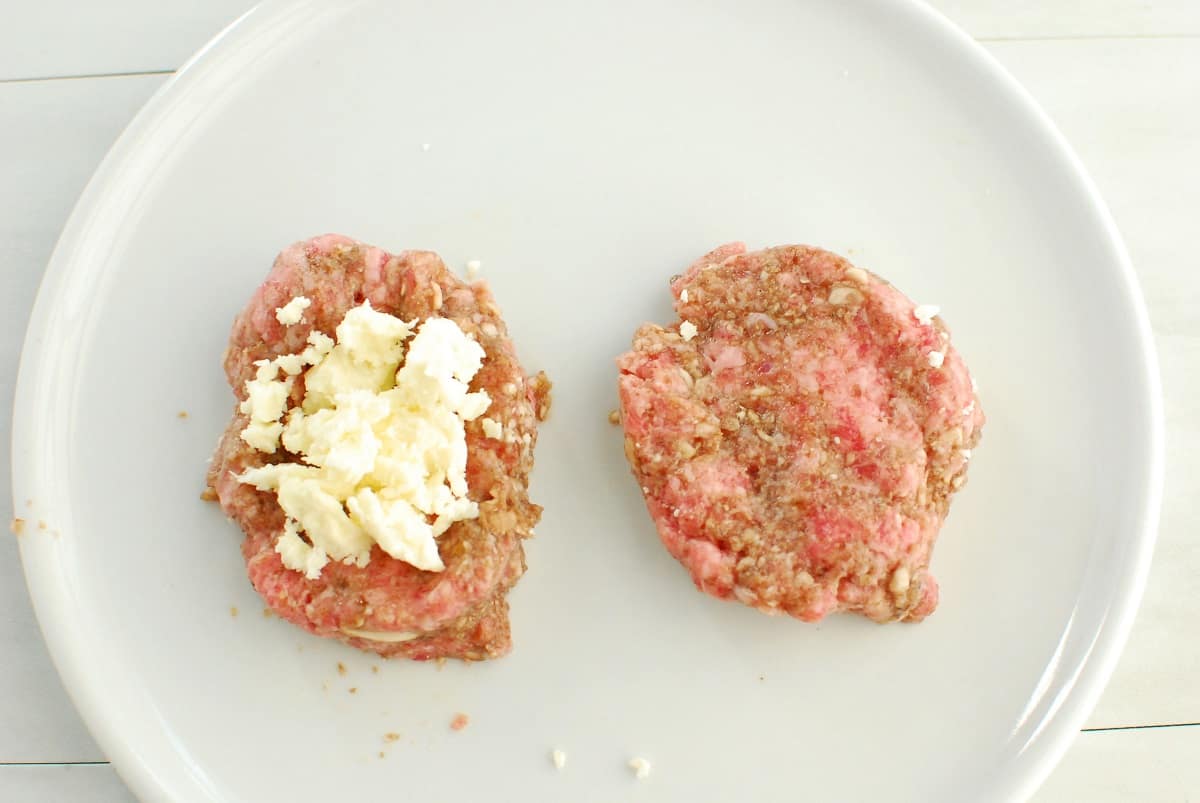 Now take another portion, form a patty, and place it on top, pinching the edges together to seal the burger.
Repeat with all of the burger mixture to create five stuffed burger patties.
Pop those in the refrigerator for about 20-30 minutes to chill while you prepare the rest of your ingredients.
If you want to make quick pickled red onions, now is the time to do it. They're SO simple to make – just add some sliced red onions to a mason jar. Then mix water, vinegar, honey, and salt in a pot, bring to a boil, and pour that over the onions. Let that sit for about 10 minutes. Easy peasy!
Of course, you can also buy pickled onions at the store, or you can just use fresh sliced red onions. Whatever is easiest!
(Quick note – if you make them, you'll have extra pickled red onions – save them in the fridge and use to top other recipes like tacos, salads, or power bowls.)
Now is the time to also get the yogurt sauce ready by mixing together the Greek yogurt, lemon juice, oil, salt, garlic powder, dill, and parsley.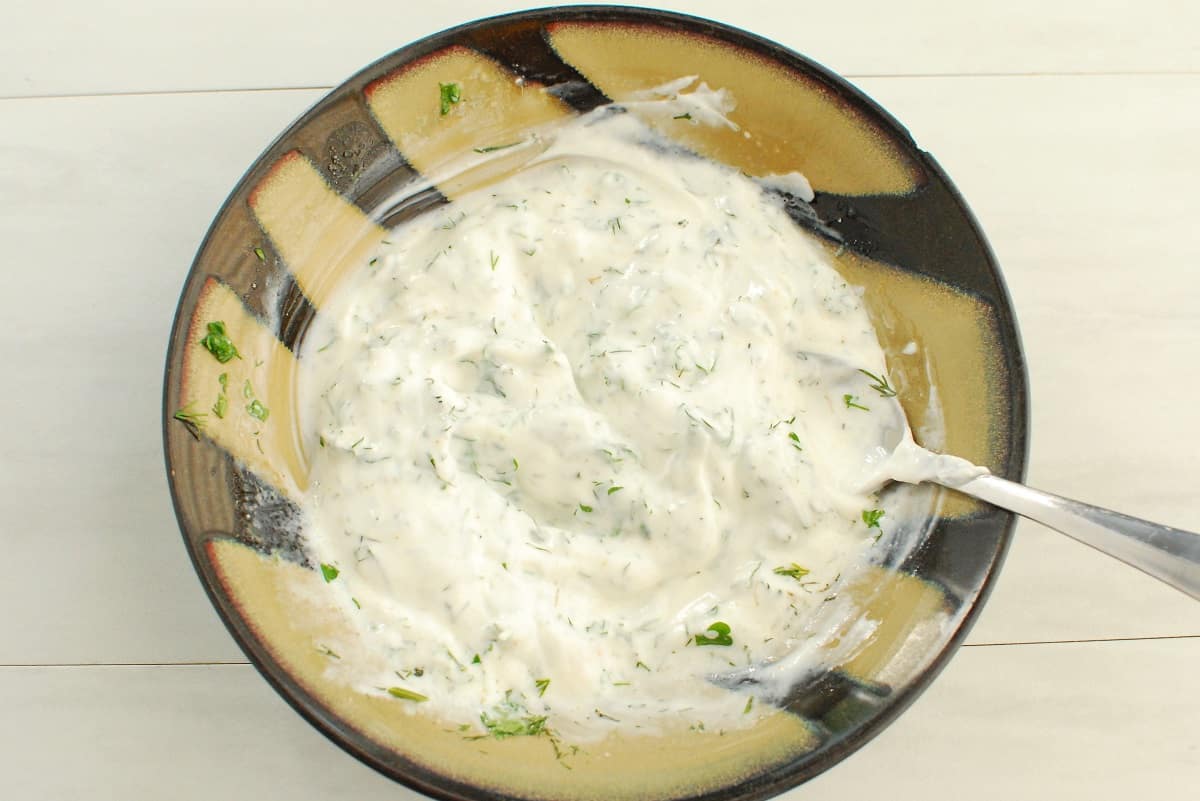 When your patties have chilled enough, pull them out and place them in the air fryer basket. Depending on the size of the basket, you may need to work in batches. You don't want them overlapping.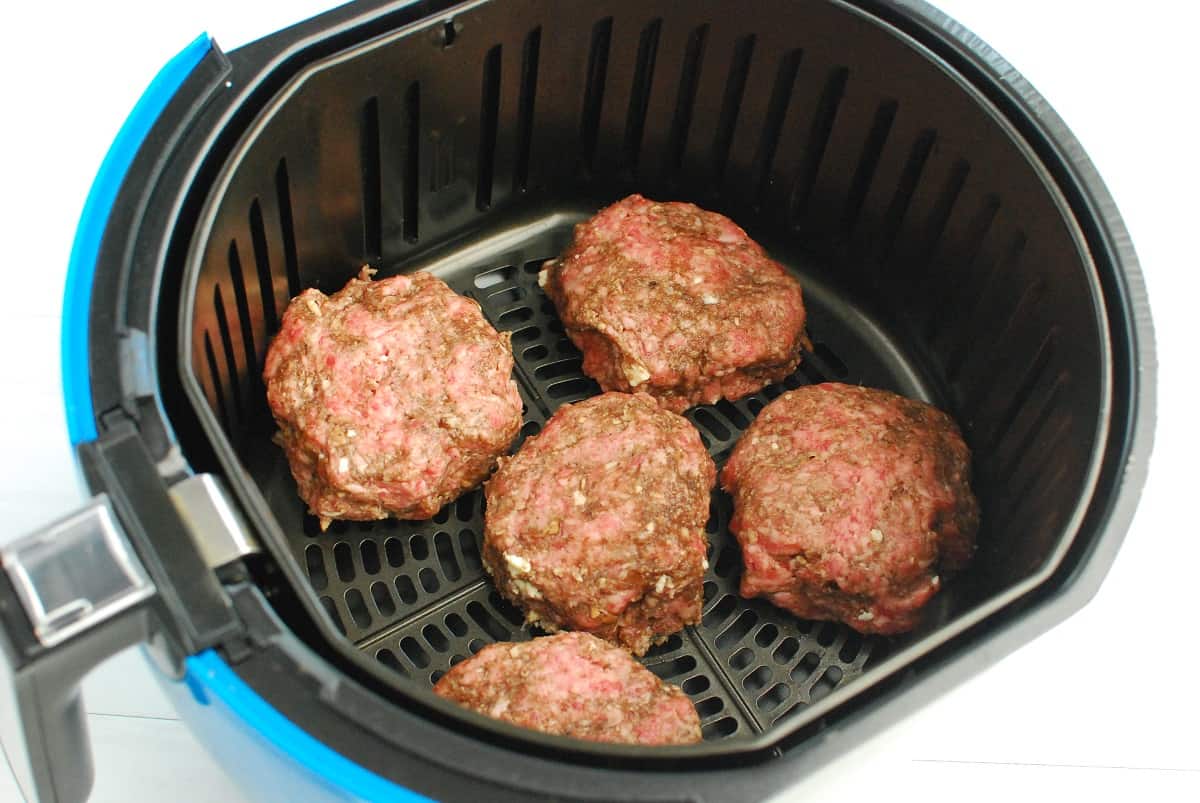 Air fry them for about 15-18 minutes, or until cooked through. If using an air fryer basket (which enables grease to drip off and allows for air flow below), there's no need to flip the burgers mid-way through.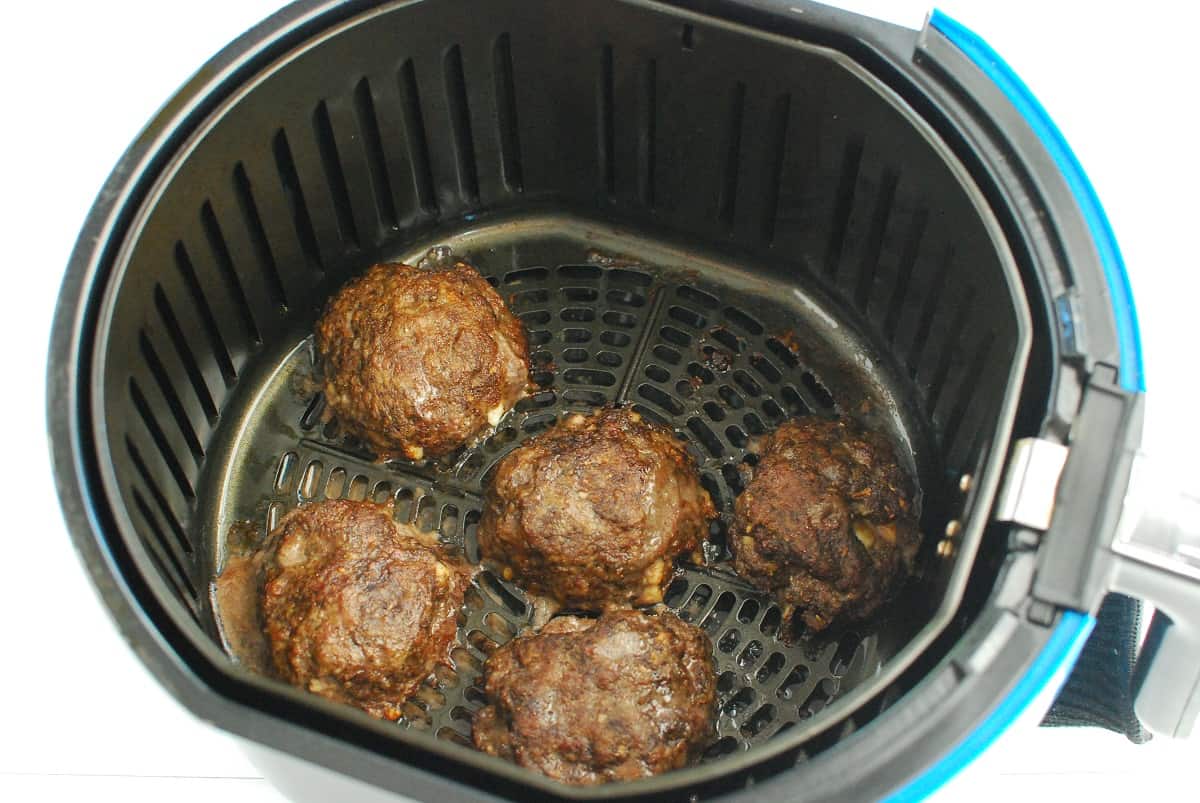 Pop those patties on a bun, and top with the Greek yogurt sauce, arugula, and pickled red onions. Dig in!!
Recipe FAQ
Here are some common questions that might pop up as you prepare these air fryer lamb burgers:
How do you know when a lamb burger is fully cooked?
A meat thermometer is the best way to determine doneness. According to the USDA, ground lamb should be cooked to an internal temperature of 160 degrees F.
What are the best side dishes for a lamb burger?
Try a fresh tomato cucumber salad, roasted asparagus, grilled mini sweet peppers, or sweet potato fries.
Do you need to add egg to lamb burgers?
Ground lamb can be made into patties without egg, particularly when made in a blended burger with finely chopped mushrooms. However, other recipes may call for egg and breadcrumbs to help bind the patties.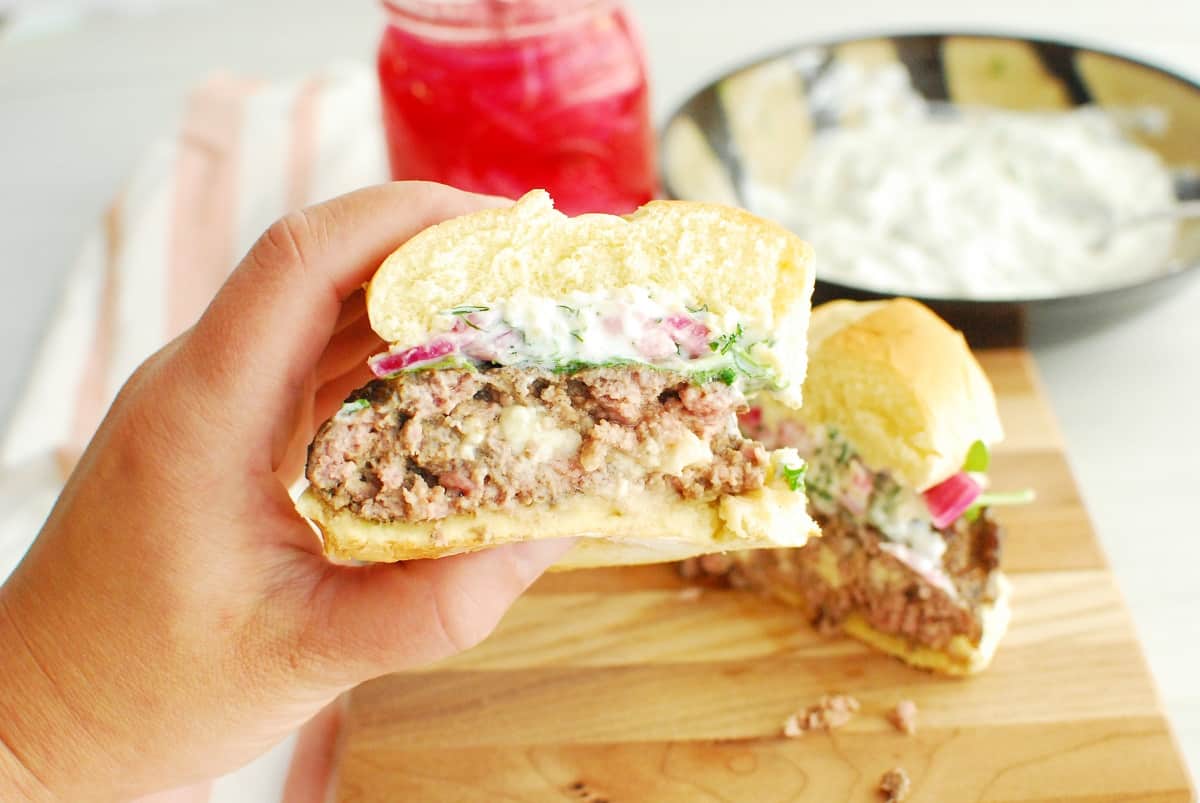 Nutrition Benefits
As a dietitian, I love these burgers as a satisfying main dish, especially for active women. Pair them with a big serving of veggies on the side and you've got a balanced meal! Here's a few reasons why these can be a good choice:
Blended burgers – These lamb burgers blend in a full package of mushrooms. Not only does this sneak in some veggies, but it also helps ensure the burgers stay juicy and tender. PS – If you can find 'em, look for UV-exposed mushrooms which increase the Vitamin D content of the mushrooms. They're not available everywhere but it's great to grab them if you see them. Vitamin D is super important for everyone, and it may play a role in exercise performance or recovery for active folks. [Read more: Vitamin D and athletes.]
Packs in protein – Each burger provides 32 grams of high-quality protein. Protein is essential for muscle repair and recovery after a tough workout. It also helps you feel fuller and more satisfied after a meal.
Excellent source of iron – Iron is key for athletes, as it forms part of the red blood cell that helps transport oxygen to working muscles. Too little iron can lead to fatigue and poor performance. One of these burgers packs in 22% of your daily iron needs.
More Ground Lamb Recipes
If you fall in love with ground lamb after making these burgers, be sure to try one of these other tasty recipes using this protein:
Greek lamb tacos – Who doesn't love a fusion recipe?! Put a Mediterranean spin on tacos night with these easy lamb tacos, served with a refreshing cucumber pico de gallo.
Lamb Bolognese – Put a spin on Bolognese by making it with lamb! A delicious and quick midweek dinner.
Sweet potato hash with lamb and apples – This recipe makes those brunch plans something to look forward to! Tender roasted sweet potatoes, savory ground lamb, sweet honeycrisp apples and fresh herbs – yum.
Gyro nachos – Hosting a party? Or maybe you just want a fun dinner on the weekend? These gyro nachos are made with pita chips, ground lamb, and some delicious toppings.
I hope you enjoy these air fryer feta stuffed lamb burgers! I don't know about you, but I'm a fan of pretty much any kind of burger. If you get a chance to try it, feel free to leave a recipe rating or comment below.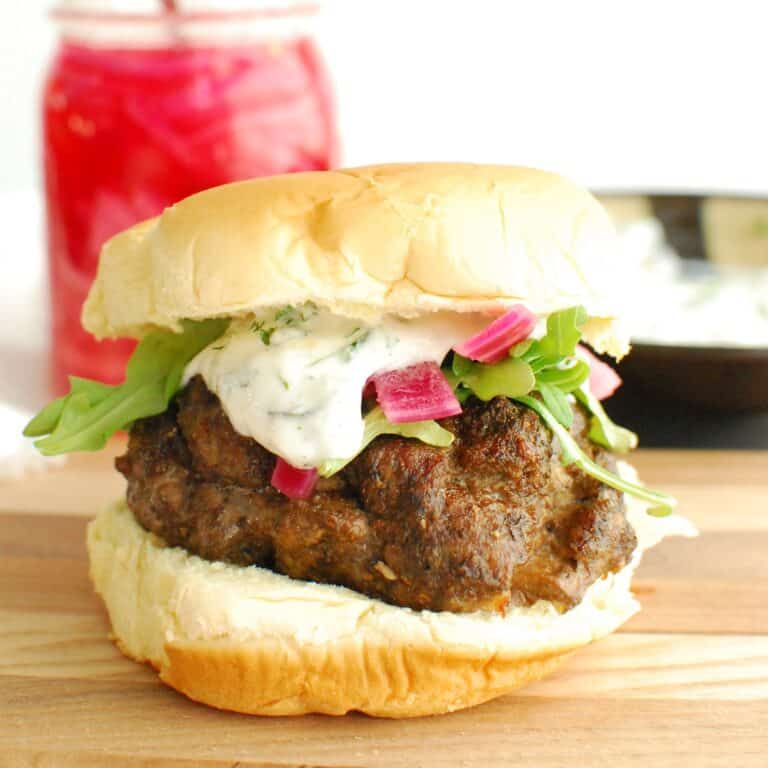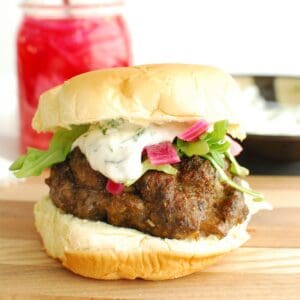 Air Fryer Feta Stuffed Lamb Burgers
These air fryer feta stuffed lamb burgers feature a juicy lamb and mushroom patty, salty feta cheese, tangy greek yogurt sauce, peppery greens, and tart pickled onions!
Ingredients
For the burger patties:
8

oz

mushrooms

1

lb

ground lamb

¼

tsp

salt

¼

tsp

pepper

4

oz

crumbled feta
For the pickled red onions (optional*):
1

red onion, sliced thinly

½

cup

water

½

cup

distilled white vinegar

2

tbsp

honey

1

tsp

salt
For the yogurt sauce:
½

cup

plain nonfat Greek yogurt

1

tbsp

lemon juice

½

tbsp

olive oil

¼

tsp

salt

¼

tsp

garlic powder

1

tbsp

fresh dill

1

tbsp

fresh parsley
For burger assembly:
5

hamburger buns

¾

cup

baby arugula
Instructions
Start by preparing the burger patties. First, coarsely chop the mushrooms and add them to a food processor. Pulse several times until very finely chopped.

To a large bowl, add the chopped mushrooms, ground lamb, salt, and pepper. Mix well with your hands. Divide into 10 portions.

Take one portion of the lamb mixture and form a patty. Place some feta in the center. Take another portion of the lamb mixture, form another patty, and place it on top, pinching together the edges to seal. Repeat with the remaining lamb mixture and feta to make 5 stuffed burger patties.

Place the patties on a plate in the refrigerator to chill for at least 20 minutes.

Meanwhile, prepare the pickled red onions if you are planning to make them from scratch. Place your thinly sliced onion in a mason jar. In a small pot, combine the water, vinegar, honey, and salt. Bring to a boil, then turn off heat. Pour the vinegar mixture over the onions and let sit for ten minutes.

Also prepare the yogurt sauce. Combine the Greek yogurt, lemon juice, olive oil, salt, garlic powder, dill, and parsley in a bowl. Stir together and set aside for now.

When the burgers have chilled enough, remove the patties and place them in the basket of the air fryer. (Depending on the size of your air fryer, you may need to work in batches).

Air fry at 375 degrees F for 15-18 minutes, or until the lamb patties reach an internal temperature of 160 degrees F.

Place the lamb patties on a bun and top with arugula, a spoonful of pickled red onions, and the Greek yogurt sauce. Enjoy!
Notes
The pickled red onions are an optional addition to this burger. You can make them yourself, or you can purchase store-bought pickled onions, or you can simply use fresh sliced red onions. If making them for this recipe, you'll have extras. Store them in the fridge to use again in other recipes.
These burgers are a little smaller than restaurant-style patties – I find them to be the perfect portion size. Feel free to make four larger burgers if you'd like though.
For burgers, you can typically get away with skipping preheating your air fryer, as long as your air fryer tends to heat quickly. However, feel free to preheat it if you prefer; this may help the burgers cook more quickly.
Nutrition analysis (approximate per serving, assumes about ⅓ cup of pickled red onions are used): 480 calories, 26.5 g fat, 11.5 g saturated fat, 800 mg sodium, 27.5 g carbohydrate, 1.5 g fiber, 6.5 g sugar, 32 g protein, Vitamin D: 1% (if using high Vitamin D mushrooms, Vitamin D will be around 60%), Calcium: 18%, Iron: 22%, Potassium: 11%
Nutrition
Share: What's your favorite thing to make with ground lamb? If you tried these burgers, what did you think?
Feel free to pin this post to share for later.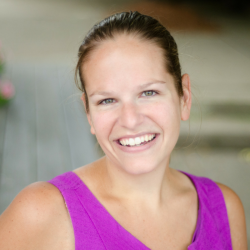 Latest posts by Chrissy Carroll
(see all)