Looking for a no equipment workout that you can do anywhere – either alone or with a group of friends? This alphabet workout is a perfect choice!
I made up this list of letters and associated exercises for part of a boot camp activity I was leading this week. I thought it'd be fun to share it here on the blog too. 🙂 I like it because a) it's fun, b) it can be different each time depending on what you're spelling out, and c) it's a no equipment workout that can be done anytime, anywhere.
[Tweet "This alphabet workout is a fun way to mix up your routine! No equipment necessary."]
In this workout, you should start out with a 5 minute warm up of your choice. Some ideas include a fast paced walk, a light jog, or some jumping jacks.
After your warm up, using the list below to do your alphabet workout. Start by spelling out your first name. If you're doing this workout with friends – it's an awesome one for groups! – then go through everyone's first name in your group. You can move onto last names after that if you want. If you're doing this workout alone, choose several other names (parents, spouse, kids, etc!) to meet your ideal workout length. If you repeat it again alone, you can do the same thing or you can spell out other words of your choice.
For example, if we were spelling out my name, that part of the alphabet workout would look like this:
C = 5 Sumo Squats
H = 10 Supermans
R = Side Plank for 20 seconds on each side
I = 20 High Knees
S = Forearm Plank for 30 seconds
S = Forearm Plank for 30 seconds
Y = 10 Bridges
Now grab your fitness clothes, print out the image below, and get your workout on! 😉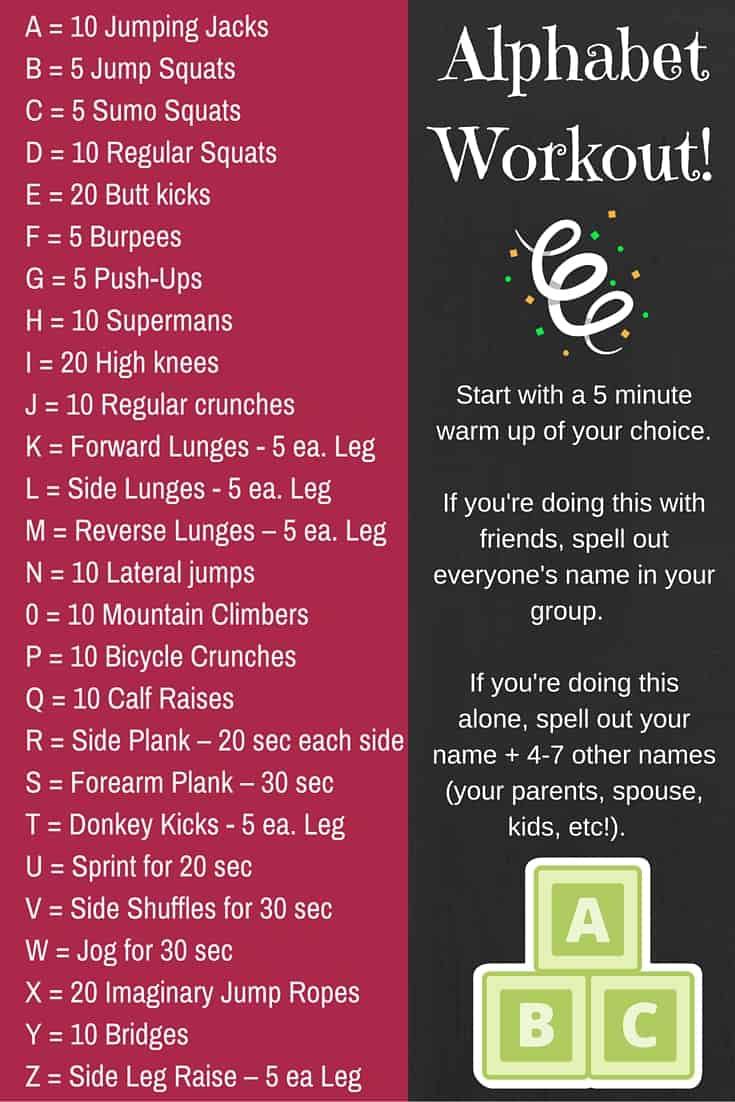 Share with me: What's your favorite type of no equipment workout? Will you give this alphabet workout a try?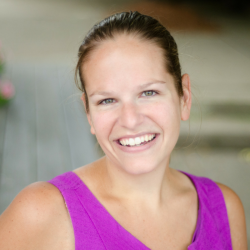 Latest posts by Chrissy Carroll
(see all)