This article was written by Emma Falconer, a Registered Dietitian with expertise in sports nutrition.
If you've been browsing the supplement shelves debating between collagen vs. whey protein – you might be wondering which is the right option for you.
Whey has unquestionably been the 'gold standard' choice to build muscle. But as the protein powder market expands, collagen protein is rapidly becoming the 'cool kid' in town. It's popping up in smoothies, coffee, gummies, and supplements everywhere.
What's all the hype about? And should you be taking it in addition to your current protein, or switching your current protein powder out for collagen? This article examines current research comparing whey protein vs. collagen protein and provides recommendations for consumption.
Disclaimer: This is for informational purposes only and should not be construed as individual nutrition advice. Always consult a doctor or dietitian for any nutrition concerns.
Why use a protein supplement?
To start – why would you consider using a protein supplement? There are a lot of reasons, and while a food-first approach is always smart – there are times when a protein supplement can be beneficial.
Adding in protein post exercise appears to have a synergistic effect on muscle recovery and growth. Consuming protein in the first two hours after exercise can maximize recovery, reduce risk of injury, and promote muscle hypertrophy.
Current research recommends 20-25g of easy to digest, leucine-rich protein after resistance training (source). Since whey protein is high in the amino acid leucine, it is often suggested during this recovery window.
Similarly, protein can be beneficial after endurance training to help promote muscle repair and recovery. It's key to take in mostly carbohydrates along with a good portion of protein after endurance exercise.
Protein powder can be an easy, quick way for athletes to quickly meet needs in that post-workout window. Additionally, many people experience a loss of appetite post workout – so protein added to smoothies can help meet recommendations when hunger cues are not an accurate representation of the body's requirements.
What is Whey Protein?
Whey protein, derived from milk, provides the body with 20 amino acids (the building blocks of protein). This includes all nine essential amino acids (also known as the EAAs, the ones our body cannot make), which include the three branched chain amino acids (BCAAs).
Whey is often considered a 'fast' protein as it is digested and absorbed rapidly in comparison to other protein sources.
It's also notably high in leucine, the key amino acid in muscle protein synthesis (learn more about leucine here). Muscle protein synthesis is the body's ability to repair muscle tissue, helping them grow bigger and helping you get stronger.
Why is whey often considered the 'gold standard' of protein options? Since it contains all of the essential amino acids, it's considered a complete protein source as well as a high quality and rapidly digestible one (source). The Digestible Indispensable Amino Acid Score (DIAAS), a measurement for protein quality, ranks whey protein as an "Excellent or High Protein Quality" (source). It has a Protein Digestibility Amino Acid Score (PDCAAS) of 1, the highest PDCAAS score a protein can achieve.
Additionally most sports nutrition research is based on whey protein, showcasing its positive results with muscle growth & recovery.
For example, research supports the use of whey as a supplement for muscle protein synthesis in athletes. In a study by West et al., athletes who consumed whey protein post exercise versus a caloric equivalent amount of carbohydrates showed improved markers of recovery and protein synthesis (source). A study in the Journal of American Nutrition found whey protein was shown to have the largest rise in muscle protein synthesis in the following three hours after resistance training, when compared to both soy protein or the same caloric amount of carbohydrate (source).
In addition to its proven effectiveness, whey is a very practical option for athletes. It's affordable for most, has a neutral taste, and dissolves well in most fluids. As it is derived from milk products, though, keep in mind it is not appropriate for vegan athletes though.
What is Collagen Protein?
Derived from the Greek word for 'glue', collagen is a fibrous protein our body synthesizes to build structure everywhere in the body, including our tendons, ligaments, hair, skin, and nails.
Collagen is composed of 19 amino acids (the building blocks of protein), 8 of which are essential. It is not considered a complete protein as it is missing the 9th essential amino acid, tryptophan. The three primary amino acids that make up collagen are proline, hydroxyproline, and glycine.
Your body does synthesize its own collagen, but this production sharply declines in your mid twenties.
In addition to natural production, you can find collagen in certain food sources and supplements. Food sources of collagen include bone broth, animal meats, egg yolk, and foods containing gelatin.
Collagen supplements are widely available these days too. They are usually derived from land animals, however there is a marine collagen source available as well (since this is derived from fish, though, note that it is not appropriate for vegan athletes). According to Healthline, there are some varieties of vegan collagen available which are created using genetically modified yeast and bacteria.
Since most collagen supplements are hydrolyzed (aka partially broken down), collagen supplements are typically easier for the body to absorb than natural food sources. Collagen peptides are a broken down form of collagen that is highly bioavailable, dissolves well in cold water, and is easy to digest.
Research on collagen supplementation in athletes shows potentially promising results when it comes to joint health and injury prevention (though this data is still in it's infancy and is not widely proven yet).
For example, collagen supplementation may help alleviate joint pain in active individuals. A study by Clark et al. on collagen supplementation in athletes demonstrated significantly reduced knee joint pain in their subjects after 24 weeks of daily supplementation (source).
Collagen supplementation may also reduce injury risk in athletes. An article in the International Journal of Sports Nutrition and Exercise Metabolism supported the use of collagen supplementation for track & field athletes, concluding, "consuming gelatin or hydrolyzed collagen may increase collagen synthesis and potentially decrease injury rate in athletes (source)".
There is also some limited research on collagen's ability to maintain & improve fat free muscle mass in elderly men suffering from sarcopenia (source). Currently more research is needed to draw conclusions on collagen's ability (or inability) to improve muscle mass in healthy individuals.
Differences between whey protein vs. collagen protein
Here's a quick summary of some of the differences and similarities between whey protein vs. collagen protein:
While whey protein is derived from milk, collagen comes from animal bone (there is a marine collagen source available which is usually derived from fish scales).
Whey protein is notably high in the branched chain amino acids used for muscle protein synthesis (valine, leucine, and isoleucine), while collagen is high in amino acids used to create structure (proline, hydroxyproline, and lysine).
Whey protein contains all 9 essential amino acids, while collagen protein is missing tryptophan and therefore considered incomplete. (Of note, since tryptophan is fairly abundant in the standard American diet, this isn't a huge detriment to collagen consumption on a daily basis.)
Both protein sources are generally neutral in taste and dissolve easily in fluids.
Whey protein is slightly more cost effective than collagen protein, but as collagen increases in popularity it is likely that more affordable options will appear on the market.
For athletes, whey protein research best supports its use in muscle protein synthesis & muscle growth while collagen protein research best supports its use in injury prevention & alleviating joint pain. Further research is needed to examine any synergistic effect of combining the two protein sources together.
Which should you use?
When it comes to collagen vs. whey, it's important to understand that these two types of proteins aren't really competing, but rather serve different functions in the body.
Whey protein can be used in the post exercise period (ideally within two hours post exercise) for those looking to support muscle repair and recovery. Collagen can be supplemented daily, ideally with a vitamin C source such as orange juice, as a promising (though not yet proven) way to promote healthy joints, cartilage, and ligaments.
As you can see, both can potentially be used to complement each other in an athlete's diet.
Of course, always check with a licensed medical provider prior to taking new supplements, as they can provide individualized recommendations for appropriate amounts of each.
Share: Do you use either whey protein or collagen? What are your thoughts?
About the Author: Emma Falconer received her masters in nutrition at the University of Oklahoma prior to completed her 1200 hour dietetic internship at BIDMC, a Harvard teaching hospital in Boston MA. She is a Registered Dietitian that specializes in sports nutrition and eating disorder recovery. She loves helping others foster a positive relationship with food. Follow her over on Instagram for sports nutrition tips and fueling inspiration.
PS – Don't forget to pin this post to refer to later and share with others!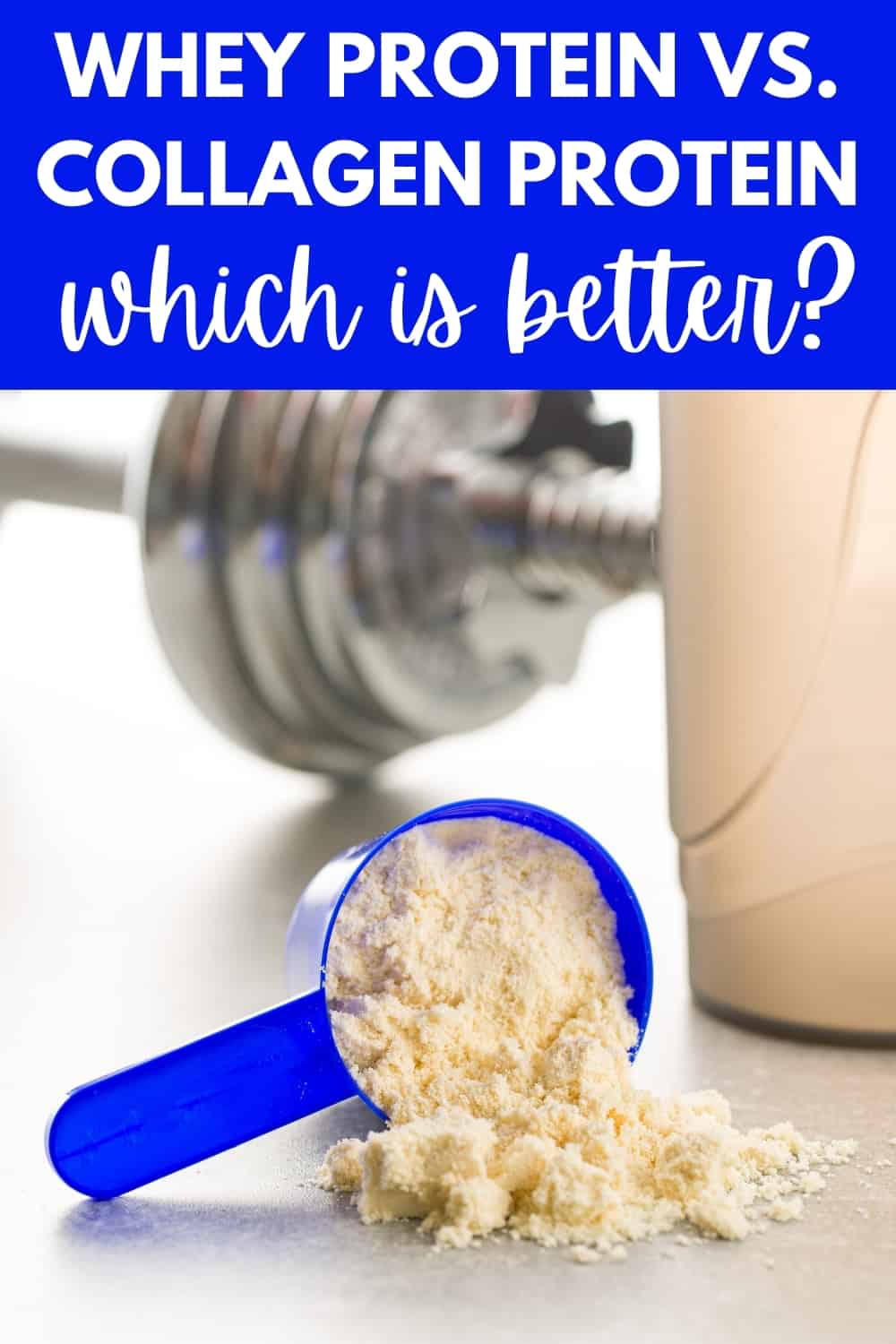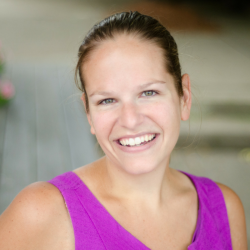 Latest posts by Chrissy Carroll
(see all)