Here's where being a frugal shopper and a dietitian sometimes clash heads.
A few weeks ago I was at Target picking up a few things, and came across a Hanukah clearance section. The endcap had these packages of dark chocolate chips that were kosher and dairy-free, so I could eat them while being dairy-free for nursing. And they were 70% off, yahoo! Not one to pass up a good deal, I bought 5 bags of chocolate chips.
5 BAGS.
What was I thinking?!
They kept staring at me from my baking cabinet (yes, I have a specific kitchen cabinet meant for baking), summoning "make something chocolatey with us, Chrissy!" "Turn us into something delicious!" "We know you want dessert tonight, lady!"
The chocolate chips were more persuasive than my willpower, so off I went into the kitchen to experiment with making some dairy free fudge. I don't even know why I decided on fudge. I haven't eaten regular fudge in probably a few years, and it's not at all the kind of dessert I crave very often (I'm more of a cookie or brownie person). But something about those chocolate chips just said fudge to me.
I browsed about 10 different dairy free fudge recipes online, all of which seemed to have vastly different amounts of ingredients. So instead of following a recipe, I just made up my own. I guestimated what would make the most sense in terms of amounts and kept my fingers crossed.
I was a little nervous based on the consistency going in the fridge that it wasn't going to firm up correctly, but it did so nicely. Now, it does has a more truffle-like texture compared to regular fudge, so I recommend keeping it in the fridge and eating it straight outta there. I don't think it would hold up well at room temperature.
Other than the slightly different consistency (which to be honest, I prefer the way this one is compared to the regular kind) – this came out fabulous. It's very rich and flavorful, and the chopped walnuts added a nice texture.
Luckily, the dietitian side of me had some sense to her and I gave most of this away to a friend after it was made, so I consider that a win for myself to discourage overindulging. Otherwise you probably would've found me in a fudge induced food coma by now.
Give this a try (keep in mind, it's rich and makes a lot of small servings) – then let me know how you like it!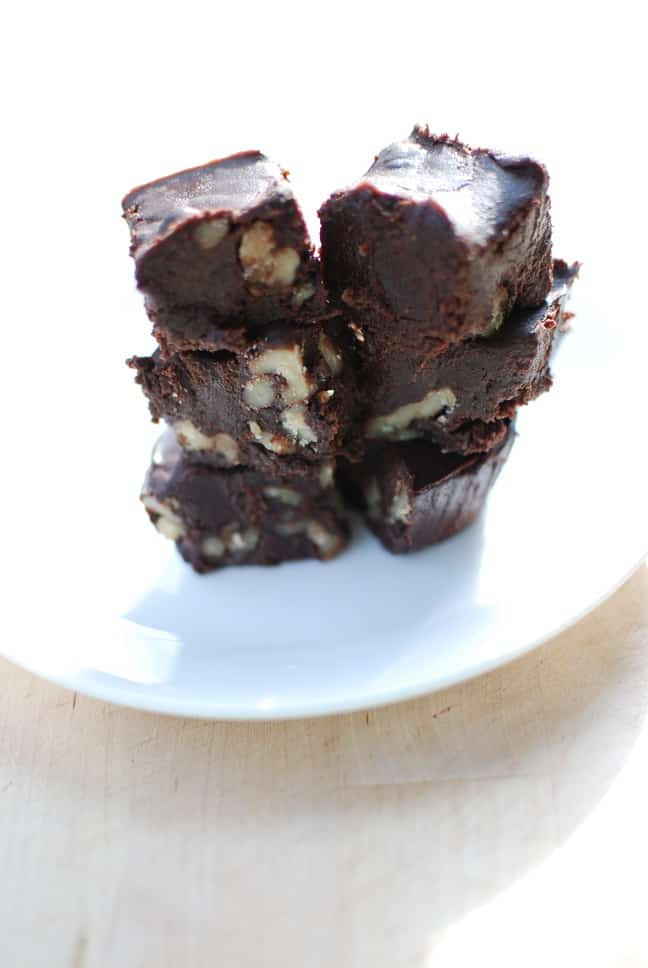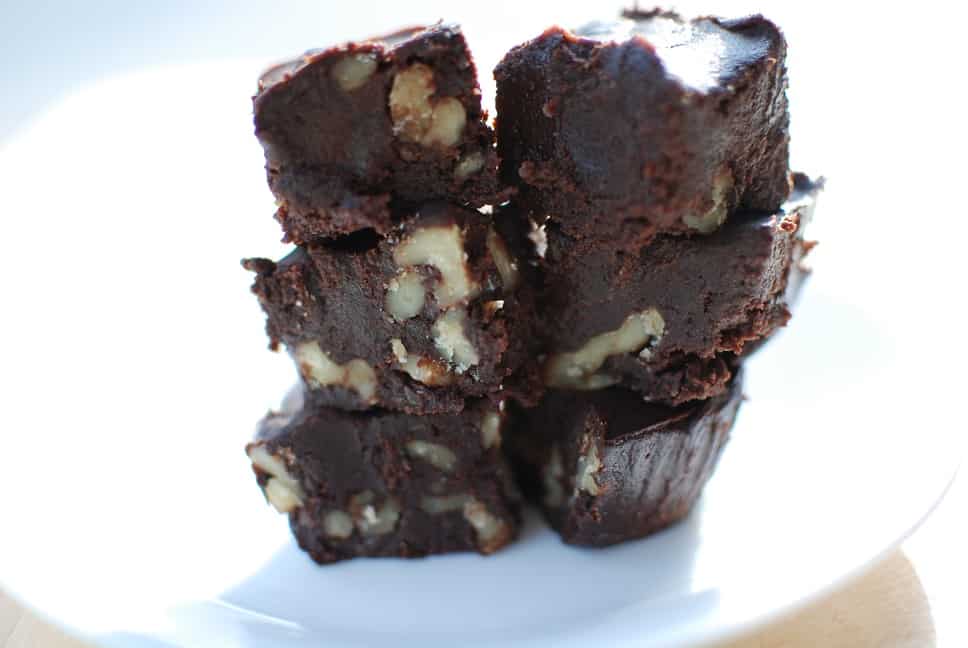 Dairy Free Fudge {Made with Coconut Milk}
Makes 24 servings (approximately 1 inch squares)
Ingredients:
1 cup of coconut milk (the kind from a can, not from a carton)
1 tbsp coconut oil
1/2 cup honey (or maple syrup or agave for a vegan version)
1 tsp vanilla
Pinch of salt
3 cups dark chocolate chips
3/4 cup chopped walnuts {optional}
Directions:
1. Heat coconut milk and coconut oil in a saucepan and simmer for a few minutes.
2. Add honey and simmer on low for another 10 minutes.
3. Add the vanilla and salt, and then add the chocolate chips, stirring consistently so as to blend together the mixture so all the chocolate is melted.
4. Stir in the walnuts and then pour the fudge mixture into your pan. I had some mini disposable loaf pans that I used for this, and it fit perfectly in 3 of those (I just lightly greased them beforehand). You could also use an 8×8 pan or a pie plate lined with parchment paper.
5. Refrigerate until firm and enjoy! {If you're craving it right.this.second, you can also pop it in the freezer to firm up quickly so you can dig in soon.}
Nutrition analysis (per serving):
185 calories, 11 grams of fat (7 g sat fat), 28 mg sodium, 20 g carbohydrate, 2 g fiber, 17 g sugar, 2 g protein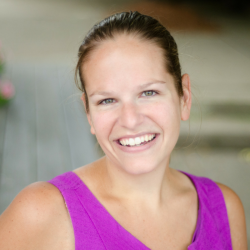 Latest posts by Chrissy Carroll
(see all)