I absolutely love New Year's time.  It just feels like a fresh start – a time to reflect on past successes and shortcomings, and figure out steps to make this next year the best one yet.
I've been spending yesterday and today cleaning up my apartment – including filing and organizing my mess of a desk – so that this weekend I can set aside personal time to read, journal, and set my 2015 goals (post to come soon!).
In the meantime, I thought I'd share some helpful tips with you as you make your new years resolutions.  There's an activity that I use in one of my presentations that I find really powerful for reflections and resolutions called the "Wheel of Wellness."  This, along with setting SMART goals, can help set you up for success in 2015!  And to help you out, I'm going to give you FREE new year's resolution printables with these activities so you can use them to set your goals.  (Details at the bottom!)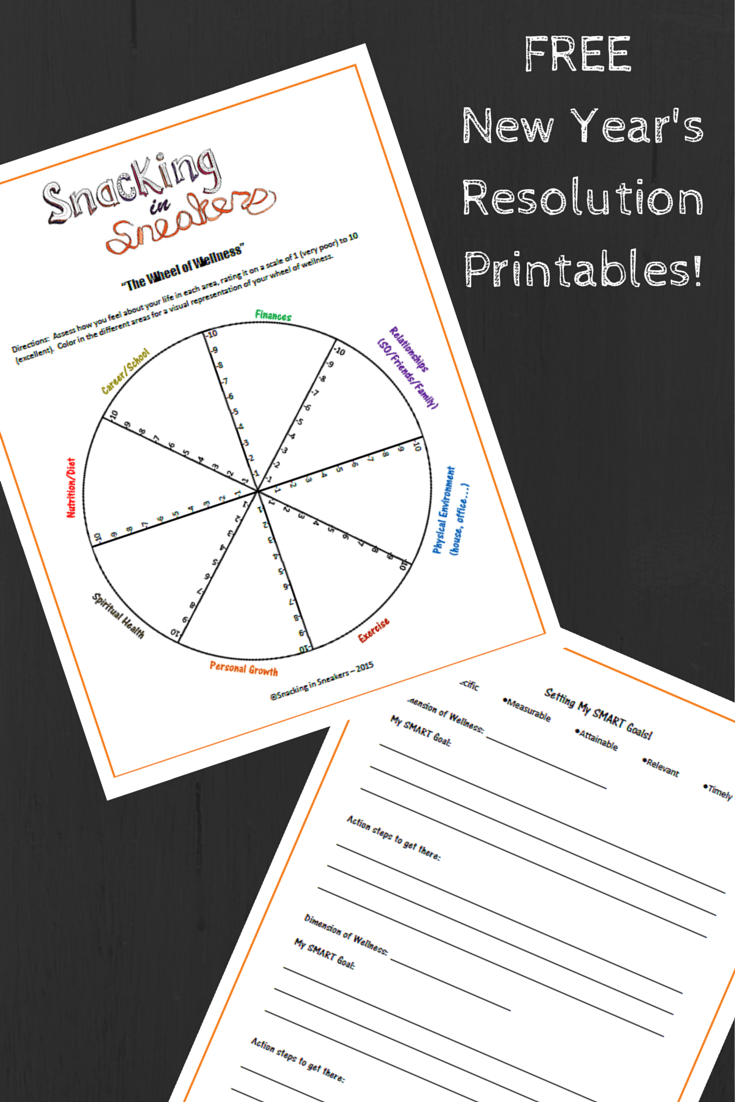 The "Wheel of Wellness" is much broader than what many typically think of as "wellness."  The activity actually explores your level of fulfillment in multiple dimensions of wellness – from career to finances to nutrition to relationships.  You will rate each area on a 1 to 10 scale.  It's a holistic approach that lets you reflect on how you feel about each area.
From there, the next step is to assess WHY you feel that way about that particular dimension of wellness.  For example, if you rated your personal growth a 2 – why do you feel that way?  What's been getting in your way?  Then, for these areas you rated low, ask yourself what a 10 would look like.  What would you need to do, need to overcome, need to let go of, need to improve upon, etc – to make that dimension stellar?
This should help you see the areas that you want to change and decide what to prioritize for your goal setting.
As you start setting goals in these areas, it's important to create your goals in a way that sets you up for success.  One way to do that is by making sure to write your goals as "SMART" goals…
SMART Goals are…
Specific – A specific goal helps you focus and clearly guides your actions.  It tends to be easier to stick to than a general goal.  For example, rather than saying "I want to save money this year", you could say "I want to save $15/week in January, so I'm going to bring lunch on the two days a week I usually buy takeout."  See the difference?
Measurable – When you set a goal, you need to have some way of measuring if you met it, right?  You want to know if you kicked butt and achieved it!  Be sure your goal has some measurable capacity.  In the example above, it would be the $15/week saved.  In other dimensions of wellness, it might be a number of pounds lost each week, an extra serving of veggies each day that you track, or minutes of exercise each week.
Attainable – A goal you choose should be something that is feasible for you to accomplish this year.  You have to be mentally and physically able to do whatever you set your goal to be.  There is no magic pill to make us lose weight, tone up, or prevent chronic diseases – it takes effort, but it totally can be done if you put the hard work into it.  As you list your goals, think about the qualities, skills, and knowledge you need to achieve them.  It may help if you list these out.  The more you develop your plan of action, the more attainable your goal will seem and the more likely you are to be successful in achieving it.
Relevant – I used to use "realistic" for this one, but I think that fits too closely to "attainable."  And I realized that making sure your goal is relevant is just as important as the rest of these.  Think about relevancy like this:  does your goal fit in line with your personal values and lifestyle?  As an example, if a primary value for you is quality family time but you're setting a resolution to run a marathon – will that mesh well with your values?  Will you feel okay having to be out on long runs over the weekend, or having to come home later because you need to hit the gym after work?  The answers will depend on you, and there is no right answer – but just thinking through your values and goals together can help you to set resolutions that will stick.
Timely – Break down large, broad goals into smaller chunks and set a time frame for them.  For example, saying "I want to lose 50 pounds this year" is somewhat non-specific (how will you get there?) and is over a long time frame.  Instead, consider breaking that larger goal into smaller time frames, and include how you will get there.  For example, stating "I want to lose 6 pounds by February 15th by cutting out my daily takeout and going to the gym 3x/week" gives you a concrete date and plan.  At the dates you list, you can evaluate how far you've come, assess what is/isn't working, and then continue to set more goals.
Once you think through your SMART goals, continue to break it down further with the action steps you need to take to get there.  Outline these steps.
Here's an example of how this all might come together…
Non-SMART Goal:  "I want to eat breakfast more."
Revamping as SMART goal:  "On at least 3 days next week, I will eat a breakfast with 2 or more food groups."
Action steps:
Pick up cereal, milk, apples, and string cheese from the grocery store.
Make sure dishes are clean the night before
Set alarm for 15 minutes earlier
FREE New Year's Resolution Printables
And those are my tips for setting better new year's resolutions!  For your very own printable version of the activities described above, simply sign up for our email newsletter below and you'll be directed to your free copy!  (If you run into any problems, don't hesitate to shoot me a message).

Share with me:  Have you set your new year's resolution?  What are YOUR 2015 goals? 

Chrissy Carroll is a Registered Dietitian and USAT Level I Triathlon Coach. She specializes in sharing nutrition and fitness tips, as well as recipes, for runners, triathletes, and active women.Chrissy holds a Bachelor's Degree in Nutrition, a Masters Degree in Public Health, and is also an ACSM Certified Personal Trainer.

Latest posts by Chrissy Carroll (see all)