Athletes, particularly runners, are often concerned about their glutes, as these muscles are integral to proper running form. But glute weakness is actually quite common in runners. Not to worry, though – there are some awesome glute exercises for runners and helpful form tips to ensure your peak performance!
Disclaimer: This post was written by JayDee Vykoukal, Doctor of Physical Therapy. It has been reviewed by Chrissy Carroll, MPH, USAT Level I Triathlon Coach, RRCA Running Coach. This post is for informational purposes only and does not constitute medical advice. Please consult a physician for any medical concerns.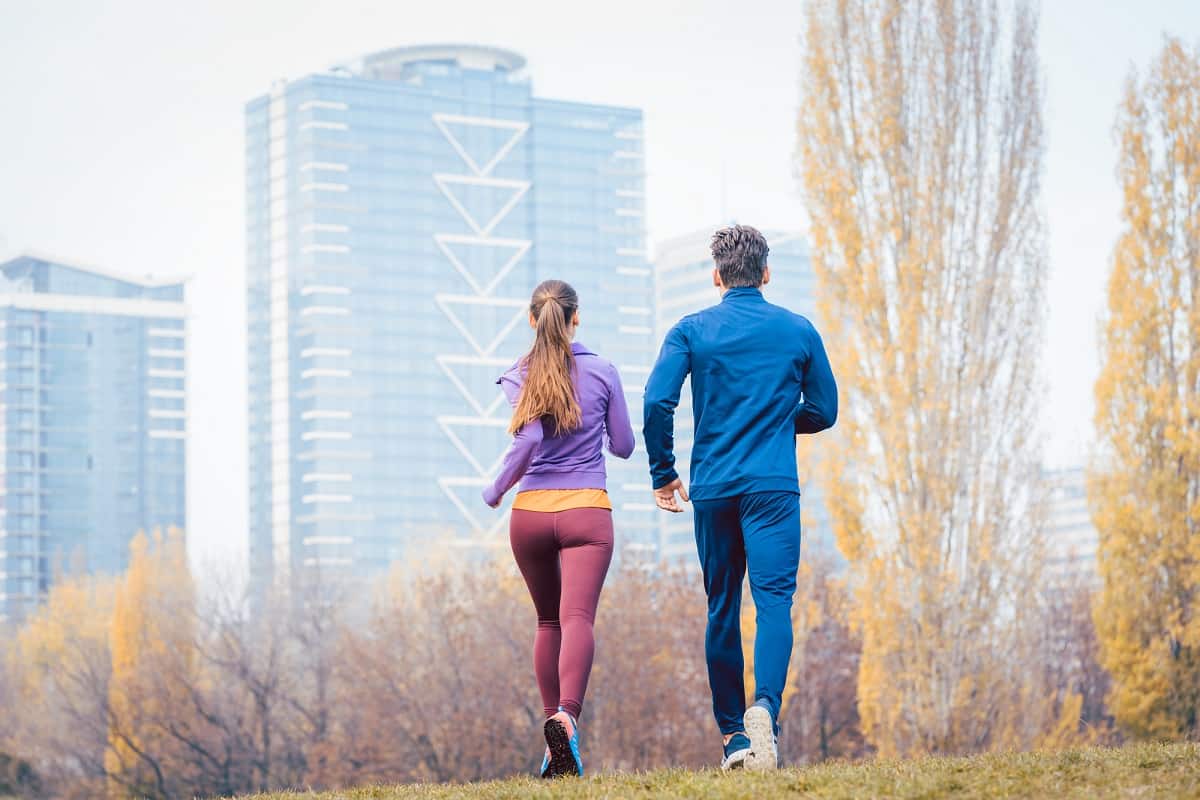 What Are the Glutes?
The glutes are the group of muscles located in the buttocks. They include the following three muscles:
Gluteus Maximus: The largest glute muscle responsible for hip extension (with the hamstrings) and external rotation.
Gluteus Medius: The smaller middle glute muscle responsible for the hip joint's abduction, stabilization, and internal rotation. It is crucial in keeping the pelvis level with single-leg standing (balancing).
Gluteus Minimus: The smallest glute muscle responsible for assisting with abduction of the hip joint and providing additional stability to the pelvis.
Due to their proximity, several other local muscles of the trunk and hips work together to provide functional strength for the entire body. These include the deep hip rotators, the quadratus lumborum, psoas major, hip adductors, and abdominal muscles.
Why Glute Strengthening is Important for Runners
While there are no exact numbers to quote, as a physical therapist, I can tell you that certain aspects of running performance comes down to the core and hip mechanics – which involve the glutes.
The glutes play a key role in hip, spine, and pelvis stability. During running, they simultaneously provide stability and power to move your body forward with each push-off of the toes. Weak glutes can lead to poor hip mechanics (see below), resulting in decreased performance and increased risk of injury.
Strengthening your glutes and, most importantly, focusing on hip mechanics can also help to improve your performance/speed, reduce injuries, and increase endurance. You can get stronger and faster by focusing on specific exercises that target the glutes.
Why The Glutes Get "Weak"
There are several reasons why the glutes can become weak in runners.
Daily postural habits. Spending hours on a chair or couch and a slouched posture can lead to decreased hip mobility and an imbalance of muscles around the lower body, namely the glutes. (Read more in our article about lower cross syndrome).
Muscles imbalances. The gluteal muscles are prone to compensatory mechanics, with muscles (such as the hamstrings) becoming overdominant.
Previous injuries. Nerve damage, mechanical changes, or scar tissue from a previous injury can limit the gluteal muscles' ability to fire correctly.
Running form. Your running mechanics can change whether you can effectively activate your gluteals. For example, excessive hip adduction (evident by the knees being closer together), overstriding, or excessive forward-leaning can limit glute muscle activation.
Note: Rather than focusing on what's wrong with your running form, which can make you feel like a victim of your own running strategy, focus on feeling empowered and learning ways to maximize your running potential.
For example, focusing on simple cues – like "quick feet" to reduce overstriding – can help you feel motivated and engaged in form, rather than frustrated and ready to quit.
Functional Training for Glute Strengthening
While reading this article for tips on strengthening the glutes, it's important to note that you should also focus on targetted strengthening with running-specific moves. This will ensure that the strength you are building actually carries over to your running.
Examples of activities that encourage gluteal strength include:
Hill training
Sprints
Running drills
10 of the Best Glute Strengthening Exercises
Now, let's review the top strengthening exercises for the glutes. If you have weak glutes, try the first three exercises lying on the floor- then progress from there.
1. Bridges
This exercise focuses on strengthening your gluteus Maximus and hip extension strength.
Lie on your back with your feet flat on the floor and your knees bent.
Focus on squeezing your butt and pushing through your heels to lift your hips as high as possible without arching the low back.
Hold at the top of your range for two to five seconds before slowly returning to the starting position.
If you notice your hamstrings are cramping (common when first getting started), try decreasing your range and focus on tightening your glut muscles.
Continue for 15 repetitions for 2 to 3 sets.
To progress, try a single-leg bridge or marching while holding at the top position.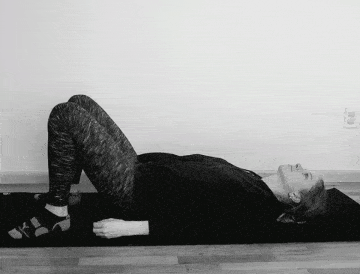 2. Clamshells
This exercise focuses on strengthening your gluteus medius and hip abduction/rotation strength.
Lie on one side, with your hips and knees bent to 90 degrees.
Keeping your feet together, lift the top knee as high as possible without letting the pelvis move or rotate.
Repeat for 10 to 15 repetitions for 2 to 3 sets. When finished, you should notice a muscle burn on the side of your butt.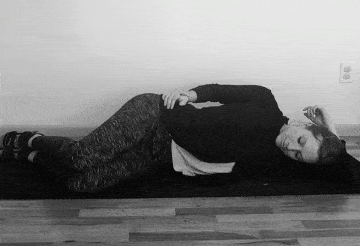 3. Side-lying Leg Raises (Hip Abduction)
This exercise focuses on strengthening and properly activating your hip abductors, including the gluteus medius.
Lie on one side with your bottom leg bent (for stability) and your top leg straight.
Slowly lift the top straight leg towards the ceiling, keeping the hips in line so they do not rotate.
Keep the kneecap pointing forward (not up toward the ceiling) to ensure you're working the side of the hip (and glutes) and not the front of the thighs.
Repeat 10 to 15 times for 2 to 3 sets.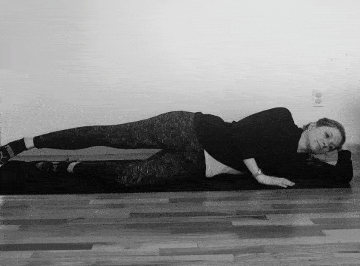 4. Resisted Donkey Kicks
This exercise focuses on strengthening the glutes and hip extension in a dynamic position.
Start in a quadruped position (hands and knees) with your hands underneath your shoulders and knees under your hips.
Place a band behind your heel. Secure a straight band with your hands or a loop band with your opposite leg for adequate resistance.
Lift the resisted leg up to the ceiling while straightening the knee and pushing your heel toward the back of the room.
Repeat for 10 to 15 repetitions for 2 to 3 sets on each leg.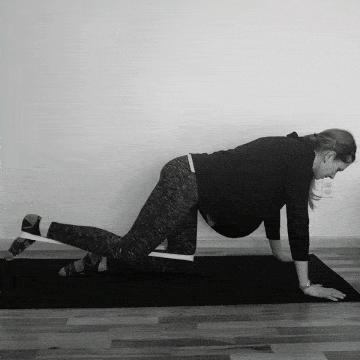 5. Squats / Squat Jumps
Squats are a great functional exercise for strengthening the glutes, legs, and core. Adding the dynamic jump can increase the challenge of this exercise. (You can also try single-leg squats as an alternative to squat jumps, which are tougher and build running-specific strength.)
Start with your feet slightly wider than shoulder-width apart and toes pointing out slightly.
Keep your chest up and back straight as you lower yourself down into a squat position.
Keep your weight in your heels and knees behind your toes, going as low as you can while keeping this position (the exact depth of your squat will vary from person to person).
Push through the heels to stand back up, driving the hips forward as you come up.
Repeat for 10 to 15 repetitions for 2 to 3 sets.
Once you have practiced good form, add a jump when standing back up or hold dumbbells in each hand to progress. Focus on landing lightly with each jump.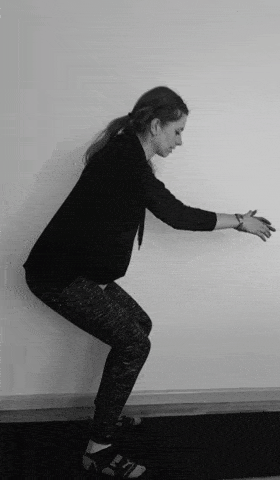 6. Single Leg Lunge Jump
Lunges are another great functional exercise that strengthens the glutes, legs, and core while providing excellent movement-specific training for running.
Stand with your feet together and take a large step forward with one foot.
Keeping your front foot flat on the floor, bend the front knee as you lower your body down toward the floor- going as low as is comfortable or until your back knee touches the floor
Push through your front foot's heel as you push up into an explosive and coordinated jump.
Return to the starting position and repeat 10 to 15 repetitions with each leg for 2 to 3 sets.
To progress, you can increase your speed, or use a TRX band on the back leg for instability.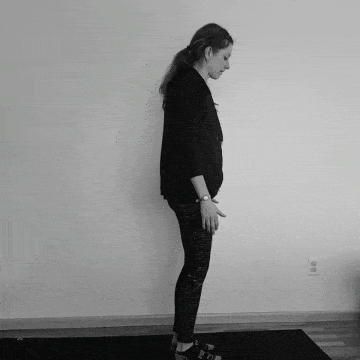 7. Single Leg Deadlift
This exercise focuses on developing hip strength in a functional manner.
Stand with the feet hip-width apart and in good posture (optimal spine alignment)
Shift all your weight into one foot, then hinge at the hips while keeping your back flat.
Allow your opposite straight leg to come up behind you as you reach for the floor with your hands- only going as low as is comfortable.
Return to standing, squeezing the glutes as you come up.
Repeat 10 to 15 repetitions for 2 to 3 sets with each leg.
Progress by holding weights in your hands while you perform the exercise.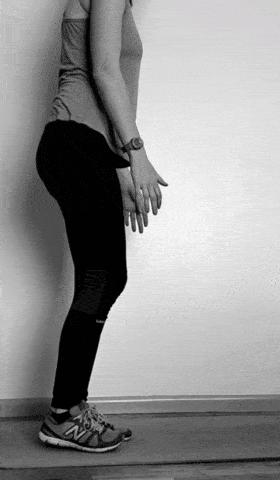 8. Skater Jumps
Skater jumps are a great plyometric exercise for building overall leg strength and power.
Start standing with your feet together and shift your upper body forward (butt back) and arms out the side.
Jump to the side and onto one foot while bringing your opposite arm forward and the other arm back- as if skating across the floor.
Now, jump sideways in the opposite direction, landing softly on the opposite foot.
Repeat (arms following the same pattern).
Continue hopping side-to-side for 15 to 20 repetitions on each leg for 2 to 3 sets.
Progress by increasing jumping distance, cadence, and intensity.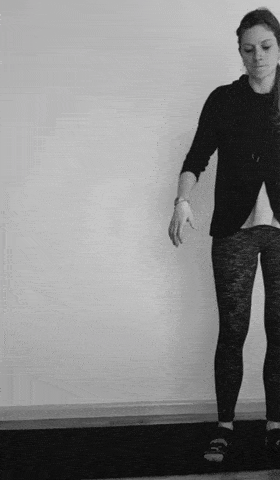 9. Resisted Side Stepping
Resisted side steps are a great exercise to increase hip strength and stability using a low-cost band. (You can find more resistance band exercises for runners here).
To get started, wrap a loop resistance band around your ankles. You can tie a straight band in a knot if you don't have a loop band.
Keeping the back relatively flat, bend the knees and hip slightly to get in a mini-squat position.
Next, step sideways with one foot to increase the tension on the band.
Now, step with the opposite foot toward the other foot to return to the original hip width.
Continue stepping across the room for 10 to 15 repetitions. Then, repeat with the other leg leading.
To address different fibers of the gluteal muscles, you can try this exercise in various positions. For example, straighter knees will address the gluteus minimus primarily, while a deeper squat will target the gluteus medius. You can also try walking forward (monster walls), backward, and diagonally with differing levels of squatting.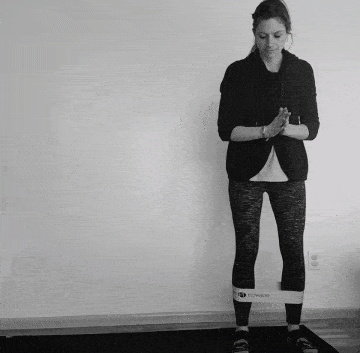 10. Hip Hikes
Hip hikes are a great exercise to increase hip stability, coordination, and gluteal strength. It can help you learn to keep your pelvis "level" with single-leg activities like running and walking.
To start, stand on one foot while keeping the back flat.
Next, subtly lift your opposite hip toward the ceiling as high as possible without arching your back or excessively shifting your weight to the side.
Lower the hip back down and repeat for 10 to 15 repetitions on each side for 2 to 3 sets.
If you have a stiff hip and struggle to coordinate this movement (common), try standing in front of a mirror. Imagine a straight line across your front hip bones that you are trying to tip diagonally.
To increase your range of motion, you can also try standing sideways on a small step.
Note: It's best to hold onto the wall for stability. I'm only facing forward in the exercise demo below so that you can see what my hips are doing!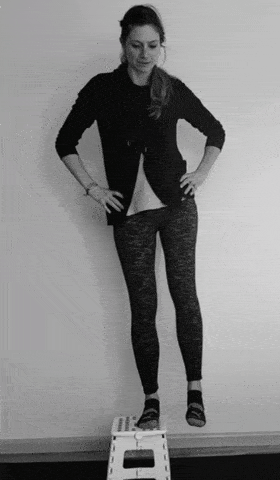 Strength Exercise Tips
No matter where you start on this list, the key is to keep the movement controlled. Let's review some basic tips to get maximize your efforts.
If you are trying to strengthen your glutes but experience muscle cramps in the hip flexors, hamstrings, or other commonly overdominant areas, this is a cue that you need to make the exercise easier, and try it later when you have better core strength and control.
Keep your spine in a neutral alignment and your abs engaged throughout each exercise.
Be sure to warm up before exercising.
If you need help with any exercises, don't hesitate to consult an exercise professional for guidance.
Finally, make sure you're using appropriate intensity – listen to your body and adjust as needed.
Doing these exercises on a regular basis will help you build strong glutes, improve your overall performance and reduce the risk of injury. Take some time to practice each exercise and have fun with it!
Glute Strengthening FAQs for Runners
Commonly asked questions that runners have about their glutes include:
How often should runners do glute exercises?
This depends on the individual, their current level of fitness, and their overall training plan. Generally, it is recommended that runners do glute-strengthening exercises 2 to 3 times per week for optimal results during base building, and 1 to 3 times per week during build phases of training. However, these ranges can vary based on the individual and their goals. It's best to talk to your physical therapist or running coach for specific advice.
Can you grow glutes as a runner?
"Growing" a muscle is another term for bulking up a muscle. You may notice more muscle definition if your running schedule includes both high-intensity training and targeted glute strength training. However, this will vary with training goals, gender, and more.
Why do runners have weak glutes?
The most common reasons for weak glutes in runners are overreliance on other muscle groups, including the hip flexors, quads, and/or hamstrings, and lack of structured glute training. (Additionally, changes in abdominal coordination can result in altered running posture, which can also correlate to weak glutes.)
How do I activate my glutes when running?
Activating your glutes when running comes down to good form and core control. Make sure you are maintaining a neutral spine, engaging your abdominal muscles, and paying attention to the motion of your pelvis as you run. Additionally, practicing correct stride length and cadence can help boost optimal performance (talk to your PT).
Do strong glutes make you run faster?
Stronger glutes can help you run faster, but they won't necessarily make you run faster. To improve your running speed, focus on improving your mechanics and movement efficiency, and working on interval training.
What are the symptoms of weak glutes?
Weak glutes can present in several different ways. Common symptoms include lower back pain, hip pain, knee pain, and decreased performance. You might also notice cramping of muscles "picking up the slack" of your glutes, such as the hip flexors (front of the hip), hamstrings, and calves.
The Bottom Line
In conclusion, glute strength is essential for runners and should not be overlooked. Improving your glute strength can help you become a more efficient runner and reduce the risk of injury. Take the time to incorporate glute-strengthening exercises into your running routine, and feel the difference in your performance.
Latest posts by JayDee Vykoukal
(see all)