Gearing up for the holidays? Try a new take on an old classic with these Greek yogurt mashed potatoes! They're creamy, flavorful, and likely have more protein than your traditional mashed potato recipe.
Disclosure: This post is sponsored by the dairy farm families of New England. As always, all opinions are my own.
Adulting: potato style
It's funny, as a kid I would only eat boxed mashed potatoes. I remember going to family dinners and there'd be homemade mashed potatoes and I'd be so disappointed. Lumps? Weird ingredients? No thanks, I'd heartily cling to my box of Idahoan.
I'd like to think I've evolved in my tastes and now actually really enjoy the from-scratch version…though I still love a good ol' boxed one of course. 😉
These Greek yogurt mashed potatoes have been a favorite around my house lately, and luckily my son does not have the same aversion that I did as a kid to homemade potatoes. He'll gobble these up, and so will I!
How to make Greek yogurt mashed potatoes
This recipe is super easy, so even if you're not a pro in the kitchen – I promise these will be simple to whip up. Here's what you need:
Yukon gold potatoes
Butter
Salt + pepper
Plain Greek yogurt
Milk
Chives (optional)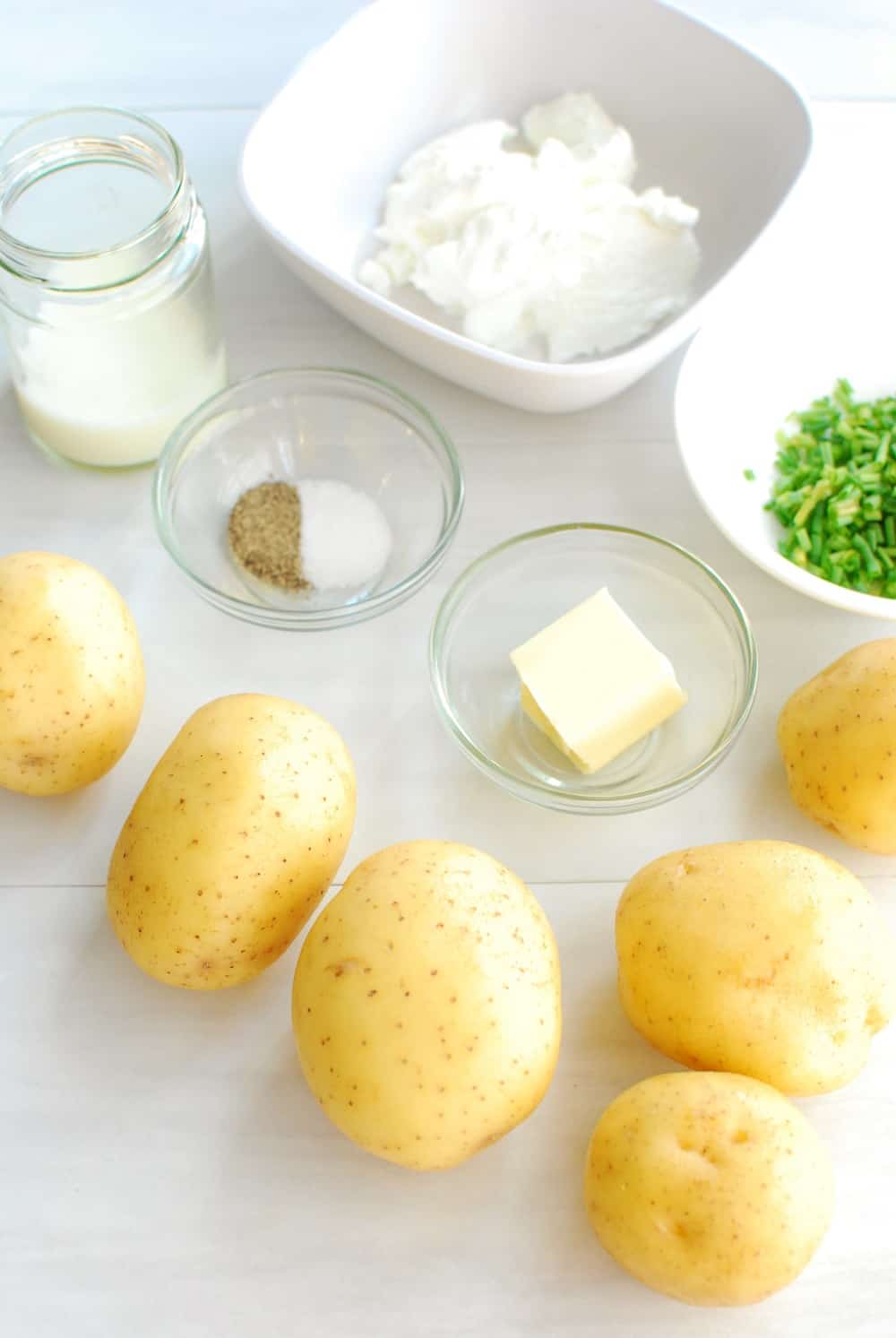 You'll start by peeling and chopping up your Yukon gold potatoes. If you want, you can skip the peeling step and leave the skin on (which is actually good for you!). But if you're going for more of a creamy texture, you'll want to peel it off.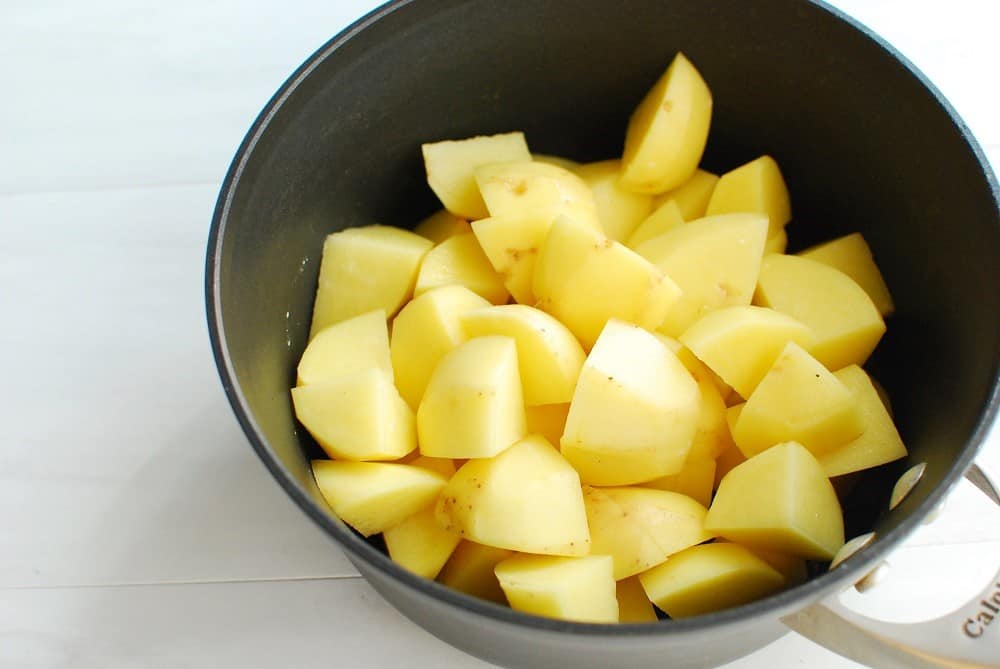 Once they're peeled and chopped into large chunks, place 'em in a pot. Fill it with water until it's just over the potatoes, and then place it on the stove over medium heat.
Bring to a boil, and then let those potatoes cook for about 15 minutes or so. You want them to be very tender when you insert a fork.
Next, you'll drain them and then let some butter sit in the pot with the hot potatoes until it melts. Once that happens, start to mash them up. I really need to invest in a potato masher, but if your kitchen is ill-equipped like mine (haha) – just use the back of a fork to mash.
Once you've started mashing, add the salt, pepper, yogurt, and milk. Give everything a good stir and then continue to mash until you get the right texture. You can keep them kind of chunky, or keep mashing until they're mostly creamy.
Or, if you want them really silky, you can also try to use an immersion blender on them – but you want just a quick stir with this or you risk them becoming gummy if you over process. (I stick with mashing by hand until they're light and fluffy).
As a heads up, depending on the exact weight of the potatoes you used – because let's be real, I know many of y'all aren't getting out the kitchen scale to measure two pounds – you may need to slightly adjust the amount of milk added. If the potatoes don't look creamy enough, just pour in a little more milk until you get the right texture.
From here, you can mix in the chives or top them with chives – or you can skip over that if you don't have any on hand (orrrrr if you have kids that will say "what's that green stuff?!" and you don't feel like an argument 😉).
Now dig in and enjoy!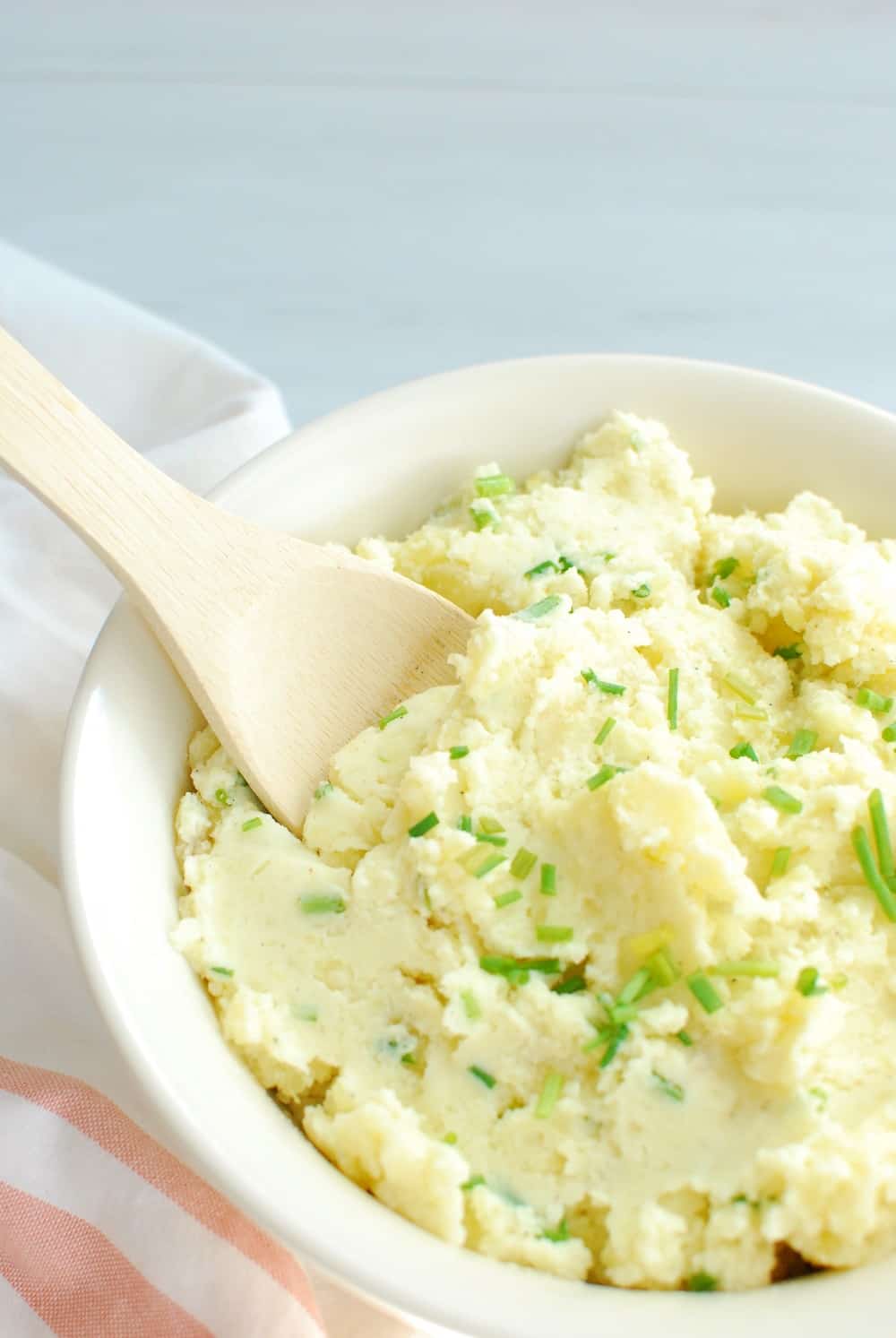 Why this recipe is great for active women
Potatoes and Greek yogurt are two of my favorite foods for athletes! Potatoes provide a natural source of carbohydrates to stock the muscles with energy, while Greek yogurt provides high quality protein and calcium.
The great thing about Greek yogurt in these mashed potatoes? It makes a perfect substitute for the heavy cream or half and half found in many recipes. It's thicker than using all milk, helping to create that luxurious texture like you'd get from heavy cream or sour cream – but it's also lower in calories and higher in protein than those.
And as such, this recipe clocks in at just 187 calories with 6 grams of protein per serving. Not a bad addition to your Thanksgiving – or anytime! – plate.
Plus, since potatoes and dairy are both naturally good sources of potassium, each serving of these mashed potatoes packs in 16% of your daily needs. (That's more than a banana).
So let's see, we've got carbs, protein, and potassium? Sounds like a nice side to add post-workout to me! 😉 Combine it with a little turkey and a piece of fruit for a balanced recovery meal.
Ways to serve Greek yogurt mashed potatoes
Once you make these, you can eat 'em straight-up, topped with a little butter, or topped with a little gravy. Looking for main courses to combine these with? Outside of your Thanksgiving turkey, try one of these tasty options: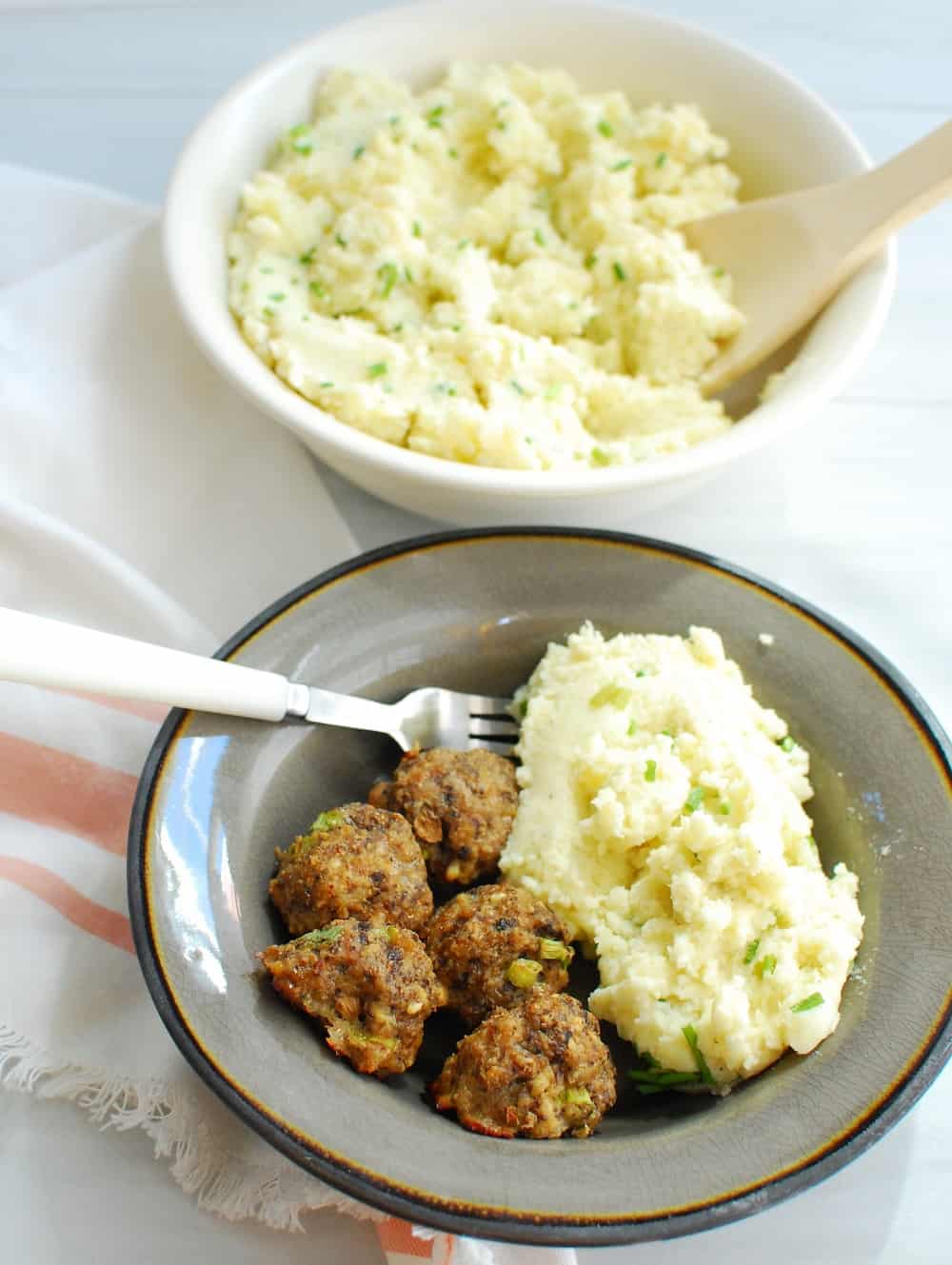 I hope you enjoy these Greek yogurt mashed potatoes as much as I do! If you get a chance to give 'em a whirl, be sure to leave a recipe rating or comment below.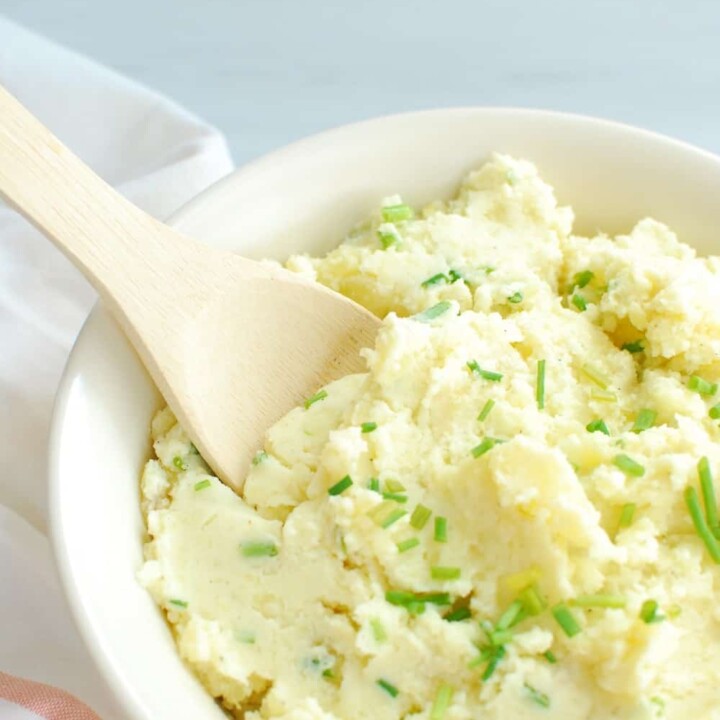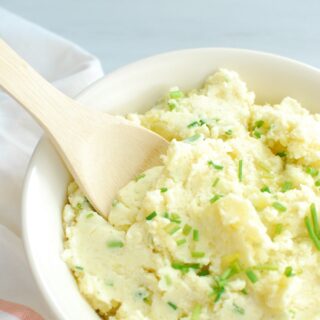 Greek Yogurt Mashed Potatoes
Try a new take on an old classic with these Greek yogurt mashed potatoes!  They're creamy, flavorful, and have more protein than your traditional mashed potato recipe.
Ingredients
2

pounds

Yukon gold potatoes

(approximately 5-7 potatoes)

2

tbsp

butter

1/2

tsp

salt

1/4

tsp

pepper

3/4

cup

plain Greek yogurt

1/4

cup

1% milk

1/4

cup

chives, minced

(optional)
Instructions
Peel and chop the potatoes into one-inch chunks. Place in a pot and fill with water until potatoes are just covered.

Place on the stovetop over medium heat. Bring to a boil, and cook for about 15 minutes, until potatoes are tender and can be easily pierced with a fork. Turn off heat.

Drain water from the pot, and place the pot with the cooked potatoes back on the stovetop. Add the butter and allow to just sit (without heafor a few minutes until the butter has melted.

Start to mash the potatoes with a potato masher or the back of a fork. Add the salt, pepper, yogurt, and milk, and continue to mash until the potatoes reach your desired texture.

Fold in the chives. Serve plain, topped with butter, or topped with gravy. Enjoy!
Notes
Notes:
Feel free to mix up the recipe with different add-ins, like chopped bacon or cheddar cheese.
Nutrition analysis (approximate per serving):
187 calories, 4 g fat, 2.5 g saturated fat, 250 mg sodium, 32 g carbohydrate, 3 g fiber, 6 g protein, Vitamin A: 5%, Vitamin C: 21%, Calcium: 6%, Iron: 3%, Potassium: 16%
Nutrition
Share: Were you a homemade or boxed mashed potato fan growing up? If you tried these Greek yogurt mashed potatoes, what did you think?
For information about the dairy farm families of New England, school nutrition, and health and wellness topics, please visit New England Dairy.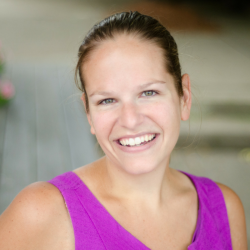 Latest posts by Chrissy Carroll
(see all)