When the snow starts falling, there's nothing like cozying up to a mug of hot cocoa. But this year, it's time to step things up a notch with these incredible hot chocolate bombs! You can make them ahead of time and then add one to a mug with warm milk whenever you need to satisfy a chocolate fix.
Disclosure: This post was sponsored by NOW®. As always, all opinions are my own.
How to Make Them
If you haven't seen the viral TikTok videos demonstrating how to make these, they're surprisingly easy. All you need is:
Silicone dome mold
Dark chocolate chips
NOW Real Food Cocoa Lovers™ Organic Hot Cocoa
Mini marshmallows
Milk (or milk alternative)
The full recipe instructions are in the card at the bottom of this post, but you'll find some helpful process photos here.
You're going to start by melting your dark chocolate in intervals in the microwave. One mistake people often make is microwaving the chocolate for a few minutes straight. This is a recipe for burnt chocolate.
Instead, microwave at 30 second intervals, stirring between every interval, until the chocolate is fully melted. It should only take a few rounds of this to melt.
Now that the chocolate is melted, spoon it in each half circle in the silicone mold, spreading it all over the dome. You want to make sure that the cavity is fully covered.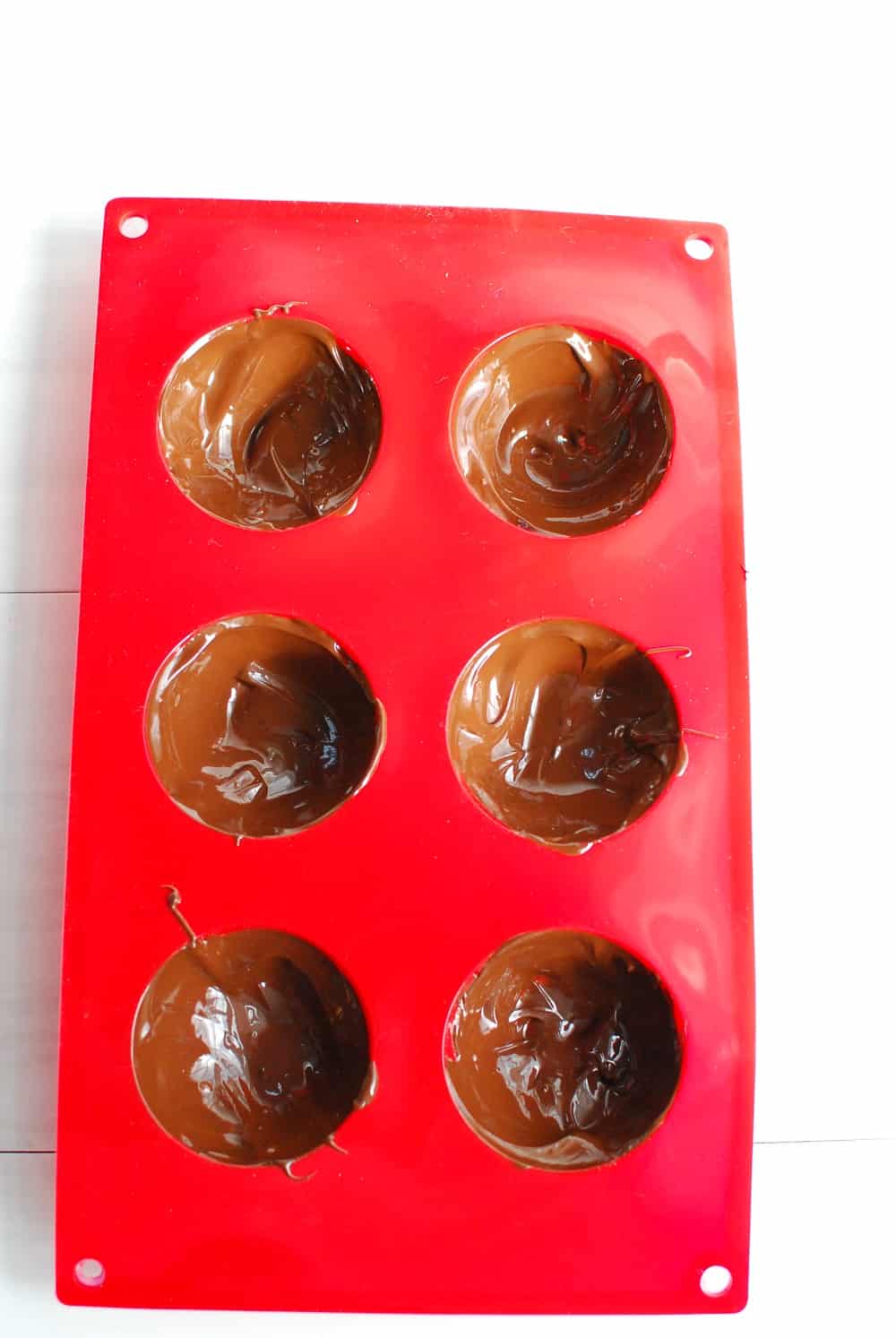 Now put those in the freezer for about ten minutes, then take them out and pop out the domes. You just need to carefully push on the bottom of the mold and you'll notice they pop out pretty easily.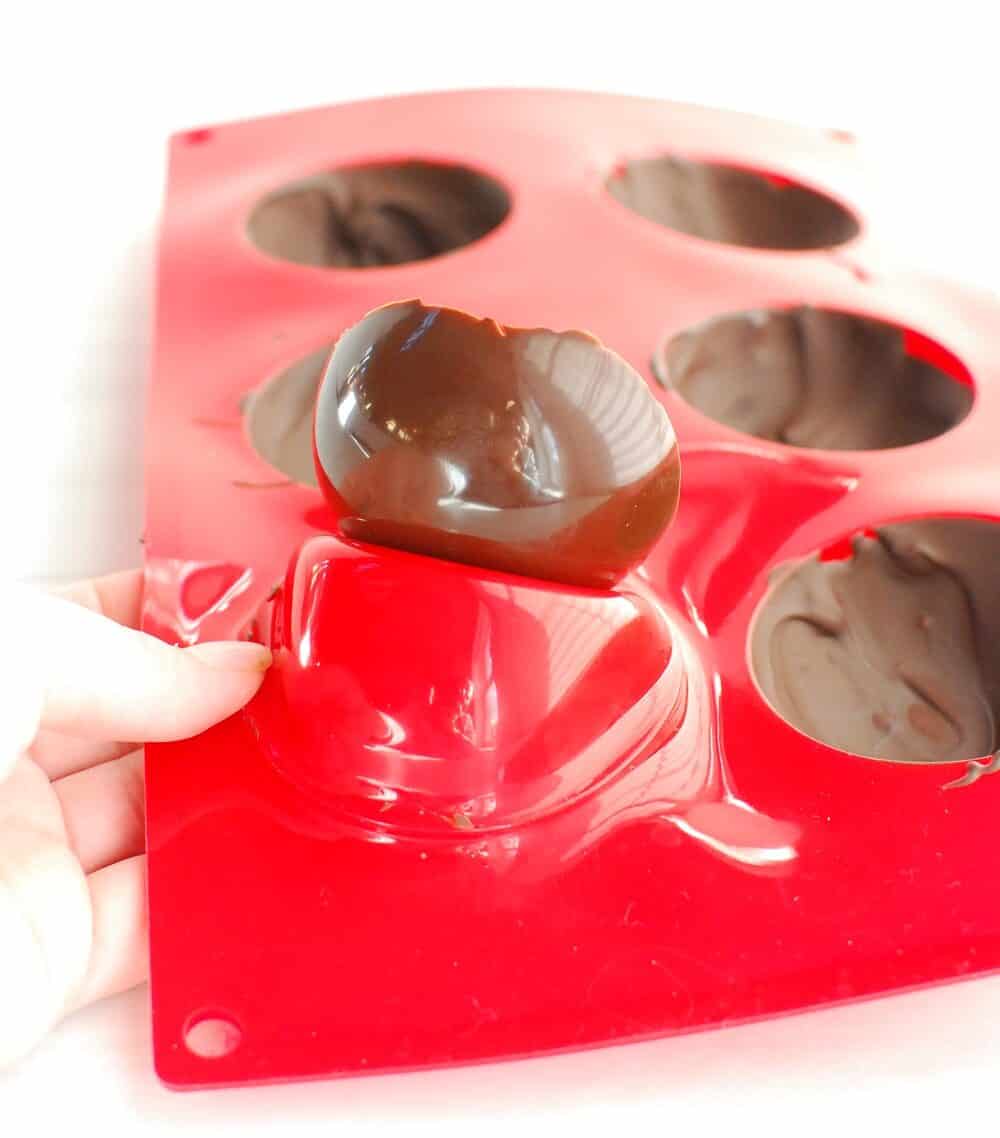 Once you've got them all out, you're going to fill half of them with your mixture of hot cocoa and mini marshmallows.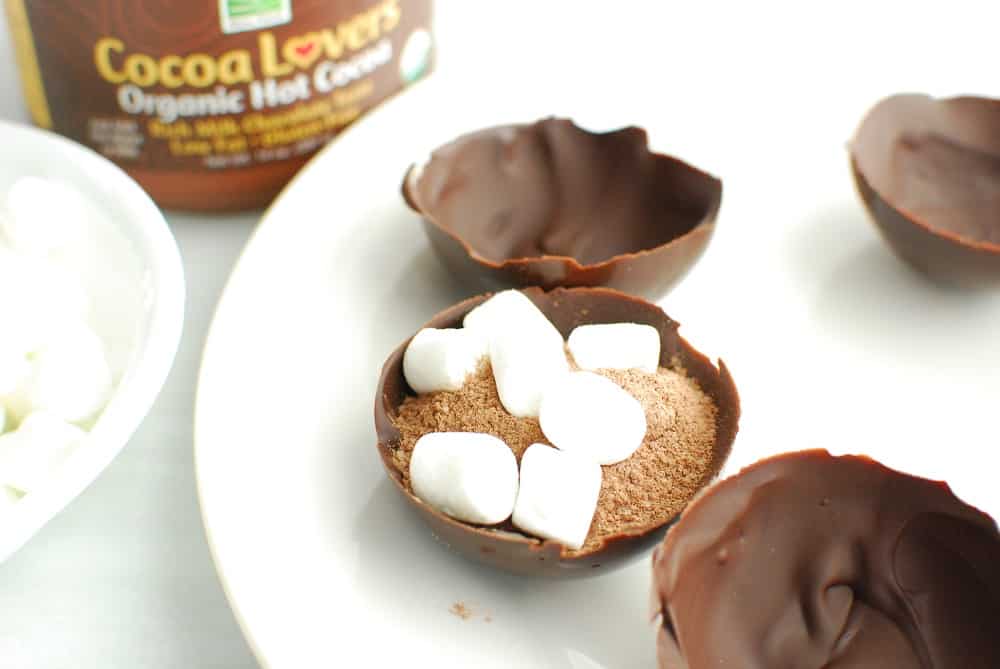 Now you need to connect an empty dome to your filled dome to form the full circle. To do this, you can heat a skillet over medium heat for a minute (then turn off the heat). You want to make the skillet warm; it should not be extremely hot.
Next, hold the empty dome and place it on the skillet for a second or two, just to melt the edges a bit.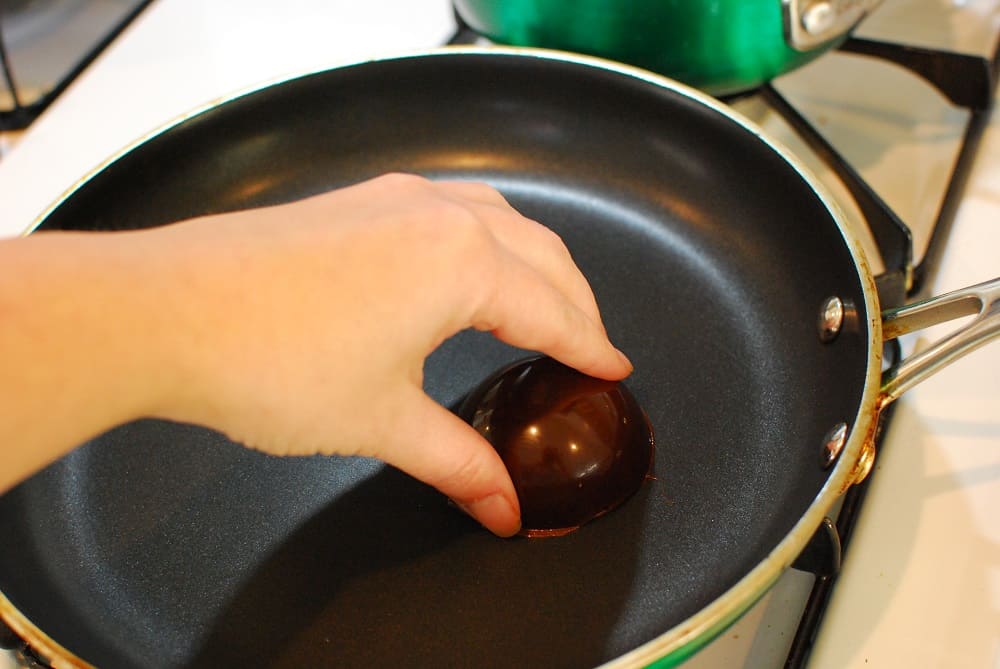 Immediately take that and put it on top of one of the filled domes, sealing it together into a circle.
That's it! You'll repeat the process with the other domes to make your three hot chocolate bombs, or continue the process with multiple molds to make a whole bunch.
When you're ready to enjoy your hot chocolate bomb, just place it in a mug and pour warm milk on top of it – then wait for the little explosion of marshmallows and hot cocoa mix when the outer shell melts!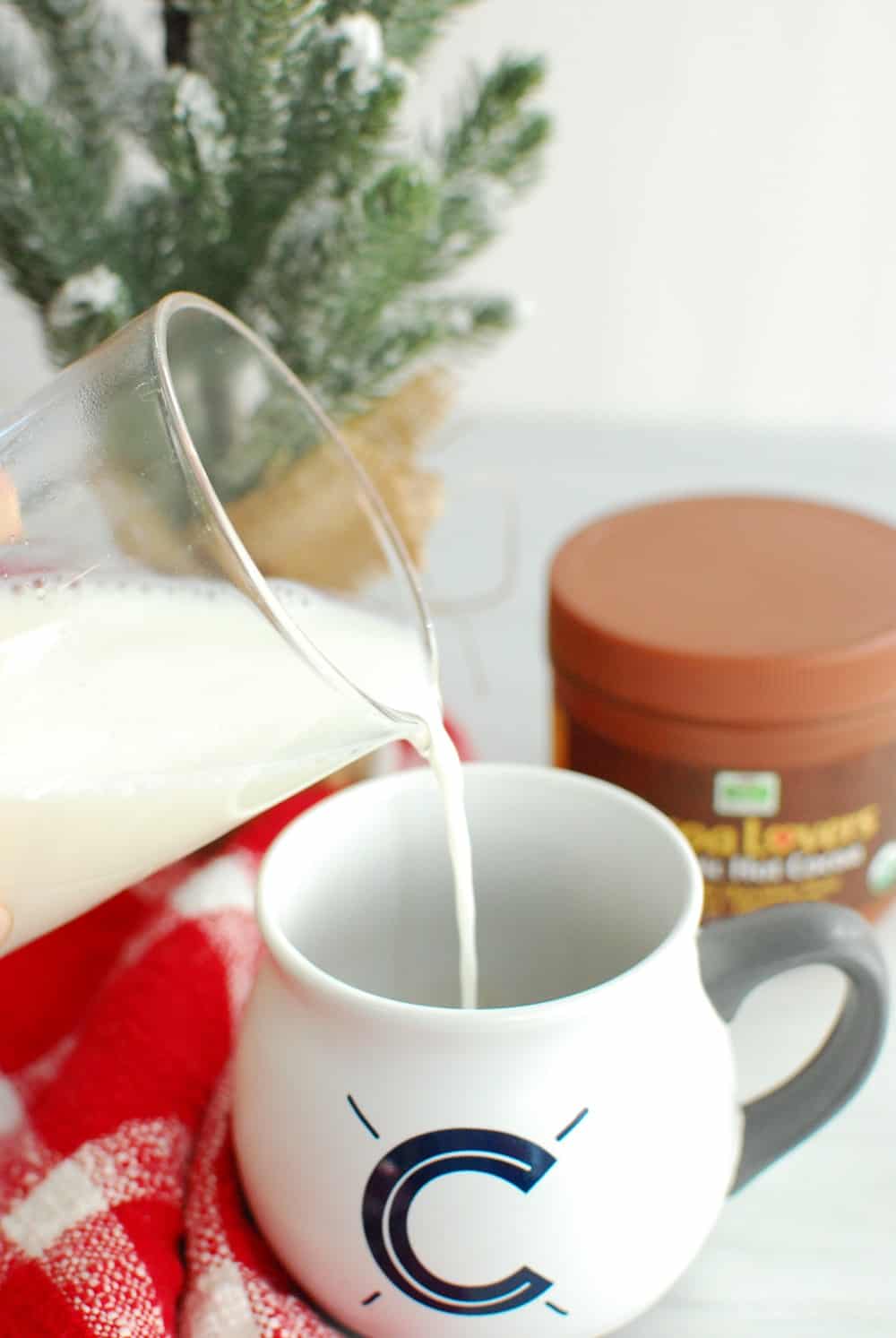 Product suggestions
I like using NOW Real Food Cocoa Lovers™ Organic Hot Cocoa for the filling in this recipe. Their hot cocoa mix is made with just a few simple ingredients: turbinado sugar, non-fat dry milk, cocoa powder, vanilla flavor, and sea salt.
If you don't have their mix on hand, you can also simply use the NOW Real Food Cocoa Lovers™ Organic Cocoa Powder and regular 'ol sugar. Just use 1 teaspoon of the cocoa powder and 2 teaspoons of sugar in place of the hot cocoa mix.
If you'd prefer a leaner choice, then you can go with the NOW Real Food Cocoa Lovers™ Slender Hot Cocoa. This version contains no added sugar; it's sweetened instead with erythritol and monk fruit. While the regular hot cocoa contains about 47 calories and 9 grams of sugar per tablespoon, the slender version contains 17 calories and 1 gram of sugar per tablespoon.
If you are interested in making a leaner version, I'd also recommend using no-added-sugar dark chocolate chips (for example, Lily's dark chocolate baking chips) rather than regular chocolate chips in this recipe. They are generally sweetened with stevia and erythritol. You can also use unsweetened almond milk rather than dairy milk. Both of these changes will cut down on the calories and sugar in the hot chocolate bomb drink considerably.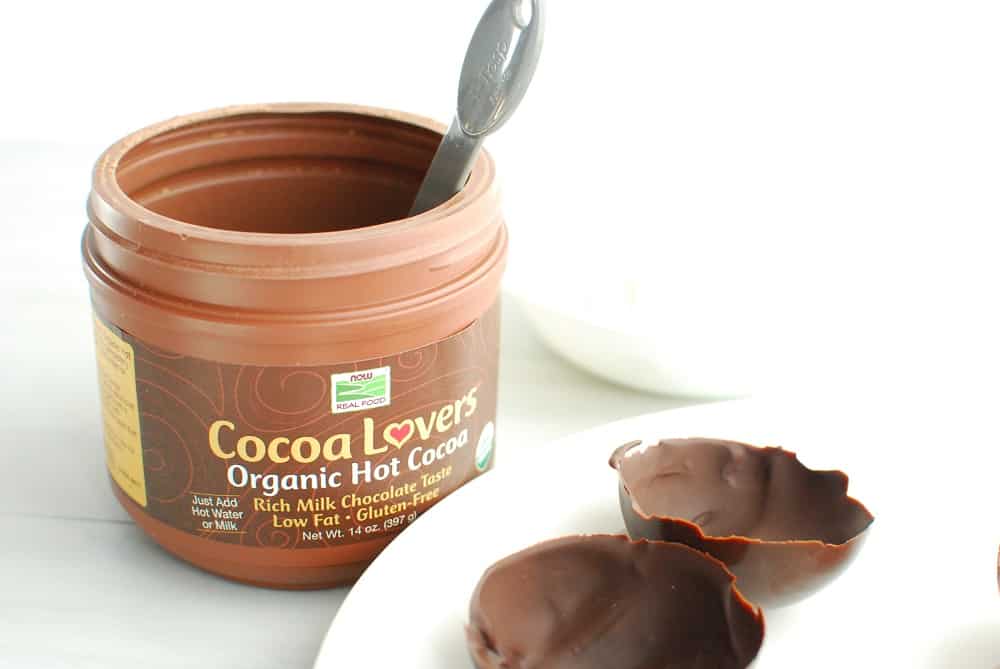 Finding a Mold
Disclosure: This section contains Amazon Affiliate links. As an affiliate, I earn a commission on qualifying purchases.
If you don't already have a silicone dome (half circle) mold, you can find them on Amazon – just note that a lot of brands this year are on back order due to the popularity of this fun winter recipe. I managed to grab this set and it was shipped in just a few days though, so definitely scope out all the options!
If you can't find one online, try looking at craft and hobby stores. I was able to spot some at one of those stores recently (near the cake decorating and candy making supplies).
And if you are hitting dead ends all together on finding the mold, just grab a slightly different shape. Hearts or cupcake molds can both work for hot cocoa bombs; just make sure you have mugs large enough to fit them. A friend of mine also suggested one of the Instant Pot egg bite molds, which I also think would work!
Recipe FAQ + Tips
Here are some common questions that may come up as you prepare this recipe:
Are these healthy? Y'all, these are a chocolatey treat. I didn't personally make a healthy version (though you can find tips on making a leaner version above). Instead, I enjoy it for the occasional sugary treat it is. That said, it's got 56 grams of carbs and 15 grams of protein, right around a 4:1 ratio, so if you want to use it as a post-winter-run drink…I'm certainly not going to say no to that. 😉
Can you use milk chocolate instead of dark chocolate? I prefer the taste of dark chocolate (and the extra polyphenols!) – but milk chocolate can definitely be substituted.
Why aren't my domes lining up evenly? If you let the edges melt too much when you press them against the skillet, you might notice it doesn't line up exactly right. In this case, try using less time, letting the edges just melt ever-so-slightly. Also, even if they don't line up perfectly, they should still stay together. If you want to smooth out the edges in this case, you can take hot spoon and rub the back along the seam to create a smoother look.
Uh, oh! There's a hole in my dome. What do I do? This usually happens if you lined the mold too thin. In this case, just pop the half circle back in the mold, add another layer of chocolate, and place back in the freezer. This should take care of the issue.
Can I make different flavor combinations? Sure! You can try adding things like candied orange peel, crushed cookies, crushed peppermint, instant coffee, or cinnamon to your hot chocolate bomb. Experiment with different flavors to see if you find a new one you'll love!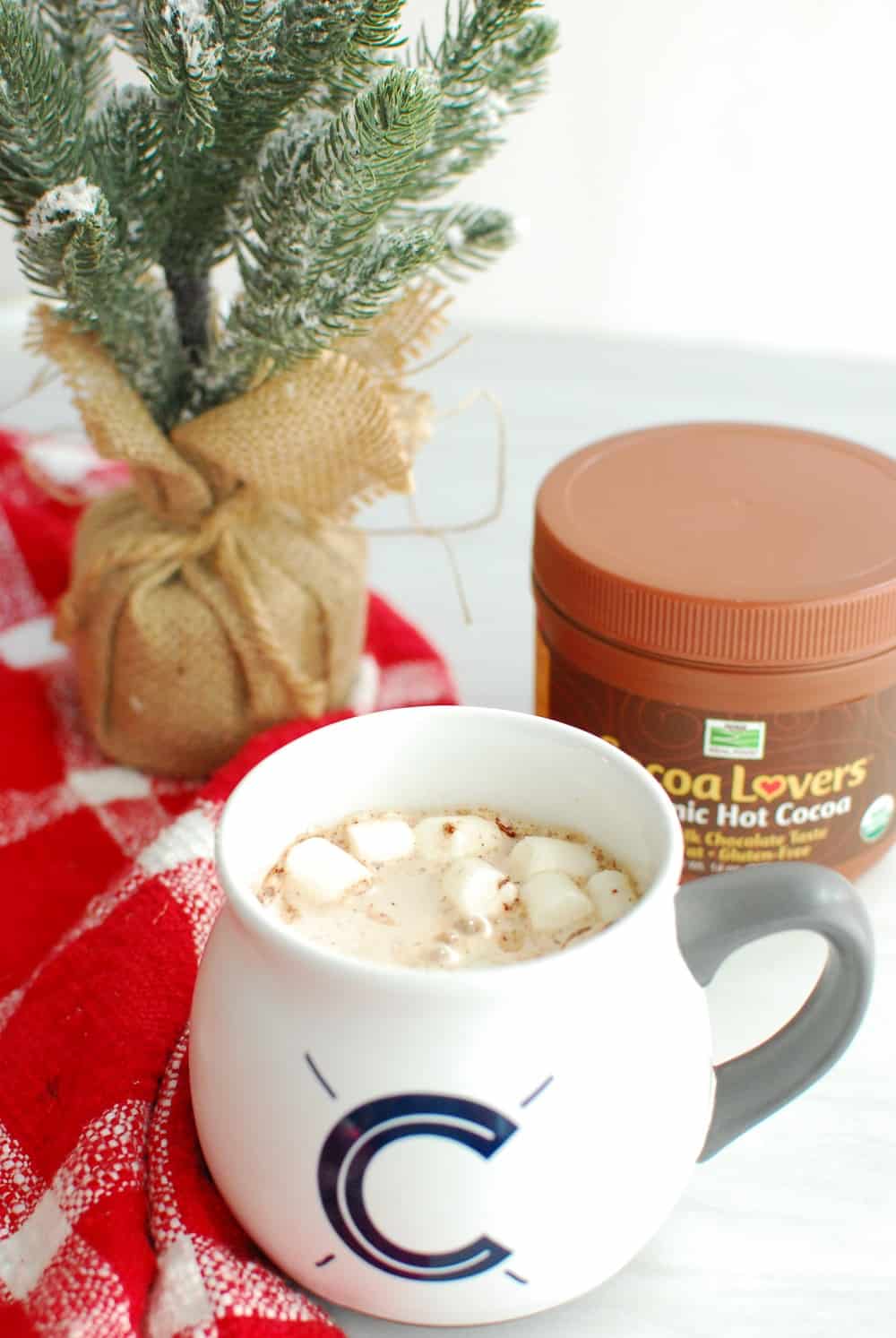 I hope you enjoy these hot chocolate bombs! If you get a chance to make them, please feel free to leave a recipe rating or a comment. Enjoy!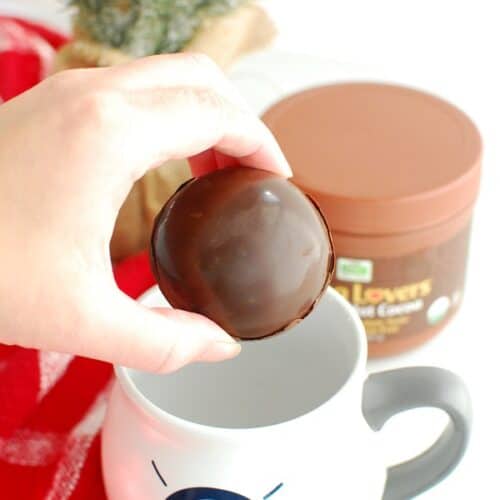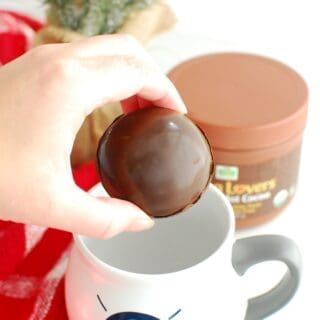 Hot Chocolate Bombs
These hot chocolate bombs are a delightful and fun winter treat!
Ingredients
For hot chocolate bombs:
3/4

cup

dark chocolate chips

3

tbsp

NOW Real Food Cocoa Lovers™ Organic Hot Cocoa*

3

tbsp

mini marshmallows
For serving:
1 1/4

cups

warm skim milk per bomb

(or milk alternative)
Instructions
Pour the dark chips in a microwave safe bowl. Microwave in 30-second intervals, stirring between each, until chocolate is fully melted (it generally takes about 1:30-2:00 total, depending on your microwave).

Pour a little chocolate into each cavity of a six-count silicone dome shaped mold. Use a spoon to spread the chocolate around the dome so that it thoroughly coats the entire cavity.

Place the mold on a level spot in the freezer for about 10 minutes, or until chocolate is fully solid. Carefully pop out each of the six domes and place on a plate.

To each of three domes, add 1 tablespoon hot cocoa and 1 tablespoon mini marshmallows.

Place a skillet over medium heat for a minute on stovetop, just to get it warm (but not excessively hot). Take one of the empty domes and hold it on the skillet for 1-2 seconds, just enough time to melt the chocolate on edge slightly, then quickly place that on top of one of the filled domes. This should quickly attach and harden, creating a solid circle. Repeat with the remaining two domes.

To serve, heat 1 1/4 cups milk in the microwave in a microwave-safe mug or cup until hot (it should take around 1:30 to 2 minutes, depending on your microwave). Either drop one hot chocolate bomb into this, or place one hot chocolate bomb in a mug and pour the hot milk on top.
Notes
*If you don't have hot cocoa mix on hand, you can substitute it with 1 teaspoon cocoa powder + 2 teaspoons granulated sugar.
Do not microwave the chocolate straight through the total time, be sure to do it in 30 second intervals with stirring so it does not burn.
You will probably only use about 2/3 cup of chocolate (and that is what the nutrition facts are based on) – however it is helpful to have a little extra in case you need to seal a hole or your molds are a little bigger than mine.
As an alternative to the skillet method, you can also pipe extra melted chocolate on the domes and use that to connect into the full sphere.
Nutrition analysis (approximate per hot chocolate bomb, assumes 2/3 cup total chocolate used in the recipe): 305 calories, 21.5 g fat, 12.5 g saturated fat, 56 mg sodium, 41 g carbohydrate, 8 g fiber, 29 g sugar, 5 g protein, Calcium: 2%, Iron: 57%, Potassium: 2%, Vitamin D: 0%
Nutrition analysis (approximate per hot chocolate bomb with milk): 409 calories, 22 g fat, 12.5 g saturated fat, 185 mg sodium, 56 g carbohydrate, 8 g fiber, 44 g sugar, 15 g protein, Calcium: 31%, Iron: 58%, Potassium: 12%, Vitamin D: 18%
Nutrition
Share: What's your favorite winter beverage? Are you a hot chocolate fan or do you prefer cider or egg nog?
Don't forget to pin this to refer to later! 🙂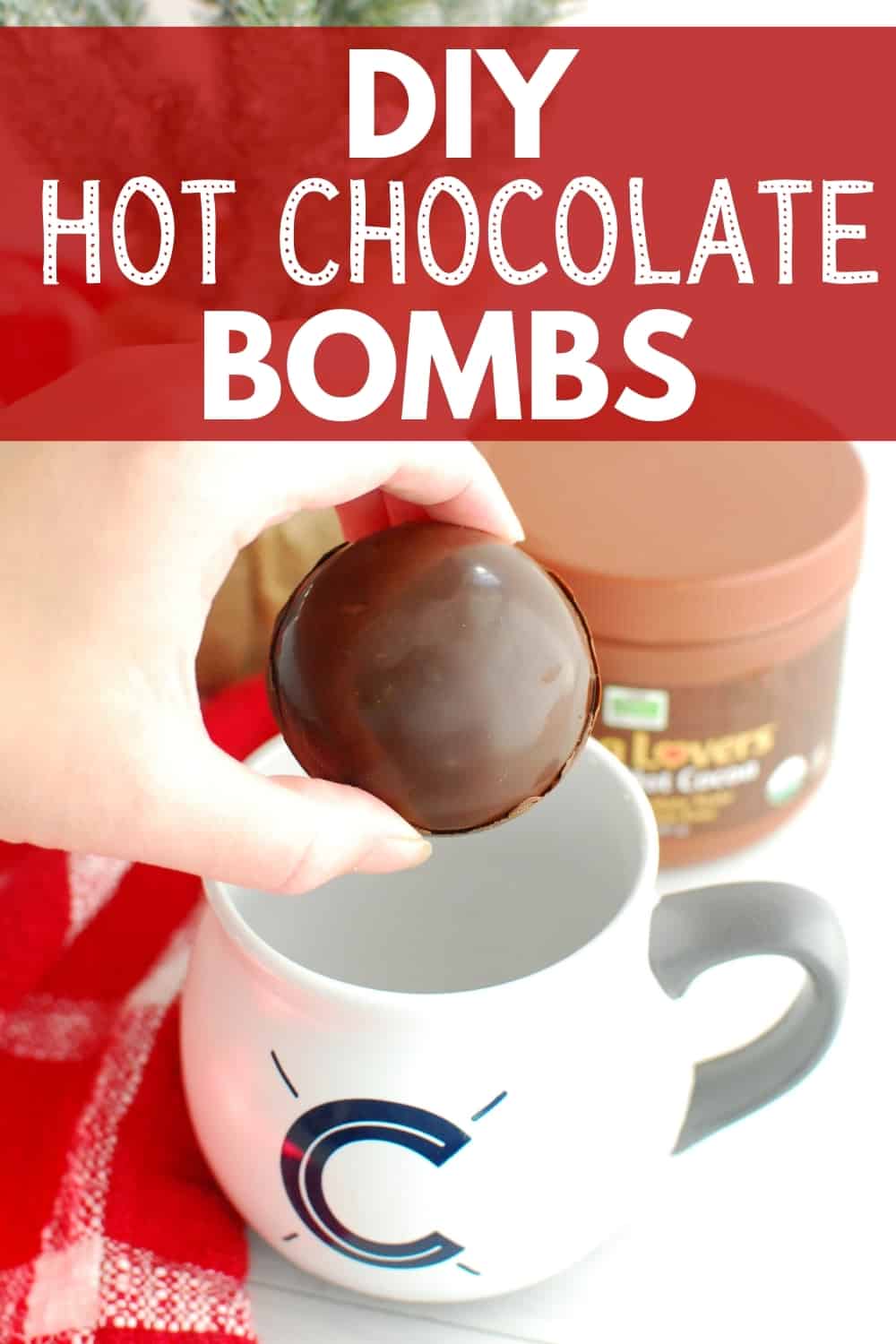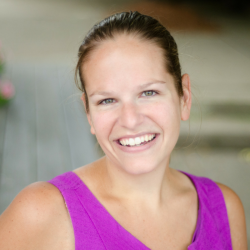 Latest posts by Chrissy Carroll
(see all)