Starting a running program is one of the easiest ways to get moving without much investment. Grab a pair of sneakers and hit the open road, and you're ready to start pounding the pavement. But there are some key running mistakes that beginners often face when starting to run consistently.
To highlight the biggest issues, I reached out to a handful of running coaches and seasoned athletes and asked the question "What's a typical mistake you see new runners make?" Their responses indicated some common threads that I totally agree with. Whether you're trying to build up to running 30 minutes straight or you're contemplating training for your first half marathon, here are some running mistakes that beginners should avoid, straight from the experts…
[Tweet "New to running? Check out these 5 common mistakes beginners should avoid!"]
5 Common Beginner Running Mistakes – And How to Avoid Them
Mistake #1 – Too Much, Too Soon.
"I see new runners try to do too much too soon. Someone just starting out shouldn't try to run several miles. They're just going to struggle, get really, really sore, or get injured. Then they will say that they hate running! Instead, start with a walk/run program, gradually running more and walking less."
–Debbie Woodruff, certified personal trainer and RRCA and USATF certified running coach from Coach Debbie Runs
"Doing too much too soon. Be the tortoise! You don't need to run a 5k (or even a mile) all at once the first (or 5th) time out. Start with run walk intervals (run for 1-2 minutes, then do a working walk for 1-2 minutes for the first week). Aim for 20 minutes the first time out (not including warm up or cool down) and then make sure to keep moving the rest of the day!"
–Susie Lemmer, RRCA Certified Running Coach and NASM Certified Personal Trainer, from Suzlyfe.
Mistake #2 – Not Having the Right Shoes
"Honestly, not wearing the proper sneakers. SO many people are wearing really old sneakers, like one client last fall told me her sneakers were over 3 years old! I urge everyone to get fitted for sneakers and to change them out ever 300-500 miles."
–Sue Parke, RRCA Certified Running Coach, Certified Personal Trainer, and Group Exercise Instructor from Sparke Fitness
"I'm not a running coach but I'm an avid runner and leader of our local running club and shoes are biggest mistake I see new runners make…..either running in old shoes or buying the same shoe their friend has. I believe you need a good shoe and that's best found when you get fitted at a good running store. (Just my two cents worth. 😉 )"
–Marsha Apsley from Faith + Fitness with Marsha Apsley
Mistake #3 – Unrealistic Expectations
"Beginner athletes often have difficulty with the difference between working out, and training. Resultantly setting unrealistic goals couched in sometimes haphazard preparation strategies. Lofty goals roll off the tongue easy. But the work necessary to achieve those goals is a challenge. It takes first, understanding of what you're getting into. Then the willingness to seek help and be coachable, and finally the discipline and consistency to execute."
–Tony Rich, USAT Certified Triathlon Coach and 10x Ironman Distance Finisher from Event Horizon Endurance Sport
"The most debilitating I think is the high expectations – lots of people get disappointed when they stop seeing the progress they imagined, or it harder than they thought it would be. Beginners should focus on the fun and enjoyment rather than pushing themselves to lofty goals or comparing themselves to "so-and-so who ran a 23 minute 5k three months after they started running". That doesn't mean don't set goals, just don't set expectations for yourself and keep initial goals small – like finishing 3km or running for 10 minutes continuously."
–Kim Osborne Rodriguez, experienced runner and triathlete from Kim Osborne Rodriguez
Mistake #4 – Overtraining
"My trainer would say (and I reluctantly agree) the biggest mistake is over training."
–Deborah Brooks, RRCA Certified Run Coach from Confessions of a Mother Runner
"One of the biggest mistakes I see is not honoring recovery/cutback weeks. One must ease up to allow the body to repair and come back stronger."
–Marcia Kadens, experienced runner from Marcia's Healthy Slice
Mistake #5 – Ignoring Injuries
"Running everyday and only running. I've also had runners limping through a run and I've had them stop only for them to go run on their own "because the plan said to run X miles."
–Jen Clement Schomaker, RRCA certified running coach and NASM Certified Personal Trainer from Marathon Mom
I totally agree with the injury part, and I think it can be tough for beginners to recognize the difference between a little soreness from a fatiguing run versus an injury. Sometimes people try to "push through" and end up injuring themselves much more severely. I heard a run coach once say that a little pain or soreness is OK sometimes, but anytime it changes your gait or your stride, or anytime you have an inner gut feeling that something is off — that's a signal you need to pull back on training and possibly get some medical attention. I liked that approach.
Share with me: Did you fall victim to any of the running mistakes on this list? Fellow runners, are there any mistakes I missed? What other tips would you share with beginner runners?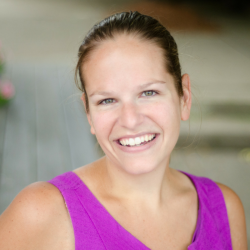 Latest posts by Chrissy Carroll
(see all)