Who's in the mood for an easy, delicious, and nutritious meal? Try this soy-glazed ground beef bowl with cauliflower rice and broccoli. Here's why you'll love this recipe:
It's super filling, thanks to it being veggie-rich and having a high protein/fiber content.
This meal is nutrient packed. Just a few highlights: you'll get more than a day's worth of Vitamin C, plus it's an excellent source of iron (essential for athletes), potassium (over 1000 mg – more than double a banana), and folate (which is excellent for any mamas-to-be out there).
There are only 8 very simple ingredients. These are things that you likely have at home or can find easily at the grocery store.
And from start to finish, you'll have this beef bowl on the table in less than 30 minutes.
Note: This post was originally published in 2017 and has been updated in 2022.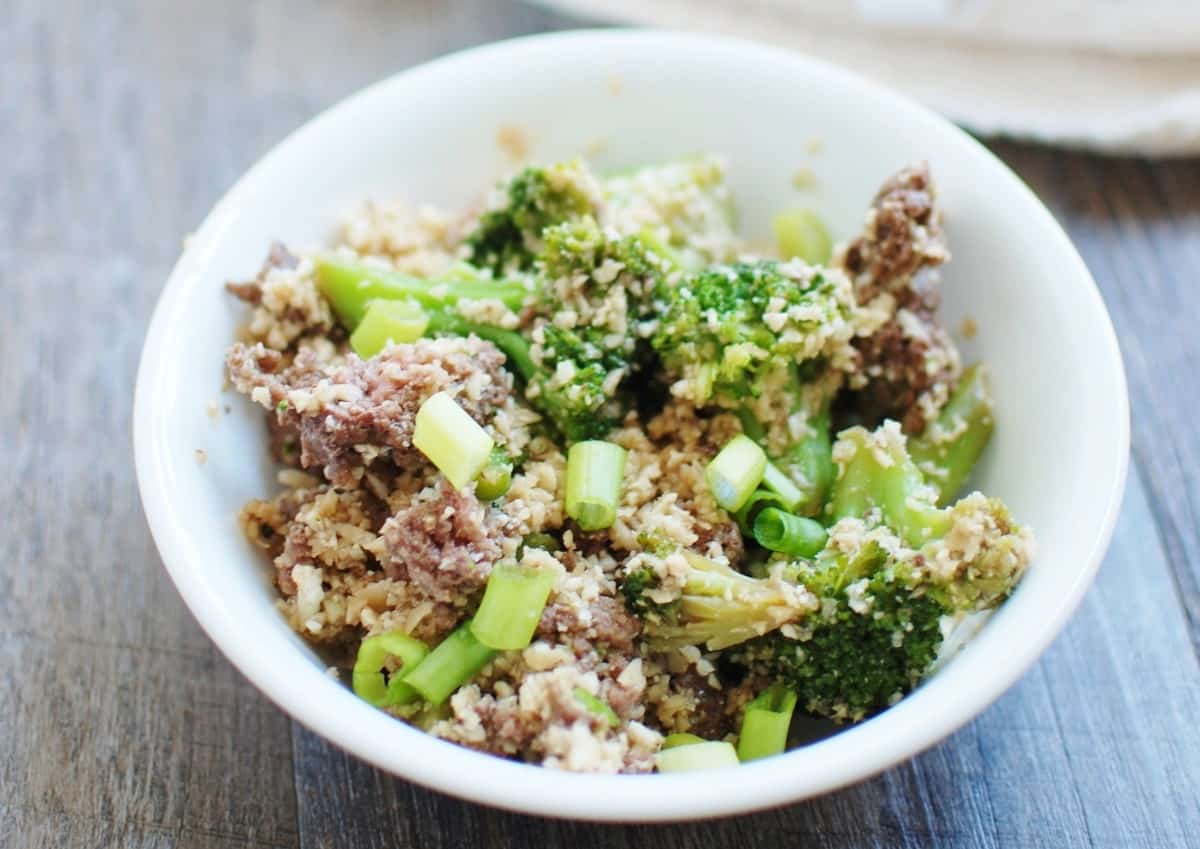 Ingredients
Here's a quick overview of what you'll need to make this dish, with some selected ingredient notes:
Ground beef – Look for leaner varieties of ground beef which can be a healthy addition to your diet. I usually use 90/10, and while it's not quite at the cut-off point for being defined as "lean", it has less fat than the commonly purchased 80/20 variety. It's a great source of protein and iron, two nutrients that are particularly important (especially for my runner and triathlete readers).
Cauliflower rice – I've made my own homemade cauliflower rice for this recipe, which is very simple if you have a food processor. If you don't have that though, or you want to cut the prep time, just buy frozen bags of cauliflower rice.
Broccoli – A bag of frozen broccoli doubles down on the veggie content of this meal and is easy to always keep on hand.
Soy sauce, brown sugar, garlic, and cornstarch – These are used to make the sauce mixture. You can skip the cornstarch if you don't have it on hand; it just helps the sauce thicken up a bit but can be left out.
Recipe Tips
You'll find the full step-by-step instructions in the recipe card below, but here's a few helpful tips.
Making cauliflower rice: You'll start by just trimming the head of cauliflower. Remove the outer leaves and the big stalks, and trim down to just the florets. A medium head of cauliflower should yield around 5-6 cups of florets, but there's no need to be super particular. The recipe works fine with a bit more or a bit less.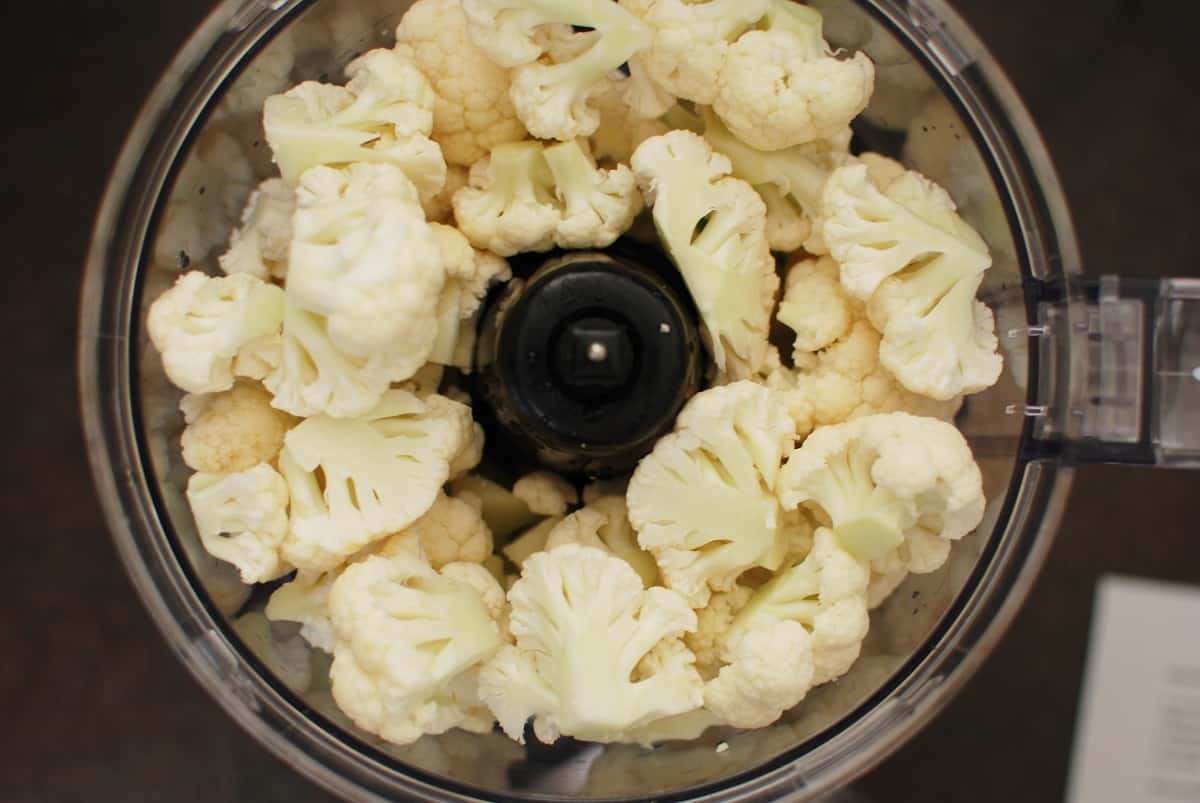 Toss those florets in a food processor, then press pulse a few times until the consistency looks rice-ish. Voila! That's cauliflower rice for ya.
Adding regular rice: This is a very light meal. If you want to add more calories and carbohydrates to this meal (important for athletes), feel free to add 2 cups of cooked rice to this dish. Just mix it up with everything else!
Recipe FAQ
Here are some common questions that may come up as you prepare this recipe:
How should you store leftover beef, cauliflower rice, and broccoli?
Store leftovers in the refrigerator for up to 4 days. Reheat in the microwave.
What should you do with extra cauliflower rice?
If you have extra homemade cauliflower rice, freeze the uncooked extra in a food storage container or zip top bag. You can cook in a skillet directly from frozen in the future; try to break up the bag a bit before adding to the skillet.
What is the definition of lean ground beef?
Ground beef that is 93% lean (93/7) or leaner meets the government's guidelines to be called "lean." However, varieties like 90/10 ground beef are still leaner than 85/15, which is leaner than 80/20, which is leaner than 73/27.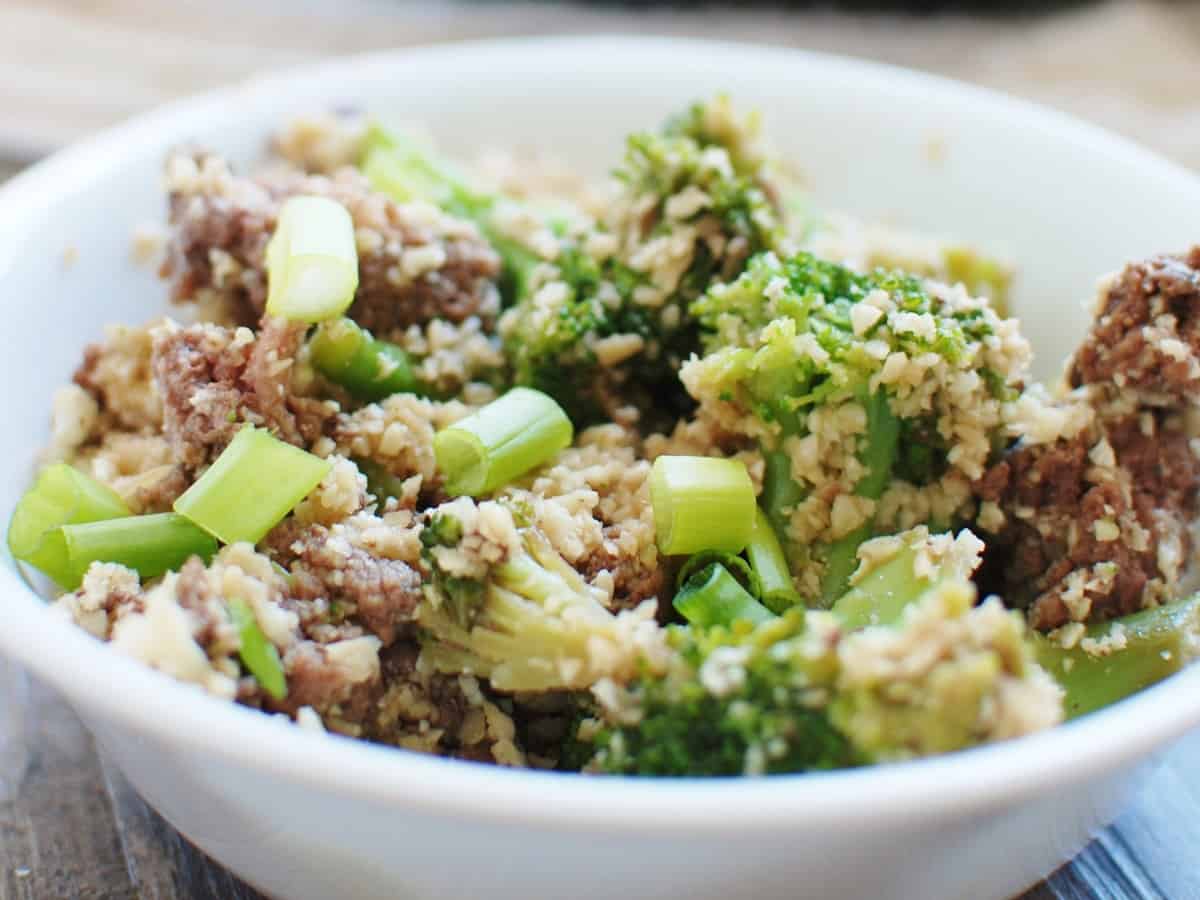 More Cauliflower Rice Meals
Looking for more veggie-rich dinners that feature cauliflower rice? Try one of these tasty recipes:
As always, give it a try and let me know what you think! Recipe ratings or comments are always welcome.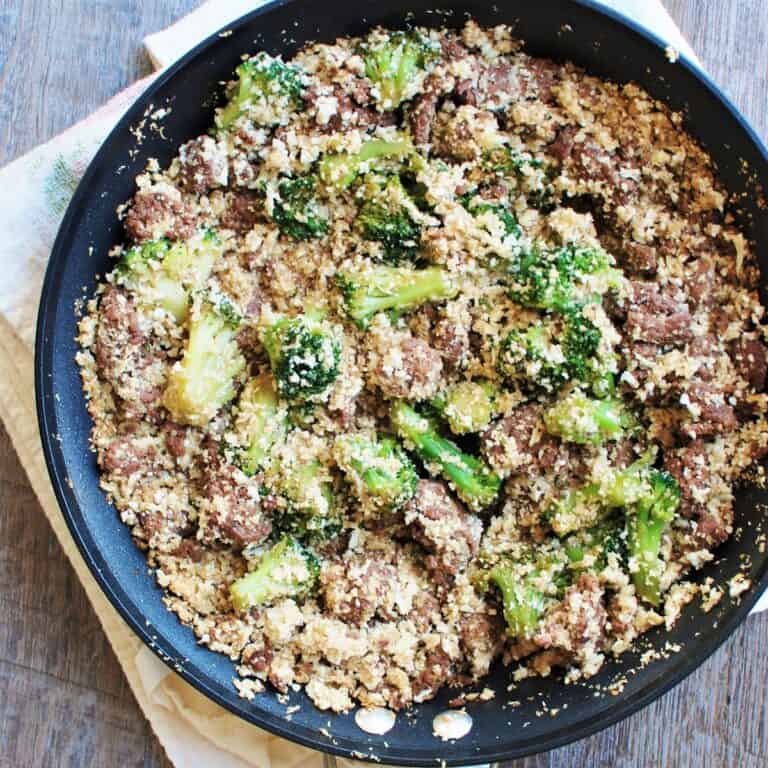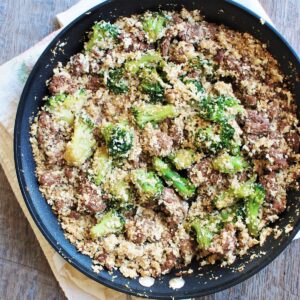 Soy Glazed Ground Beef Bowl with Cauliflower Rice and Broccoli
This Soy Glazed Ground Beef Bowl with Cauliflower Rice and Broccoli is a healthy dinner recipe that's sure to please even the toughest critics. Just 8 ingredients and 30 minutes is all it takes to make this high protein dinner. 
Ingredients
Ingredients:
1

medium head

cauliflower

(about 5-6 cups florets)*

¼

cup

reduced sodium soy sauce

3

tbsp

brown sugar

3

cloves

minced garlic

1

tsp

cornstarch

1

frozen steam bag of broccoli

(12-14 ounce size)

1

pound

90/10 ground beef

(or whatever beef you have on hand)

3

green onions, thinly sliced
Instructions
Directions:
Trim the head of cauliflower to just florets, removing large stalks and outer leaves. A medium head of cauliflower should give you about 5-6 cups of trimmed cauliflower. (Keep in mind a little more or a little less won't hurt this recipe, so don't worry about being super precise.)

Place cauliflower florets in a food processor. Press the pulse button just a few times until the cauliflower roughly resembles the appearance of rice (it doesn't take long). Set aside.

In a small bowl, combine the soy sauce, brown sugar, garlic, and cornstarch. Set aside for now.

Place frozen broccoli in the microwave and cook according to package directions.

Meanwhile, heat a large skillet or wok over medium high heat. If skillet tends to stick, give a quick shot of cooking spray. Add ground beef and cook for 7-8 minutes, or until beef is browned, breaking into crumbles with a wooden spatula as it cooks.

When beef is browned, add the sauce mixture and the cauliflower rice. Stir together and cook for 4-5 minutes, or until the cauliflower rice is tender and everything is well combined.

Add in the broccoli and cook for another minute, stirring a few times. Remove from heat and top with green onions. Enjoy!
Notes
*You can use frozen cauliflower rice instead of fresh if you prefer. Cook 1-2 bags in the microwave according to package directions, then toss in the skillet at the end for a minute to combine.
You can use fresh broccoli for this; I just find it easier and quicker to cook the frozen bag while the beef is browning.  If you use fresh broccoli, you can cook it first until crisp-tender, then set it aside while the beef browns, then add it back in at the end.
This is a very light meal; if you need more calories you can add cooked rice to this dish.
If you want a lower sodium meal, use lower-sodium soy sauce in this recipe.
Nutrition Analysis (approximate per serving): 320 calories, 12 g fat, 4.5 g sat fat, 1000 mg sodium, 25 g carbohydrate, 6 g fiber, 14.5 g sugar, 29.5 g protein, Vitamin D: 0%, Calcium: 8%, Iron: 23%, Potassium: 24%, Folate: 44%, Vitamin D: 145%
Nutrition
Feel free to pin this post to save for later!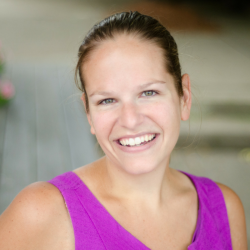 Latest posts by Chrissy Carroll
(see all)