When you need an easy, delicious breakfast that will feed a hungry family, look no further than this taco breakfast casserole! Not only is it easy to make using mostly pantry and fridge staple ingredients, but it also makes for a great way to pack protein into your morning (or anytime) meal.
Disclosure: This post is sponsored by the Northeast Beef Promotion Initiative, a subcontractor to the Beef Checkoff. As always, all opinions are my own.
An inexpensive, family-friendly meal!
Whether you've got all the kids home now while they're off from school, or you are a pro homeschooling mama that's always got the kiddos around – coming up with 3 meals a day to feed yourself and your family can be a challenge!
That's especially true when you're also trying to keep in mind both your family's and your own health and wellness. I know many of you are active women who are still trying to balance a fitness routine and sticking to your goals!
First off, I bet you're doing a great job right now. You've got this. 🙂
Second – many of us have always got ground beef stocked in our freezer, but tend to veer towards it for dinner. But why not mix things up and make a balanced breakfast with it?
This taco breakfast casserole is the perfect way to introduce a new balanced meal in your morning routine, and makes a big 'ol batch to satisfy the hungriest appetites. It's got all the classic flavors and ingredients in tacos, packed into an egg bake instead of tortillas.
Plus, this casserole utilizes many of your staple ingredients. When you take a look at the recipe card at the bottom of the post, you'll notice pantry staples like canned tomatoes and canned chiles, frozen staples like hash brown potatoes, and other common ingredients like eggs, cheese, onions, and peppers.
There's nothing out of the box in this recipe, so you can rest assured you'll be able to make it with what you can find at the store (or already in your house!). PS – don't be scared about using those canned goods or frozen goods. These can provide great flavor and nutrition!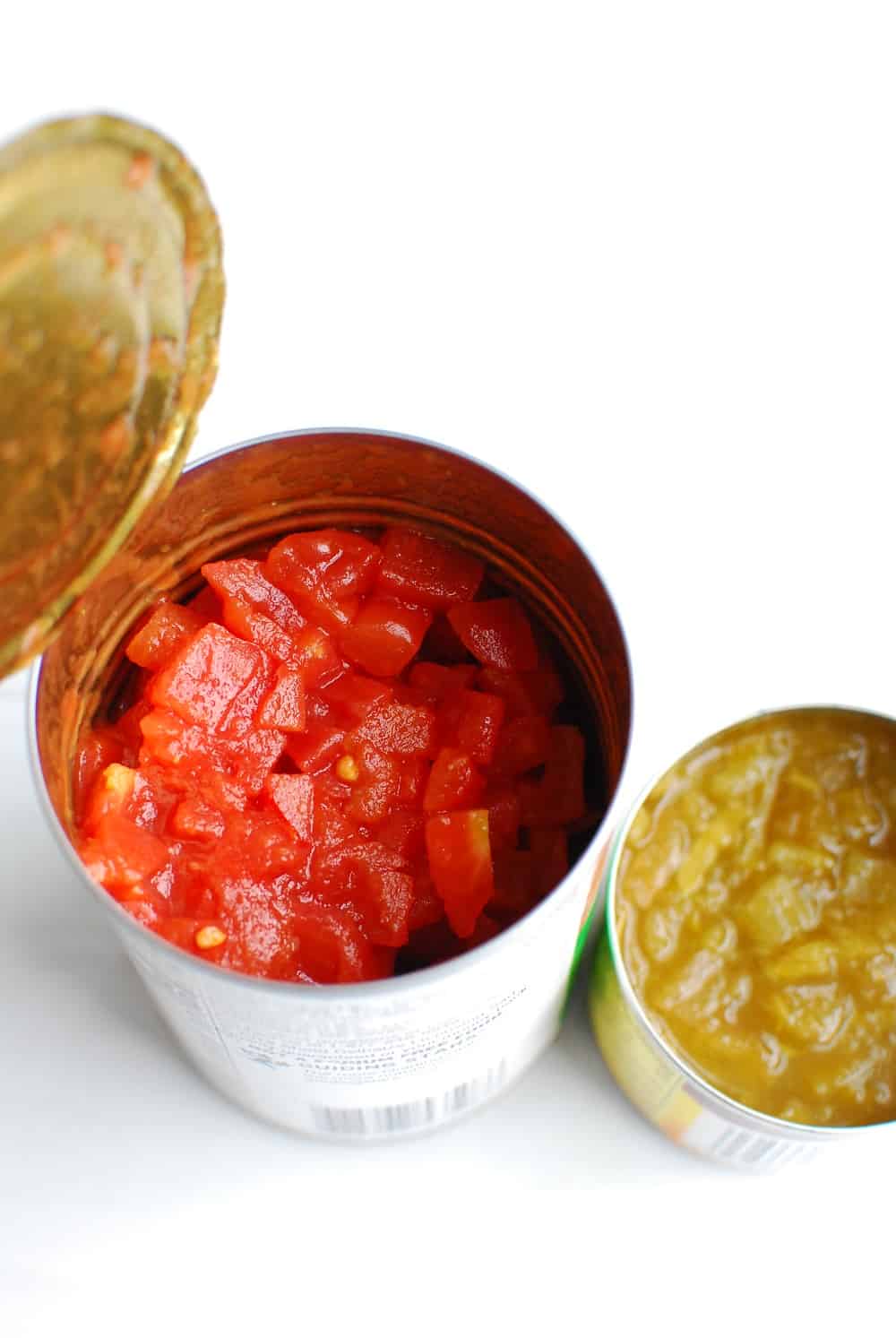 How to make a breakfast casserole
You'll find step-by-step directions in the recipe card, but here's some helpful images that might be good to visualize how to make it!
You're going to start this recipe by layering frozen hash brown potatoes in a greased casserole dish.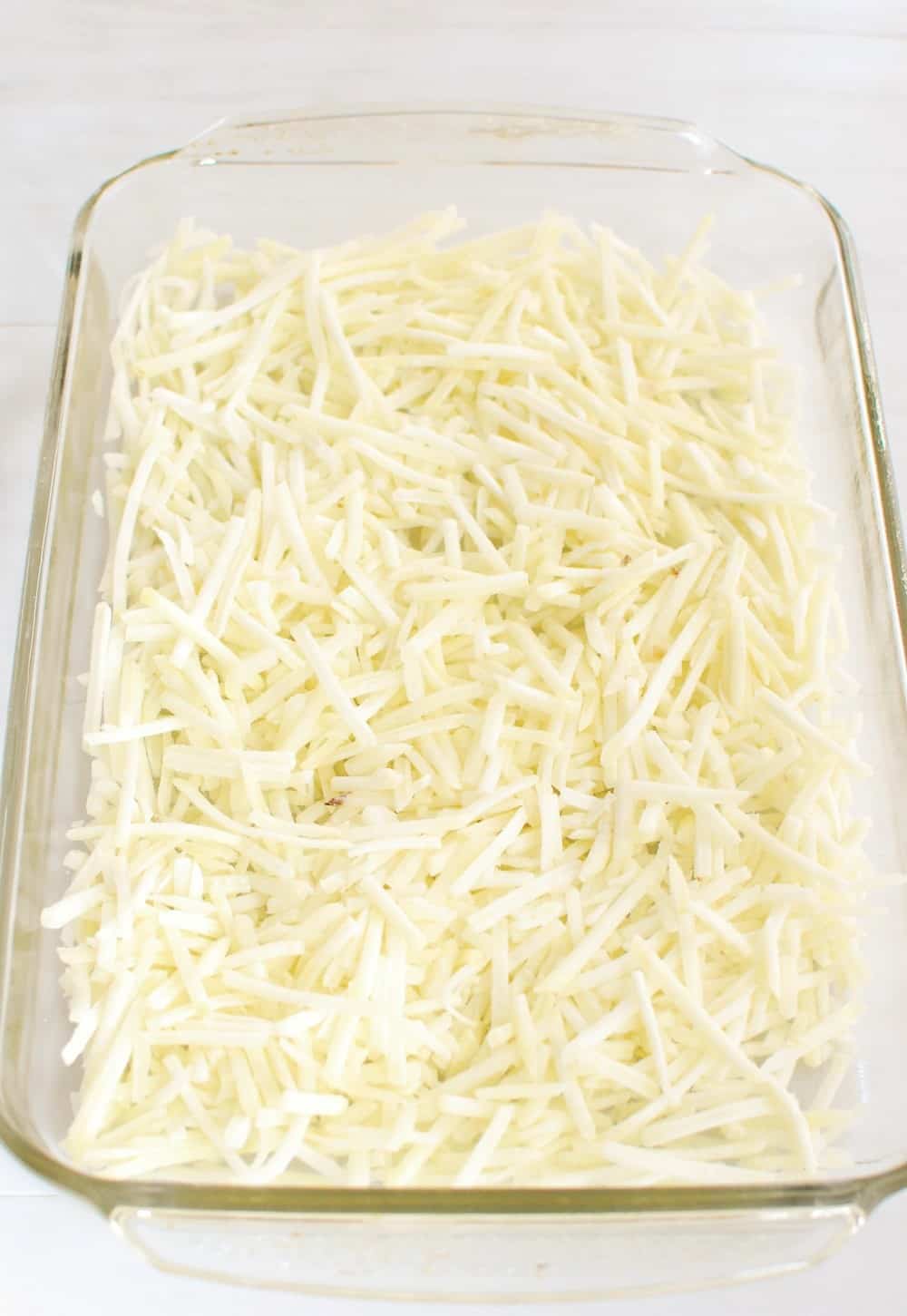 Then, you'll sauté up some ground beef with onion and bell pepper, and add in some taco seasoning. When that's done, mix in the green chiles and tomatoes, and layer that over the hash browns.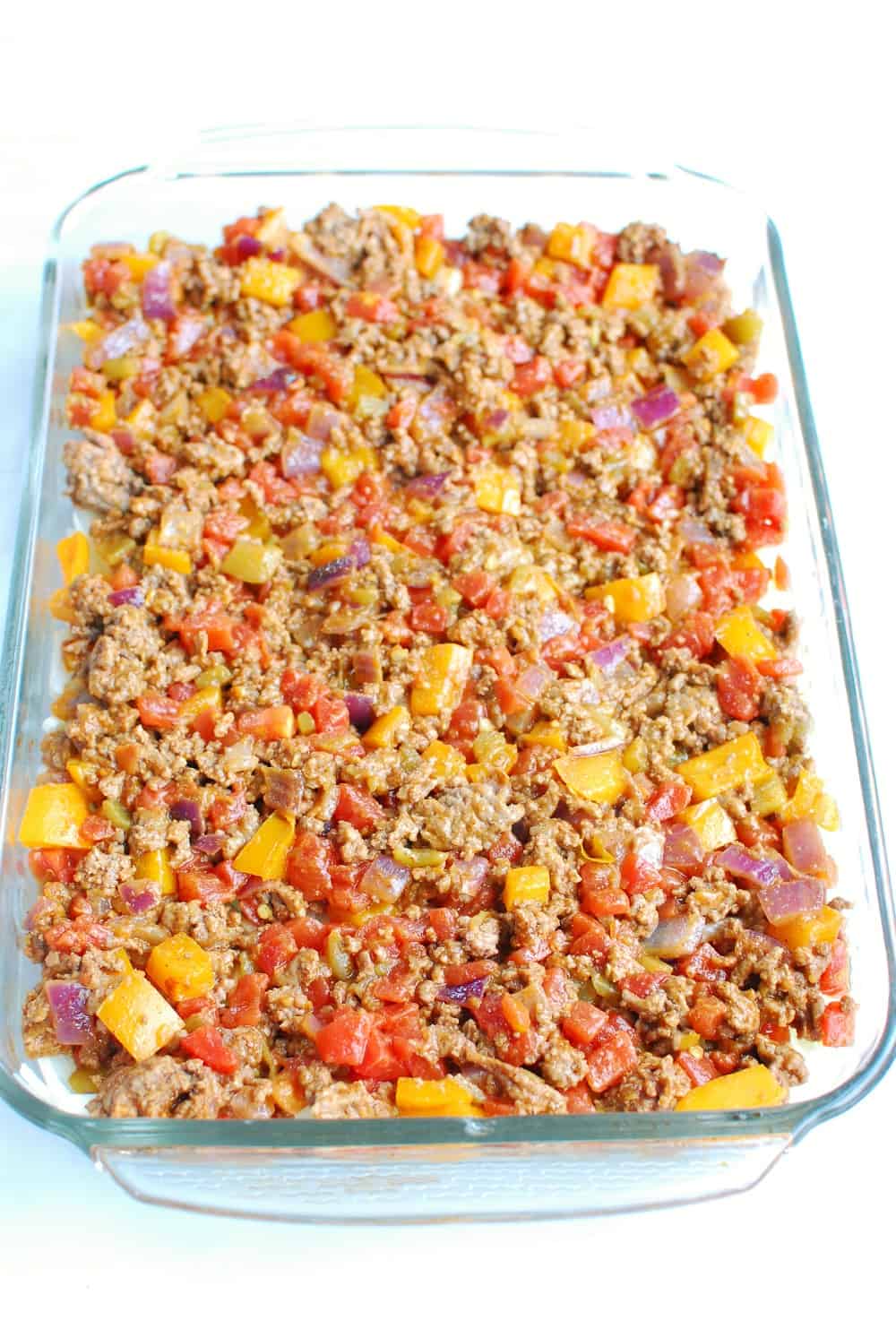 After that, whisk together the eggs and milk, and stir in the cheese. Dump this on top of your casserole, right over the beef.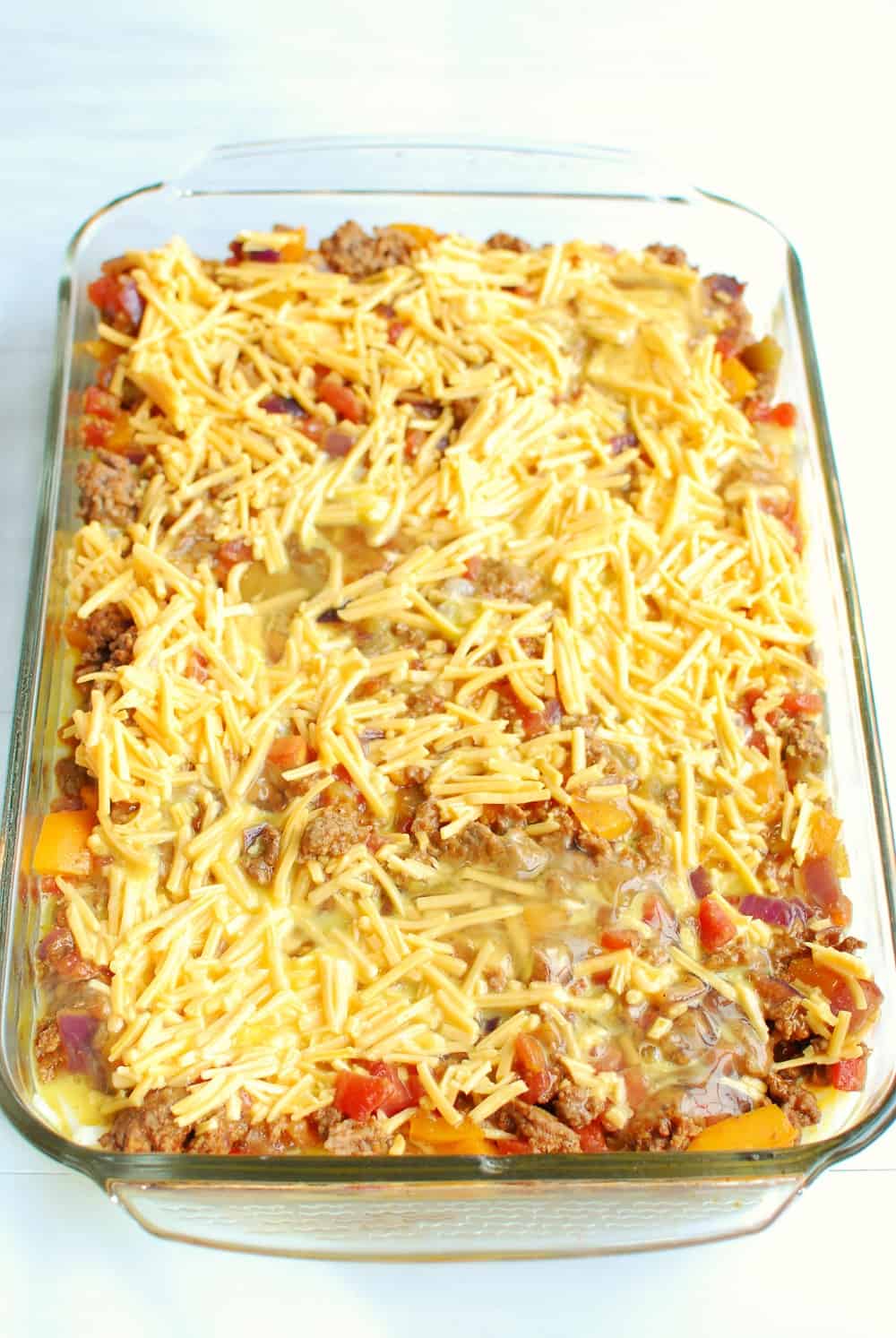 Then bake it up to pure taco-flavored goodness!
Nutrition benefits
Here are a few awesome nutrition benefits worth highlighting:
This taco breakfast casserole packs in the protein! Most of us get plenty of protein throughout the day, but it tends to be backloaded at dinner time. Instead, it may be optimal to spread protein intake more evenly throughout the day. In fact, the International Society for Sports Nutrition made the following recommendation in their position stand on nutrient timing – "Meeting the total daily intake of protein, preferably with evenly spaced protein feedings (approximately every 3 h during the day), should be viewed as a primary area of emphasis for exercising individuals." The beef and eggs in this recipe are great ways to build in protein at breakfast.
Thanks to the potatoes, pepper, onion, tomatoes, and chiles, one serving of this recipe contains 48% of your daily Vitamin C needs. Vitamin C plays a role in immune function and the formation of collagen (involved in wound healing).
Did you know that the canned tomatoes found in this dish are actually higher in a key phytonutrient called lycopene compared to fresh tomatoes? This nutrient has been linked to several health benefits. For example, a 2019 study in Critical reviews in food science and nutrition concluded that high intakes of lycopene were associated with reduced risk of stroke, cardiovascular disease, and death.
For active folks, combining a serving of this breakfast casserole with a piece of fruit and a slice of toast makes for an awesome, nutrient-packed meal that will fuel your body all morning long!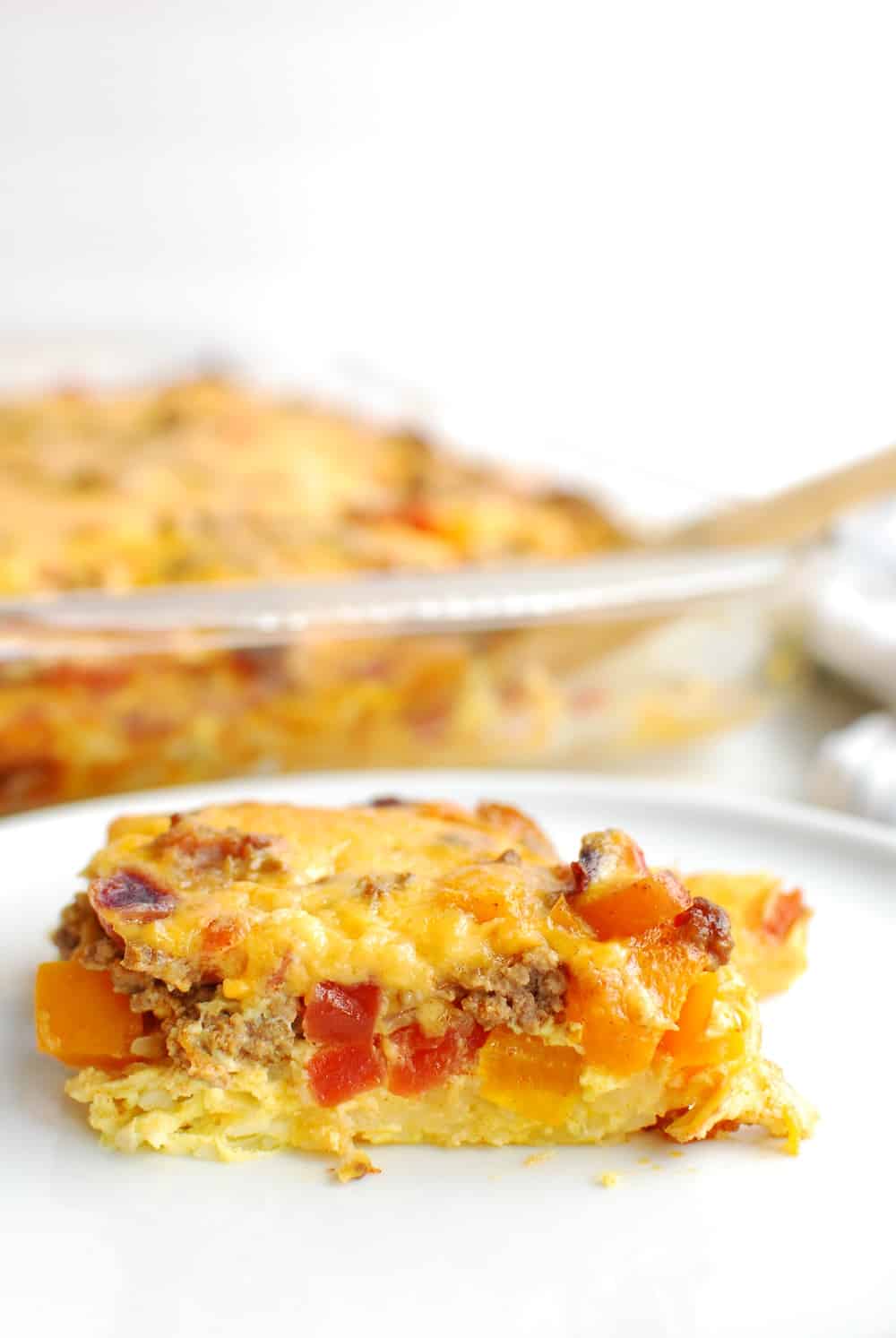 Recipe FAQ
Here's answers to a few common questions that might come up when you're making this:
What kind of ground beef should I use? Whatever kind you've got in your fridge or freezer right now will work just fine. I prefer 90/10 or 85/15 when it's available, but any kind will work in this recipe. If you use fattier versions like 80/20, just drain off any excess fat when the meat is done browning.
Is this a good meal prep recipe? Yes! Once you bake this, you can store leftovers in the refrigerator for up to 3 to 4 days. Just pop out a piece, put it on a plate, and microwave it for about a minute or two until it's hot. It's great because it makes a ton, so you're likely to have leftovers to enjoy later.
Can I use homemade taco seasoning instead of a packaged mix? Here's the blend I would use if I didn't have a package of seasoning: 1 tsp chili powder + 1/2 tsp cumin + 1/4 tsp paprika + 1/4 tsp garlic powder + 1/4 tsp onion powder + 1/4 tsp salt + 1/8 tsp cayenne.
Can I make this recipe dairy-free? You can use broth rather than milk when you're whisking the eggs, and you can skip the cheddar cheese. Also, be sure the taco seasoning you choose does not contain milk.
Can I make this recipe gluten-free? It actually should already be gluten free as long as your frozen potatoes and taco seasoning do not contain gluten. Just double check those labels.
I hope you enjoy this taco breakfast casserole! If you get a chance to try it, please feel free to leave a recipe rating or comment below.
PS – You can also check out my breakfast burger for another unique way to use ground beef at breakfast!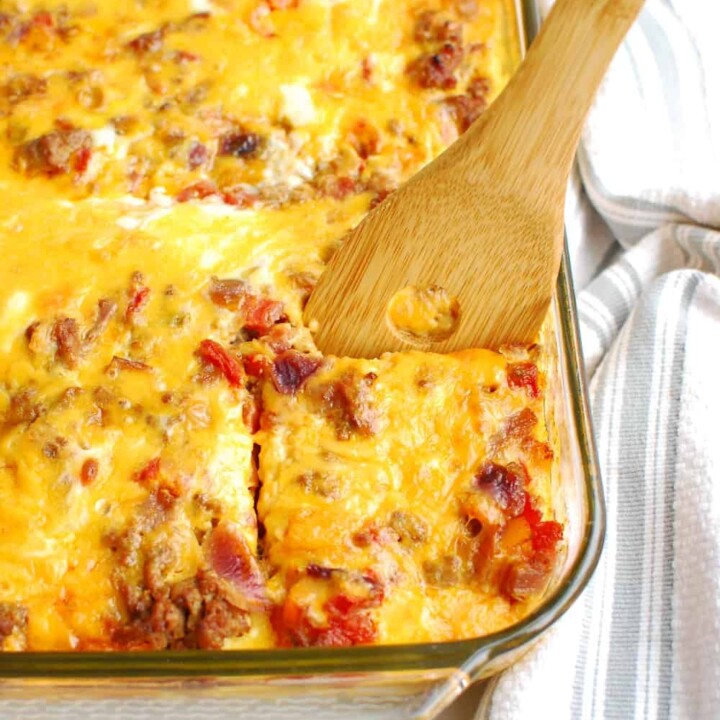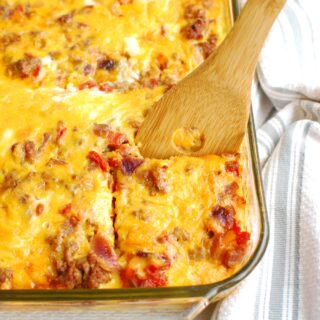 Taco Breakfast Casserole
When you need a big breakfast to feed a hungry family, look no further than this tasty taco breakfast casserole!
Ingredients
16

ounces

frozen hash brown potatoes

(half a large bag)

1

lb

ground beef

(I use 85/15 but any kind will work)

1

onion, diced

1

bell pepper, diced

1.25

ounce

package taco seasoning

10

large eggs

1/4

cup

1% milk

(or broth)

14.5

ounce

can diced tomatoes

4.5

ounce

can green chiles

1 1/2

cups

cheddar cheese

(optional but recommended!)
Instructions
Preheat the oven to 350 degrees. Grease a large 9x13 baking dish.

Spread the frozen hash brown potatoes on the bottom of the dish and set aside for now.

In a large skillet, heat the ground beef, onion, and bell pepper over medium heat. Cook for about 6 to 8 minutes, until the beef is browned and the vegetables are tender. Drain off any excess fat in the pan, then stir in the taco seasoning (you don't need to add water) and continue to cook for 30 more seconds. Remove from heat.

Stir the diced tomatoes and green chiles into the pan with the beef. Now, take the pan with the beef and pour it over the potatoes in the baking dish.

In a medium bowl, add the eggs and milk. Whisk together well. Stir in the cheddar cheese. Pour this mixture over the beef in the baking dish.

Cover with foil and bake at 350 degrees for approximately 45 minutes, then remove the foil and bake for an additional 15-25 minutes (for a total baking time of 60-70 minutes). Remove and let cool for a few minutes, then cut into 12 pieces (cut 4 lines the long way x 3 the short way for 12 pieces), serve, and enjoy!
Notes
Nutrition analysis (approximate per serving, assumes 85/15 ground beef):  262 calories, 15.5 g fat, 6.5 g saturated fat, 475 mg sodium, 13.5 g carbohydrate, 2 g fiber, 4 g sugar, 17 g protein, Vitamin A: 24%, Vitamin C: 48%, Calcium: 17%, Iron: 13%
Nutrition
Share: What's your favorite filling "feed a crowd" breakfast to make?
References: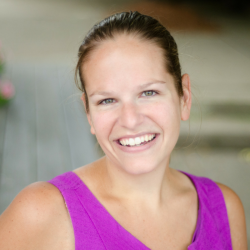 Latest posts by Chrissy Carroll
(see all)