Looking for a natural pre-workout choice to help fuel your fitness goals? Think outside the supplement box and look in your fridge – it's time to try watermelon before a workout! Everyone's favorite summertime snack has many attributes that are beneficial for athletes, especially in the pre-workout time frame.
Disclosure: This post is sponsored by the National Watermelon Promotion Board. As always, all opinions are my own.
3 Reasons to Include Watermelon in Your Pre-Workout Meal
1. Carbs
Watermelon is a great source of carbs – which (contrary to what many media outlets would like you to believe) are not evil! Years of sports nutrition research have established that eating carbohydrates prior to endurance exercise improves performance. And carbs are useful before strength training sessions as well.
This applies to three areas of pre-workout sports nutrition:
1) On an everyday basis, you want a variety of foods with a mixture of all the macronutrients – including carbs. Carbs are stored in your muscles to provide energy, and a solid daily diet will help maximize these energy stores.
2) For training day or race day, you want to eat an easily digestible, carb-rich meal about 1-4 hours prior to endurance exercise.
3) For endurance races lasting longer than 90 minutes, it's wise to carb load by nudging up your carbohydrate intake in the 1-3 days leading up to your event.
Watermelon is a natural fit into all three of these concepts. Two cups of watermelon provides 23 grams of carbohydrate. You can eat it as part of your daily diet for a nice sweet treat that fits into a healthy meal plan – and you can also incorporate it strategically into your carb loading plan and your pre-workout meal as one of your carb sources.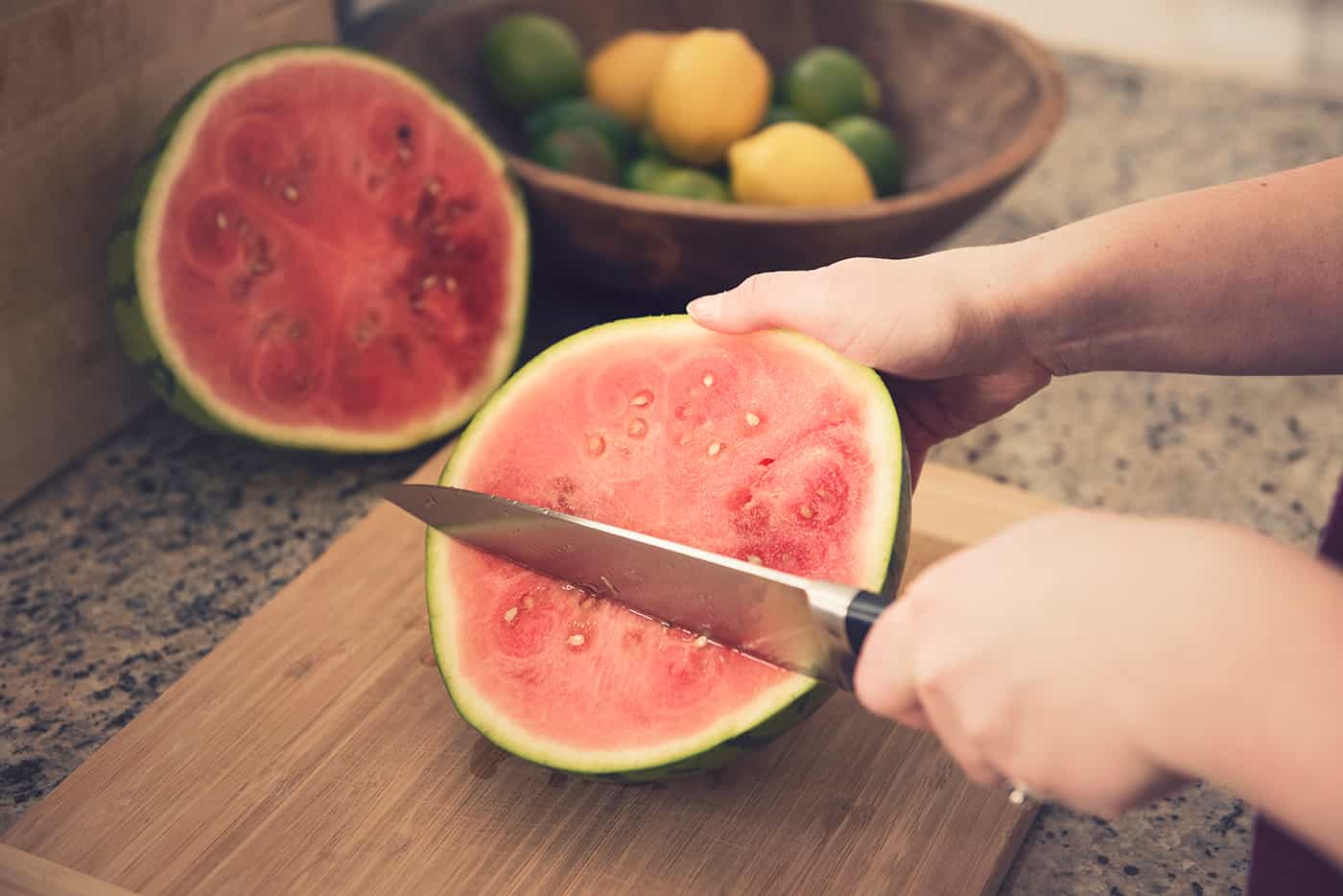 2. Hydration
One of the biggest struggles I see with summer workouts? Hydration.
This is especially an issue for outdoor workouts, like long runs or outdoor bootcamps. If you're starting off these workouts dehydrated, it's very hard to recover from that on a hot day when you're sweating a lot. That can lead to poor performance and just feeling crummy during your workout.
In addition to hydrating properly during exercise, one thing you also want to do is make sure you're staying hydrated on a daily basis before your workouts. Because watermelon is 92% water, it offers a unique food-based way to help you stay hydrated leading up to your sweat sesh.
Learn more about watermelon & hydration here and check out extra tips about hydration for athletes here.
3. L-Citrulline
L-citrulline is an amino acid found in watermelon – and its presence there is one of the more unique reasons to consider watermelon as a natural pre workout choice.
You see, L-citrulline is converted to L-arginine in the body, which is further converted to nitric oxide. Nitric oxide helps improve blood flow and may allow more oxygen to get to those hard-working muscles.
Some studies have looked specifically at L-citrulline supplementation and exercise. For example, a study in the Journal of the International Society of Sports Nutrition found that 7 days of L-citrulline supplementation led to better cycling time trial performance and improved perception of muscle fatigue.
There's also been research on watermelon itself – though there's not a ton out there on this topic.
One 2017 study in the Journal of Food & Nutrition Research compared half marathoners who drank either an L-citrulline enhanced watermelon juice or a placebo drink prior to the race. The enhanced watermelon juice group had less muscle soreness after the race – woohoo!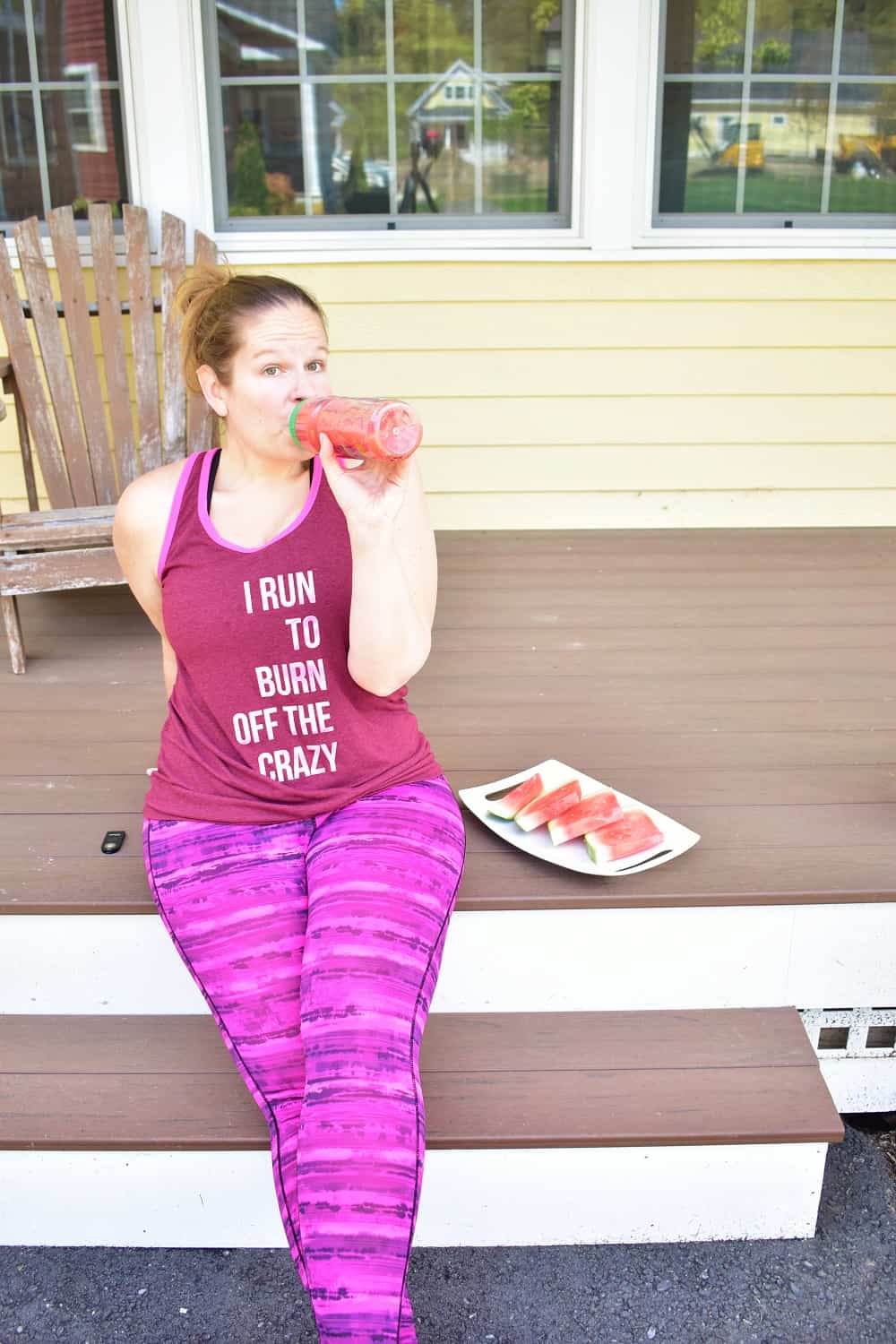 And though not a human study, there was also an interesting rat study that was released just this year in Preventive nutrition and food science. They divided rats into four groups: 1) supplemented with tap water, 2) supplemented with L-citrulline, 3) supplemented with watermelon flesh juice, 4) supplemented with watermelon rind juice. After 14 days of this supplementation protocol, the rats underwent swimming exercise twice a day for 3 days.
The results? Rats supplemented with watermelon flesh juice were able to swim longer until exhaustion, had reduced lactate concentrations, and had increased nitric oxide production compared to the tap water and L-citrulline groups. The rind group also had a longer swimming time and lower lactate concentrations compared to the control group.
Of course, like any area of nutrition, not every study has shown similar results. For example, a study in the Journal of Sports Science didn't find any exercise-related benefits when people drank 3 cups of watermelon juice an hour or two prior to a workout.
And a 2016 study in Nitric Oxide: Biology and Chemistry did not find improvements in time to exhaustion during high intensity exercise with 16 days of watermelon supplementation. However, there were improvements in plasma nitrite and muscle oxygenation during moderate exercise.
So what's the real deal? Clearly, with so few studies so it's hard to draw a definitive conclusion.
But that said – between the individual studies on L-citrulline supplementation showing exercise benefits, and the studies on watermelon itself suggesting benefits (for the half marathoners and swimming rats) – I think it's plausible that the L-citrulline in watermelon might be helpful before a workout. It may be more likely that these benefits are seen with consistent daily intake rather than just one acute dose beforehand.
Plus, even if we found out in the future that the L-citrulline was not actually impactful, there are all the other benefits of watermelon like the healthy carbs, hydration, potassium, and antioxidants that are present in the fruit.
How to Include Watermelon in Your Pre Workout Meal
This doesn't need to be fancy – the easiest way to include it is to simply grab a slice and enjoy! Sometimes I like to sprinkle mine with a little salt – yum.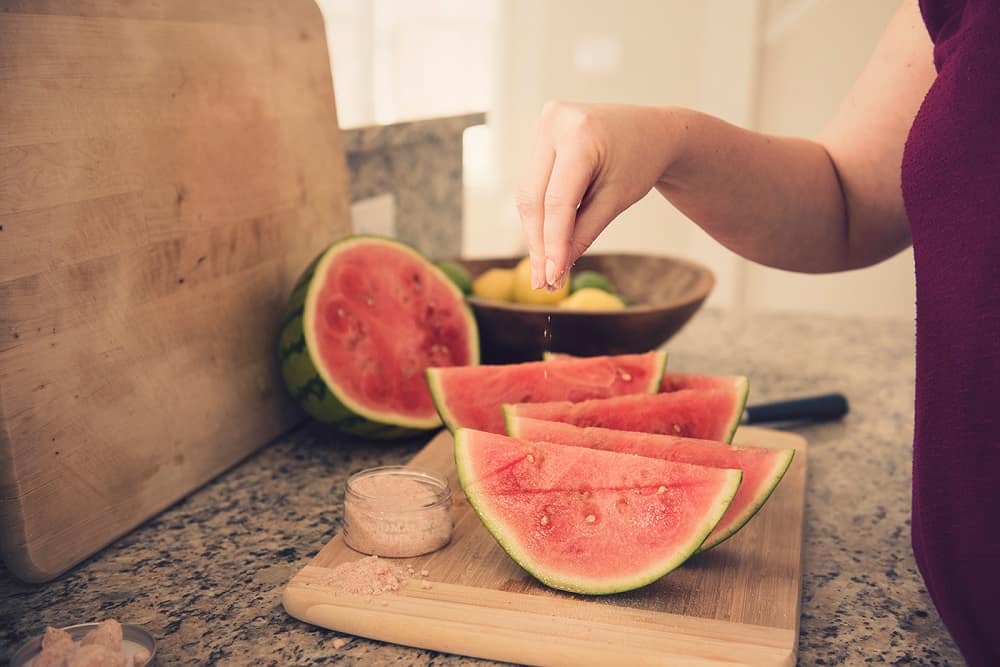 You could also enjoy my watermelon sports drink or this watermelon cucumber smoothie as part of your pre-workout meal.
And if you want to get a little nerdy with me, here are two other ways that I think are awesome for summertime:
1. Try a pre-workout watermelon ice slurry.
An ice slurry is the athletic world's take on a slushy or a snow cone. Essentially, it's just small pieces of crushed ice in a carrier liquid.
Several studies have investigated the impact of athletes consuming ice slurries prior to exercise in the heat. The data is mixed, with some studies showing no major improvements and other studies showing enhanced exercise capacity.
I personally like a pre-workout slushie, and find that (anecdotally) I feel like it makes hot workouts easier. I like to make mine with watermelon! Just blend a cup or two of watermelon, then pour it over some crushed ice, and eat it before going out for a really hot workout. (Of course, this is also super refreshing after a workout too.)
2. Try a pre-workout watermelon pomegranate popsicle.
Watermelon and pomegranate offer double duty support for athletes. A systematic review in the British Journal of Nutrition concluded that pomegranate "has the potential to enhance exercise performance and to expedite recovery from intensive exercise." But when combined with watermelon, that effect could be even better!
Research in the Journal of agricultural and food chemistry showed that watermelon juice enhanced with pomegranate ellagitannins significant decreased the rating of perceived exertion and muscle soreness after strength exercises.
You can certainly do a blended juice, but in the summer, a pre-workout popsicle seems way more fun. Want to make your own? Try this simple recipe: Just combine 2 cups chopped watermelon and 3/4 cup pomegranate juice in a blender, and then pour it into popsicle molds. Freeze for a few hours, and pull one out as needed before your next workout!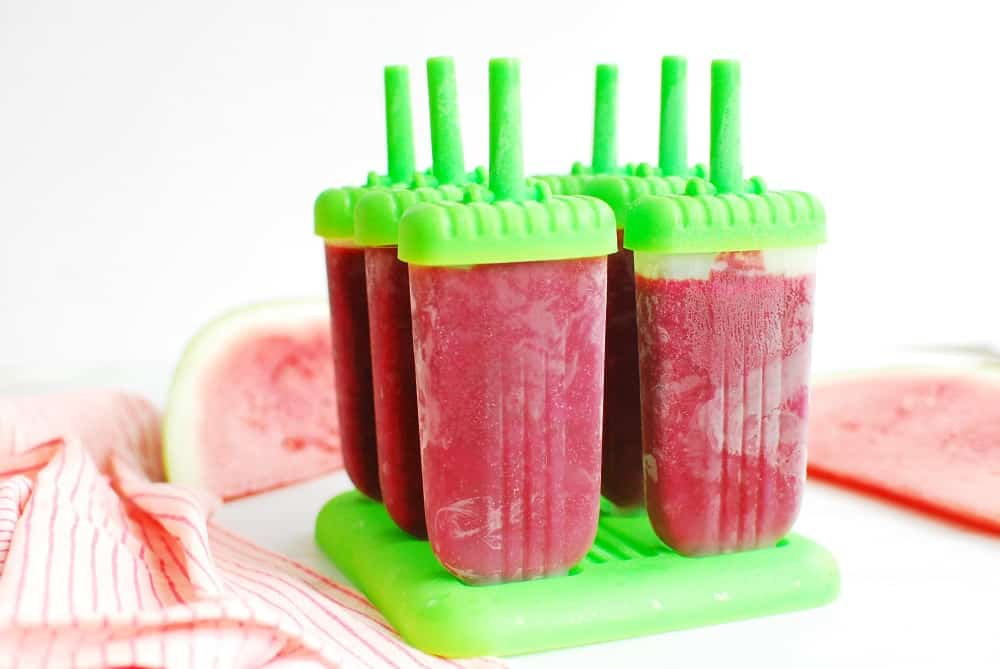 Your Turn!
Now it's your turn – give watermelon a try in your next pre workout meal and see how you feel! You might find the extra carbs, hydration, and L-citrulline give your body a bit of a step up. If you do try it out – whether that's in a slice, a slushie, or a popsicle – be sure to pop over here and leave a comment to let me know how it goes.
Share: Have you ever eaten watermelon before a workout? How did you feel? Were you surprised by any of this info?
PS – Don't forget to check out more great watermelon recipes here!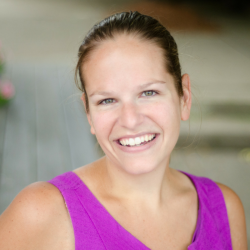 Latest posts by Chrissy Carroll
(see all)