Now that Christmas is over and 2017 is rapidly approaching, it's that time when everyone starts thinking about their New Year's Resolutions. I love that the new year offers a "fresh start" to kick off healthy habits. (Though of course, any time is a good time to do that!)
But the reality is that only about 10% of people actually are successful in achieving their resolutions – what a bleak statistic! I reached out to some of the best dietitians, coaches, and personal trainers to get their advice for setting New Year's Resolutions that will stick.
Here are 15 of the best tips from the experts – with some clear common themes that emerged as key success strategies – to help you set and stick with your new year's resolutions…
[Tweet "Setting New Year's Resolutions? Here are 15 expert tips to help you set + stick with your goals!"]
Find your why.
Something that I encourage all of my clients, runners or otherwise, start with finding their why–what gets them up and at it each time. Then, I tell them that they need a) to learn to walk before they run, and b) to walk at least a little bit, every day. That can be literal or figurative walking, but they need to do something that supports their journey in some way every day. Incremental progress is very powerful! — Susie Lemmer, Personal Trainer and Running Coach at Suzlyfe.
Be specific with SMART goals.
Make every goal measurable, and break each long-term goal into practical short-term goals with a plan for success. For example, your long-term goal might be to lose 20 pounds. Your short-term goals, which may change each few weeks, might be to pack a lunch three days a week (plan: Mondays, Wednesdays, and Fridays, packed in the evening before bed since mornings are hectic), walk for a half hour twice a week (plan: Tuesdays and Thursdays, after work, with your friend Jill, at the park), and limit social drinking (plan: one glass of wine each weekend). — Stacey Mattinson, RDN, LD at Elevate Nutrition Consulting
Instead of a resolution, I recommend setting a goal with a specific, measurable outcome that you can track. So instead of "I want to lose weight", try "I want to fit into my size X jeans by the end of June". Then break that goal down into the sourdough actions you need to take this month to move closer to your goal. This approach helps you focus on what you can control & celebrate progress in your actions throughout the year! — Heather Turco Blackmon, Certified Personal Trainer and Triathlon Coach at Fitaspire
Just as the athletes will develop strategies for competitions, you need to create your own strategies in order to more effectively accomplish your goals. Think of it as your blueprint to success as it will take a lot of the guess work out of your efforts. So how do you strategize? Ask questions. What type of exercise will you do? When will you do it? Where? Will you exercise alone, with a partner, or a group? The more that you dig into the details, the stronger your plan will be and the more successful you will be at achieving your goals. –Michelle Loy, MPH, MS, RD, CSSD at Go Wellness
My tip from a social work/therapist is to set SMART goals that are also realistic! That way you have everything spelled out for you and instead of "I'm going to work out" you're saying "I'm going to work out 3 times per week for 30 minutes". – Chani Coady Ferguson, Social Worker and Blogger at Chani Gets Healthy
Monitor your progress.
"My approach to New Year's resolutions is different than many. It may not work for you, and that is okay. Last year, I made a list of 15 things I wanted to accomplish in 2015. Some of these were goals and plans more than daily rituals. Regardless, I knew that all of the things on the list would take a conscience effort to achieve, and I knew they would not come easy. I kept these in the forefront of my mind (and saved as a note in my phone) for the duration of the year. Every time I achieved a goal, I added a check mark to it on the list and reviewed what else I wanted to accomplish in the coming months." – Marissa Thiry, RD at New Kid on the Guac
My husband and I mark off on our wall calendar every time we complete a task related to our goal. It's visual, supportive, and even creates a little friendly competition towards our goals. -Mandy Enright, MS, RDN, RYT at Nutrition Nuptials
Set a goal that's a small step in the right direction and include those around you. It will be easier to achieve and stick to if you have support and are accountable to someone. Reassess every few weeks and reward yourself for sticking to your goal! — Kim Melton, RD at Nutrition Pro Consulting
Keep on keepin' on – don't shame spiral!
Be patient: Changing the habits of a lifetime is difficult and takes time. If you lose the way for a day, don't blow it – get back on track tomorrow. — Cheryl Meyer, RD at Dish and Delite
Don't try to overhaul your lifestyle overnight. Focus on one small change and then move on to the next one. Before you know it you'll have made big changes. And if you have a small setback one day don't let that be the end. Continue where you left off and stay focused! — Rahaf Al Bochi, RD at Olive Tree Nutrition
Build in self care.
I like to set a self-care goal that will support my ability to reach my other goals. For example, I sometimes forget to celebrate the small things, so last year, I decided to take a few minutes every day to write down a few things I'm grateful for. — Jessica Cording, RD at Jessica Cording Nutrition
Enlist Support.
One of my tips is to enlist support. Let friends and family members know about your resolutions and ways they can help you achieve them. Use your personal support group for motivation and to help you recharge when you slip up or need an extra boost of encouragement. –– Jessica Fishman Levinson, RD at Nutritioulicious
Be consistent.
Remember the 4c's; concentration, confidence, composure and commitment. The consistent athlete is rewarded. — Tony Rich, Triathlon Coach at EventHorizon.tv – Endurance Sport and 10x Ironman Distance Triathlon Finisher
So a big thing I have been stressing to my athletes and clients is consistency. This goes beyond just athletic and fitness training. To make yourself great at anything you must stay consistent. Stay hungry. Stay motivated and always remember that if it's easy, you're not trying hard enough. — Jesse White, Personal Trainer, Triathlon Coach & Wellness Coach at J. White Racing and Fitness
It seems simple, but set achievable goals and when you reach a goal, set another. Each new year should be about making it better than the last. — Sarah Hilgert Pflugradt, RD at Salubrious RD
Share with me: Which of these tips will be helpful for you when setting your new year's resolutions this year? Do you have any other tips for achieving your health goals?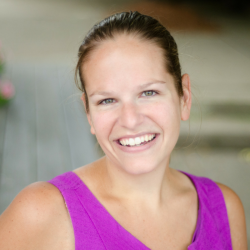 Latest posts by Chrissy Carroll
(see all)