One of my Couch Potato to 5K groups recently asked me for suggestions for slogans or sayings to go on a running t-shirt. There were a few that I thought of off the top of my head, but when I started browsing for more I found a ton of awesome ideas. Here were some of my favorite running slogans and quotes – which would you put on your running t-shirt??
Inspirational:
Focus, breathe, believe

Strive for progress, not perfection

"The five S's of sports training are: Stamina, Speed, Strength, Skill and Spirit; but the greatest of these is Spirit."

"Run the first part with your head, the middle part with your personality, and the last part with your heart."

"_______ (company/team name): Where the weak become strong, and the strong become champions"
Motivating you to push harder:
The pride you gain is worth the pain.

"I do what you won't today so I do what you can't tomorrow"

Champions train, losers complain.

Run for fun – race for place.

Train insane or remain the same.

PR or ER

My sport is your sport's punishment

I bust mine to kick yours.

Suck it up, buttercup.

Death before DNF.
Funny (and a few mildly inappropriate, haha):
I train with Kenyans.

Run like there's a hot guy in front of you and a creepy guy behind you.

On the back: Thanks. I've Never Passed Anyone Before.

Slow runners make fast runners look good. You're welcome.

I'm the fast girl your mother warned you about.

The Surgeon General says it's okay to smoke your competition.

Carbs 4 Life.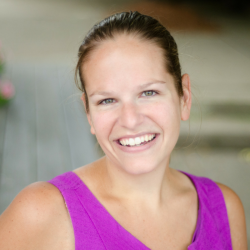 Latest posts by Chrissy Carroll
(see all)