Looking for new active date ideas? You'll find tons of heart-pumping, fitness-focused ideas in this post!
When most people think of date night, they think of things like going out to eat, catching a movie, or even just a romantic candlelit dinner at home. However, if you're someone who loves getting up and moving your body, that kind of date might be a tad bit boring. Or maybe you love a good dinner out as much as the next person, but you just need some new ideas! Think outside the box with these new date night ideas that you and your partner will love.
30+ Active Date Ideas
1. Private Boxing Lesson for Two
Boxing is an amazing workout that gives you both a cardio and strength training workout in one. Hitting the bag, or even sparring with eachother, may help reduce stress and get some anxiety out, all while having fun. Plus, it's great to learn a new skill together with your special someone. Sign up to take private boxing lessons together, or sign up for a fitness boxing class.
2. Ice Skating
When it comes to winter active dates, ice skating is always a classic. You can find outdoor rinks or indoor rinks, and most have skate rentals available. Ice skating helps you work on balance, along with glute and hip strength. Plus, it gives you an excuse to cuddle up afterwards (or at least indulge in some hot chocolate).
3. Roller Skating
Not a fan of ice skating? Try roller skating instead! Hit up a local roller rink and have fun skating around while they blast a fun soundtrack. Similar to ice skating, roller skating involves work on balance along with leg, glute, and hip strength. Many roller rinks these days also have mini-arcades on site, so maybe you can challenge each other to a game of ski ball afterwards!
4. Bowling
If you like a bit of competition on date nights, head to your local bowling alley. Whether you and your date are opponents or you team up to take on another couple, you're sure to have a good time. Plus, bowling targets the arms and shoulders when aiming and releasing the ball.
5. Batting Cages
If you're both a fan of baseball, a trip to the batting cages could make for a fun night. You're able to do continuous batting to help work on your form and batting power. Consider making it a challenge to see who can get the most hits for a date that's a real home run (ba-dum-bum).
6. Miniature Golf
A round or two of miniature golf is always a great active date idea. No, it's not super exerting, but it does require you to move around more than sitting at the movie theater. While outdoor mini golf is certainly the most popular, many states also have some indoor mini golf courses that can be played any time year round. For example, there's a chain called Monster Mini Golf that has indoor glow-in-the-dark mini golf courses.
7. Indoor Trampoline Park
If you have an indoor trampoline park in your area, definitely try it out. Jumping on a trampoline is a surprisingly solid workout, getting your heart pumping crazy fast with an excellent cardio challenge. You can either go during free time to jump, or you and your significant other can sign up for one of the fitness classes they hold. Some locations even do things like adult dodgeball, where you can sign up to be part of teams and compete in a tournament. Anyway you approach it, jumping around on a giant trampoline is tons of fun.
8. Amusement Park
If you have an amusement park in your area, you can't really go wrong with that as a date – especially if you both love moving around a lot. While it's not a workout per se, you'd be surprised at how many steps you get in over the course of the day while walking from ride to ride. Plus, you'll get that adrenaline rush from roller coasters and other rides!
9. Zoo
Depending on where you live, going to the zoo can easily take up a few hours of your day. You'll get in a ton of steps since you're pretty much going to be walking the entire time, and all of adorable animals give tons to talk about. Pick a day when the weather is nice, put on some good shoes, and enjoy visiting the animal exhibits.
10. Go for a Scenic Walk
Speaking of walking shoes, going for a nice, scenic walk can be revitalizing and give you plenty of time to chat about life. This one holds a special place in my heart as my husband and I had our first date taking a scenic walk on the beach (I forced him to meet up with me at 9am on a weekend for said date, haha). Walking gives you time to connect, and sometimes it's easier to let conversation flow during a nice walk outside compared to just sitting at home trying to talk to each other.
11. 5K Run (or any race distance!)
If you're more of a runner than a walker, why not lace up your trainers and jump into a 5K, or any road race distance that you'd like to try. Or, even better, make a pact to train for a race with your partner, which gives you an excuse to have running dates a few times a week to prepare for one. (Need a training plan for a race? You can find tons of free running and triathlon training plans available here.)
If you're more about the fun of the event than knocking out a PR, check out some of the themed events, like the Color Run or a Mud Run. Encouraging each other across the finish line can be the perfect way to spend a date, and is also a great cardiovascular workout.
12. Hike
If running isn't your speed (man, the pun game is strong in this post!) — what about going for a hike? This is a great "family date" if you need to bring your kiddos along, as you can find shorter or less difficult trails that the whole family can enjoy. Be sure to pack water and snacks, and enjoy the scenery as you explore. You can also try to find different types of hikes whenever you travel – for example, we've done tropical nature walks in Bermuda, a super challenging hike at Yosemite, and a fun family hike in the desert at Joshua Tree in California.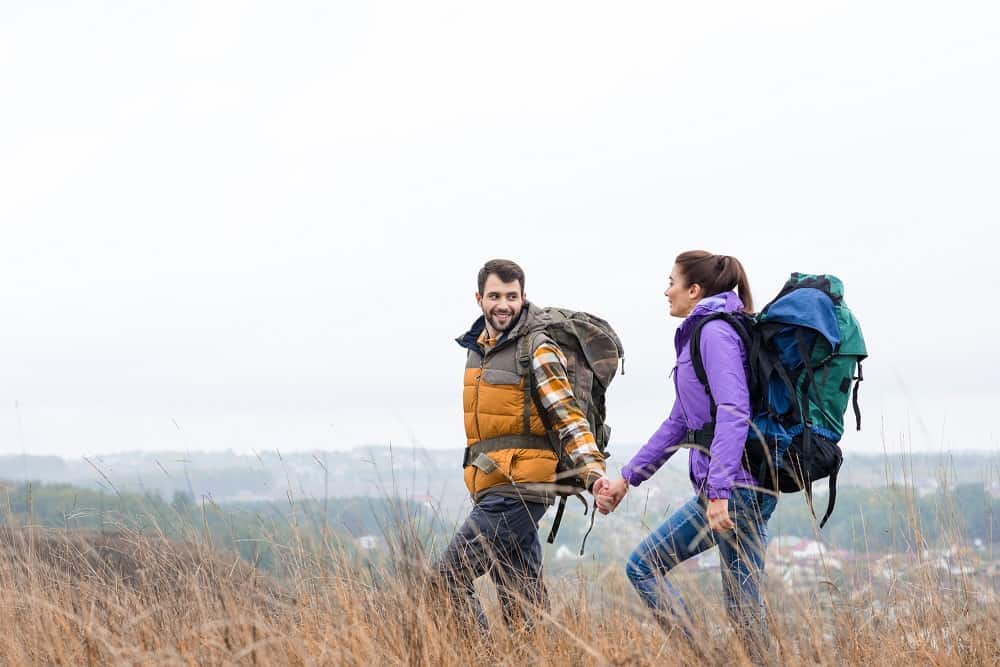 13. Volunteer to Build or Clean Something
Combine your date with volunteerism by helping your community. See if there are any opportunities to clean a park, help build something (like volunteering with Habitat for Humanity), plant a garden, or anything else that will get you and your partner on your feet. Volunteering is often connected with more joy and less stress, so it's worthwhile for you and your partner to try it out.
14. Rock Climbing
Rock climbing can be another great date idea for the fit couple. If you've never done it before, you'll want to find a good indoor rock climbing studio. They'll have the gear you need (like harnesses) and have all the proper safety procedures in place for newbies. If you and your partner are experienced climbers, then hitting up an outdoor spot might be more your style! Either way, rock climbing is an amazing upper body challenge, and also works the calves.
15. Bicycling
Grab your bicycles, put on your helmets, and head out for a ride. Luckily, you don't need fancy gear or bikes to do this; any bike can get you moving around town pretty easily. Try mapping out a route ahead of time that let's you explore some nice scenery. Or, plan to cycle to a bakery or coffee shop, enjoy a little treat, and then cycle back home.
16. Tandem Bicycling
Admittedly, this isn't the right fit for everyone! But it's something to try at least once in your life. Tandem biking is where there are two seats and two sets of pedals on one bike. Most of us probably don't own one of these types of bikes, but they should be relatively easy to find a rental. This fun activity also helps to show you how you guys operate as a team.
17. Geocaching
Have you ever heard of geocaching? It's like a worldwide, collaborative scavenger hunt where you use coordinates to locate hidden caches. Partner up with your date and try to find as many local caches as you can. Learn more at the official geocaching website.
18. Scavenger Hunt
If hunting for geocaches doesn't sound that fun, why not make up your own scavenger hunt by creating a bucket list around your town?! It can be filled with things you've wanted to do, see, or try out.
You can also use this to create a special date for your partner. Years ago, I created a scavenger hunt for the guy I was dating – it started with a clue, and that led to a specific location. At each location along the way, there was a small gift and another clue. We met up for dinner at the end.
19. Laser Tag
Want to really kick up the competition on your date? Go play laser tag! This activity isn't just for kids and teens; it's equally as fun for adults as well.
20. Paintball
Another fun, competitive date night activity is paintball. Generally, you'll need to try to accomplish some mission or objective during your game, and prevent yourself from getting hit while eliminating members of the other team. This game requires a bit of running, hiding, and strategy, so it's definitely sure to get your heart beating faster. Whether you are on opposing teams or partner up to take out everyone else, you'll love this active date idea.
21. Dance Class
Show each other your moves on the dance floor by signing up for dance class. Whether you're doing the waltz in a ballroom, sashaying in salsa class, twirling your waist in Zumba, or keeping the rhythm to a hip-hop beat, it's bound to get your blood pumping.
Ladies, I know sometimes this can be a tough one to convince husband's to try out, but see if you can read them a list of the types of dance classes offered and ask them to choose the one that they'd be willing to try. My husband and I have done swing dancing and salsa dancing and both were so fun!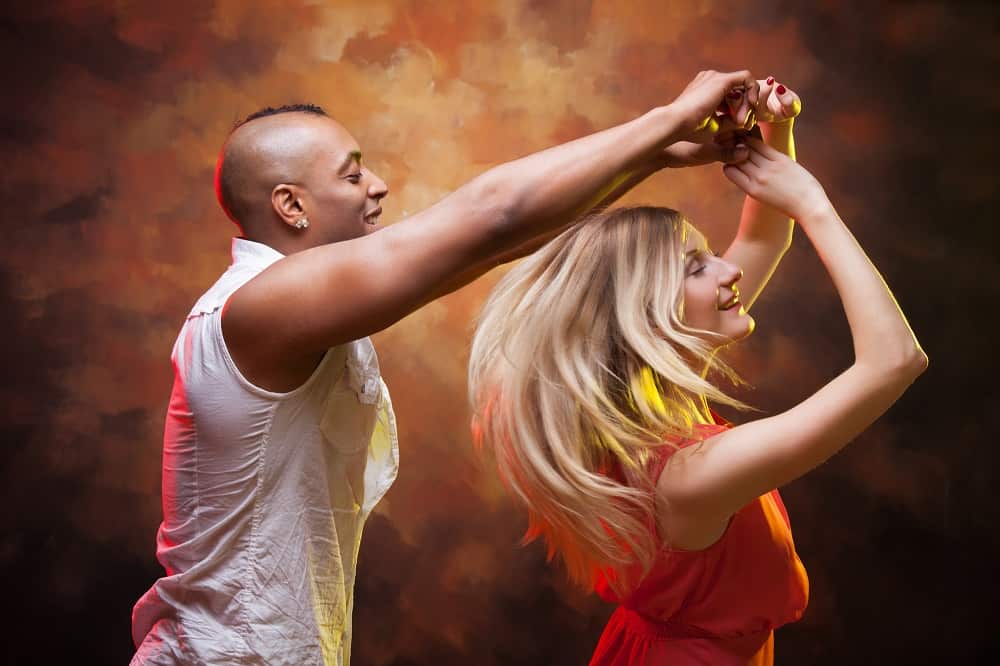 22. Club Dancing
Prefer to freestyle your dance moves? Channel your inner youngin' again and hit up a club. 😉 You may feel a little out of your element, but who cares? Enjoy the great music and get on out there on the dance floor. Dancing burns calories and puts a smile on your face!
23. Go to a concert
If you love music, check to see if a band or musical act will be coming to your area. Live music is an experience like no other. And when you're in a crowd of real fans, you can't help but get on your feet and dance to the music.
24. Snorkeling
If you live near the ocean, find out if there are any snorkeling opportunities. While it's not really a workout – most of snorkeling is just kinda floating along while looking at fish – it's still active and outdoors. This can be a dazzling experience you won't soon forget.
25. Skydiving
If exploring underwater isn't your thing, maybe diving from high in the sky is! Look into local skydiving experiences, which typically require you to dive tandem with a certified instructor (some will let you jump solo with two professionals who jump alongside and hold on to you until you're ready to deploy your parachute, provided you've taken a day of training). It's an experience that very few people on the planet are daring enough to do, so it can be an out-of-this-world experience for you and your significant other to experience on a date.
26. Skiing/Snowboarding
This is another great winter active date idea! If you live in the Northeast or out in the Colorado area, you're probably very familiar with locations for skiing and snowboarding. You'll likely be able to find a place to ski within a few hours or less of your location. If you're down south, you may have to make a bigger trip out of it (but who doesn't love an excuse to take a trip somewhere new)! Skiing and snowboarding both strengthen the legs and core, so it's a great workout in addition to being a ton of fun.
27. Jet Skiing
Speaking of skiing, if you live near water, check to see if you can book a boat to take you and your date jet skiing. You'll get to explore the ocean or lake in a new way, with the wind blowing through your hair as you speed around the water. This is a ton of fun!
28. Water Park
Like amusement parks, water parks can also offer a fun-filled day. Not only do you end up doing a lot of walking, but there's also typically a ton of stair climbing for water parks in order to get up to the tops of the slides. Hello, quad and glute workout! 😉
29. Kayaking
Kayaking is another great summertime active date idea. You can either rent a kayak with two seats in it, or you can rent a pair of kayaks for the day and hit the water! If you want to keep your own kayak on hand, you can also look into purchasing an inflatable one that doesn't require a ton of storage space (which is what we have).
When you're paddling the kayak with the oars, you'll get in a good shoulder, back, and arm workout. Consider paddling to somewhere special and setting up a little picnic to enjoy.
30. Surfing
Another fun and exciting water activity is surfing! You can take surfing lessons together, where you'll learn about safety, how to read a wave, and how to properly stand on your board. Of course, if you're already well versed in the sport, just hit the waves with your loved one!
31. Paddle Boats
Love the water, but want to keep it more slowly-paced? Rent a paddleboat. You've probably seen these little boats that are powdered by pedaling. Head out for an hour or two of paddle boarding and conversation.
32. Tour a City
Last, but not least, play tourist for a day – either in your own city or one you've never really explored. Check out websites for their tourism board, visitor's center, or sites like TripAdvisor to find out about the various things to see and do. From whitewater rafting to exploring new trails to exploring an arboretum, you're bound to find some great activities.
Finding Deals on Active Dates
PS – If you want to find deals on some of these activities, don't forget to scope out sites like Groupon. While many of the ideas above (like hiking or training for a race together) are free, other ideas (like surfing lessons or mini golf) will require cash. Deal sites can be a great way to spark ideas for local things to do and save you money in the process. You can either use their search features to find specific activities, or just browse their Things to Do/Activities tabs to see if anything jumps out at you as a potential active date idea.
Is there a date night activity that you think fitness lovers would enjoy that I didn't add to this list? Let us know about it in the comments below!
Share: What's your favorite active date idea?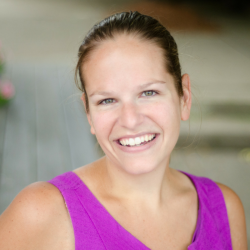 Latest posts by Chrissy Carroll
(see all)