Maybe you've heard the term astaxanthin floating around your local running club, or perhaps a pal at the gym mentioned it to you. But is this a supplement athletes should be considering? Get a full breakdown of the functions and potential benefits of astaxanthin.
Disclosure: This post was sponsored by NOW®. As always, all opinions are my own.
Disclaimer: This post was written and reviewed by Chrissy Carroll, MPH, RD. It is for informational purposes only. Consult a doctor or dietitian when considering a change in your diet or supplementation routine.
What is astaxanthin?
Astaxanthin is a naturally occurring carotenoid found primarily in red-colored seafood, and is thought to have several benefits for health and wellness.* It's the compound that creates a pink-red color in lobster, shrimp, and salmon.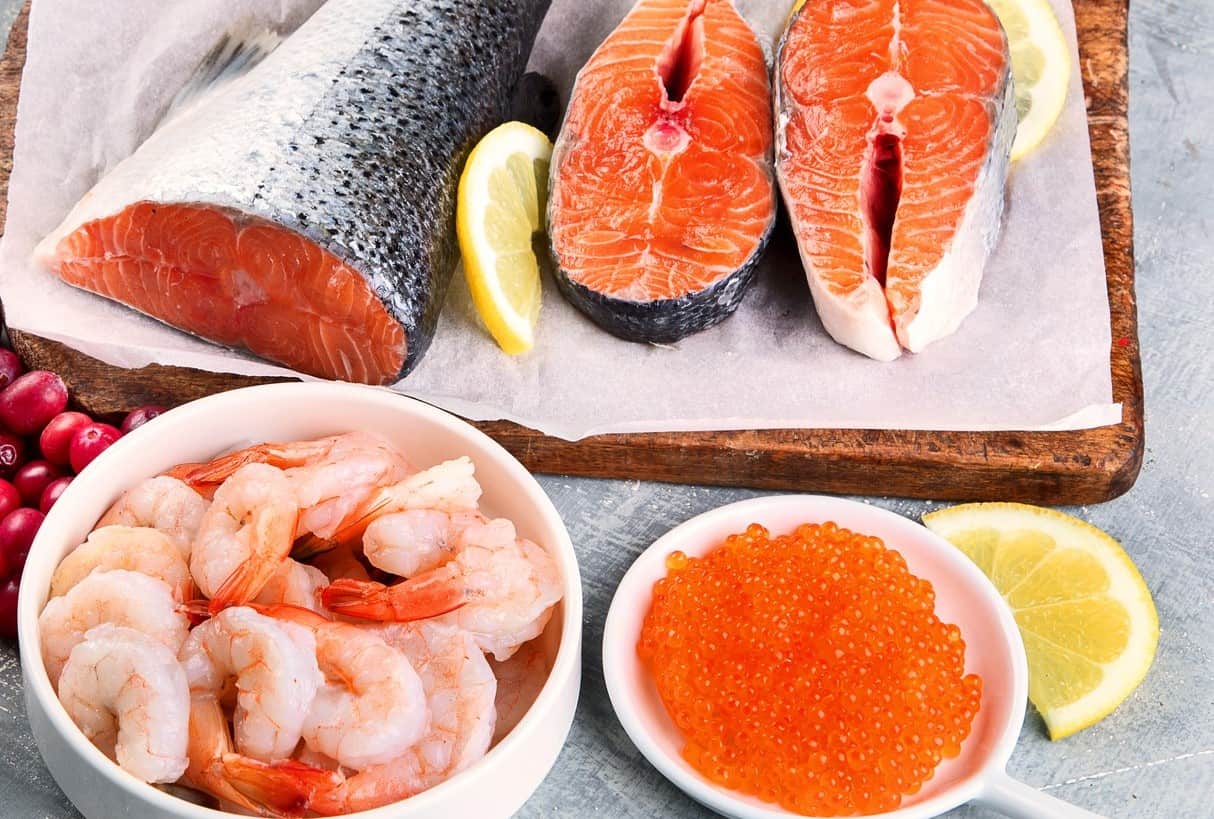 However, because most people don't eat enough seafood for optimal amounts of astaxanthin, it may be worth considering a supplement form, derived from microalgae. This form is also useful for those who are vegetarian or vegan and don't eat fish.
NOW® makes a variety of astaxanthin supplements that may be worth considering (and bonus – you can score 20% off your order with code CHRISSY). But first, let's dive into the deets……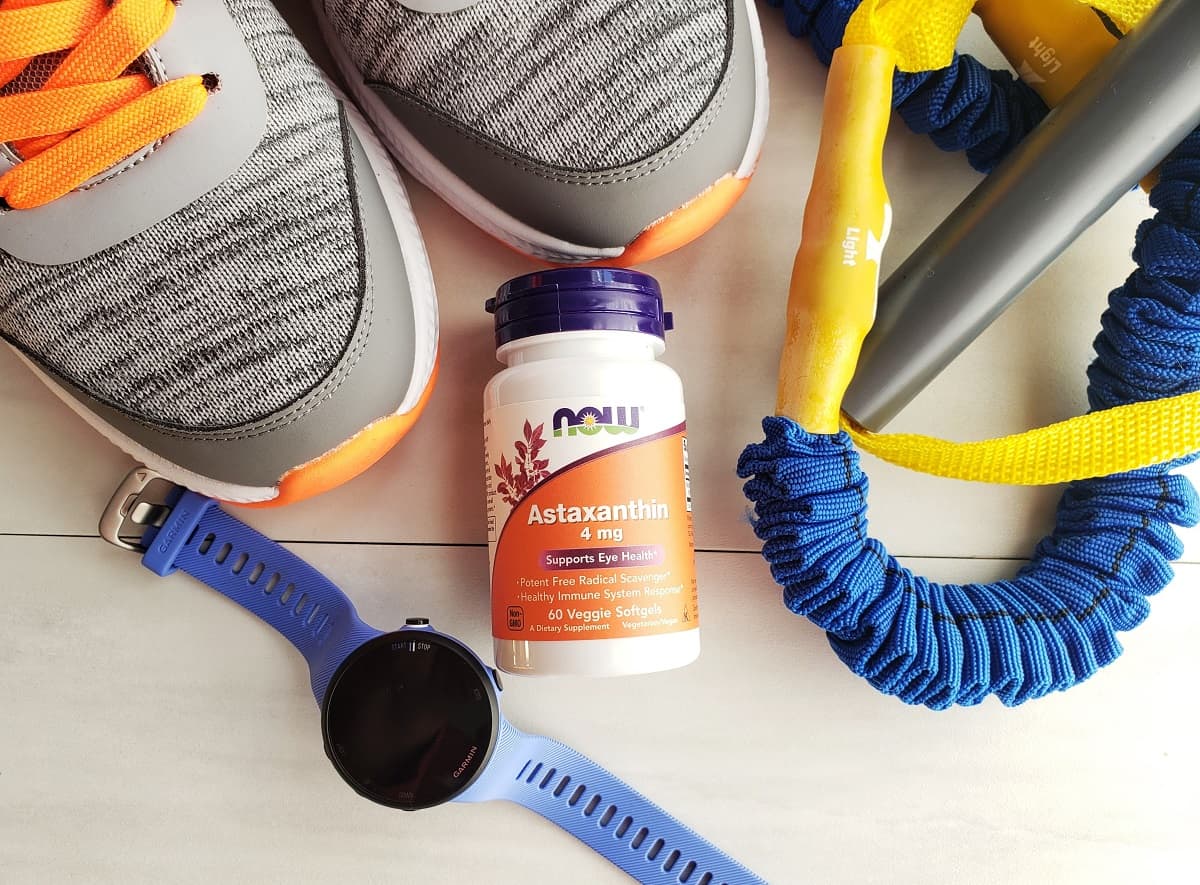 Benefits of astaxanthin
There are many proposed benefits of astaxanthin, including promoting skin smoothness, hydration, and elasticity.* But because beauty typically isn't the priority for most athletes when they consider a supplement, let's focus on some of the other benefits that may affect you in your fitness training:
1. Support the body's balanced immune system responses.*
When you're training for a big event, it is important to support your immune system to keep you as healthy as possible during your training block. Much of this can be done with the basics – eating enough calories, getting a variety of vitamins and minerals, taking rest days, and getting enough sleep.
But astaxanthin may be a supplement that also helps support balanced immune responses.* Astaxanthin is involved in both adaptive and innate immune responses.* Innate immunity is our body's general first-line defense, while adaptive immunity refers to a response specific to a particular environmental challenge or toxin.
2. Support visual accommodation and comfort.*
Ever need to sight the buoys and swim exit during a triathlon? Need visual accuracy for shooting in biathlon?
Some sports definitely require more visual acuity than others. Astaxanthin may be useful for the visual accommodation and comfort needed in these situations.* Astaxanthin crosses the blood retinal barrier, and may have direct effects on certain aspects of eye function.*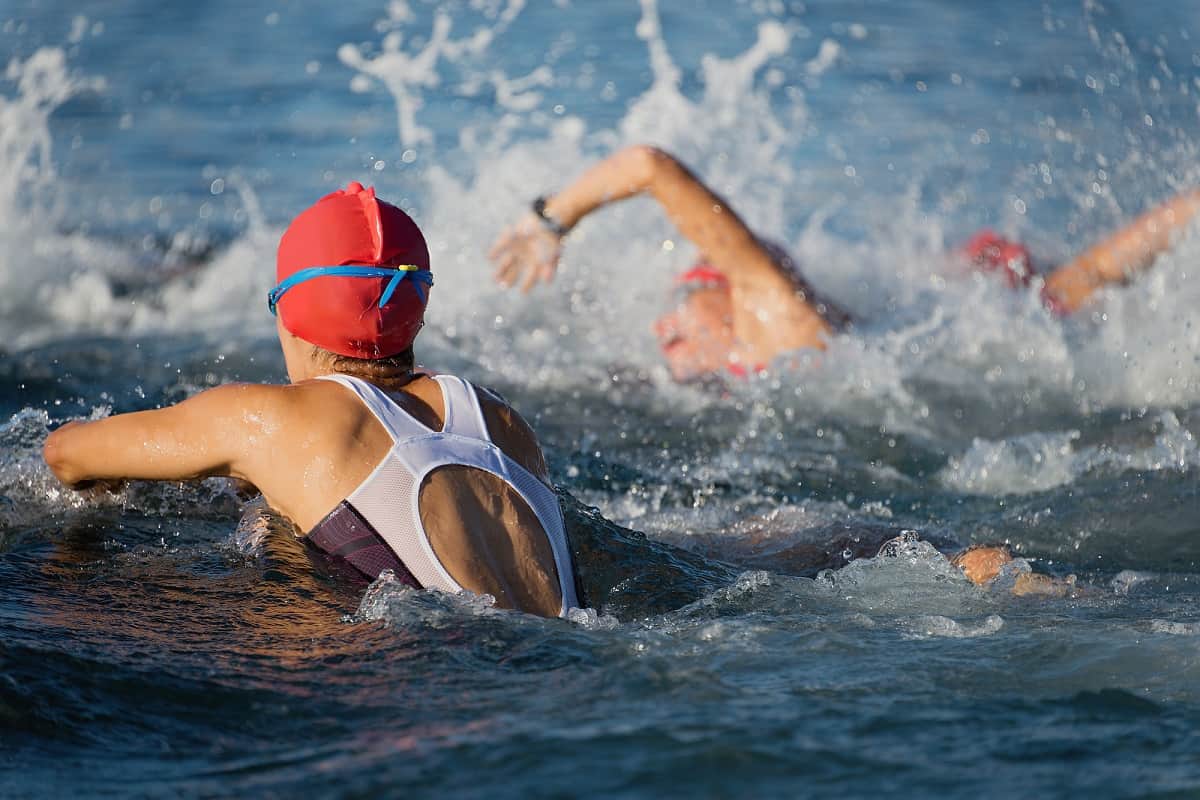 3. Potentially affect exercise performance?*
The data on astaxanthin and exercise is still inconclusive, but interesting nonetheless. The main hypothesis behind this increased performance is that astaxanthin may improve lipid (fat) metabolism to provide energy and delay fatigue.* There are other theories as well.
Most of the data on astaxanthin and exercise performance is in animal studies, so take this information with a grain of salt. A 2021 review article noted that all five animal studies evaluated found positive effects of astaxanthin on performance.*
Human studies have been mainly conducted on active individuals – so it's unclear how results might vary for those new to exercise.
Let's look at three interesting individual studies on humans:
Over a six-month training period, young adults that took a 4 mg astaxanthin supplement had a 3x greater increase in muscular endurance (number of squats completed) compared to the placebo. (source).*
28 days of astaxanthin supplementation (4 mg) improved cycling time trial performance and power output compared to placebo (source).*
Among older adults, 12 mg of astaxanthin supplementation along with exercise training led to improved specific muscle endurance (source).*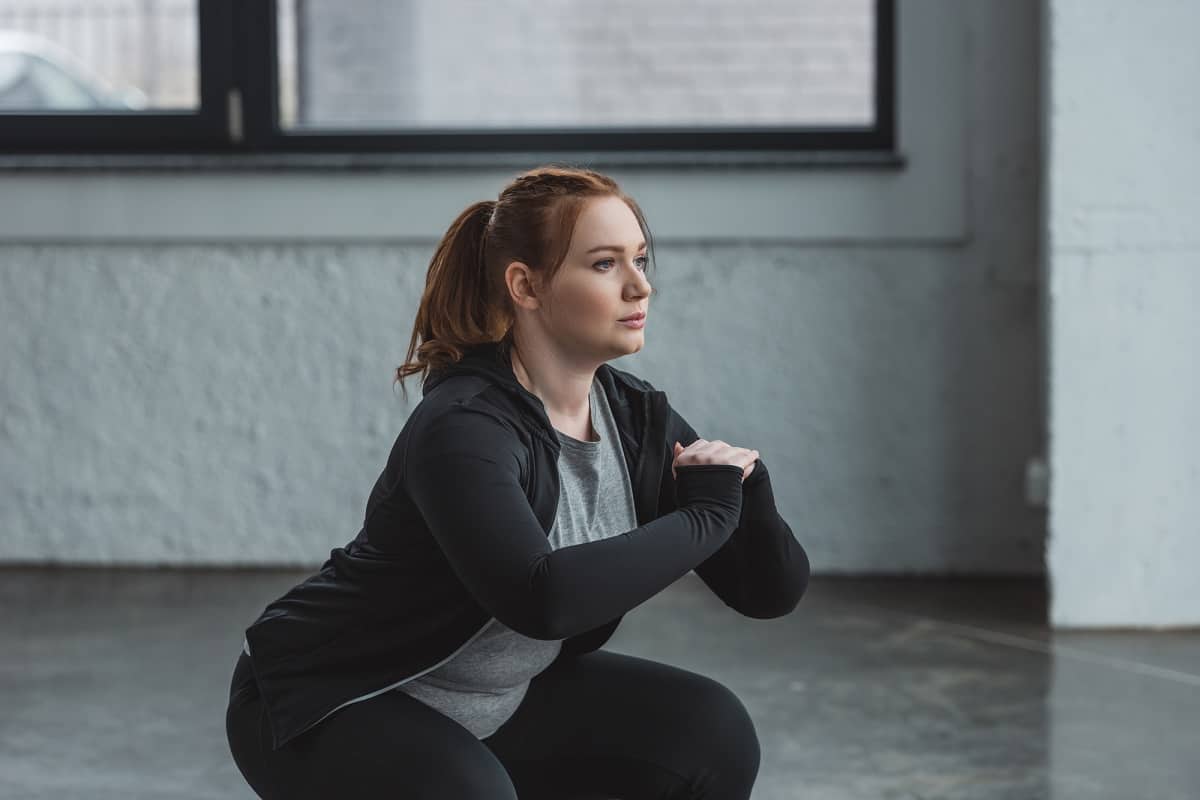 What about neutralizing free radicals?
One reason athletes may look for certain supplements – like astaxanthin – is their role as a free radical scavenger.* However, I think it's important to note that this is a nuanced topic.
Let's get a little science-y. When the body uses oxygen to produce energy, a by-product of that process is called a free radical. (Free radicals can also be produced in other ways, but this is a primary source).
At low levels, free radicals are a normal part of our body and may actually have some beneficial effects (like signaling pathways that play a role in exercise adaptations). But when you have too many free radicals in your body, it can be harmful to your body's internal balance.
Since exercise contributes to the production of free radicals, some experts believe astaxanthin may be beneficial since it can help neutralize them.*
Other experts are cautious about high-dose free radical scavenger supplements, since research suggests that the reactive species formed during exercise may actually play an important role in skeletal muscle adaptations and hypertrophy (i.e. muscle growth). As mentioned, they may impact certain signaling pathways.
However, this topic is complicated, and may be influenced by the type of exercise, individual genetics, and type of supplement. For example, astaxanthin appears to actually enhance certain endurance-related signaling pathways in animal research (like one related to PGC-1α which impacts mitochondrial biogenesis).*
Are there any downsides to astaxanthin?
There is limited long-term research, but most short term studies have found no serious adverse effects in otherwise healthy adults with standard supplement amounts (i.e. 4 to 12 mg).* However, always check with your doctor or dietitian to ensure there are no contraindications with your own medical conditions.
Should you take an astaxanthin supplement?
If you don't eat much red/pink seafood multiple times a week, it may be worth considering an astaxanthin supplement for supporting eye and immune health, as well as promoting resilience to physical fatigue.*
In my opinion as a dietitian, I believe NOW® Astaxanthin 4mg Softgel is a great option. I think the 4 mg dose is ideal for many healthy individuals. Plus, authors of a recent review article note "a low dosage (4–12 mg/day) appears to be more promising than a higher dosage (20 mg/day)" for exercise benefits.*
I like NOW® products because they have a high commitment to testing and quality, which is refreshing to find in a supplement brand. (And don't forget you can get a 20% discount on your order with code CHRISSY).
Because astaxanthin is fat soluble, it's wise to consume the supplement with a good source of dietary fats, like nuts, oils, egg yolks, avocado, or fatty fish.
The Bottom Line
Taking an astaxanthin supplement may help support visual accommodation and comfort, support your immune system, and promotes resilience against physical fatigue.* Always check with a doctor or dietitian prior to starting a supplement, and monitor how you feel and perform while using it!
Share: Have you ever heard of astaxanthin? What has been your experience with this supplement?
*These statements have not been evaluated by the Food and Drug Administration. This product is not intended to diagnose, treat, cure or prevent any disease.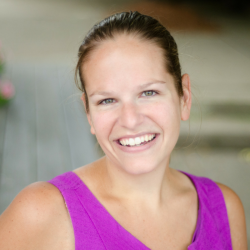 Latest posts by Chrissy Carroll
(see all)