As a dietitian, it makes me incredibly happy to see athletes who want to put greater focus on their food choices. Good nutrition and fueling can have a major impact – not only overall health, but also energy levels, recovery, and performance. Whether you're a beginner runner or you're a competitive athlete, here are some awesome cookbooks full of nutritious meals to help propel you to pound the pavement.
[Tweet "Check out these 5 best cookbooks for runners to help you fuel your training!"]
5 Best Cookbooks for Runners
*Disclosure – This contains Amazon affiliate links. We are a participant in the Amazon Services LLC Associates Program, an affiliate advertising program designed to provide a means for us to earn fees by linking to Amazon.com and affiliated sites.
1. Run Fast, Eat Slow by Shalane Flanagan & Elyse Kopecky

This is my personal favorite, and not just because I have a girl-crush on Shalane. The recipes are all made with nutritious, wholesome ingredients that help to fuel a runner's body. Each recipe comes with a purpose – for example, the SuperHero Muffins are described as an ideal grab-and-go breakfast before a run, while the bison meatballs with pasta are a great choice for recovery and preventing iron-deficiency anemia. I've made most of the recipes in this cookbook and haven't been disappointed with any of them.

This cookbook is the brainchild of Skratch Labs, the company that makes real-food focused sports drinks and fueling products. Though initially geared towards cyclists, I find this a great choice for any endurance athlete – which is why it's made my top 5 list for best cookbooks for runners. The focus is on simple, nutrient dense ingredients that will help optimize health, energy, and recovery. Most of the recipes are quick and simple to make, and everything I've tried has been quite flavorful.

Matt Fitzgerald is a big name in the endurance sports field, with one of his primary areas of focus surrounding race weight. If you're a competitive athlete that's looking to shed a little body fat as you enter your next training season, this is a great option. The book goes into a bit more detail (than other cookbooks) on nutrition protocols for weight loss, along with carbohydrate and protein needs for athletes. Colored icons accompany each recipe, indicating meal characteristics like high carb, high protein, recovery, and/or vegetarian. The recipes range from super simple (for those who don't like to cook) to more complex & interesting (for those who love to cook). And nutrition facts are provided for each recipe.

Let's face it, we all probably wish we had more time on our hands – and this cookbook can help with that! Every recipe is made in just 30 minutes or less (some in as little as 10 minutes), freeing up a little time to spend with family or fit in a few extra miles. Similar to some of the other cookbooks mentioned, this one also categorizes recipes by a color coded key that indicates if it's good for pre-run or recovery, if it's low calories, or if it fits dietary restrictions like being gluten free or vegan. The almond cherry granola is one of my favorite recipes from this cookbook – it's such a good option to make ahead and snack on with some yogurt!

Based on the popular column in Runner's World magazine, this cookbook highlights more than 60 delicious recipes from chef-athletes. From a culinary/food blogger standpoint, I liked that this book included the bios and a little info about each chef – that's fun for me to read (though I get not everyone's cup of tea). It is a bit of an oldie – published back in 2009 – but time doesn't change the fact that the recipes are quite delicious. Next on my list to try from this cookbook is the grilled tuna with plum salsa!
Share with me: Which of these 5 best cookbooks for runners are you hoping to grab? Have you ever read any of these? Are there any other great cookbooks you'd recommend?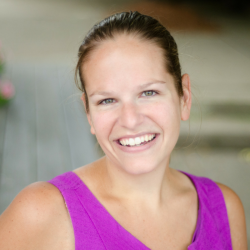 Latest posts by Chrissy Carroll
(see all)