I know sometimes people think that fitness has to be expensive – fancy workout gear, expensive gym memberships, etc. But there are plenty of ways to stay active and fit on a budget! One of my favorite ways is to use free youtube workout videos. There are a ton of them out there, but I've narrowed down my favorites to share with you. Here are my votes for the best free youtube workout videos (links to the channels are in each title):
This channel includes youtube videos for a variety of workout types from many top trainers. There are tons of full length videos ranging from 20 minutes to 60 minutes, as well as some shorter mini workout videos in the 10 minute range. You can be sure to find a good choice no matter what your workout preference – there's yoga, dance fitness, bootcamp, and more. For example, here's a legs and booty shaper workout from Tracey Mallett…
Want something with a bit more swag? Check out the club hip hop 10 minute dance routine…
Quick Tip – if there are ads covering the videos at all, just hover over them and click the x to get them to disappear!
I attended a session with John Garey at IDEA World, and let me tell you – this workout is awesome. It requires absolutely no equipment and is all done using body weight, so you don't need to purchase anything. It is tough and definitely a challenge – but in a good, "I'm happy my muscles are sore the next day" kinda way.
Here's one of the 12 exercises – the Walking Gecko Push-up Exercise.
Cassie Ho is a pilates instructor turned super successful blogger, and puts out a ton of free pilates workout videos on YouTube. Pilates are great for muscle toning, particularly in the core. Plus, Cassie's high energy personality will keep you engaged and having fun! Here's one of her videos titled the "5 Best Exercises to Flatten Your Lower Belly."
Quick Tip – Most workouts are around 8-15 minutes, so combine 2 or 3 together for a full workout!
This is probably my favorite site for full-length, high intensity workout videos. There are plenty of 30 to 60 minute options, and quite a few focus on a blend of strength training and high intensity cardio intervals. There are plenty of videos so you can be sure to find something that fits your level. For those that want a crazy challenge, try the "Insane Cardio Workout Challenge – Hardest FB Workout Yet? Climbing the Mountain."
I was able to take a live class with Tara in California, and loved her fun and playful style. The class was all about moving in a way that works for your body. Her youtube page contains a bunch of different short yoga videos (around 10 minutes each – perfect for a quick break during the day!), as well as some fun recipe videos. I really like the Yoga for Strength and Focus sequence, shown below…
Quick Tip – Some people find her videos move a little too fast. If that's the case, you might consider watching it a few times, and then doing the same sequence on your own at a pace that's right for you.
There you have it! Be sure to pin this post for later so you can refer to it! 🙂
Share with me: What are your favorite youtube workout videos? Which videos above do you want to try out?!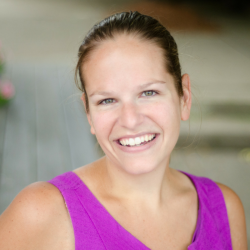 Latest posts by Chrissy Carroll
(see all)