Blueberry greek yogurt pancakes are deliciously sweet and more nutritious than your average pancake!
Disclosure: This is a sponsored post on behalf of Siggi's Dairy. All opinions are my own.
I'm always on a quest to make my favorite traditional recipes healthier – and pancakes are one of my very favorite foods to experiment with. Naturally, these blueberry greek yogurt pancakes make a frequent appearance in my kitchen.
As a kid, I loved weekends because that was when my family would make bigger breakfasts, like pancakes or bacon & eggs. I still like to make bigger sit down breakfasts on weekend mornings for me and my hubby. Let's be honest, though – most pancakes out there are a nutritional disaster.
That's certainly A-OK for an occasional treat. Heck, I can down a whole plate of IHOP pancakes from time to time.
But this version I whipped up puts a healthier spin on traditional blueberry pancakes, making them a nice choice for a more regular appearance on your breakfast table.
[Tweet "Looking for a healthier take on pancakes? Try this blueberry & greek yogurt version!"]
They're made from scratch, which already means they're better than most boxed versions out there – no preservatives, trans fats, or other junk that is often in the processed boxes. I used whole wheat flour rather than white flour to make them, which boosts the fiber content. And adding blueberries means you get some fruit and a hefty dose of antioxidants in your breakfast.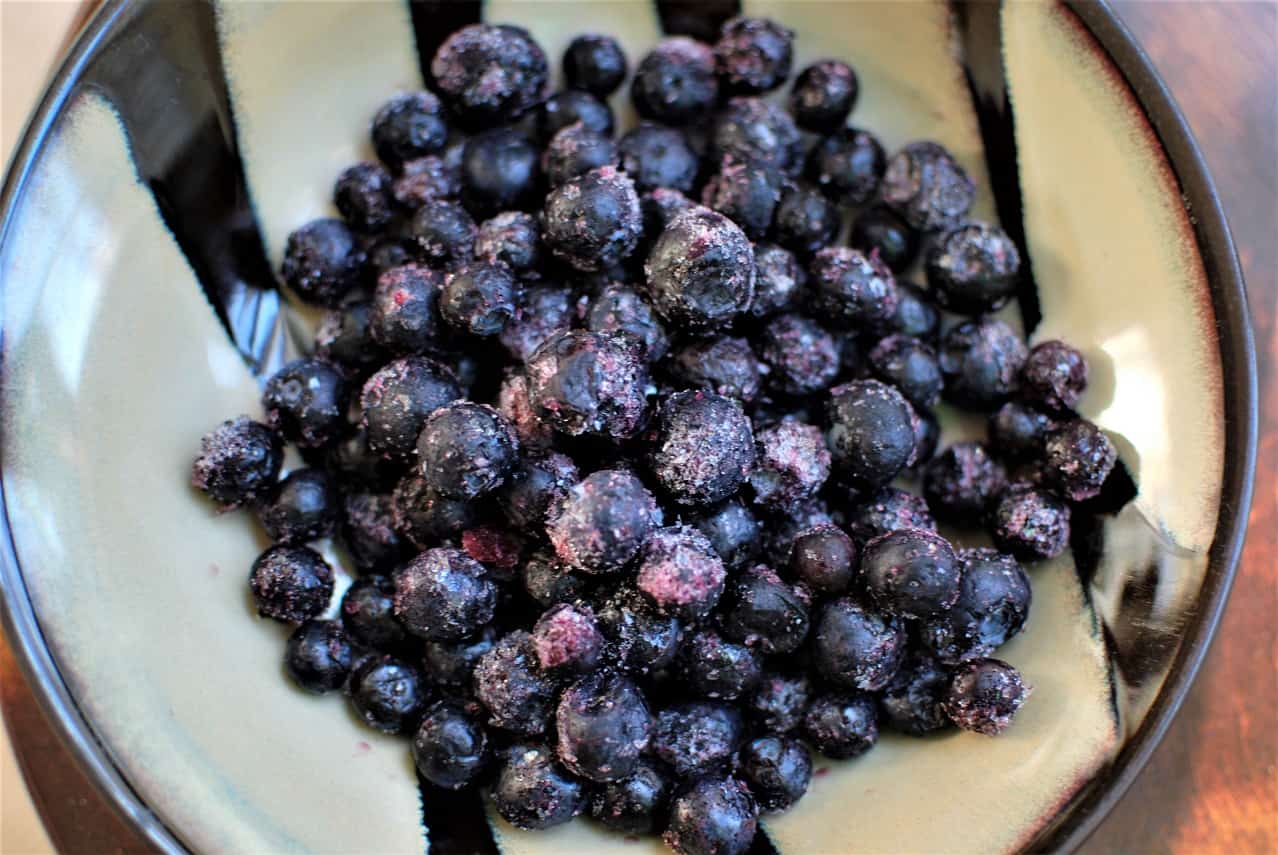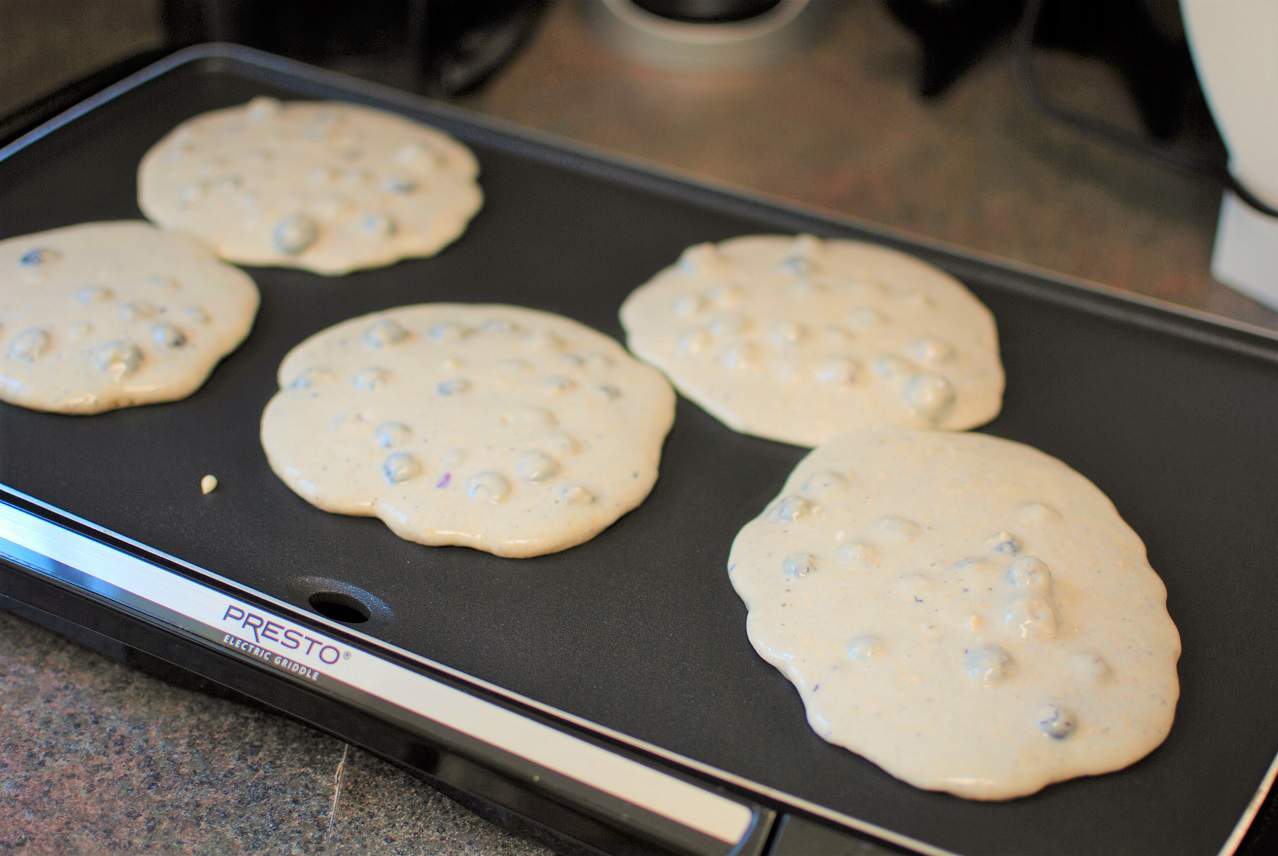 Plus, there's a secret ingredient in these pancakes – Siggi's Yogurt! It's an Icelandic-style strained yogurt – similar to a greek style, but perhaps a bit thicker. It makes the dish tastier and fluffier, and adds calcium. Plus these greek yogurt protein pancakes clock in with 11 grams of protein per serving!
Siggi's is one of my favorite brands of flavored yogurts, because their flavored varieties have minimal added sugar. For example – while some brands can pack upwards of 20 to 30 grams of sugar per 5.3 ounce container, Siggi's Vanilla only has 9 grams. Plus, their products all use simple, wholesome ingredients and don't have any artificial junk in them.
The combination of the vanilla yogurt, vanilla extract, and blueberries works wonderfully together to create this tasty morning treat. You could also experiment with other flavors and fruit combinations. I can't wait to try making this same recipe – but changing it up by using the acai mixed berry flavored yogurt and using raspberries for the fruit. Or maybe I'll try my own take on the pumpkin & spice recipe from the Siggi's recipe database…hmm, decisions, decisions.
Based on your taste preferences or dietary goals, you can decide how you want to top these pancakes…
For the sweet tooth, try a drizzle of pure maple syrup (the real stuff!).
Or, heat up some extra blueberries in the microwave until they are warm and start to release their juices – and top your pancakes with an extra helping of those.
If you'd rather cut back on the sugar and boost the protein content, consider topping these pancakes with some low fat ricotta cheese. Yum!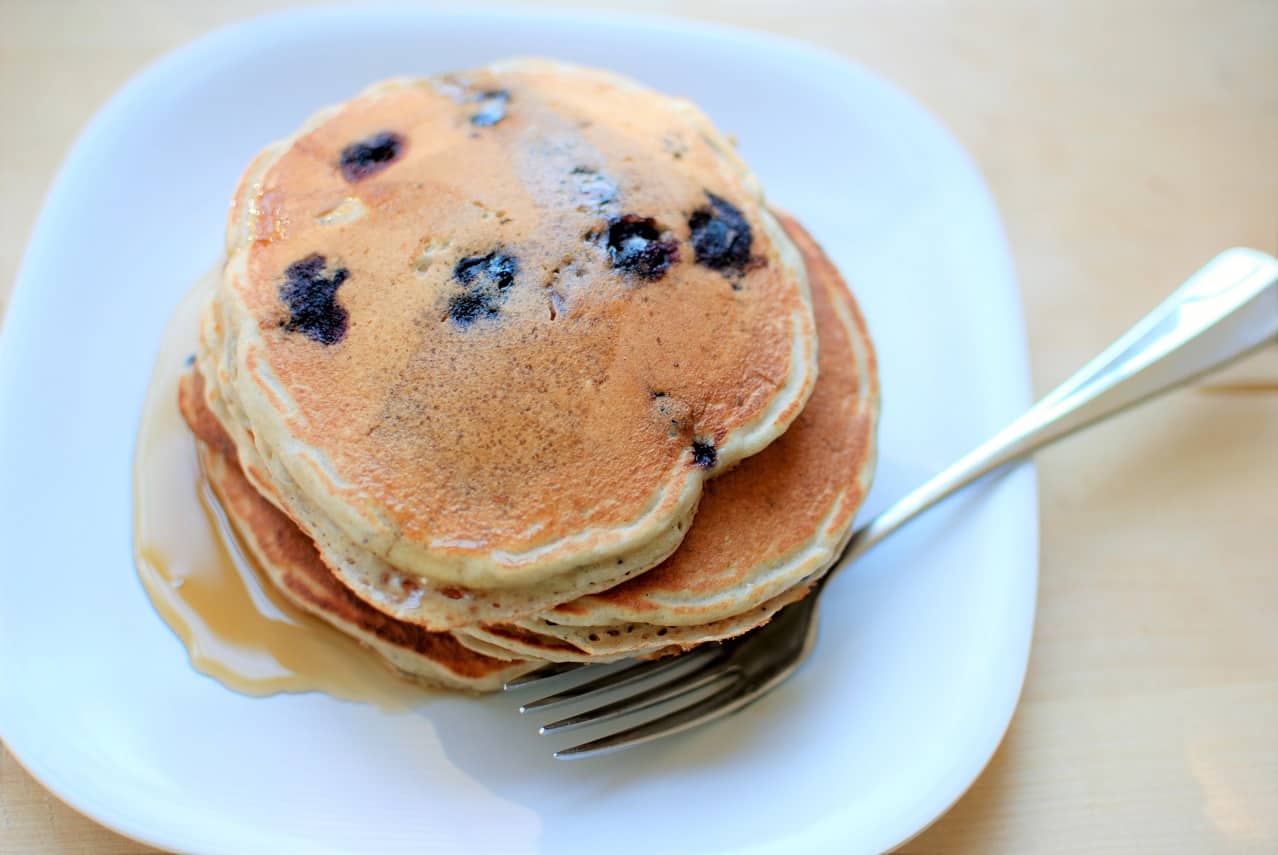 I hope if you sit down to enjoy a big breakfast with your family, you'll consider making these blueberry yogurt pancakes to share with them. Then come back and let me know how you like 'em!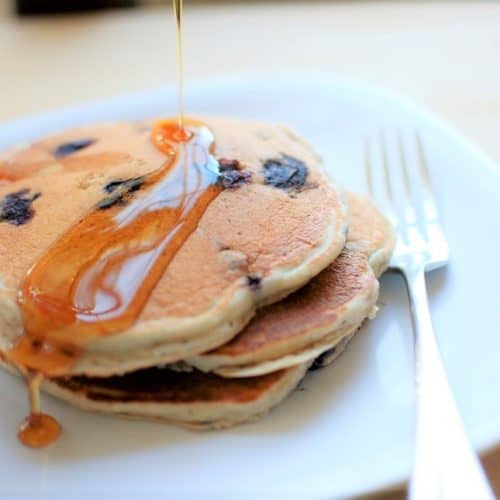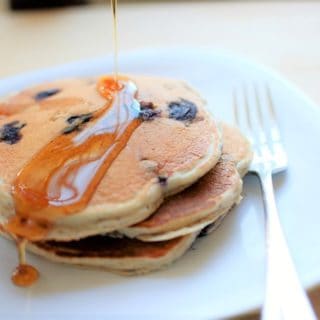 Blueberry Greek Yogurt Pancakes
These blueberry greek yogurt pancakes are a sweet treat with more protein and nutrients than your average pancake.
Ingredients
1

cup

whole wheat pastry flour

1

tbsp

baking powder

1

tbsp

brown sugar

¼

tsp

salt

½

tsp

vanilla extract

5.3

oz

container Siggi's vanilla greek yogurt

1

egg

2

tbsp

oil

3/4

cup

skim milk

1

cup

blueberries

(feel free to use some frozen ones in the winter when fresh are not in season)
Instructions
Mix all ingredients together.

Cook pancakes on a griddle or in a large pan. Enjoy!
Notes
Notes:
This recipe makes about 8 pancakes; one serving = 2 pancakes.
Nutrition analysis (per serving, 2 pancakes, does not include syrup or other toppings):
260 calories, 9 grams of fat, 382 mg sodium, 34 g carbohydrate, 5 g fiber, 10 g sugar, 11 grams protein Vitamin A: 6%, Vitamin C: 2%, Calcium: 32%, Iron: 10%
Nutrition
Share with me: Did you enjoy these blueberry greek yogurt pancakes? What's your favorite flavor combinations for pancakes?!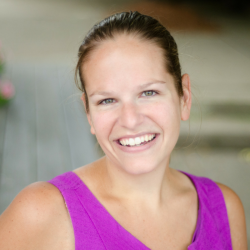 Latest posts by Chrissy Carroll
(see all)