Blueberry Greek yogurt pancakes are deliciously sweet and more nutritious than your average pancake! Made with hearty whole wheat flour, protein-rich Greek yogurt, and antioxidant-packed blueberries, you'll love this breakfast treat.
This post was originally published in 2014 and has been updated in 2021.
Why try these?
I'm always on a quest to make my favorite traditional recipes a smidge healthier – and pancakes are one of my very favorite foods to experiment with (as evidenced by the fact that you can find a ridiculous number of pancake recipes on this blog). We're not talking cauliflower or kale pancakes or anything crazy of course – no, no, just small ways to add a little nutrition edge to a dish.
Here's the highlights on this recipe:
They're made from scratch, so you're able to better control the ingredients compared to boxed versions you buy.
They're made with whole wheat flour, which boosts the fiber content.
Adding blueberries increases your produce intake for the day, and gives you health-boosting antioxidants.
Greek yogurt adds protein to the dish, and skim milk adds additional protein plus calcium.
These make a great pre-run or pre-ride breakfast, thanks to the combo of carbs along with some protein. (Note for all my runner friends – if you're gearing up for a long run, you may want to choose all-purpose flour rather than whole-grain flour if you're sensitive to the effects of fiber).
Ready to get cooking?! 😉
Ingredients
Here's what you'll need to make these, and some helpful notes and tips about each ingredient:
Whole wheat flour – Whole wheat flour is made using the entire kernel of grain, meaning you retain nutrients and fiber in the flour. Using this makes for hearty, filling pancakes!
Baking powder – The leavening agent that makes these fluffy.
Brown sugar – I like to add just a smidge of sweetener to the batter itself to enhance the overall flavor.
Salt – This helps bring out the other flavors in the recipe.
Plain nonfat Greek yogurt – Using this will help boost the protein content in your pancakes, and also gives them a lovely fluffy, soft texture.
Skim milk – You'll use this as the main liquid for your batter. (Note – you can substitute whatever milk you usually keep on hand here.)
Avocado oil – Adding a little oil to the pancake batter gives the final product a subtle richness. I like avocado oil because it has a very neutral taste and a healthy fat profile. Olive oil is a great second choice, and canola oil or vegetable oil will also work.
Egg – The egg provides structure in the pancake, and the yolk also adds additional richness.
Vanilla extract – This helps brighten up the flavor the of pancake, and the combination of blueberry and vanilla works really well together.
Blueberries – The key to these pancakes, of course! Plump, juicy blueberries are just delightful in a breakfast treat. You can use fresh or frozen here; both work fine.
Step by Step Instructions
This recipe is super simple, but here's a quick overview (note – you'll find the full ingredient amounts and instructions in the recipe card below).
You're going to start by mixing together all your dry ingredients.
Then, create a little well in your bowl of dry ingredients, and add all the liquid ingredients. You want to whisk the egg a bit while it's in this well until it's well combined with the liquid.
Then go ahead and stir together everything to combine the liquid with the dry ingredients. Don't overmix the ingredients.
Fold in the blueberries next. Your batter will look like this: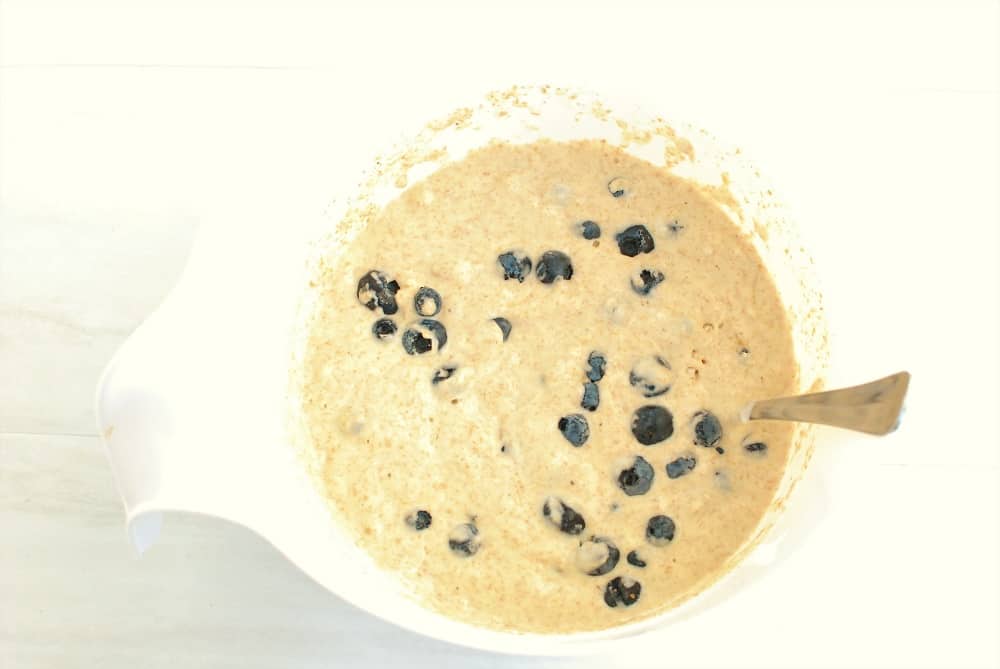 Now just let the batter sit for a few minutes while your griddle heats up. Most people make the mistake of immediately pouring the batter onto the griddle, but letting it sit for about 5-10 minutes helps the liquids fully hydrate the dry ingredients, allowing the starches to swell and the protein to relax a bit. This is what creates that wonderful tender, fluffy pancake texture.
Once the griddle is hot, cook for a few minutes on each side, until you have that perfect pancake.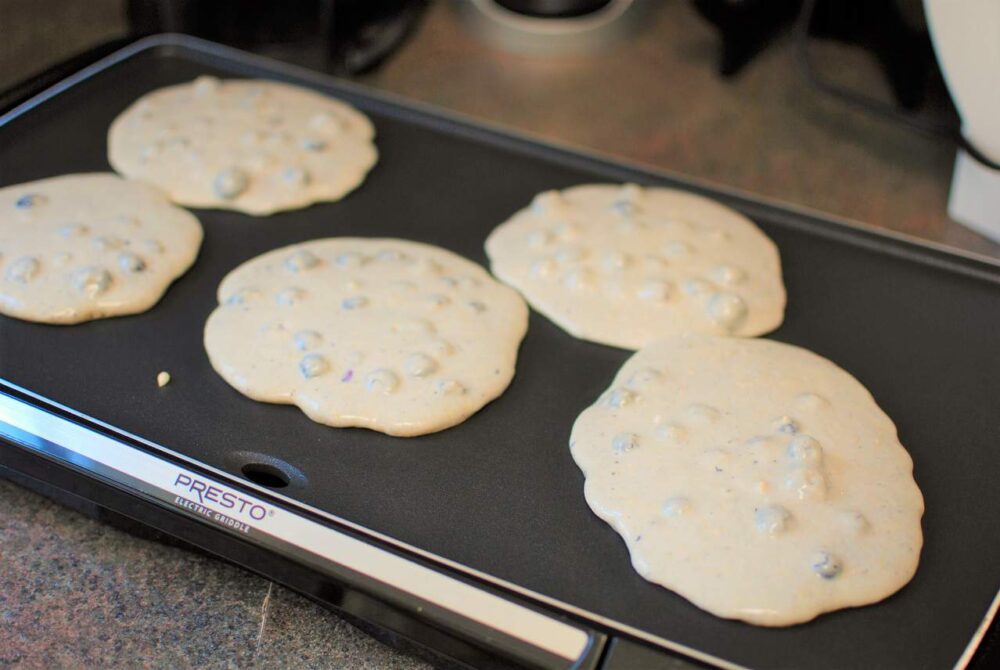 Now drizzle with maple syrup and enjoy!
Recipe FAQ
Here are some common questions that may arise as you prepare this recipe:
Can you use all-purpose flour instead of whole wheat? Yes, that substitute works fine. Just keep in mind the recipe will be slightly lower in fiber.
Can you use a skillet instead of a griddle? Sure. Cook the pancake over medium heat, and be sure to lightly grease the skillet between each round of pancakes.
Can you freeze leftover pancakes? Yes! I do this all the time – make a big batch on the weekends then freeze 'em to enjoy throughout the week. Just freeze in an individual layer in zip-top bags and pop in the microwave when you're ready to enjoy them.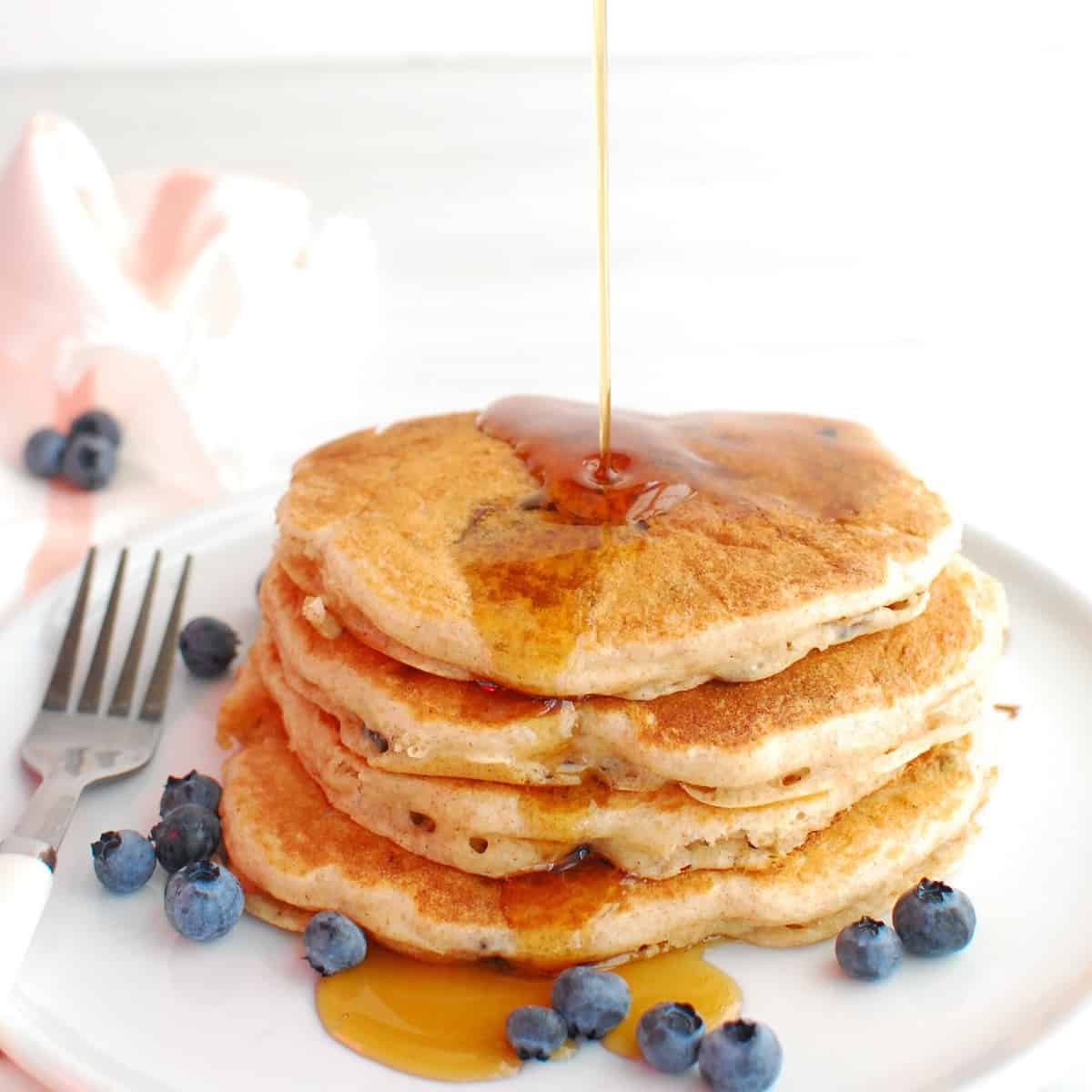 Topping ideas
Based on your taste preferences or dietary goals, you can decide how you want to top these pancakes…
Pure maple syrup: The perfect classic choice that satisfies any sweet tooth. I recommend using the pure stuff when possible! (You can also use something like Lakanto maple flavored syrup if you're trying to cut down on added sugar – that's sweetened with erythritol and monkfruit – but I prefer some real syrup!)
Warmed blueberries: If you want to double up on the blueberry flavor, pop some frozen blueberries in the microwave or in a small pot, and heat until they're warm and releasing their juices.
Park skim ricotta cheese: Ricotta is totally underutilized, but adds some satiating fat and muscle-recovery-boosting protein to these! Try mixing ¼ cup of ricotta with 1 teaspoon of lemon zest and 1 tablespoon of powdered sugar, and then dolloping that over these pancakes.
Nut butter: Whether you love peanut butter, cashew butter, or almond butter – feel free to drizzle some of those over these blueberry Greek yogurt pancakes.
Vanilla Greek yogurt: If you want to add a protein boost to your pancakes, try smothering them in some extra Greek yogurt. I like vanilla rather than plain for this purpose.
I hope if you sit down to enjoy a big breakfast with your family, you'll consider making these blueberry yogurt pancakes to share with them. Then come back and let me know how you like 'em! (PS – If you're looking for more pancake recipes, try our mango pancakes or cottage cheese protein pancakes.)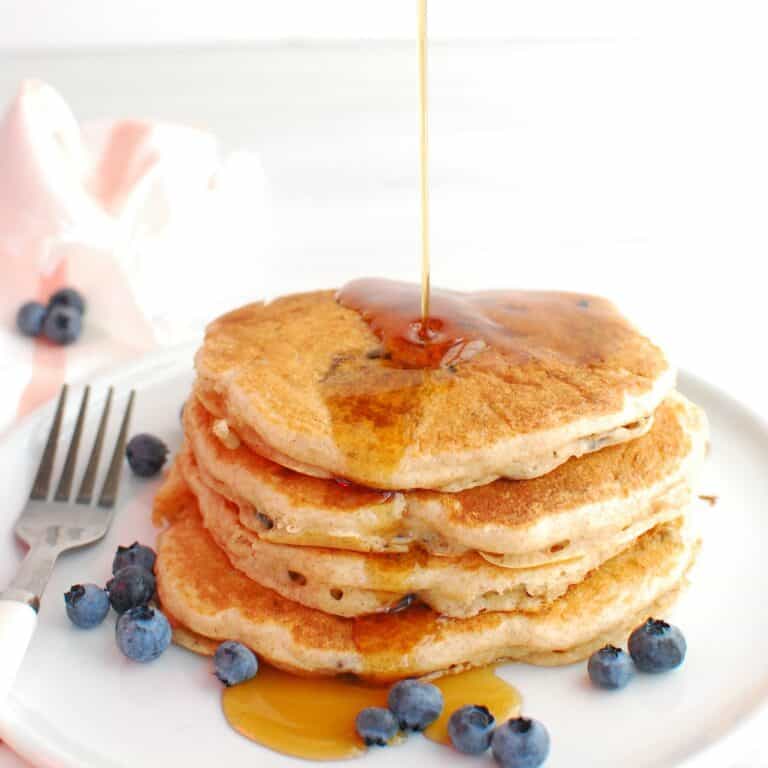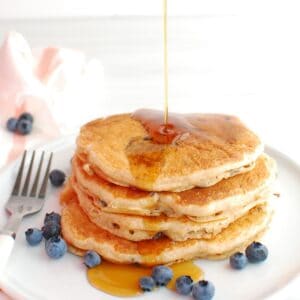 Blueberry Greek Yogurt Pancakes
These blueberry greek yogurt pancakes are a sweet treat with more protein and nutrients than your average pancake.
Ingredients
1

cup

whole wheat flour

(spooned and leveled)

1

tbsp

baking powder

1

tbsp

brown sugar

¼

tsp

salt

½

cup

plain nonfat Greek yogurt

¾

cup

skim milk

2

tbsp

avocado oil

(or olive oil or canola oil)

1

tsp

vanilla extract

1

large egg

1

cup

blueberries

(fresh or frozen)
Instructions
In a mixing bowl, combine the flour, baking powder, brown sugar, and salt. 

Create a well in the center and add the yogurt, milk, oil, vanilla, and the egg. Whisk the egg in the center, then stir to combine all the ingredients.

Fold in the blueberries, then let the pancake batter sit for 5-10 minutes while you preheat a griddle to 350 degrees.

Pour the pancake batter onto the griddle to the size you prefer. Cook for about 2-3 minutes on the first side, then flip and cook another 2-3 minutes, until the pancake is golden brown and cooked through.

Serve topped with pure maple syrup or additional warmed blueberries. Enjoy!
Notes
Notes:
The batter for these pancakes is a bit thicker than normal, but don't worry – it will result in thick fluffy pancakes.  If you find that it looks way too thick (which can happen if flour was packed into the measuring cup), just add another 2 tablespoons of milk.
This recipe makes about 8 pancakes; one serving = 2 pancakes.
Nutrition analysis (per serving, 2 pancakes, does not include syrup or other toppings):
255 calories, 9 grams of fat, 1.5 g saturated fat, 560 mg sodium, 35 g carbohydrate, 4 g fiber, 11 g sugar, 10.5 grams protein, Vitamin D: 4%, Calcium: 24%, Iron: 10%, Potassium: 6%
Nutrition
Share with me: Did you enjoy these blueberry Greek yogurt pancakes? What's your favorite flavor combinations for pancakes?!
Feel free to pin this post to refer to later: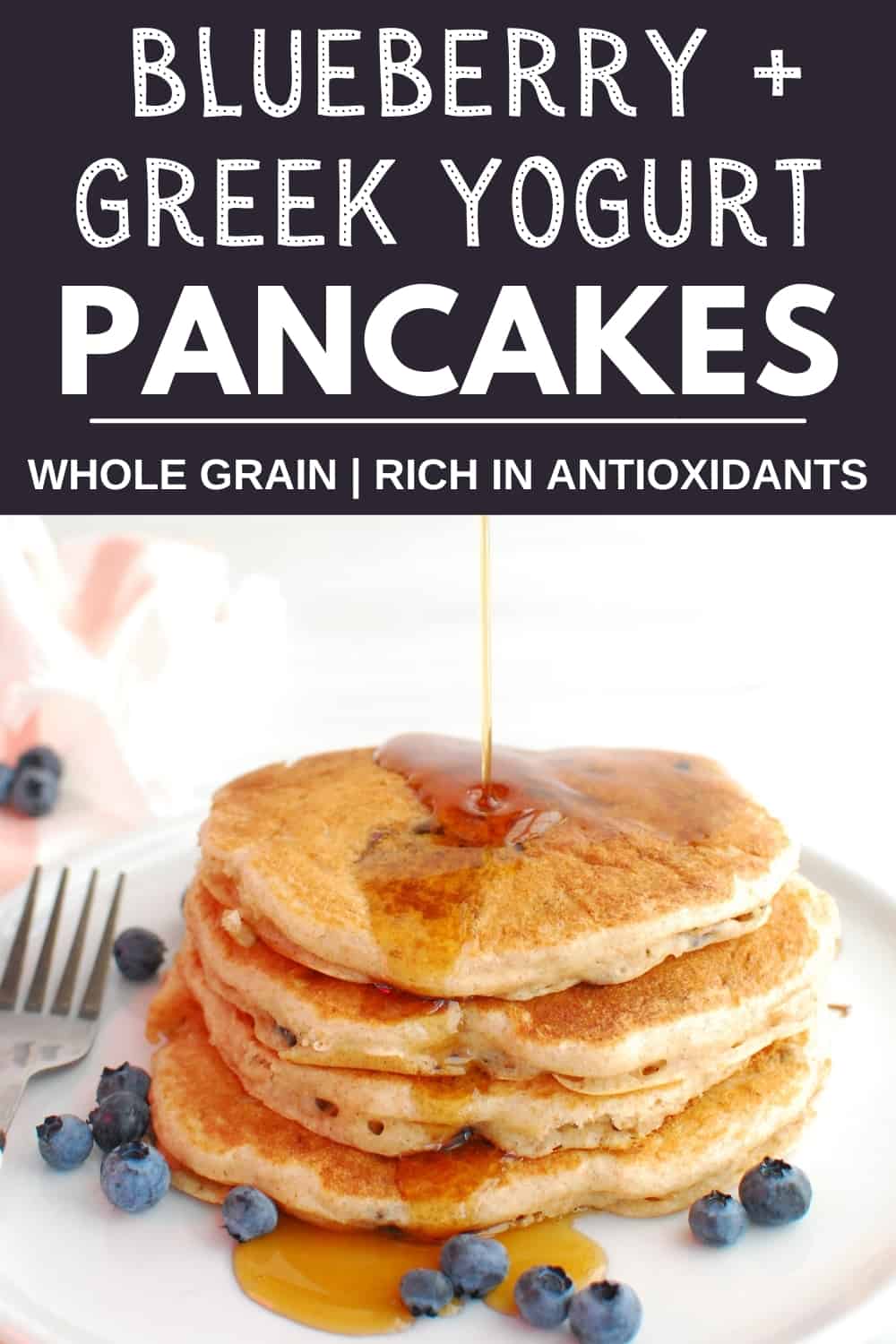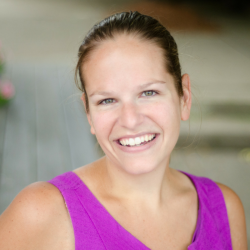 Latest posts by Chrissy Carroll
(see all)