These mango pancakes are the perfect weekend breakfast treat! Their subtle tropical flavor and light fluffy texture is just delightful. This is a recipe you'll love before a tough workout – or anytime!
How to make mango pancakes
This recipe is made with common pantry ingredients. Mango is something you might not have on hand regularly, but is easy to find at any grocery store. For everything else, though, you've probably already got it in stock (or an easy alternative on hand):
Mango
Egg
Milk (or a milk alternative)
Cinnamon
Vanilla
Avocado oil (or another oil)
Whole white wheat flour (or whole wheat, or all-purpose)
Rolled oats
Salt
Baking Powder
Don't feel obligated to use the exact choices I did. We almost always have whole white wheat flour and avocado oil on hand, but these are easily substituted with any flour or oil that you've got!
Once you've gathered up your ingredients, you're going to start by cutting up your mango. If you've never done that before, don't worry – it's quite easy.
Mangoes have a flat pit that feels almost like a stone in the center of the fruit. You want to cut each side off of the mango first. Then, checkerboard cut the sides, and flip the skin "inside-out" so you can easily slide your knife along to cut the chunks off the skin.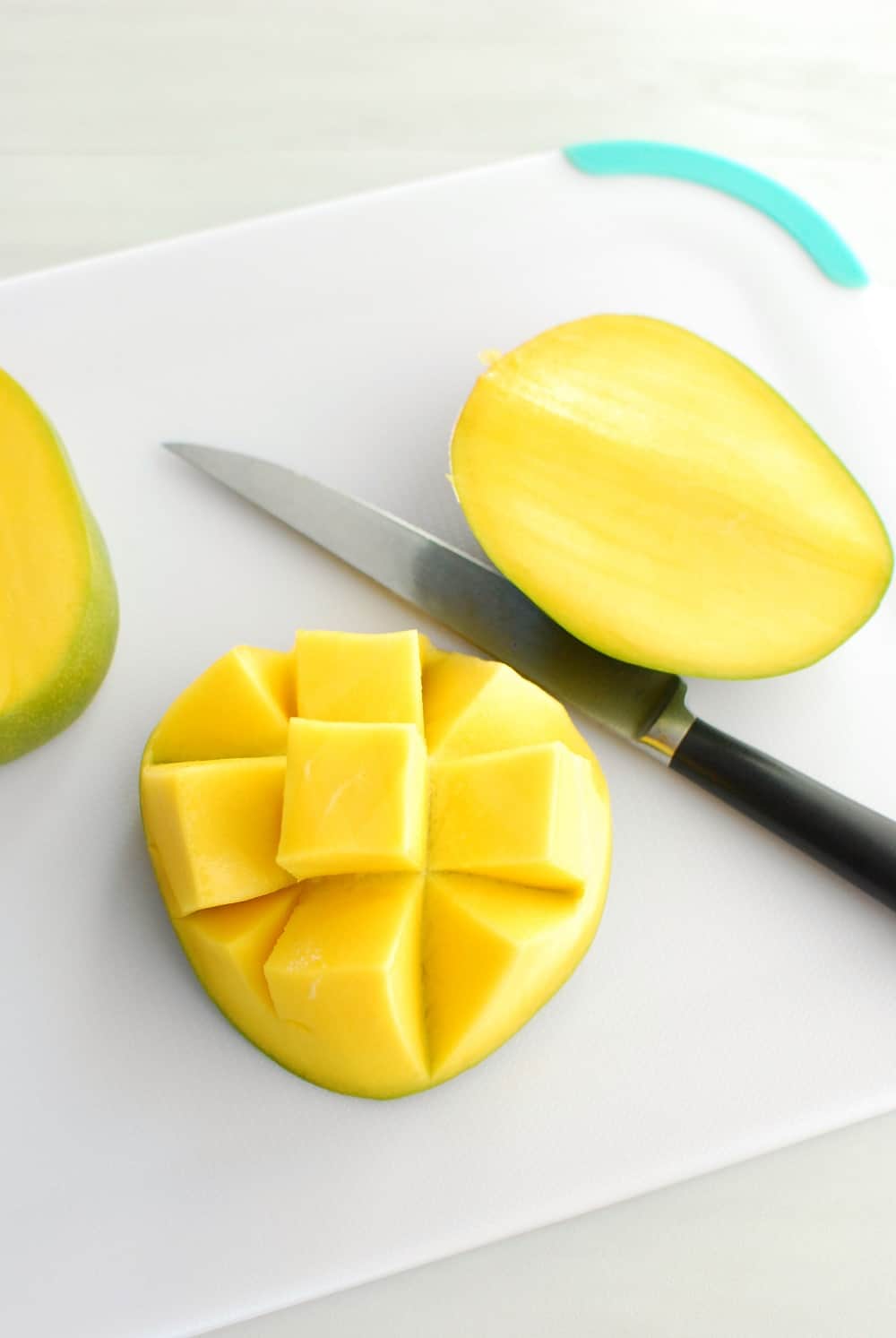 Once you've cut it all up, divide it in half. Puree half of it in a food processor or blender. Ideally, you want to use a pretty ripe one – you'll get this lovely puree: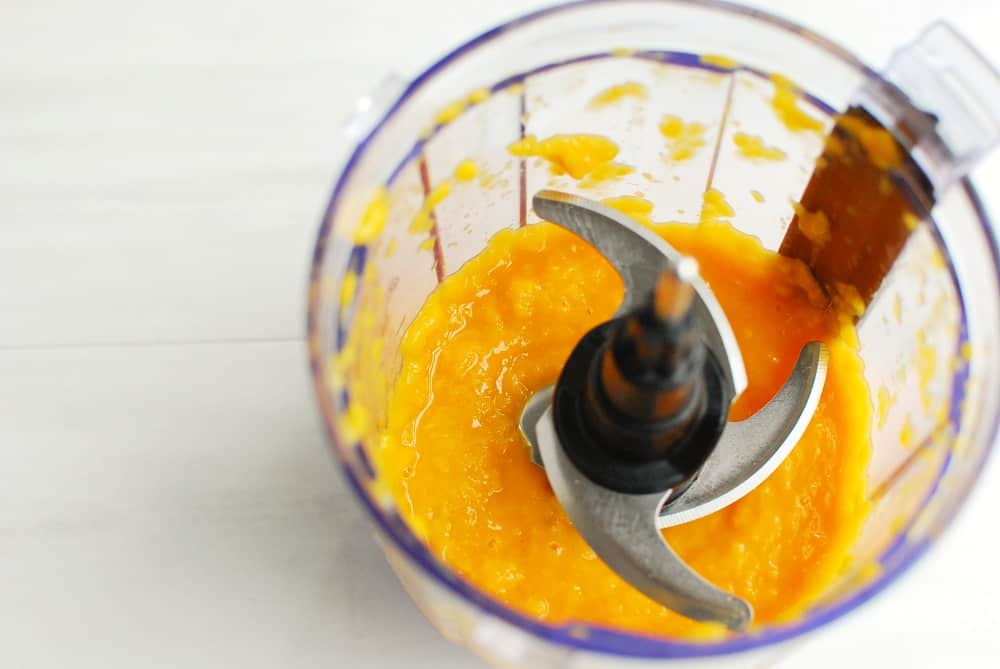 With the other half, chop it up more finely, and set that aside for now.
Now all you need to do is make your pancake batter. Whisk up the egg, milk, cinnamon, vanilla, and oil. Add that mango puree.
Then add your dry ingredients – flour, oats, salt, and baking powder. Now you can fold in that chopped mango.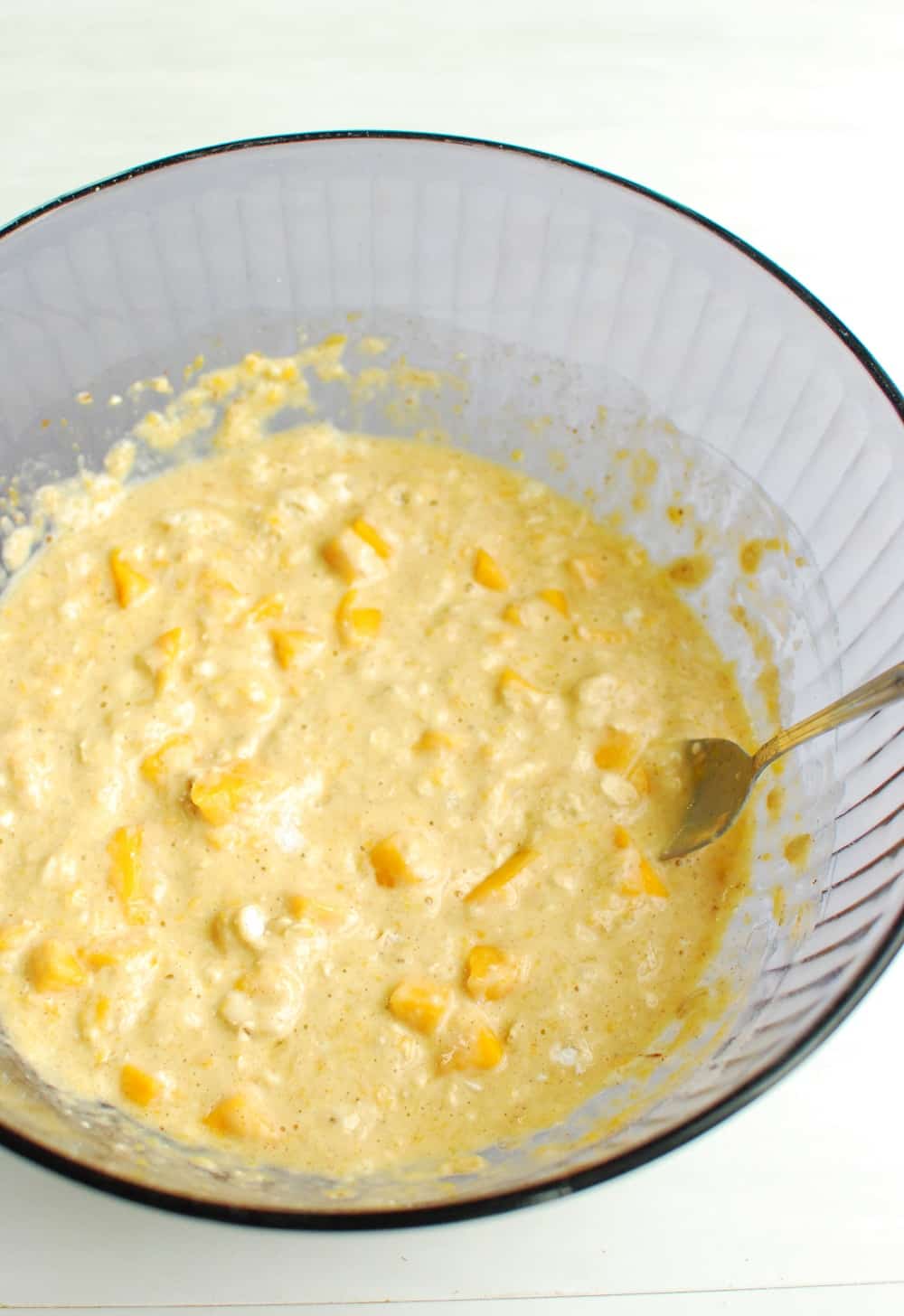 Last step is to cook up your pancakes on a griddle! Easy peasy.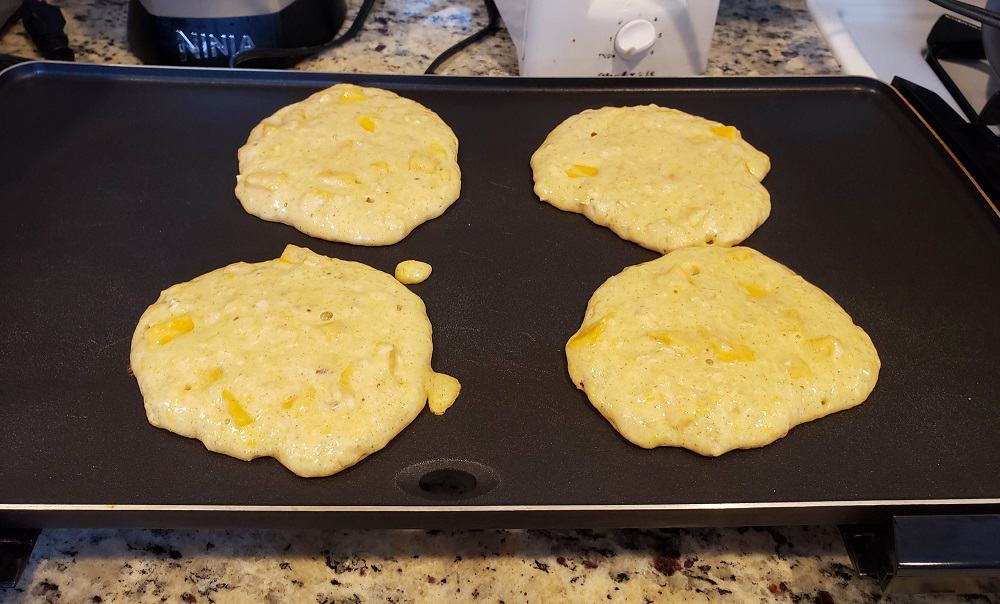 Because they have the mango puree and chopped mango in them, they are pretty tasty even without a topping. I like topping them with a drizzle of pure maple syrup, and then sprinkling a little unsweetened shredded coconut on top.
Athletes & pancakes
Pancakes are my go-to food when I want an indulgent carb-filled breakfast. I mean, if you look at this blog, you'll see I have a somewhat insane number of pancake recipes.
These are great for athletes when you need to carb-up for a big training weekend. Remember, carb-loading has been proven helpful for events lasting longer than 90 minutes – so if I was going out for a 3-hour run, I might eat these for dinner the night before.
Of course, you can also just enjoy this breakfast as a treat because it's delicious!
Nutritionally, these are pancakes, so we're not winning any health contests. 😉 BUT they are a step up from many regular pancake recipes.
First, you're using whole wheat flour and oats, rather than just all-purpose flour, which boosts the fiber content a smidge. I prefer whole "white wheat", which sounds like a misnomer, but is just a different plant variety compared to regular whole wheat (which is made from red wheat). That said, you can totally use regular whole wheat flour here too.
The fiber content is still small enough that I wouldn't worry about having these before a long run – so it's a good balance if you're using 'em to carb load.
And of course, these pancakes are packed with mango. Their sweet, tropical flavor is a major plus – but they're also packed with polyphenols, plant compounds that have beneficial effects in our body. Those polyphenols may play a role in anything from cancer prevention to anti-inflammatory actions.
Mangos also contain potassium, which plays a role in blood pressure regulation. That (or the polyphenols) could have played a role in a 2017 study which found that daily mango consumption led to decreased systolic blood pressure in lean subjects.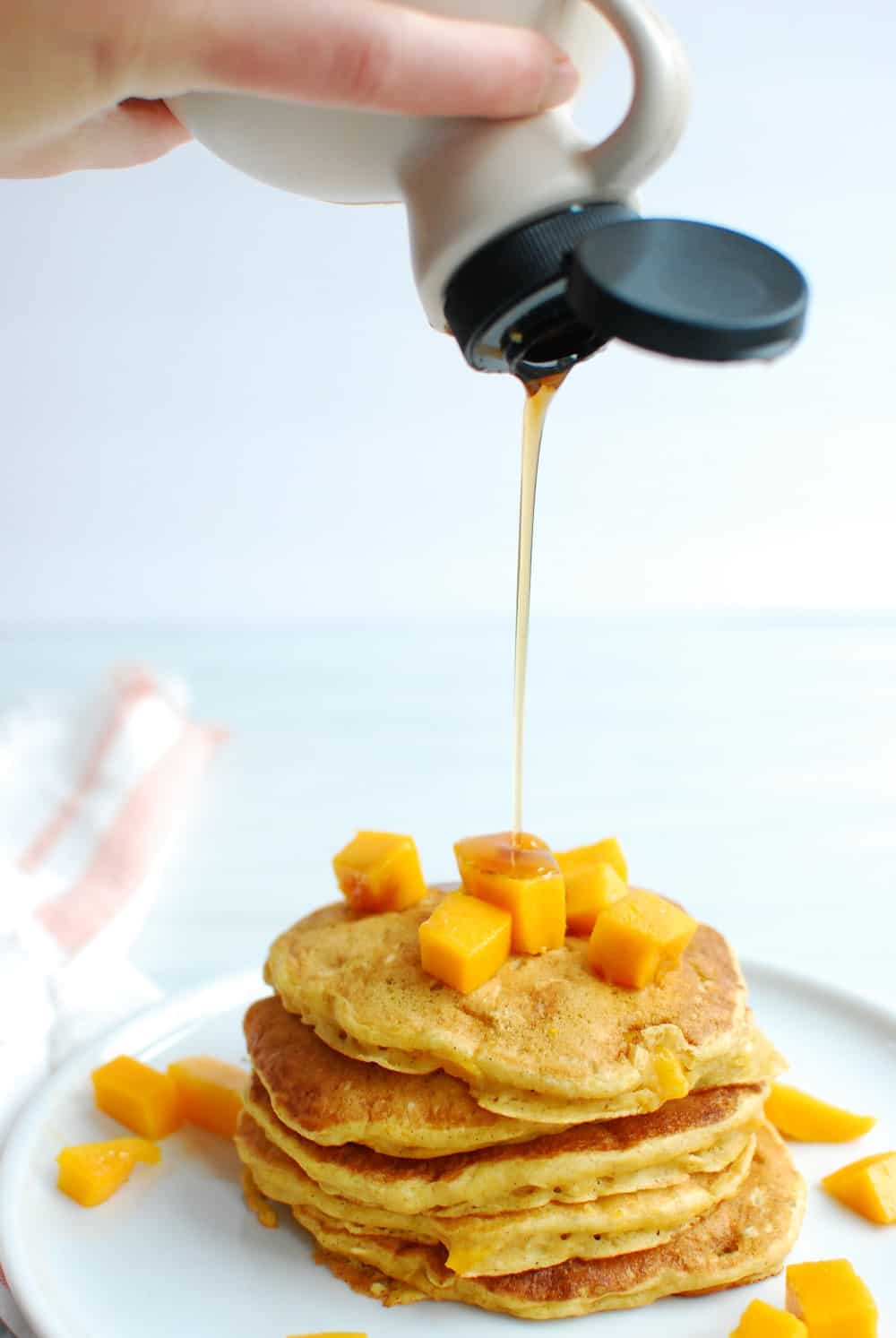 Recipe Tips
Avoid overmixing the batter when you add your dry ingredients. You want to stir it enough so it's combined with the liquid, but not stir like crazy. Too much stirring will overwork the batter and the pancakes won't be as light and fluffy.
Let the pancake batter sit while your griddle heats ups. This is so important! The oats are able to soak and soften a bit, and the batter will thicken up. This makes for the best pancake texture.
If you don't have a griddle, use a greased skillet. You'll probably need to cook 2-3 at a time instead of 4, but this works just fine.
You can easily modify this recipe for different dietary needs.

To make gluten free: Double check that your rolled oats are certified gluten free, and swap out the flour for a 1:1 gluten free flour substitute.
To make dairy free: Switch out the milk for any milk alternative, like almond milk or oat milk.
I hope you enjoy these mango pancakes! If you have any questions as you're making them, don't hesitate to ask in the comments. And if you try them, be sure to leave a recipe rating and let me know how you liked 'em.
PS – Looking for more pancake recipe? Try these blueberry Greek yogurt pancakes or these cottage cheese protein pancakes.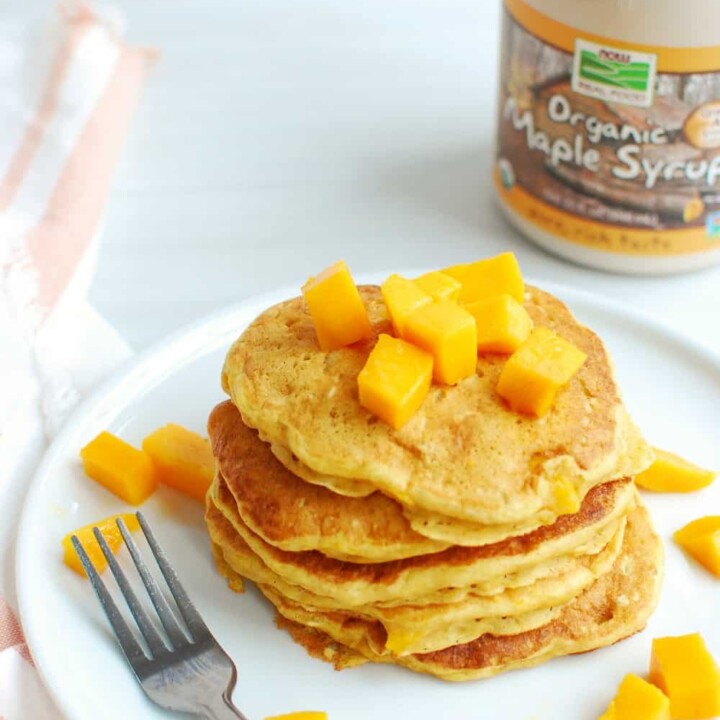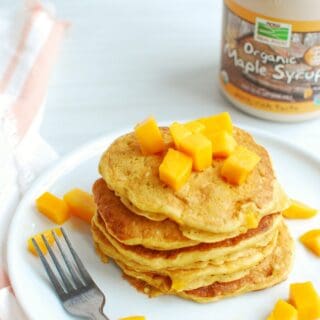 Mango Pancakes
These tasty mango pancakes make the perfect weekend breakfast treat!
Ingredients
1

mango, half pureed and half chopped

1

egg

3/4

cup

milk

1/4

tsp

cinnamon

1/2

tsp

vanilla

1

tbsp

avocado oil

(or canola, vegetable, etc.)

1/2

cup

whole white wheat flour

(or all-purpose, or regular whole wheat)

1/2

cup

rolled oats

1/4

tsp

salt

2

tsp

baking powder
Instructions
Take the mango and chop it up. Take half of the fruit and place it in a food processor to puree. Reserve the other half, chopping finely. Set aside for now.

In a large bowl, whisk together the egg, milk, cinnamon, vanilla, and avocado oil. Stir in the mango puree.

Add the flour, oats, salt, and baking powder. Stir until combined. Fold in the chopped mango.

Heat up a large nonstick griddle (use 350 degrees if it has a temperature setting). Let the pancake batter sit while the griddle is heating up.

Pour the batter onto the griddle*, working in two batches. Let cook for 2-3 minutes, then flip (use the spatula to peek at the bottom – it's time to flip when it's golden brown on bottom). Finish cooking for another 2-3 minutes. Repeat with the second batch.

Serve with toppings of your choice and enjoy!
Notes
Notes:  *My griddle has a great non-stick surface and does not require any greasing. However, if yours tends to stick, you can grease it with a little oil or butter.
Nutrition analysis (approximate per pancake, does not include any topping):
106 calories, 3.5 g fat, 0.5 g saturated fat, 215 mg sodium, 16.5 g carbohydrate, 2 g fiber, 7 g sugar, 3.5 g protein, Vitamin A: 11%, Vitamin C: 25%, Calcium: 11%, Iron: 4%
Nutrition
Share: What's your favorite kind of pancake to make?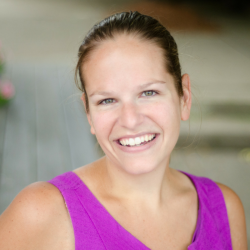 Latest posts by Chrissy Carroll
(see all)