Lately, I've been really interested (both for our budget and out of creative curiosity) in figuring out ways to maximize the use of all our produce items. For example, when I buy beets, in addition to using the beetroot, I'll also sauté up the greens. The other day I got some carrots in my CSA box, and it made me wonder – is there anything you can do with those carrot tops? Of course, carrot top pesto was one of the first things that came to mind.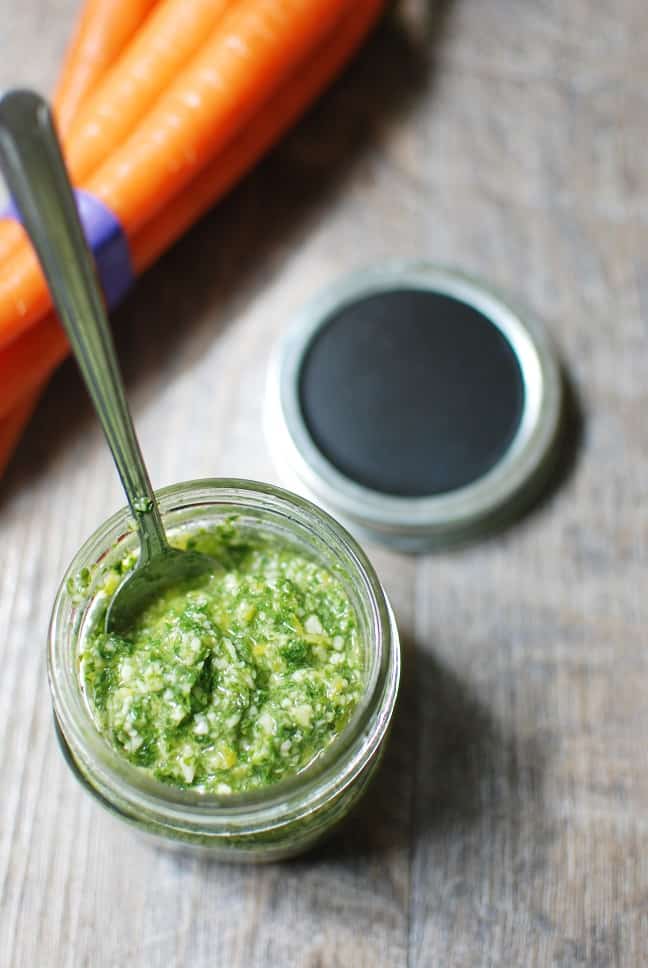 Turns out, there is a lot of debate in the online world about whether carrot tops are poisonous or not. Before I get into my opinions, let's just be clear that this post does not constitute medical advice. If you are nervous about eating carrot tops, ask your doctor!
So here's the deal. A 2009 New York Times article prompted some of this online debate about toxicity, stating:
"A carrot top, apparently, is not a laughing matter. They contain alkaloids, Ms. Sumner explained, a group of organic compounds that includes caffeine, cocaine, and strychnine. These are substances that even culinary thrill-seekers might not want in their salad. "Effects range from slightly elevated blood pressure, and slightly elevated alertness and heartbeat, all the way to death," Ms. Sumner said."
But a separate NY Times blog featuring food science writer Harold McGee states that he's found "no evidence that carrot tops are unsafe to eat."
Here's my take on it:
Yes, carrot tops contain alkaloids and nitrates, but so do a host of other vegetables we eat, like spinach or cilantro

Bitter does not necessarily mean toxic; and some of us have genetic traits that cause us to perceive a higher level of bitterness than others.

You'd have to eat (or juice) a large amount of most greens to experience side effects
While there are other plants out there that resemble carrot tops which are toxic (like poison hemlock) – I can't find any scientific evidence that carrot tops are toxic when eaten in a normal amount. In fact, the only scientific article I found in pubmed that specifically looked at carrot tops (along with radish tops) found that men fed 75 grams per day for a month had no adverse effects.
In other words, as long as you aren't eating them by the bushel – or you aren't personally sensitive to the greens (and sensitives can happen with any food, of course) – then you should be able to eat them. I'd recommend organic carrot greens when possible, though, since they may be high in pesticide residues.
And I'm still kickin' after whipping up this carrot top pesto recipe, so I'm going to take that as a good sign. I plan to experiment with them soon in some other recipes too, like these Roasted Carrot & Black Bean Tacos with Cilantro & Carrot Green Chimichurri.
But this pesto was delicious and definitely a recipe I'll make again soon. The taste is kind of a mixture of fresh, earthy parsley flavor, peppery arugula flavor, and some subtle carrot notes.
[Tweet "Use up every part of those carrots by making this tasty carrot top pesto!"]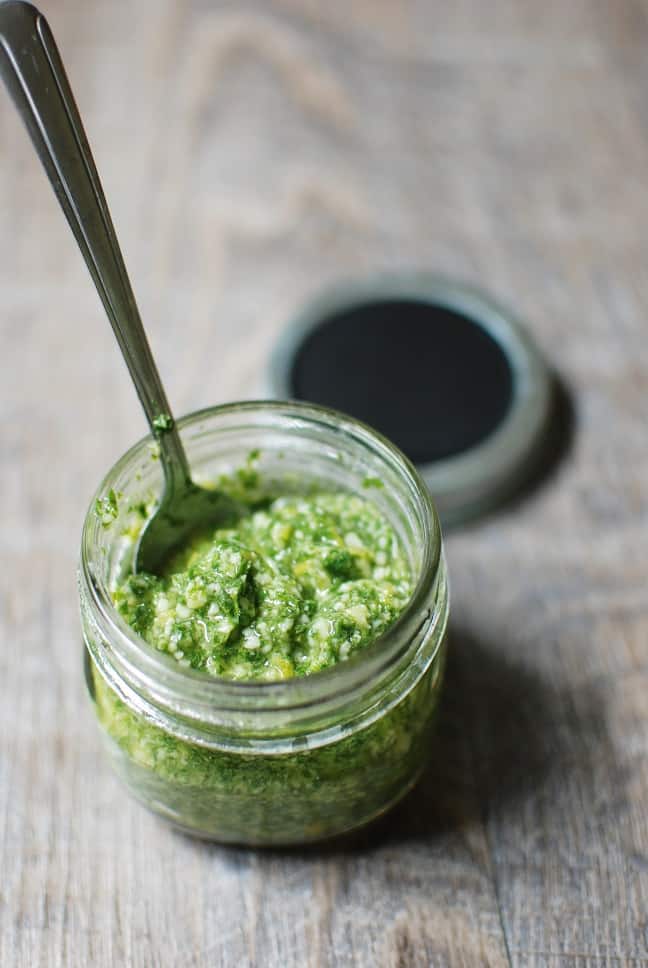 There are tons of ways you can use this carrot top pesto, just like you'd use other forms of pesto. Here are just a few ideas to get you thinking about how to use pesto:
Mix with pasta and veggies for a nice spring and summertime dish
Use as a spread on a sandwich instead of mayo
Make into pesto pizza (think topping naan with pesto, grilled chicken, tomatoes, and mozz, or topping your favorite pizza crust with portabello mushrooms, red peppers, and pesto)
Toss with roasted or grilled veggies
Drizzle over avocado toast
Mixe with roasted potatoes (my favorite – just look at those potatoes below!)
Top baked or grilled chicken
Spread on bruschetta
Add to your favorite grilled cheese
Toss with spaghetti squash and grilled shrimp
Make a pesto mac & cheese
Mix into chicken salad sandwiches
Top a turkey burger with pesto, tomatoes, and mozzarella
Use as a dip for baked french fries
Make cheesy pesto pull-apart bread for a party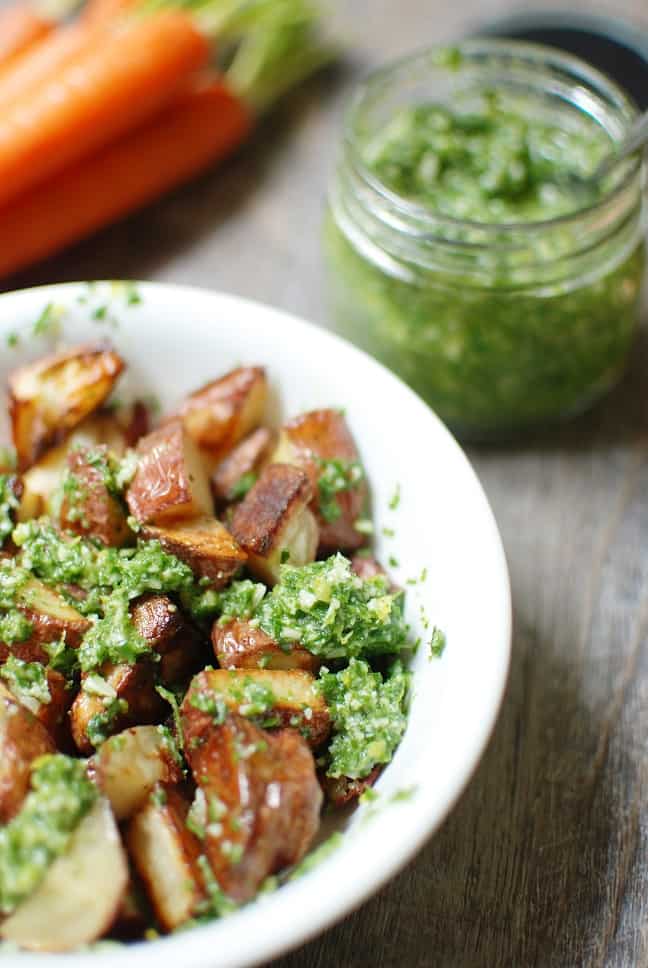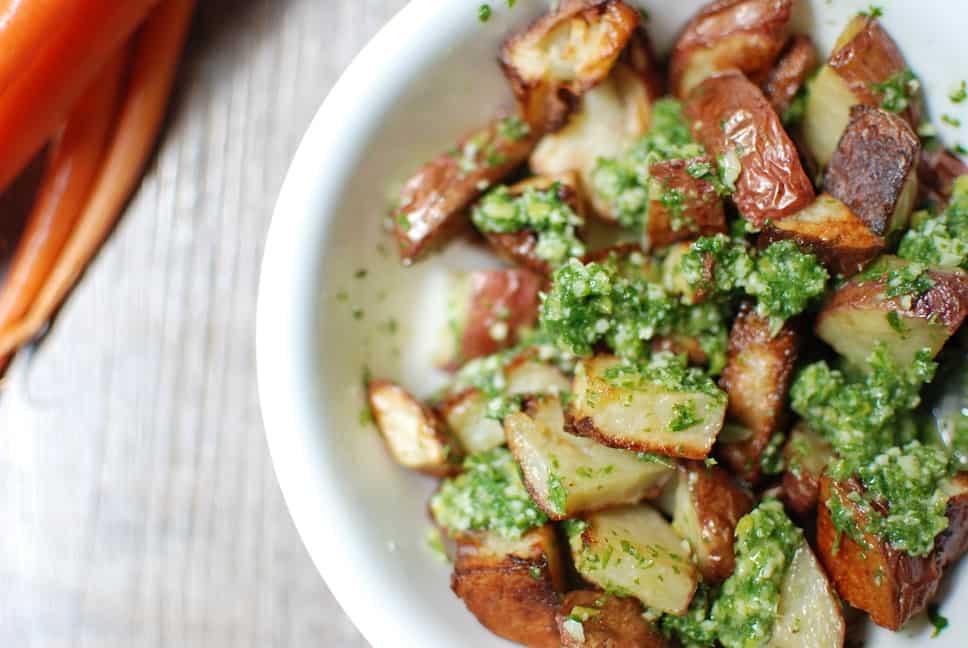 Give it a whirl and let me know what you think!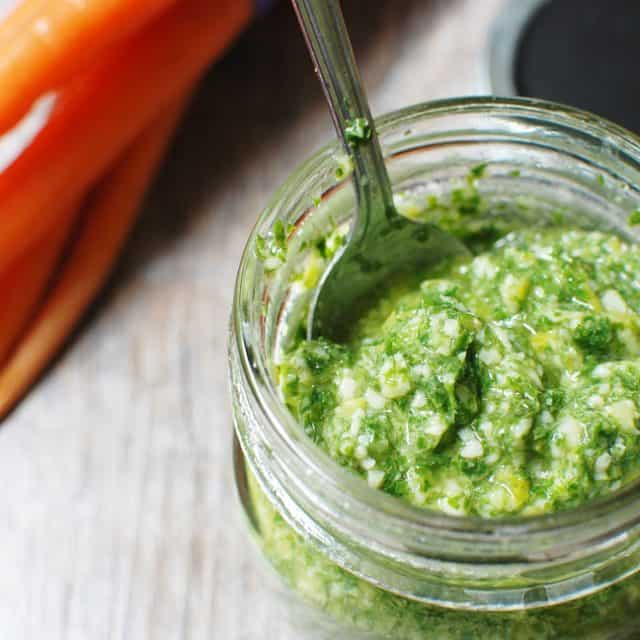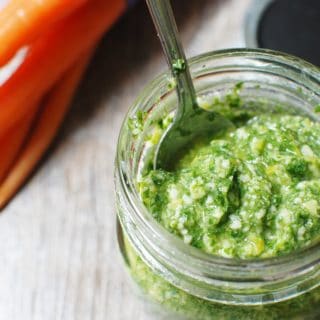 Carrot Top Pesto
A simple, six ingredient pesto recipe made using carrot tops! A great way to incorporate a new type of green, as well as reduce food waste using all parts of the carrot.
Ingredients
Ingredients
1

bunch

carrot tops

3

cloves

garlic, minced

1

lemon, zest and juice

(zest first - it's easier than trying to zest after squeezing it!)

1/3

cup

Parmesan cheese

1/3 to 1/2

cup

olive oil

(optional) salt to taste
Instructions
Directions:
Add all ingredients to a food processor, starting with the lesser amount of olive oil. Pulse a few times until well combined. Add additional olive oil as needed to reach desired pesto texture.

Taste pesto - if desired, add salt. I usually season the foods I'm adding it to first (like baked chicken or potatoes) but feel free to add a little salt to the pesto if needed.

Serve pesto over pasta, baked chicken, potatoes, or whatever your heart desires!
Share with me: Have you ever made carrot top pesto, or cooked with carrot tops in another way? What are your favorite things to make with them? What's one of your favorite ways to use pesto?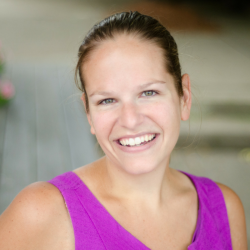 Latest posts by Chrissy Carroll
(see all)