Chicken noodle soup casserole features all the tasty ingredients in the classic soup – but in a dump & bake casserole recipe!
It's getting to that time of the year when everyone seems to be coming down with something. We spent all of Thanksgiving weekend lounging at home, thanks to a virus that knocked the little one out with a fever and cough. And I seem to be catching a cold every two weeks lately!
I'm sure you all might be experiencing something similar. Whether it's kids brining home germs from school or your body being run down from the stress of the holidays, it's a common phenomenon.
And if you're very active, you might be extra vulnerable to colds this time of year. We know exercise generally protects our immunity but it follows a "J-shaped curve". Once you go over a certain training threshold (in terms of intensity and amount), you no longer see protection and instead start to see reduced immune function. It's obviously not a reason to stop training, but might at least be a comforting explanation if you're training for a winter race and noticing an uptick in colds.
Anyway – the standard sick day remedy around here is R&R(&S) – rest, relaxation, and a is a big 'ol bowl of chicken noodle soup. While there may not be much scientific evidence behind it, there's still something about chicken noodle soup that seems to serve the body well when you're fighting off germs.
Here's the problem: my toddler is not a soup fan, at all. It's always either too hot or too cool for his liking, and inevitably it ends up spilled all over the table or the floor. It becomes more of a hassle to make it for a family dinner in this silly stage of his.
That's how this chicken noodle soup casserole was born.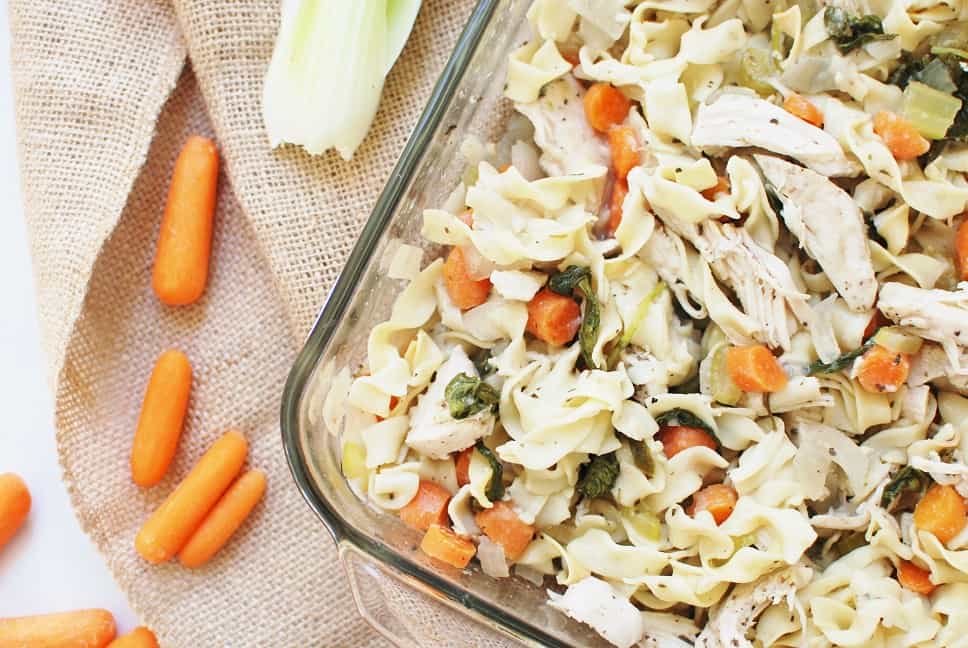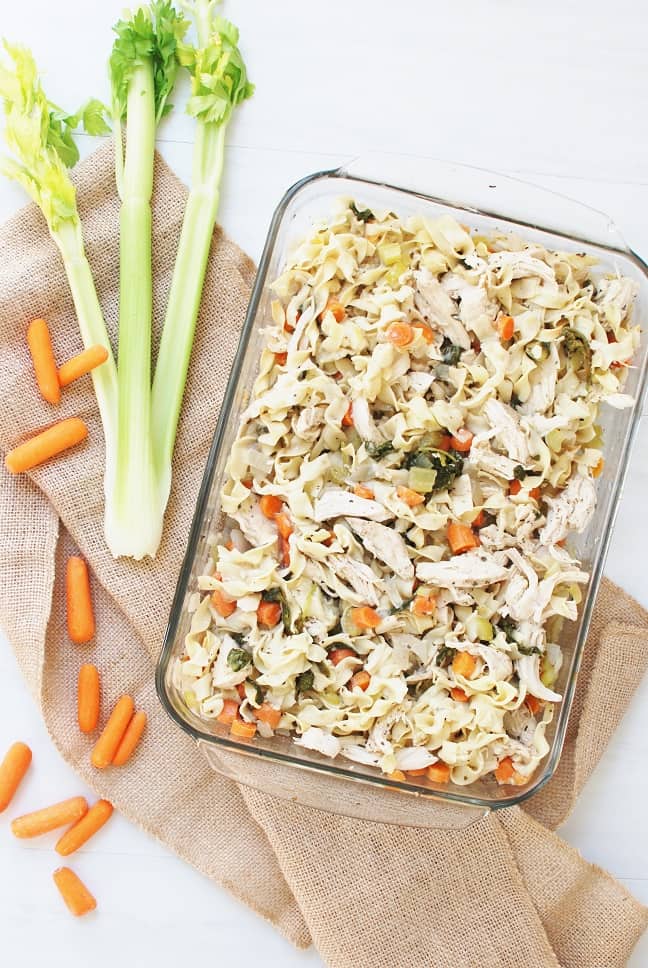 Chicken noodle soup casserole is just like it sounds – all the ingredients for chicken noodle soup, cooked in a casserole dish. The result? You get all the delicious flavors and textures, just without extra broth.
It's a dump & bake style casserole, which means it's extremely easy to make. You simply prep your vegetables, toss them in a casserole dish with uncooked noodles & uncooked chicken, and pour broth over everything. Then tightly wrap it in foil and bake!
The egg noodles will absorb much of the broth, so the end product is much more of a casserole and less of soup. It's a nice change of pace to mix things up!
Bonus – this dish is a great choice for adults and kids. For all you active peeps, this has packs in protein – great for recovery and helping with satiety. And at under 400 calories a serving (for 1/4 of that whole casserole!), it's super filling.
I hope you'll give it a try soon, whether you're sick or not. 🙂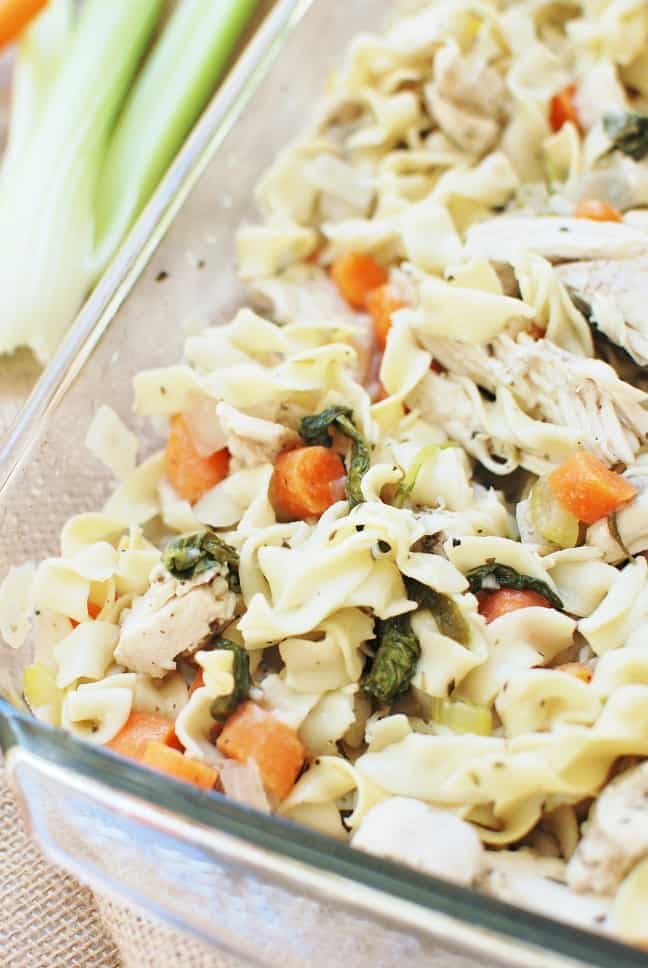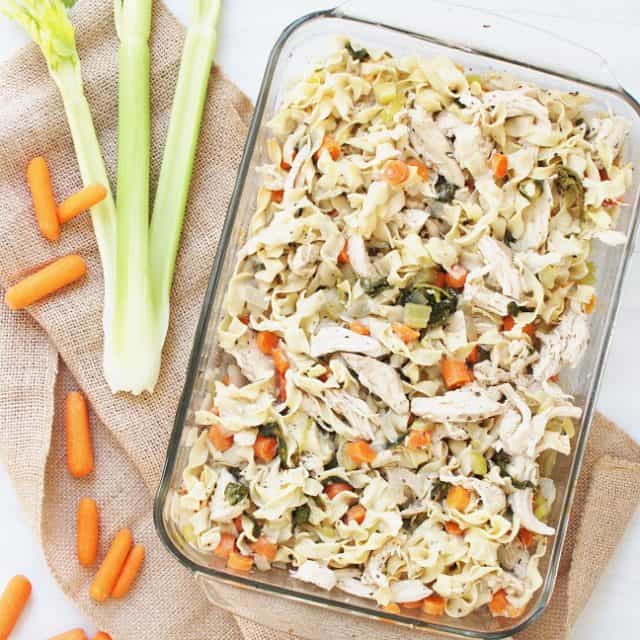 Chicken Noodle Soup Casserole
Chicken noodle soup casserole is an easy, dump and bake dinner! It's all the flavors of the classic soup, just without a ton of extra broth.
Ingredients
3/4

cup

onion, chopped

(1 small onion)

3/4

cup

celery, chopped

(2-3 stalks)

1

cup

carrots, chopped

2

cloves

garlic, minced

2

cups

raw spinach

6

ounces

uncooked egg noodles

(about half of a normal sized bag)

1 1/2

pounds

chicken breast

1/4

tsp

salt

1/4

tsp

pepper

3

cups

reduced sodium chicken broth

1

tsp

Italian seasoning blend
Instructions
Preheat the oven to 400 degrees. Lightly grease a 9x13 casserole dish.

Place the onion, celery, carrots, garlic, spinach, and uncooked egg noodles in the casserole dish.


Season the chicken breast with salt and pepper, and place on top of the egg noodles in the dish.

Add broth and Italian seasoning to the casserole dish. Cover tightly with foil.


Place in the oven and bake for 35-40 minutes. Uncover and stir everything around, making sure all the egg noodles get tossed in any remaining broth. Place back in the oven uncovered and bake an additional 10 minutes, or until chicken is cooked to 165 degrees.


Remove from the oven and shred chicken into the dish. Stir everything around again and let sit for a few minutes before serving. Enjoy!

Notes
Notes:
This recipe makes 4-6 servings.
I recommend chopping the carrots on the small side, as they do stay a bit more firm compared to being cooked in soup. If you chop them smaller, they'll be more tender.
You can also add cheddar & parmesan cheese to this dish if you'd like something a bit more rich. Add in 1 cup cheddar, 1/3 cup parmesan, and 1/2 cup milk when you add everything to the casserole dish.
Nutrition Facts (approximate per serving, assumes 4 servings):
393 calories, 4 g fat, 1 g sat fat, 730 mg sodium, 38 g carbohydrate, 3.5 g fiber, 49 g protein
Nutrition Facts (approximate per serving, assumes 6 servings):
262 calories, 3 g fat, 1 g sat fat, 487 mg sodium, 26 g carbohydrate, 2.5 g fiber, 32 g protein
Nutrition
Share with me: Have you ever made a chicken noodle soup casserole? Do you eat chicken noodle soup when you're sick?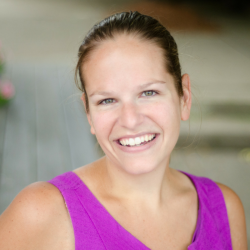 Latest posts by Chrissy Carroll
(see all)