Keeping with my lucky streak of winning things, I happened to win an entry to the Color Run 5K through a giveaway on another blog.  I've done a few other color runs, but never "The Color Run" which I believe was the original branded version that started the trend – so I was excited to try this one out.  Plus, even though it was the Boston race, it was taking place over at Patriot Place which is only about 15 minutes from where I live (woohoo!).
I dressed up in my "finest" (aka things I can toss if they stain) white gear, and took to my t-shirt with a sharpie.  Yep, I'm finally getting a little bump, and though it looks more like I've eaten a few too many cupcakes rather than the fact that I've got a baby in there, I decided to embrace it today.  (PS – aren't those sweat bands sweet?  they were part of the race packet!)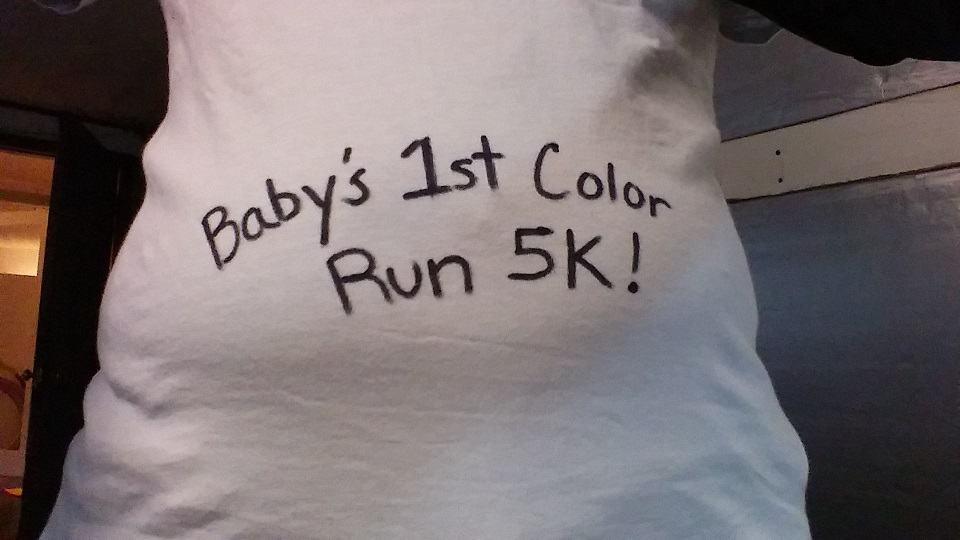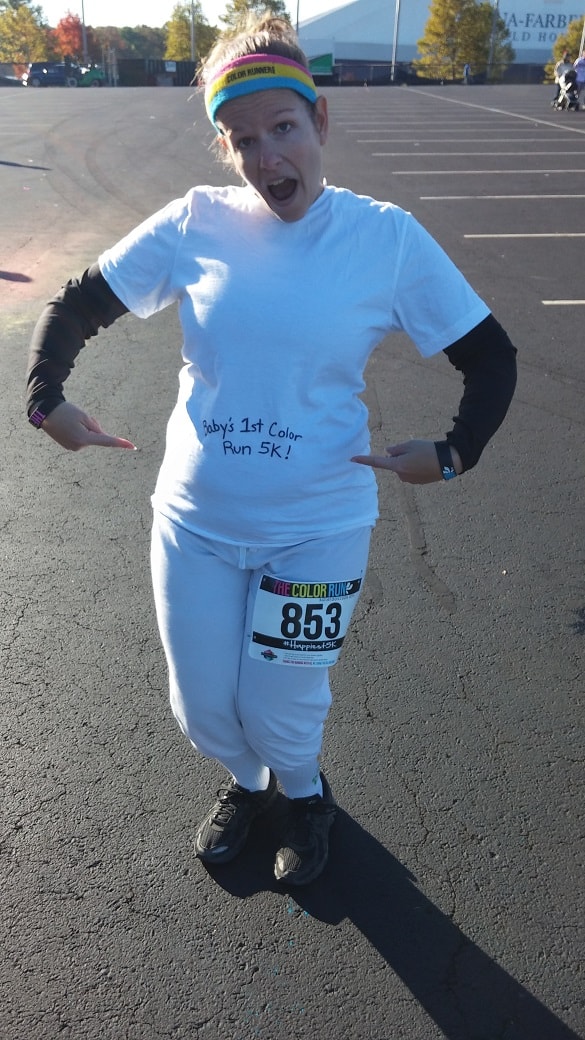 Terry came with me to cheer me on (he's such a good husband – comes to all my races!) and we got to Patriot Place around 7:30am.  The run had a rolling start time of 8-9am, meaning that you could start at any point in that range, so we figured I'd have plenty of time to check in and get my bib number.
We did have enough time, but the check in process was definitely the one low point of the event.  I waited in line for a full 55 minutes to get my race bib.  There were only two tables for check in, and masses of runners there, which left a very long line to wait in to get your bib number.  I don't mind a little wait (especially when I'm checking in on race morning) but I think everyone can probably agree 55 minutes is a bit crazy.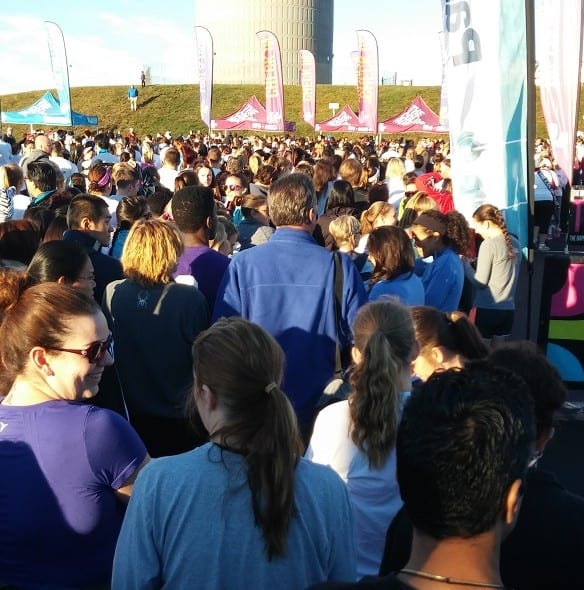 That said, there was of course nothing that could really be done about the problem in the midst of it.  I'm just hoping they address it in future years and have more check in tables.  An extra few tables and volunteers would have alleviated the issue to a more manageable wait.
Moving on, though, the rest of the Color Run was fabulous.  I think any kind of color run (or similar "fun run" style race) is a nice change of pace from regular racing, since it isn't timed and is all about just enjoying the course.
I also thought it was smart that there was the rolling start range, which made it easy to hop out on the course as soon as I had my bib.  Plus, this meant you didn't have to battle weaving through tons of people in the first 10 minutes and that the course was not overly crowded at any point.
There were four different color "stations" throughout the race with music and volunteers tossing the color powder.  The course itself weaved around Patriot Place and Gillette Stadium.  I don't think it was a full 3.1 miles, but was probably closer to 2.5 or so.  I didn't have my watch on, but I know for sure I've been slower the last few weeks, so based on what time I finished up that'd be my guess.  Regardless, still a good run and a fun way to start my Sunday.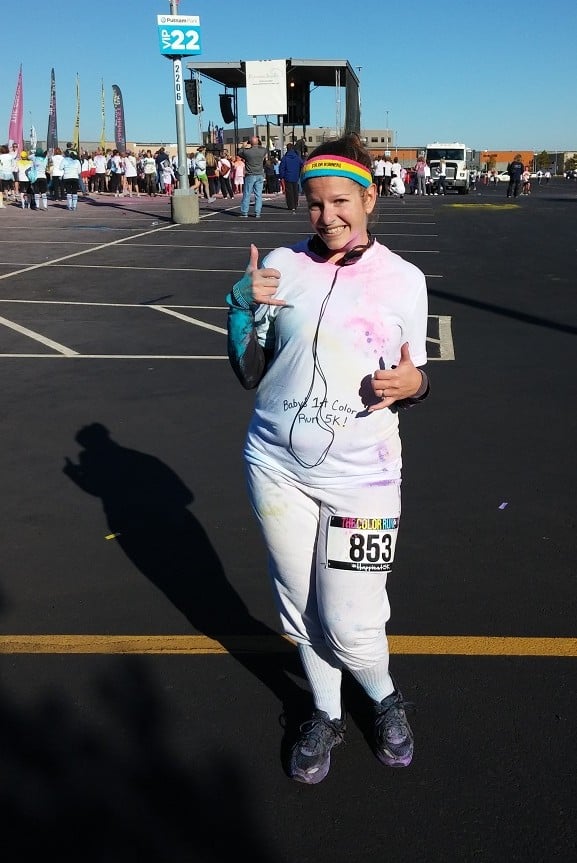 At the end, everyone mingles in the middle to some fun music and tosses more color packets up in the air.  It's always fun seeing the way it looks when the color is thrown, as the rainbow all over everyone's clothes.   We hung out for a few minutes after the race, and then headed back to the house for a big breakfast!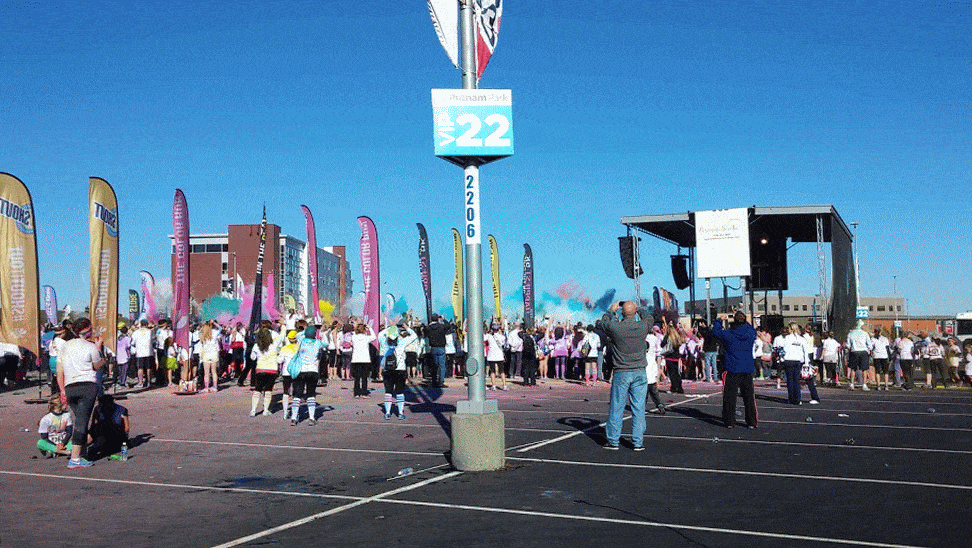 Share with me:  Have you ever done a color run?  What was your experience like?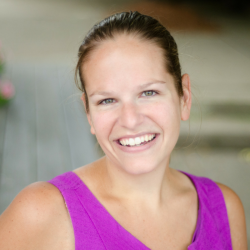 Latest posts by Chrissy Carroll
(see all)