Disclosure: This is a sponsored post written by me on behalf of Seafood Nutrition Partnership for IZEA. All opinions are 100% mine.
All the random food holidays out there make me giggle a bit. Do you guys see these too? I feel like every day in my Facebook newsfeed there's another random one, like "National Banana Split Day" or "National Wheat Toast Day"!
Admittedly, as a food blogger I actually really like these, because usually there are either a) some random restaurant promotions for free food (um, YAY) or b) it gives me recipe or blog inspiration.
It turns out October is National Seafood Month and that is a food holiday I can totally get behind!
Eating seafood twice a week has been shown to improve heart and brain health, as well as reduce the risk of death from heart-related causes.
Back in August, I took the Healthy Heart Pledge from the Seafood Nutrition Partnership. The goal of the pledge is to encourage you to eat seafood twice a week, and given all the health benefits – I knew I wanted to try to meet that goal.
I come from a family that never ate seafood growing up, so at first getting to twice a week seemed like a big challenge. But I'm happy to say that most weeks I've met this goal! In my meal plans, I usually include a seafood-focused dinner on one night a week (my scallops with grapefruit brown butter are a go-to favorite). And then I keep fish fillets in the freezer that I defrost and bake for lunch sometimes, usually serving them on top of a salad (like this tasty salmon salad with pears, bell pepper and walnuts).
There were a few weeks I fell short though, so I'm recommitting right now to the pledge. And I'd love for you to join me! Simply visit the Healthy Heart Pledge website and sign up to set a goal to eat seafood twice a week. You can also take the pledge by simply liking the Seafood Nutrition Partnership on Facebook, or tweet using #HeartHealthyPledge to show you're on board! With all the different seafood options out there – from fish fillets to canned fish to shellfish like shrimp and scallops – I know we can meet this goal together.
To get you started, I've put together the easiest ever salmon burger recipe for you. I mean, really – they are SO simple to make.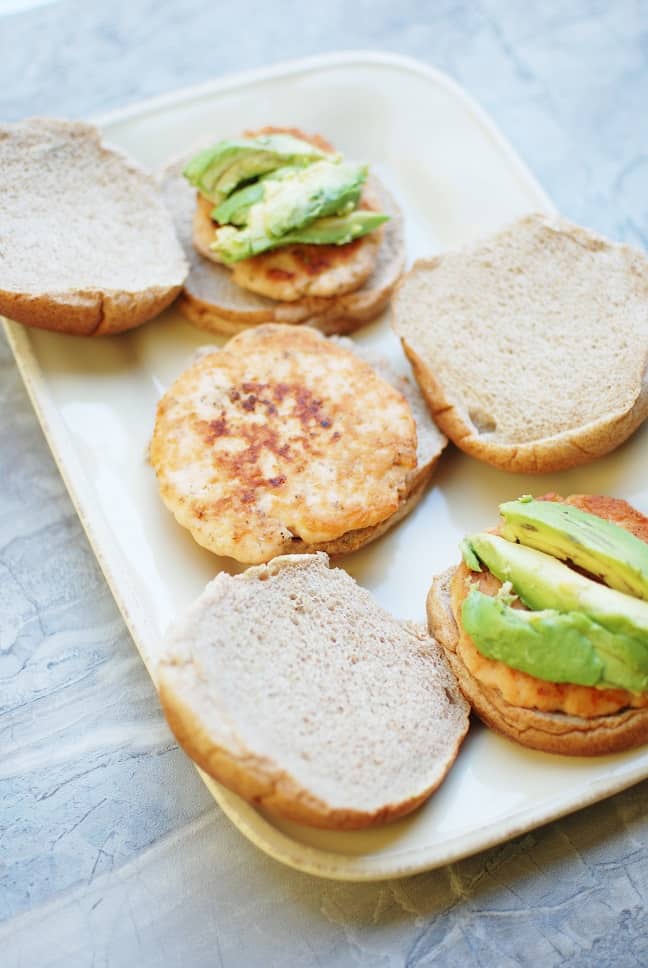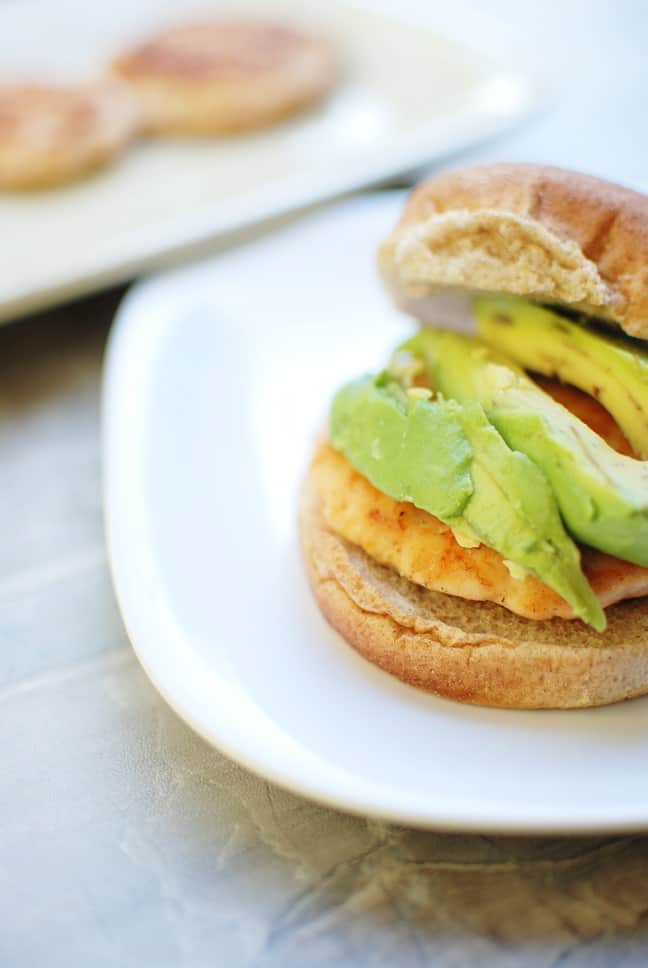 These salmon burgers contain just 5 ingredients (plus salt and pepper – these are cooking show rules where spices don't count, right?! 😉 ). And they are ready to eat in less than 30 minutes, making them ideal for a family dinner. Just pop some frozen veggies in the microwave and you've got yourself a complete meal!
[Tweet "Need an easy dinner? 5 ingredient salmon burger to the rescue! #SNPSweepstakes #HealthyHeartPledge"]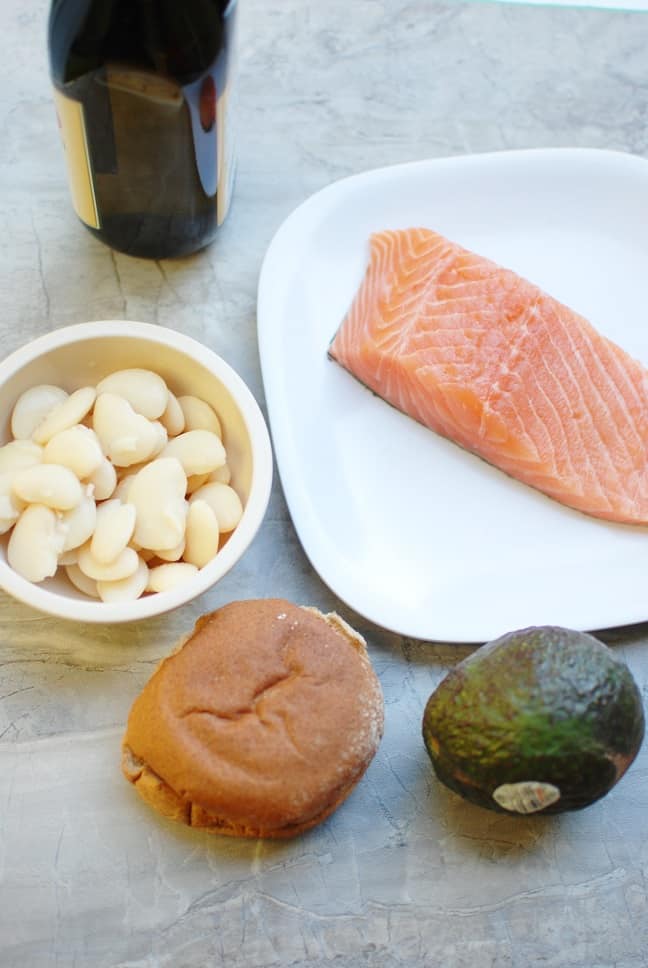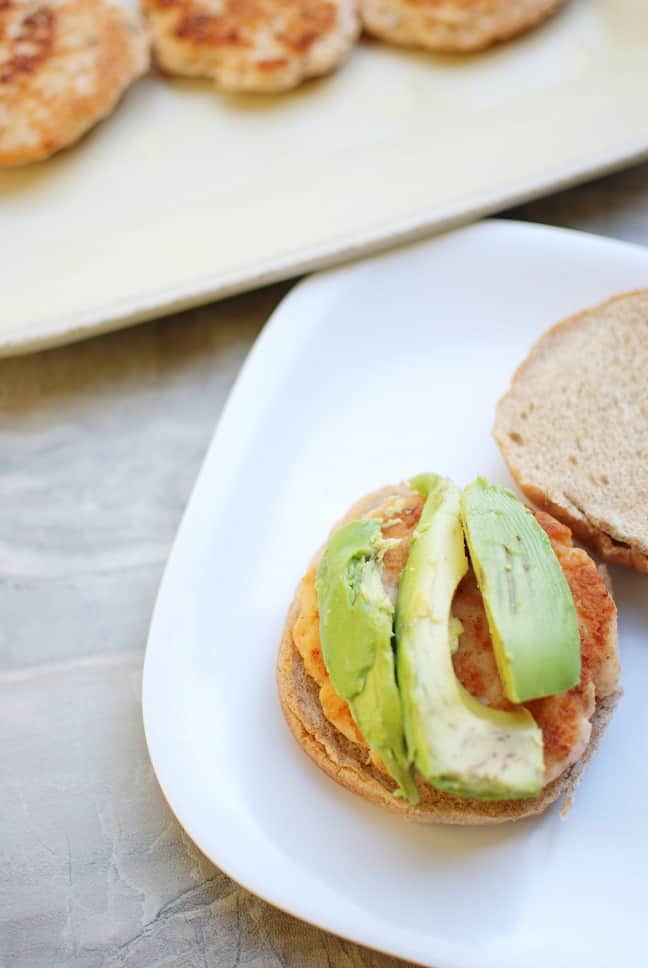 The patties themselves are made from just salmon and butter beans – plus some salt and pepper to season. The key to keeping these moist is two fold: 1) don't overprocess in the food processor (a few quick pulses should do the trick) AND 2) don't skimp on the avocado topping – it adds a delicious creaminess that tastes great!
Salmon is a highly nutritious food to include regularly in your diet. It's one of the best sources of omega-3 fatty acids, it's a great source of protein, and it's one of only a few foods that has a good source of naturally occurring Vitamin D. And for my fit-focused ladies in the crowd, salmon is amazing for athletes to include regularly thanks to these attributes – plus it offers possible benefits on exercise-induced inflammation (though the research is still somewhat inconclusive on this).
The whole family was a fan of these burgers, and I hope yours will be too! Enjoy 🙂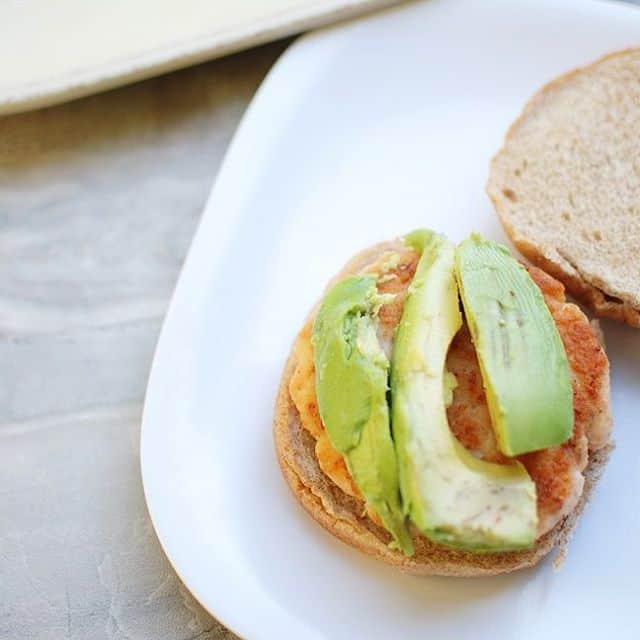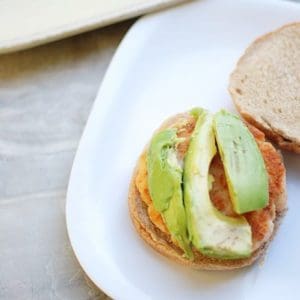 Easy Salmon Burgers
Made with just five simple ingredients, this easy salmon burgers are a quick weeknight dinner.
Ingredients
3/4

lb

of salmon, cut into chunks

(fresh or canned)

2/3

cup

butter beans

1/4

tsp

each salt and pepper

1

tbsp

olive oil

1

avocado, sliced

4

whole wheat hamburger buns
Instructions
In a food processor, blend together salmon, butter beans, salt, and pepper until combined. (This should only take a few seconds of processing - don't overprocess).

Heat 1 tbsp olive oil in a skillet over medium heat.

Form salmon mixture into 4 burger patties and place in the pan. Cook for approximately 3-4 minutes per side, or until burger is cooked through and reaches an internal temperature of 145 F.

Place salmon burgers on a bun and top each with sliced avocado.
Notes
Nutrition Analysis (per serving – 1 serving = 1 patty, 1 bun, and 1/4 avocado):
370 calories, 15 g fat, 2 g sat fat, 580 mg sodium, 33 g carbohydrate, 8 g fiber, 3 g sugar, 27 g protein, Vitamin A: 2%, Vitamin C: 8%, Calcium: 8%, Iron: 17%
Nutrition
Share with me: Are you joining me for the Heart Healthy Pledge? What's your favorite seafood recipe? Do you eat seafood at least twice a week?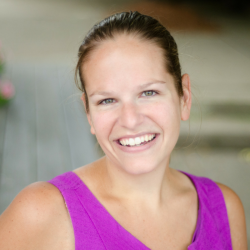 Latest posts by Chrissy Carroll
(see all)