I know mornings can be tough sometimes, especially if you're busy with running off to work or getting the kiddos out the door to school. This veggie egg muffins recipe is one of my favorite breakfasts, for a few reasons:
It's great for meal prep! You can make a big batch on Sunday, and then pull them out and pop 'em in the microwave the next few days for breakfast.
It's an easy way to get protein at breakfast, which tends to be the where people struggle to add protein.
These are an easy way to use up leftover produce that you don't know what to do with. You'll see in my recipe I use bell peppers, onions, and spinach or greens – but you can just as easily toss in any veggies you have lying around. Tomatoes, broccoli, mushrooms, or anything else that you'd throw into an omelet will work for these egg muffins.
You can also customize these further by removing the cheese or using different types of cheese, or adding other proteins like ham or turkey sausage.
[Tweet "Breakfast time is a breeze with these meal prep veggie egg muffins!"]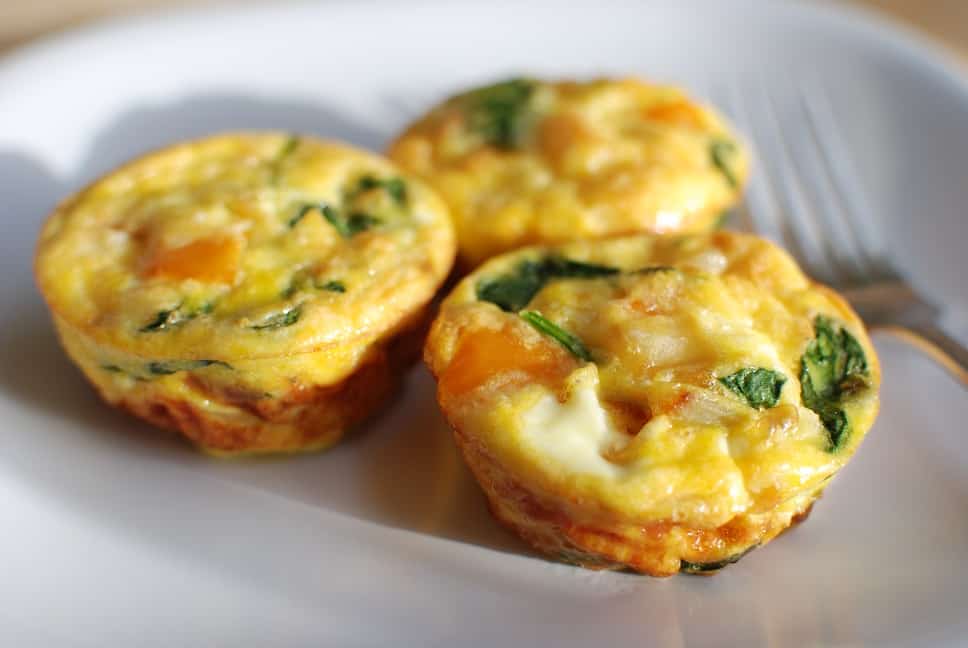 Two tips before you whip this recipe for veggie egg muffins:
I highly recommend a silicone muffin pan or a great non-stick muffin tin. I've heard horror stories of people using older muffin tins and then everything gets stuck to the pan. If all you've got is an older pan, be sure to grease it very well – or you could cook this in a glass baking dish for more of a big frittata, and then just cut it into squares.
The cheese does boost the saturated fat content of the muffins a bit – but man, it makes them taste good! 😉 If I had to pick one food I couldn't give up, I think it'd be cheese. Anyway, if you've got concerns about saturated fat intake you may want to consider cutting back on the cheese (or using a 50% reduced fat blend). Or, aim for balance in the rest of your day (which is totally my strategy for nutrition in general) and just make sure you aren't overloading your day with other sat-fat rich foods.
I'm a huge fan of these veggie egg muffins for breakfast, but they also work well as a snack if you're craving something warm. Plus, the protein and fat in them makes them more satiating than many other snack options.
Give 'em a try and let me know what you think!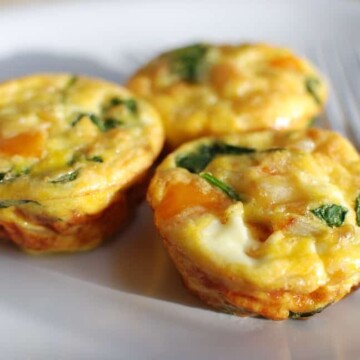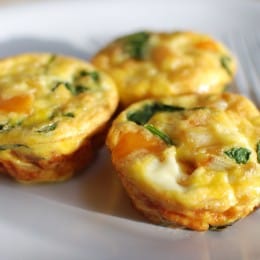 Veggie Egg Muffins
Veggie egg muffins make a tasty low carb breakfast! These meal prep egg muffins are customizable with different types of vegetables, and are a delicious way to start your day.

Ingredients
Ingredients:
1

tbsp

olive oil

1

bell pepper, chopped

1

small onion, chopped

1

bunch of spinach, kale, or other leafy green, roughly chopped into 1 inch pieces

8

eggs

1

cup

shredded cheddar cheese
Instructions
Directions:
Meanwhile, heat 1 tbsp olive oil in a large sauté pan. Add onions and peppers and sauté for 3-5 minutes until they start to soften. Add kale (or other green) and continue to sauté until it has wilted. Remove from heat.

Crack eggs in a mixing bowl and wisk until blended. Pour in cooked vegetables and cheddar cheese.

Spray a 12-muffin tin with nonstick cooking spray. Divide up egg mixture evenly among tin.

Bake for 20-25 minutes or until a fork comes out clean.
Notes
Nutrition analysis per serving (approximate per serving of 3 muffins):
310 calories, 23 grams of fat (10 g sat fat), 321 mg sodium, 6 grams of carbohydrate, 20 grams of protein, Vitmain A: 44%, Vitamin C: 74%; Vitamin D: 10%; Folate: 15%; B6: 15%; B12: 25%; Calcium: 28%; Iron: 13%
Nutrition
Share with me: Have you tried meal prep egg muffins – and if so, do ya love 'em as much as I do?! What are your favorite quick breakfast options?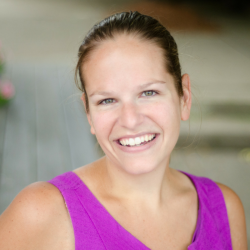 Latest posts by Chrissy Carroll
(see all)