This healthy eggnog French toast makes for a festive holiday breakfast! The French toast itself is sweet, with that slightly crisp caramelized sugar that happens when the bread is cooked just right. It's then topped with a sweetened whipped Greek yogurt, along with vibrant fresh raspberries. It's a better-for-you option that packs in quite a bit of protein, helping to keep the family full and energized during the holiday season.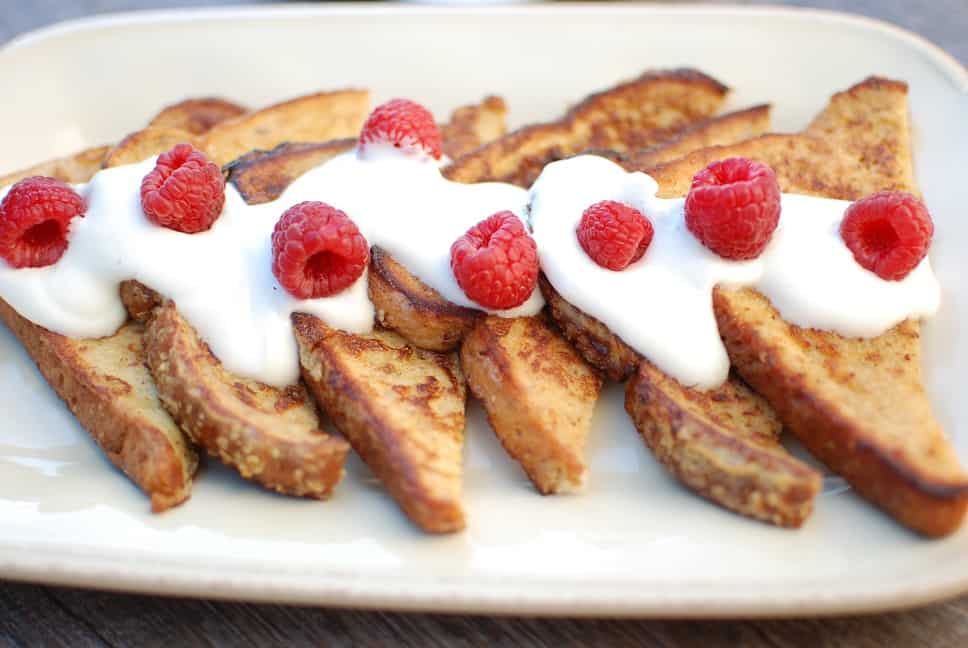 Ingredients
Here's everything you need to make this recipe – it's actually a pretty small list!
Eggs – Obviously the basis for our French toast dipping mixture!
Eggnog – You'll use the eggnog twice in this recipe; once in the French toast dipping mixture and again in the Greek yogurt topping. I used Bolthouse Farms Holiday Nog for this recipe, which I like because it's less calorie dense than other varieties – 80 calories per half cup compared to 150-200. If you can't find that brand at your local grocery store though, you can use any healthier or light eggnog variety. Or just go for the traditional version if you'd prefer!
Cinnamon – What is French toast without a little cinnamon flavor?!
Bread – I recommend using a whole grain or high protein bread option – both of these tend to have more fiber and protein compared to white bread. That said, if you want to go more indulgent, a thicker white bread is just lovely.
Butter – You'll use this for cooking the French toast.
Greek yogurt – This is used to make the topping. I recommend plain Greek yogurt, but you can also use vanilla yogurt if you prefer.
Powdered sugar – You'll use this to sweeten the Greek yogurt whip.
Raspberries – You'll use these to top the French toast, which makes it look very festive for Christmas with the bright red pop of color.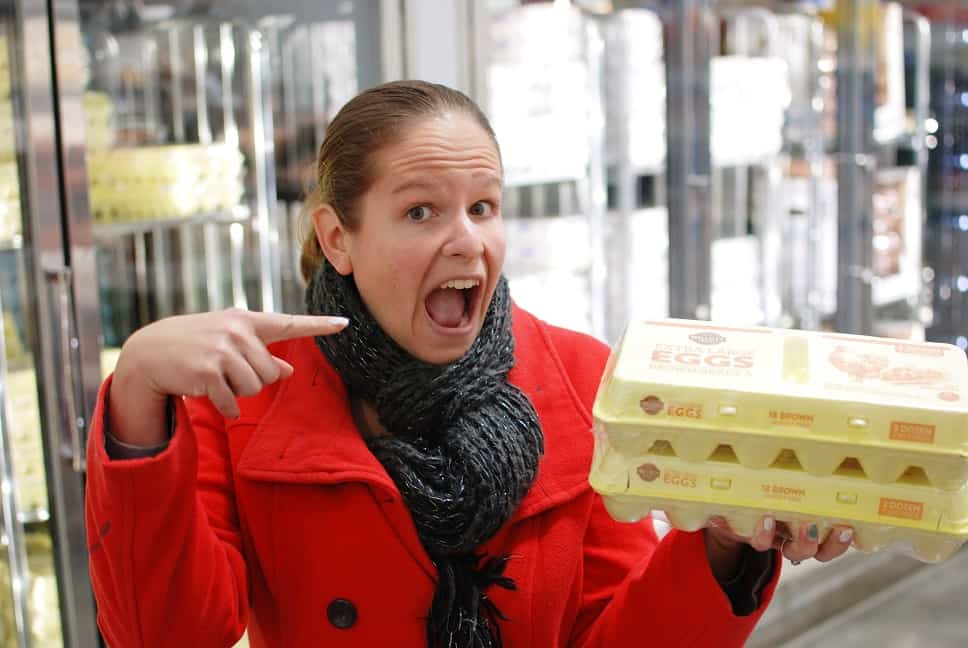 Instructions
You'll find the full recipe amounts and instructions in the recipe card below, but here's a quick overview.
Start by mixing together the eggs, eggnog, and cinnamon. This will be the dipping mixture for your French toast. Be sure to mix well.
Next, feel your bread. (Yes, I said feel your bread, haha).
If it's really soft, I actually recommend toasting it ever-so-slightly prior to dunking it. You want it to just feel a little dry on the outside, not actually make breakfast toast or anything with it. Taking this step will prevent soggy French toast.
Now if your bread has been sitting out for a few days, don't worry about this step. It's already lost moisture during that time and will work fine. This is only if you just bought your bread in the last day or so.
Next, go ahead heat a skillet with butter. Dunk the bread in the egg mixture, then cook in the skillet on each side until it's cooked through.
While that's cooking, whisk together your Greek yogurt, powdered sugar, and eggnog to make the topping.
Once all your healthy eggnog French toast is cooked through, top it with the Greek yogurt mixture and sprinkle fresh raspberries on top. YUM!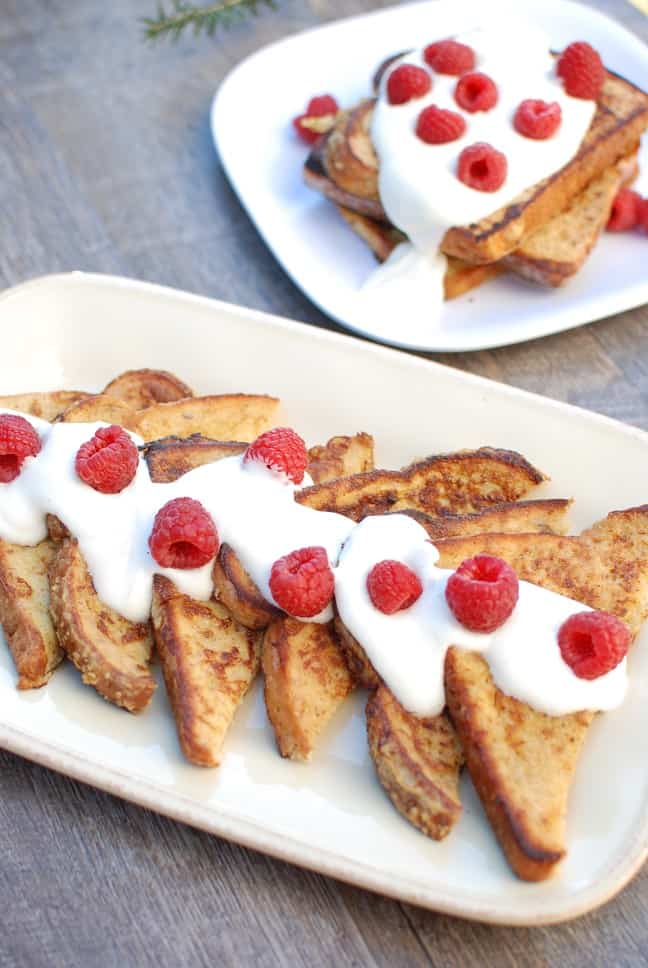 Nutrition Benefits
For my fellow active women – this makes a pretty amazing recovery meal after your long runs, long rides, or tough gym sessions. It's got a great balance of carbs to replenish energy stores and protein to support muscle repair and recovery.
In fact, one serving clocks in at 24 grams of protein, which is considerably higher than most traditional French toast recipes. The hearty whole grain bread I use adds 4 grams per slice (in this case, I used Arnold's oat nut bread) – and there are lots of other great higher protein breads available too.
And trading syrup for a Greek yogurt whip with fruit adds even more protein to the dish (not to mention extra calcium and fiber).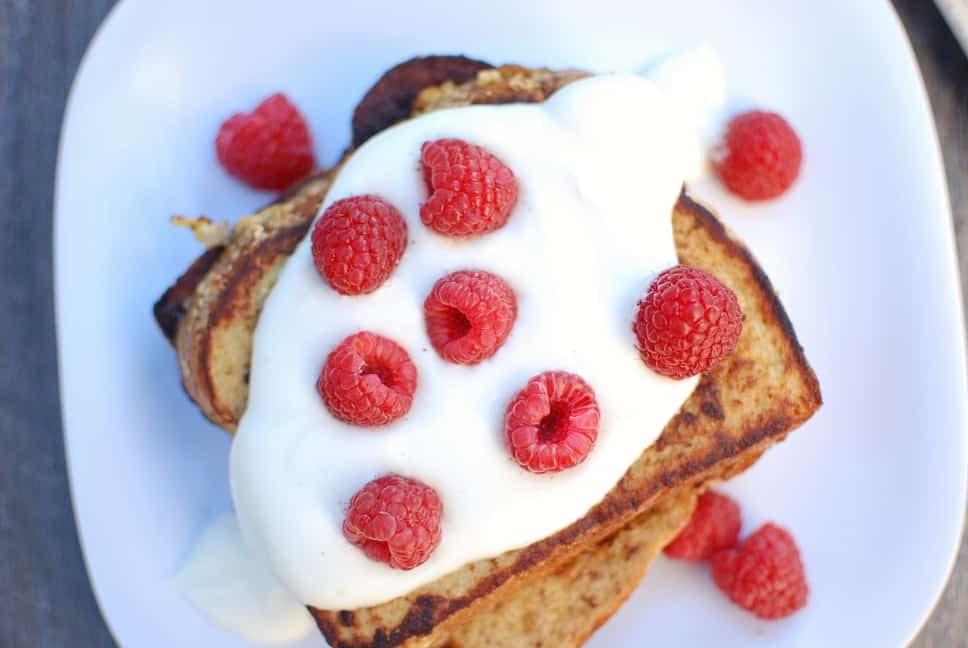 More Holiday Recipes
Looking for more fun holiday recipes? Try one of these:
I hope you'll try this holiday breakfast with your family. If you get a chance to make this healthy eggnog French toast, feel free to leave a recipe rating or comment below.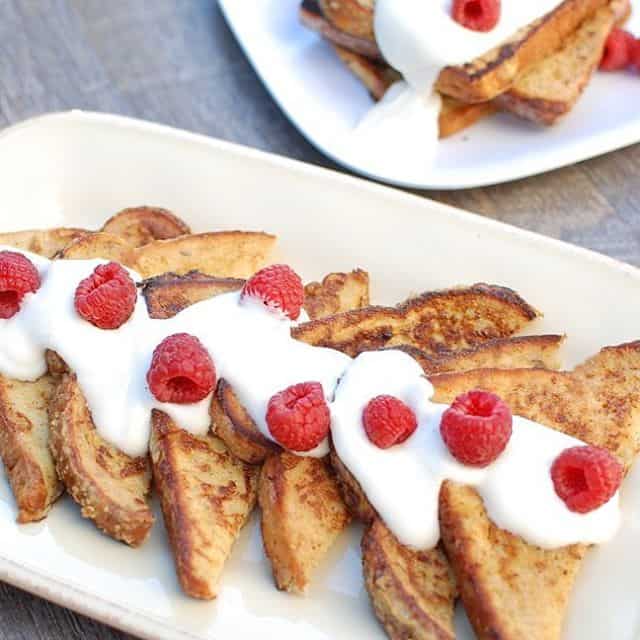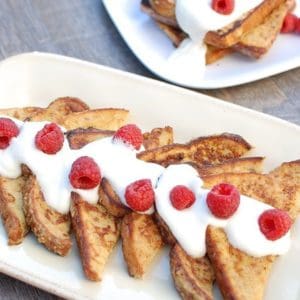 Eggnog French Toast
This Eggnog French Toast topped with greek yogurt whip and fresh raspberries makes a delicious holiday breakfast. And bonus: it's still relatively healthy!

Ingredients
French Toast
4

large eggs

1

cup

Bolthouse Farms "holiday nog"

(or another better-for-you eggnog variety)

1

teaspoon

cinnamon

10

slices

hearty whole grain bread

(I used Arnold's oat-nut bread)

1

tablespoon

butter for cooking

(or more as needed)
Greek Yogurt Whip with Eggnog
2

cups

plain nonfat greek yogurt

¼

cup

powdered sugar

½

cup

Bolthouse Farms "holiday nog"

(or another better-for-you eggnog variety)
Instructions
Whisk together eggs, eggnog, and cinnamon for the french toast.

Heat a large skillet and melt approximately 1-2 teaspoons of butter at medium heat. Working in batches of 2 at a time (or 3 if it won't overcrowd your pan), dip bread in egg mixture and place in the pan. Cook for approximately 2-3 minutes per side. Add additional butter as needed between batches.

While French toast is cooking, prepare greek yogurt whip. Stir together greek yogurt, powdered sugar, and eggnog.

Serve French toast topped with greek yogurt whip and fresh raspberries. Enjoy!
Notes
*If the bread you're using is very soft, I recommend lightly toasting it prior to making the French toast. You can do this in the toaster and work in batches as you're cooking, or you can pop all the bread on a baking sheet and pop it in the oven for a few minutes. The goal is just to remove some of the moisture from the bread so that it soaks up the egg mixture properly and cooks right (you want to avoid soggy French toast!).
Nutrition Analysis (per serving = 2 pieces of French toast with ½ cup greek yogurt whip & ½ cup raspberries; includes butter used in cooking):
514 calories, 14 g fat, 5 g sat fat, 466 mg sodium, 73 g carbohydrate, 8 g fiber, 30 g sugar, 24 g protein, Vitamin A: 11%, Vitamin C: 27%, Calcium: 28%, Iron: 19%
Nutrition
Feel free to pin this post to save for the next holiday season!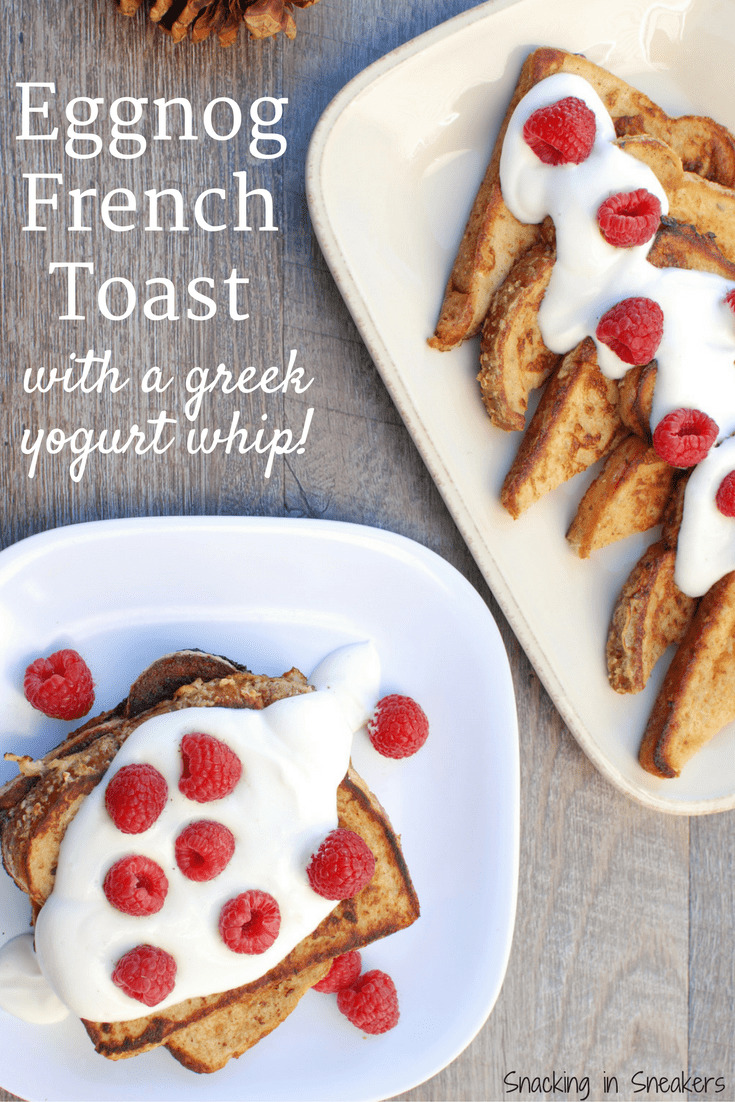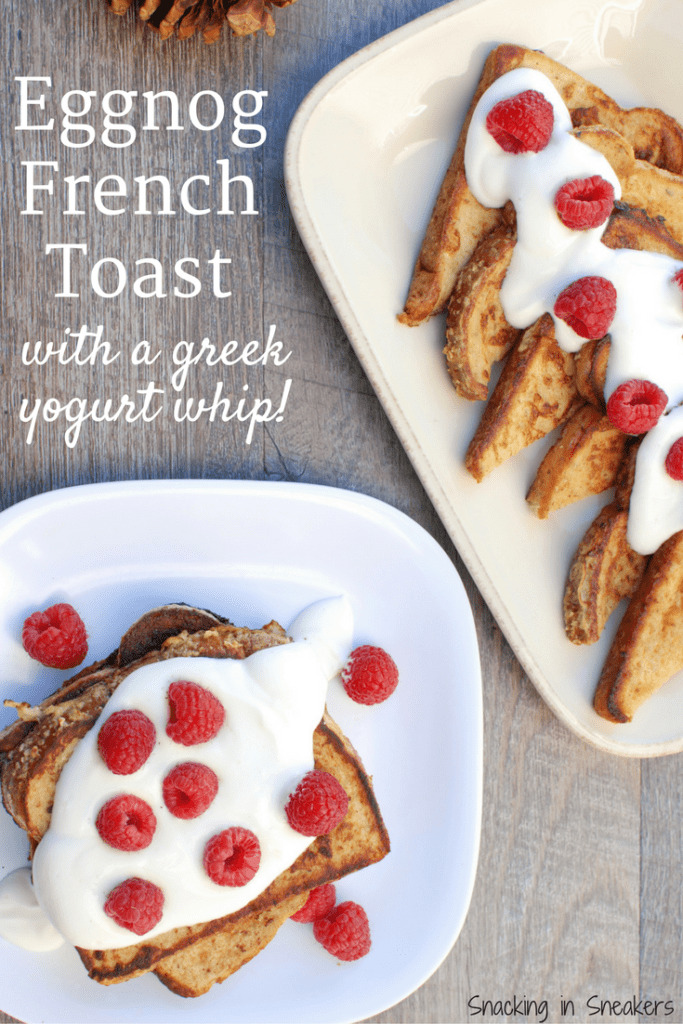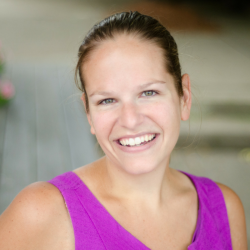 Latest posts by Chrissy Carroll
(see all)