When I found out a few of my Couch Potato to 5K Runners were planning to take on the Finish at the 50 5K, I decided to join in on the fun. I've actually done the 10K version of this race several times before, but had never done the 5K. The 10K is a standard road race whereas the 5K course is a little more unique – it goes around the stadium before coming back in and looping up and down the ramps of the stadium to cover the 3.1 miles. Both races have a huge "fun factor" in that you get to finish on the 50 yard line of Gillette Stadium and see yourself on the jumbotron as you cross that line.
I only have one major pet peeves about this race, but it's not actually related to the race management or organization – that is always done quite well.
My issue is race etiquette.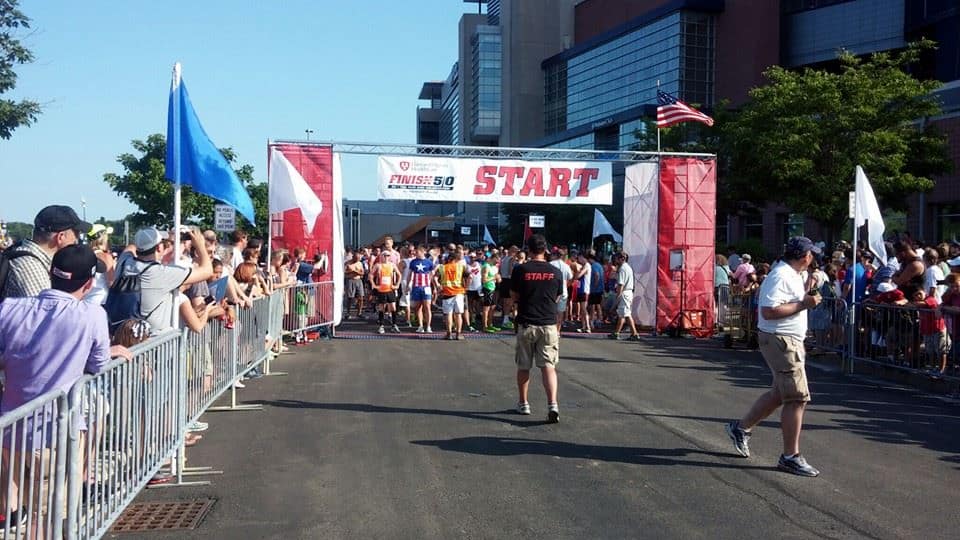 Now, this is a family friendly race, and I know that it is super welcoming to people of all athletic abilities. And that is AWESOME. If you know me personally, you know I am passionate about fitness and especially running, so I encourage everyone to get out there and try it.
But – if you are new to participating in a 5K race, here's a few things you may want to keep in mind about race etiquette:
If you are walking or running slowly, do not line up with the elite runners at the front of the race. There's no reason for it – everyone gets to start the race eventually! – and you hurt the flow at the front. Elite runners train hard to compete, and it's not fair to them to have to dodge around strollers and walkers in the first quarter mile. [This applies to everyone.  I'm not an elite runner, so I seed myself back around the 12 min mile pace.]

Along the same lines, if you are participating as a group and are on a narrow section of road/sidewalk/etc – please avoid walking in a row that's 7 people long so no one can pass you easily.  It's frustrating to have to come to a stop so that you can ask someone to move in order to pass them.  

I'm all about documenting your experience out there, especially on such a cool course. But if you're running and decide you want to grab a selfie or snap a photo of the course, please don't dead stop in the middle of 'traffic.' Shift to the side of the majority of running traffic, and then stop.
Fellow runners, do you have any race-day pet peeves?  Feel free to share in the comments!
OK, getting back to my actual Finish at the 50 race review and recap…It was about 90 degrees outside, and this race came the day after my kids fitness classes on Wednesdays (where I teach 2 outdoor Zumba Kids classes and an outdoor running program) – so I knew it was going to be a tough one.
I felt pretty good in the first mile, but then the heat really started to hit me. I very rarely run carrying a water bottle in hand (especially for a 5K) but was glad I decided to hold onto mine for this. I slowed down a bit after mile 1 and shortly after we hit the stadium, where my slow jog turned into a fast walk as we tackled the stadium ramps. It was harder than I expected.
Once I got to the top, I alternating jogging/walking before I finally got a decent jog pace back again a bit later on the downhill ramps, which I maintained to the finish.
I ended up completing the race in 39:53 (12:51/mile pace). Certainly not my best time by any means, but good enough for me considering the weather and course.  Plus, this year everyone got some sweet medals at the end, which was pretty cool for a 5K race.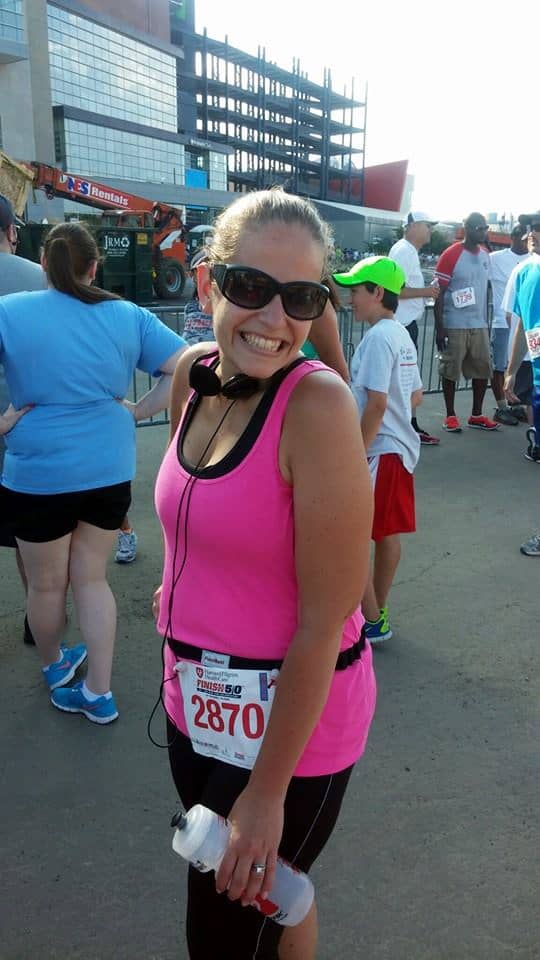 Congrats to several of my former Couch Potato to 5K runners for completing this race, including Margaret, Robert, and Tiffany! I know there were a few more of you out there, so feel free to give yourself a shout out in the comments 🙂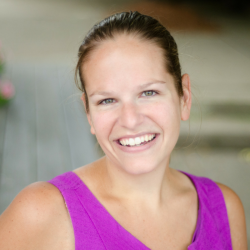 Latest posts by Chrissy Carroll
(see all)