Have a training buddy who is feeling under the weather? Print out a get well poem and build a fun care package to surprise them!
Disclosure: This post is sponsored by Jakemans. As always, all opinions are my own.
If there's one thing that any runner, triathlete, or avid gym goer does not want to deal with – it's being sick in the middle of an important training season. (Or really, being sick anytime!) Not only do you feel crummy, but you also start to worry about keeping up with your workout schedule.
It can really take a toll on your exercise mojo – which is why I wanted to share some ideas for care packages for sick friends! If you've got a training buddy who isn't feeling so hot, why not throw together a little get well soon package for them. Whether they're dealing with a cold or some allergies – it'll help lift their spirits. And we all know that giving a present gives us those warm fuzzies inside too.
Plus, I've got some fun little printable get well poems that you can download and share with your friends! Mine are targeted towards runners and triathletes (my peeps!) but if you're making a care package for someone else, hopefully they'll give you some creative inspiration to come up with your own poem too.
Here are some sick care package ideas for fellow active ladies (and gents!):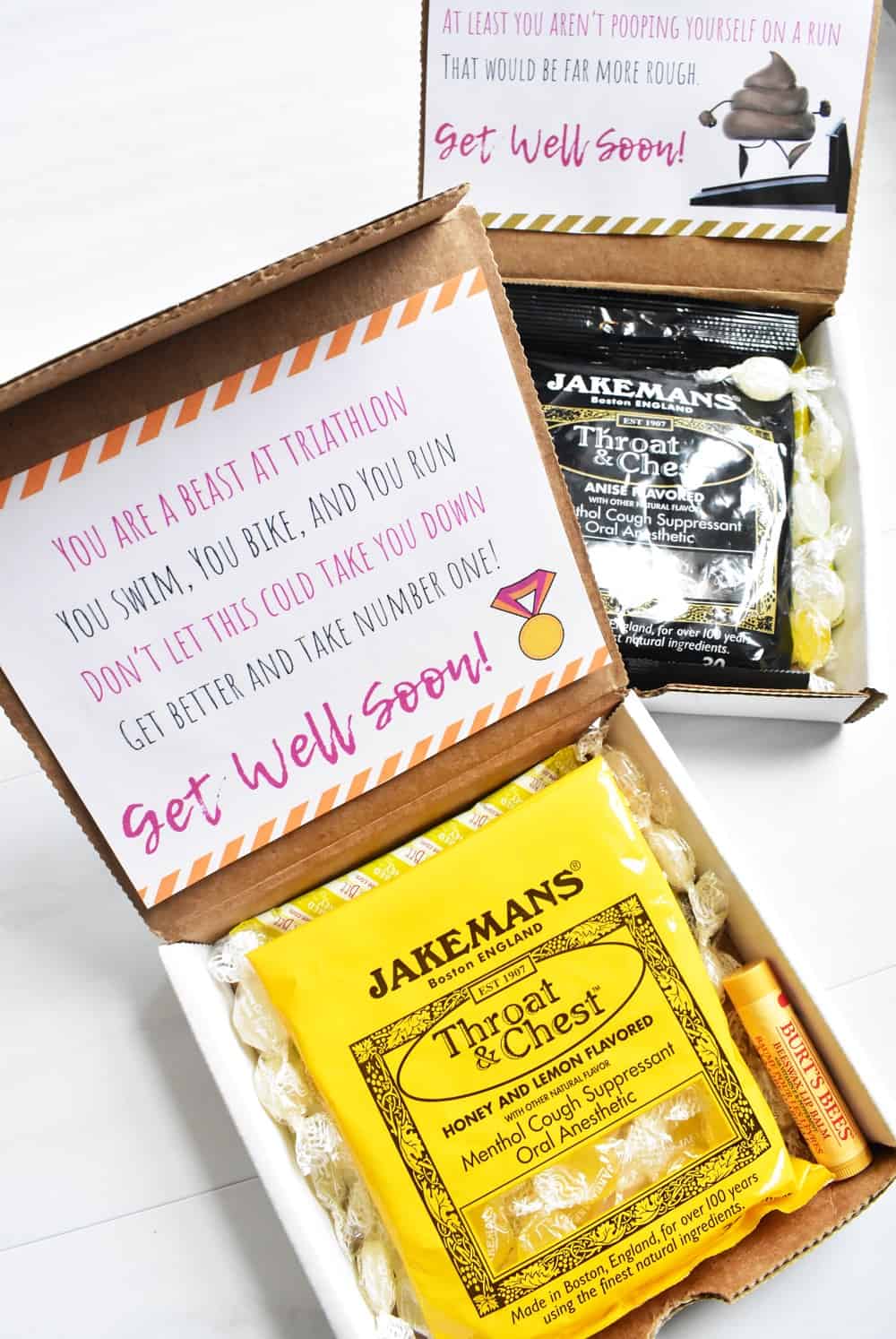 Jakemans Cough Drops
Those coughing fits have got to be one of the worst parts of being sick – so help your gal pal out with some Jakemans cough drops.
Jakemans has actually been making cough drops since 1907 – so you know they're doing something right to be around this long. Their cough drops are made with menthol, helping to naturally soothe the throat, and come in flavors like Honey & Lemon, Chili & Lime, Peppermint, and Anise.
In the Northeast, you can find 'em at retailers like Roche Bros, Shaws, and Whole Foods – and you can also order them on Amazon (I love this three pack you can get on Amazon).
PS – Jakemans was actually the inspiration behind this whole post! They reached out to me with a care package of my own, and I loved the idea so much. They truly are ambassadors for good health & wellness.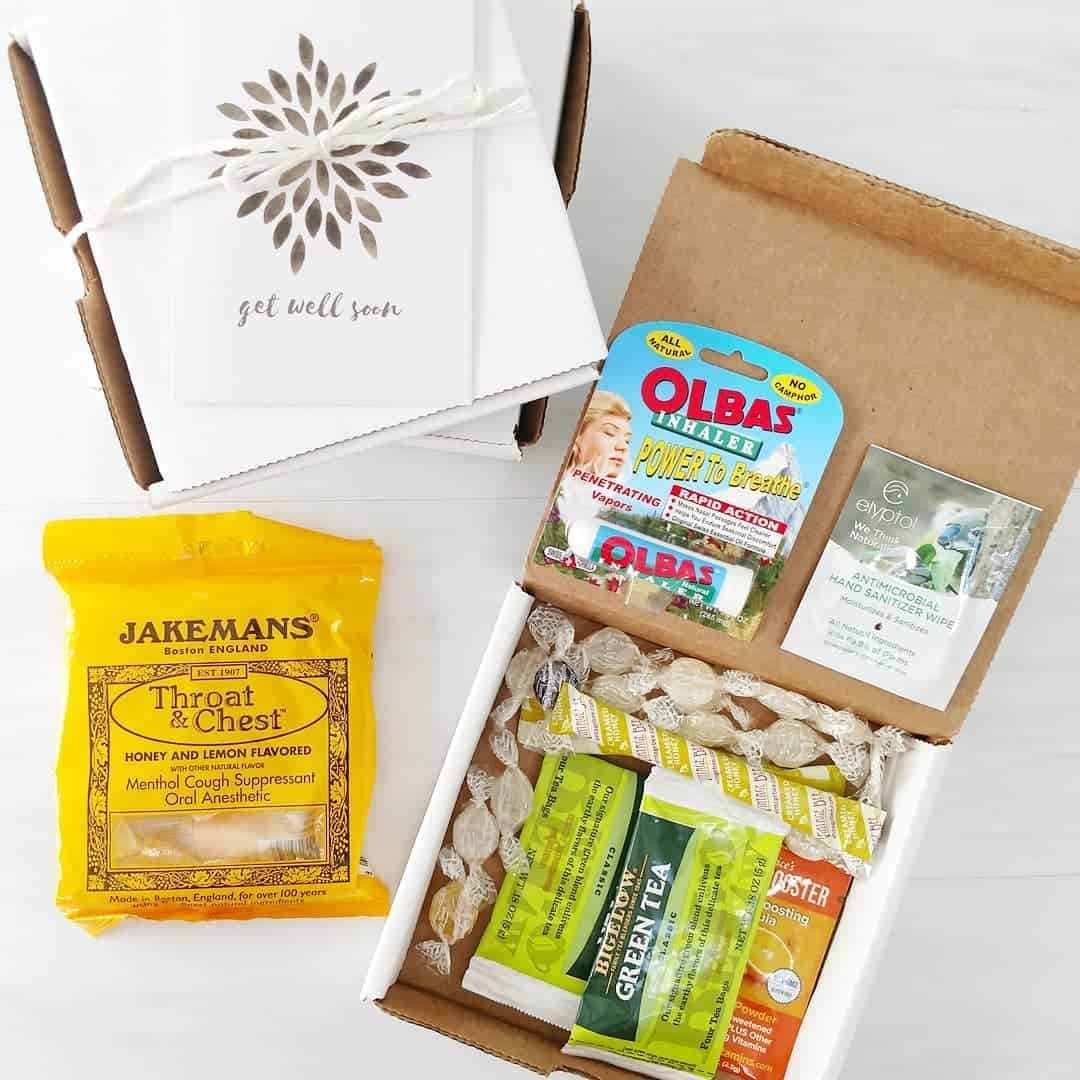 Tissues
It's an obvious choice, but tissues are always needed when you're dealing with a cold. I'm a fan of looking for funny ones because they can at least give you a little smile during all that nose blowing.
Tea
Hot beverages like tea are thought to help with colds, since the heat of the drink may help clear the sinuses a bit – and perhaps more importantly, because it helps you stay hydrated. In addition, tea contains powerful phytochemicals called polyphenols, where are beneficial for all of us (sick or not).
I personally love a good lemon tea, or a fruity herbal tea – but you can obviously go with whatever you think your friend will enjoy, from black to green to white and everything in between.
Honey
If your friend needs something to sweeten up that tea, honey is the obvious choice. And while the research isn't overly supportive that local honey helps with allergies – there's also not much harm in trying out a spoonful here and there if you're going to sweeten that tea anyway!
(The original theory is that local honey contains small amounts of pollen which would help the body become learn that it is 'safe' and not react to it – but only a few studies have been conducted without much support for the theory. Anecdotally, I hear people say it helps, so if you want to try it – go for it!)
There may be a different bonus for you with honey though – it may help act as a cough remedy.
Chapstick
If you know me, you know that I'm addicted to chapstick – so this shouldn't be a surprise that it's on my must-have list in a care package. There are other people out there that need to apply this 26x a day, right? 😉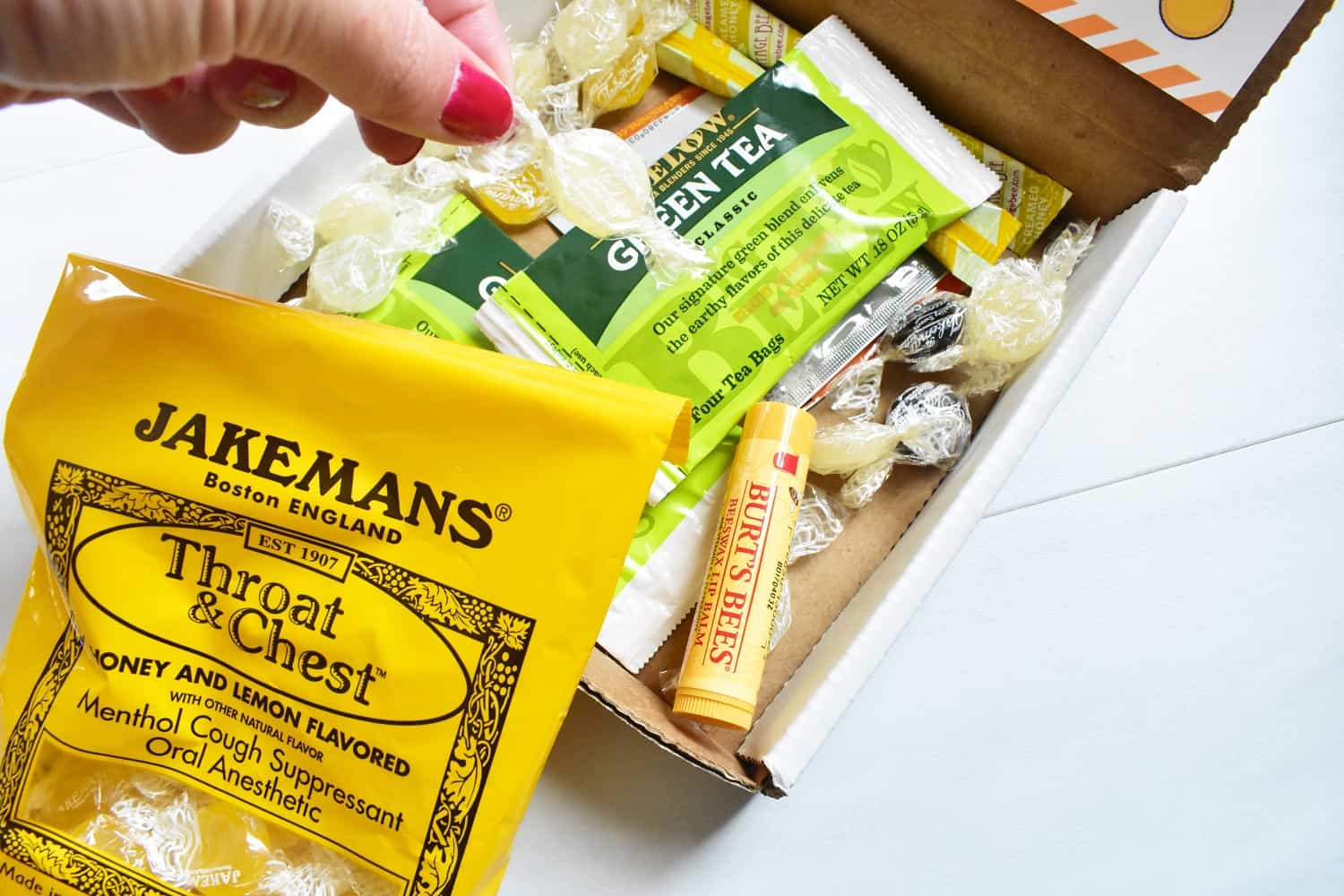 Good movie
Whether your friend just needs some time to lay in bed and veg out – or you want to help motivate them back on the trainer with a good flick to watch – a movie is always appreciated. My husband would tell you that I have the worst taste humanly possible in films so I won't give you any recommendations (OK, maybe one – the ABC Family original "My Fake Fiance" is one of my all time favorites). But I'm sure you know a good movie that would be a perfect addition to a care package for a sick friend.
Hand sanitizer or sanitizing wipes
If your training buddy has a family that's not yet sick, these are a must. The only thing worse than being sick is having to take care of other ill people while you're sick. Some sanitizer or wipes will help prevent the spread of germs through the rest of the house.
A sweet – or funny! – get well poem:
A little get well poem will put a smile on your friend's face, and let them know you're thinking about them. Whether you're the sentimental type that wants to send something sweet and motivating – or the cheeky type like me that prefers a funny giggle-inducing message – I've got a few ideas for you.
(Side note – writing this post has made me fully aware that poetry is not my strong suit, haha!)
You can take these ideas below and write them in your own card, copy & paste 'em into an online card, or I've also included a downloadable image (just right click and save) for each one.
Kind Get Well Poems:
Roses are red
Violets are blue
My training partner is sick
Get well soon, boo!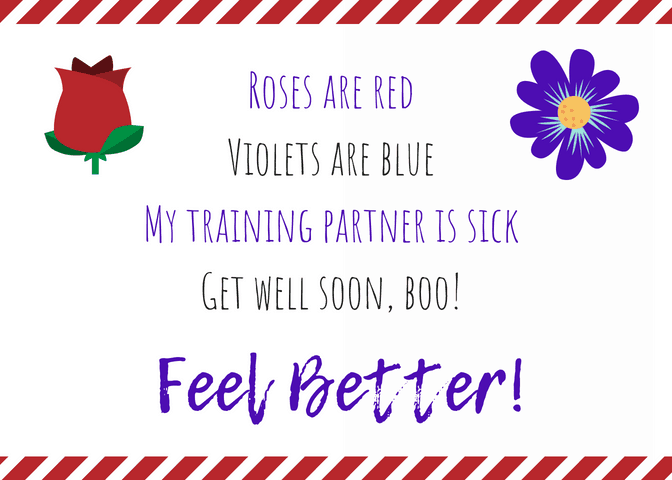 You are a beast at triathlon
You swim, bike, and run
Don't let this cold take you down
Get better and take number one!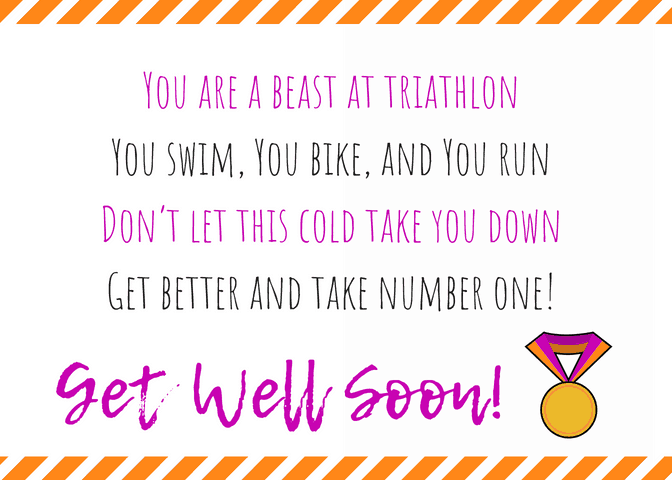 My training buddy, you can't be sick!
Who will I run with, you know?
Just get better before winter hits
So we can run together without snow!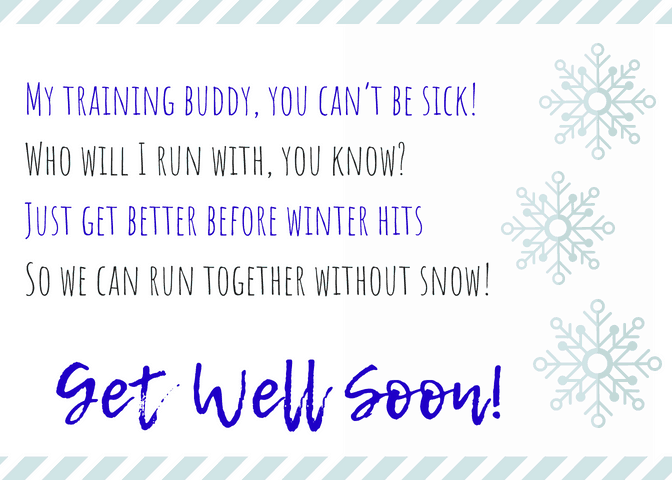 You're my number one inspiration
When it come to being an athlete
I know you're not feeling too well
I hope you're quick to get back on your feet!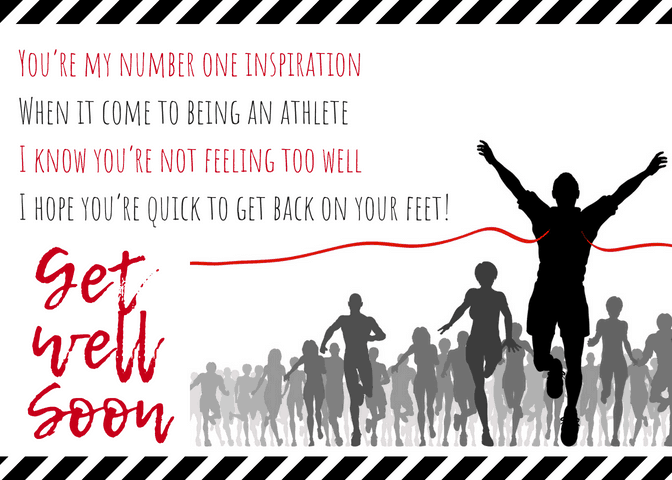 Funny Get Well Poems:
I know you've been feeling sick lately
Colds while training are the worst
Although since you're in my age group
Now I'm hoping I'll take first! 😉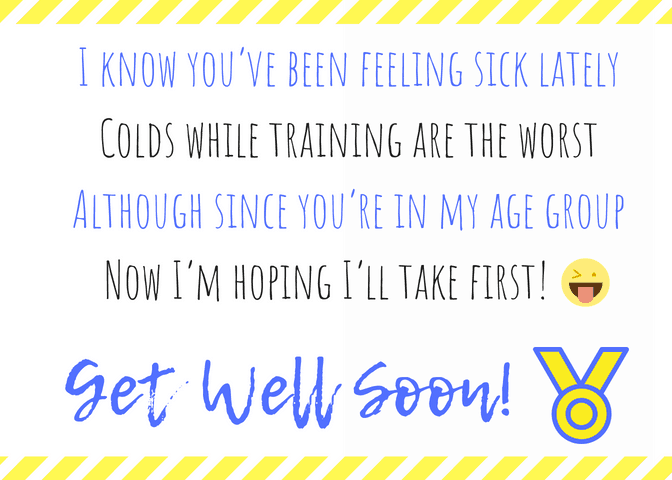 Sniffles, coughs, sneezes, oh my!
Colds make training feel tough
At least you aren't pooping yourself on a run
That would be far more rough.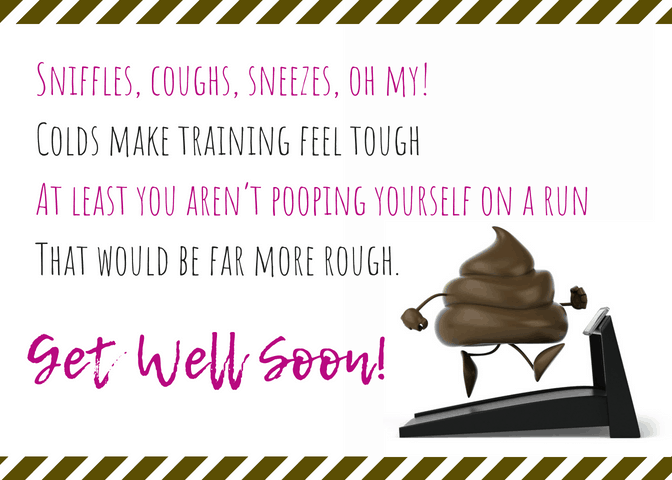 I know you said you wanted a rest
Before you joined me for another race
But you don't have to pretend you have a cold
Just because you can't keep up with my pace 😉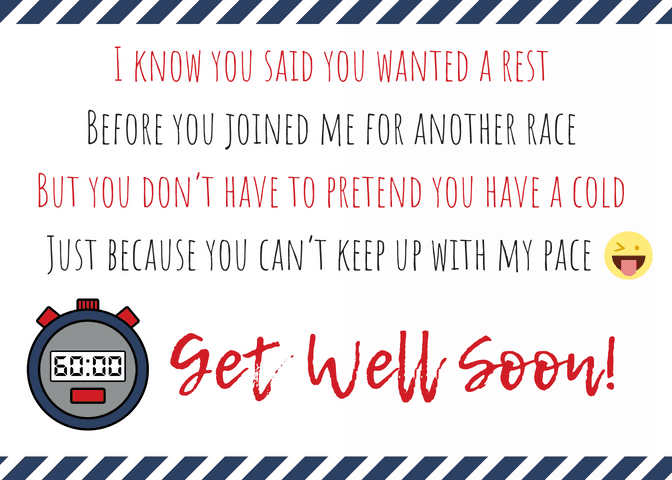 "Just one more brick" you said
When your schedule said to rest
Now seriously, it's time to recover a bit
Your coach really does know best! 😉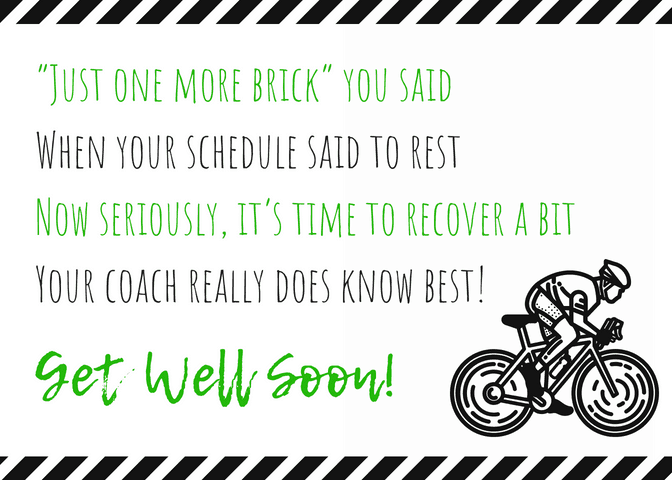 I hope all these printable get well poems and care package ideas for a sick friend help you cheer up someone you care about – and help them get back to training! 🙂
Share with me: Do you have other care package ides for a sick friend? Have you tried Jakemans cough drops yet? Which get well poem is your favorite?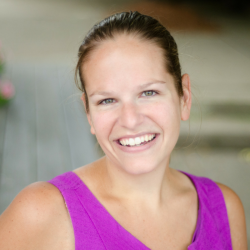 Latest posts by Chrissy Carroll
(see all)