Readers with diet restrictions or allergies – this post is for you! I'm experimenting with lots of recipes to meet my breastfeeding diet restrictions because of my son's suspected food intolerances – and since his symptoms haven't completely improved yet, it looks like we'll be eliminating wheat and nuts as well. This was definitely one of my favorite recipe experiments so far because I was just craving bar food. This plate of (allergy free) chicken fingers alongside an ice-cold (wheat-free) beer definitely satisfied that – yum!
These gluten free chicken fingers are a healthier version than those found at the restaurant since they're baked instead of fried. Plus, this recipe is free of all the top 8 allergens – no dairy, soy, eggs, fish, shellfish, tree nuts*, peanuts or wheat. Instead of a traditional bread crumb coating, it uses a combination of gluten-free cereal along with potato chips so it's allergy-friendly.
I tried making these three slightly different ways – and they call came out great: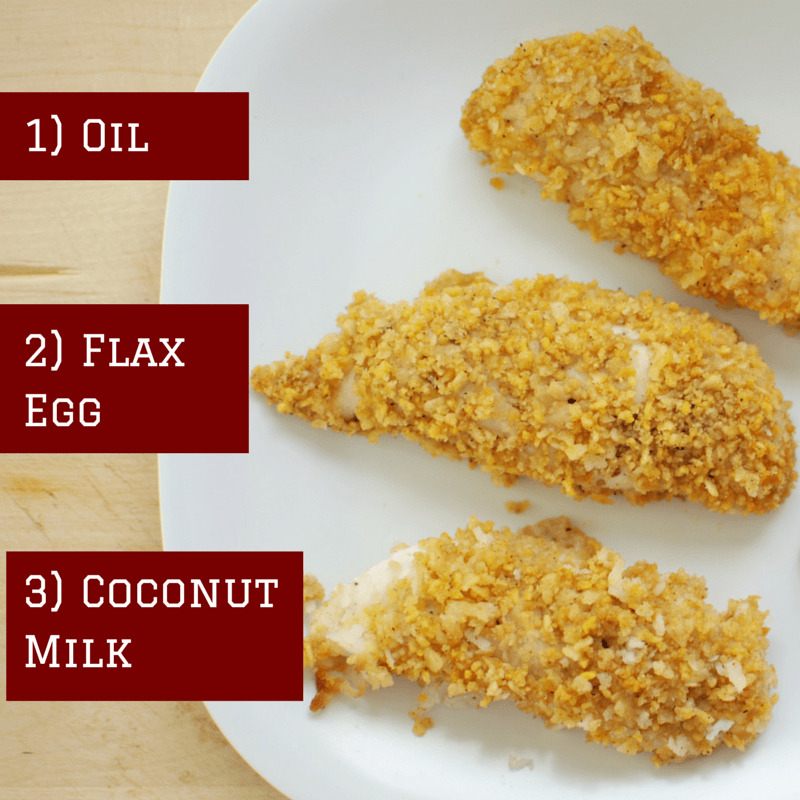 1) Dipped the chicken in oil and then in the coating. These came out a bit more moist inside than the other two and tasted delicious on their own or dipped in ketchup.
2) Dipped the chicken in the flax egg and then the coating. I thought these ended up being the crispiest of the three coatings which I liked (my hubby thought they were slightly less flavorful than the other two, but still ate them all up, haha). They tasted delicious dipped in ketchup and would also be good with barbeque sauce.
3) Dipped the chicken in the coconut milk, and then in the coating + shredded coconut. These were reminiscent of coconut shrimp (obviously, sans the shrimp) and were quite tasty on their own.
*This version contains coconut, which some people with tree nut allergies cannot tolerate coconut. If that's you, just make one of the other two versions!
Gluten Free Chicken Fingers – Free of the Top 8 Allergens!
Makes 4 servings
Serving size: 3 chicken fingers
Ingredients:
Chicken:
1.5 pounds chicken tenders (or chicken breast sliced into strips)
Salt and pepper
Coating:
2 cups corn and/or rice based cereal (I used a store brand "Crispy Hexagons" cereal made of corn and rice, but a gluten free Chex would also be a great option)
2 cups potato chips
½ tsp paprika
½ tsp italian or poultry seasoning
If using coconut milk, you can also add shredded coconut to the coating mix.
Liquid:
Your choice of liquid to make the coating stick: oil, a flax "egg" (1 tbsp flaxseed + 3 tbsp water), or coconut milk
Directions:
1) Preheat oven to 375 F.
2) Pulse the potato chips, cereal, and spices in a food processor until it forms a crumb-like coating. Spread onto a plate.|
3) Season chicken with a little salt (the potato chips will add a saltiness to the coating, so just a smidge) and pepper.
4) Dip the chicken in your choice of liquid, then roll in the coating.
5) Place on a cookie sheet and bake for about 12-15 minutes, or until internal temperature reaches 165 F. (I always recommend checking with the meat thermometer periodically so that you don't overcook them).
Share with me: What's your favorite "bar food"? Any ways you know of to make a healthified version at home?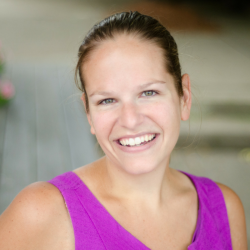 Latest posts by Chrissy Carroll
(see all)