Disclosure: I was provided a free goat yoga class at Heifer Farm in Massachusetts. As always, all opinions are my own (and I can't say enough good things about this)!
Take a second to envision a group of athleisure-clad adults, flowing to the instructions of a dynamic yoga teacher. Everyone is grounded on their mats; deep breaths flow in and out. And then as everyone settles into child's pose about 10 minutes into the class…a handful of baby goats come pouncing through the room, ready to play, snuggle, and nibble anything in sight. Welcome, my friends, to goat yoga.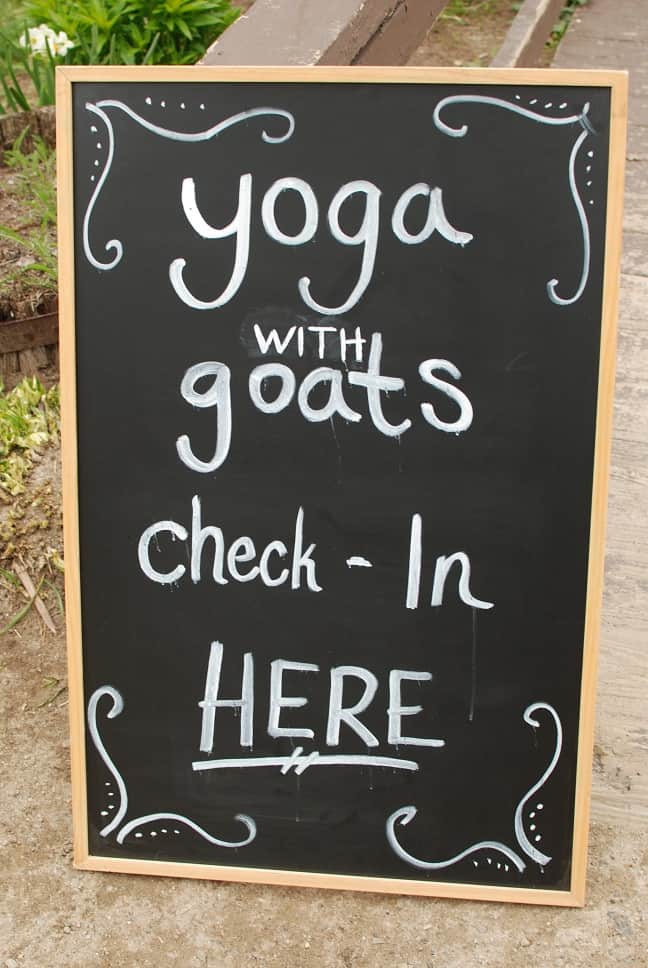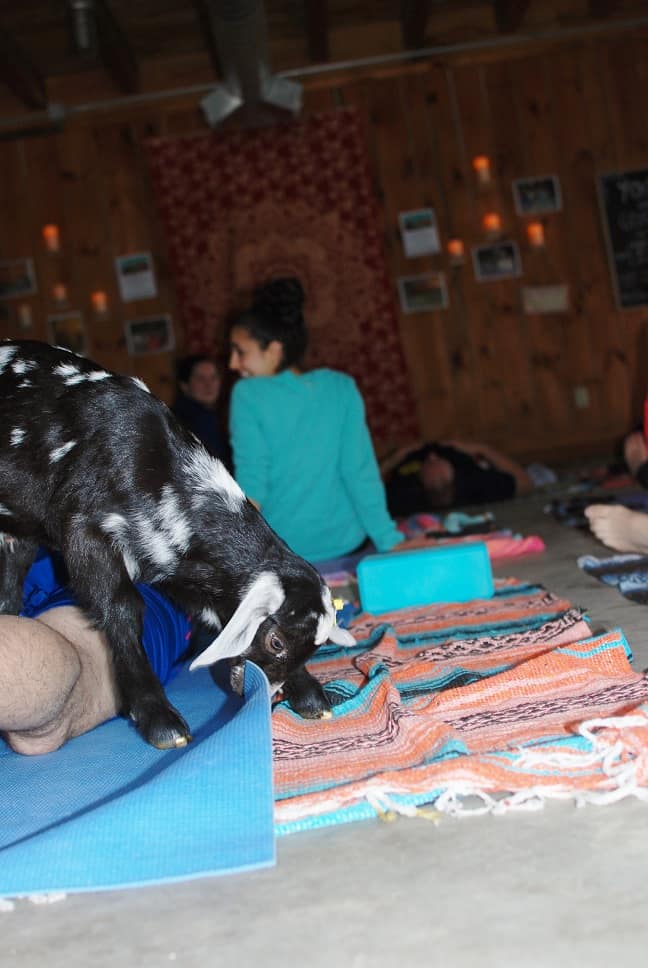 When I came across an article from the Boston Magazine about this new (slightly unusual) fitness trend, I couldn't pass up an opportunity to reach out to Heifer Farm and try it out. It lived up to the hype, and was probably one of my favorite experiences from the past year.
The best way I can think to describe goat yoga is:
1/3 yoga
1/3 laughter and pure joy
1/3 animal therapy with goat petting and snuggling
[Tweet "Goat yoga is a thing and it's AMAZING! Check out this unusual fitness trend:"]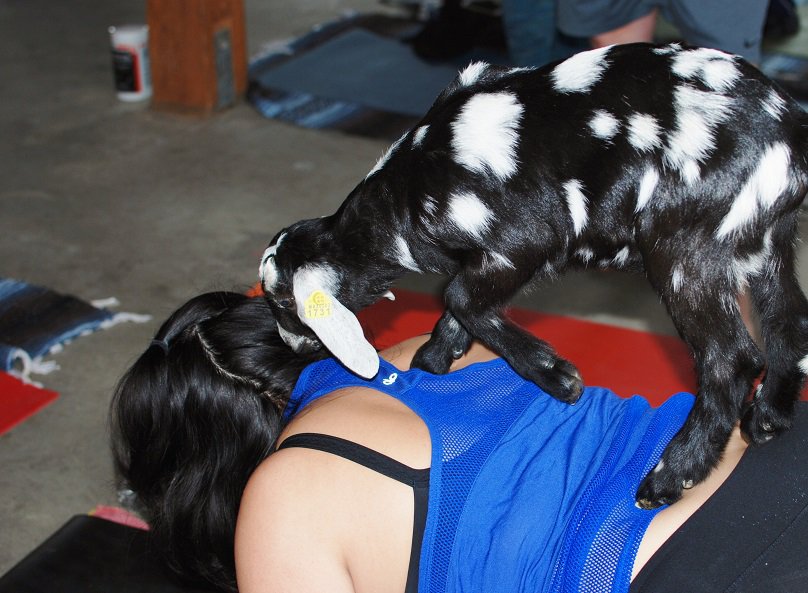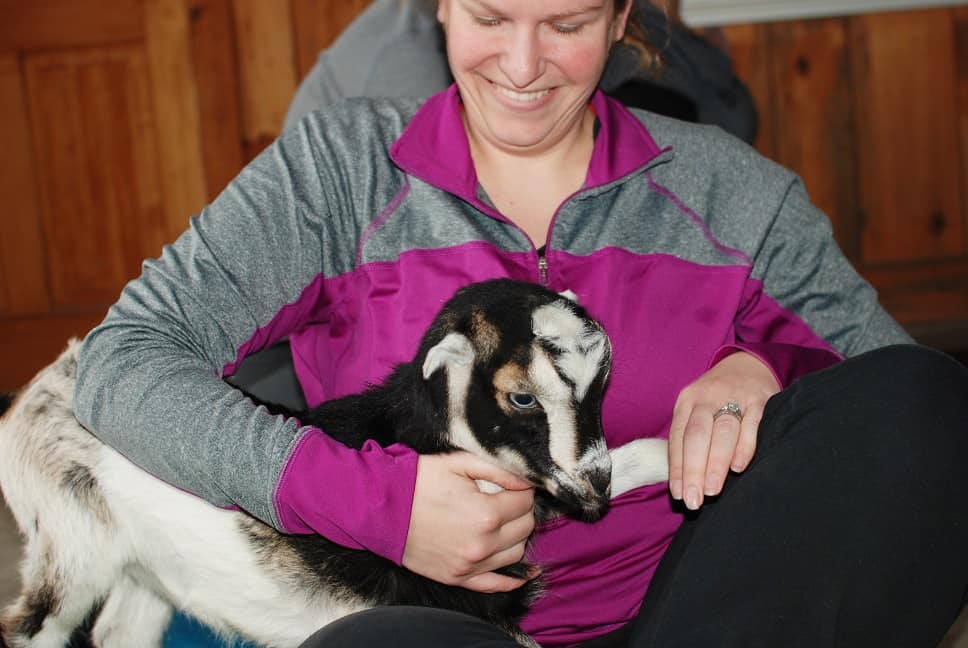 You start off in a quiet room at the barn on your mat, taking deep breaths and settling into a nice relaxed state. About 10 minutes into the class, the staff at Heifer Farm brings the baby goats into the room. Immediately the "awwwws!" start erupting from everyone's mouths and people can't wait to pet the baby goats.
The yoga instructor does a great job of continuing to lead the class throughout the hour and a half session. You'll inevitably stop mid-pose to pet a goat, or to snap some photos, or laugh hysterically because the goat peed on the same guy's mat 3 times.
(Yes, that happened.)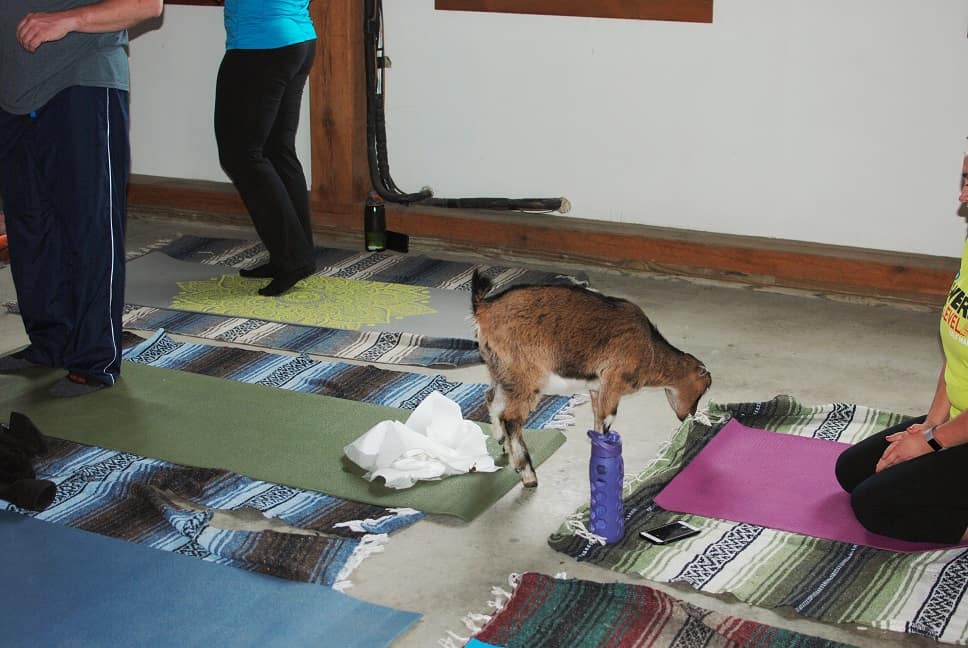 The goats do have some accidents throughout the class, but the staff is great about coming around to clean them up quickly. Paper towels and cleaning wipes are scattered throughout the room to help with such occasions.
Here's what I absolutely love about this class: you know how in regular yoga sometimes your mind starts wandering to all the things you have to do? Unfortunate, but true for me sometimes. Well, in goat yoga, there are none of those thoughts. Your focus is only on the poses and the insanely cute animals frolicking around the room. It's an hour and a half of smiles and relaxation. It's insanely calming and therapeutic.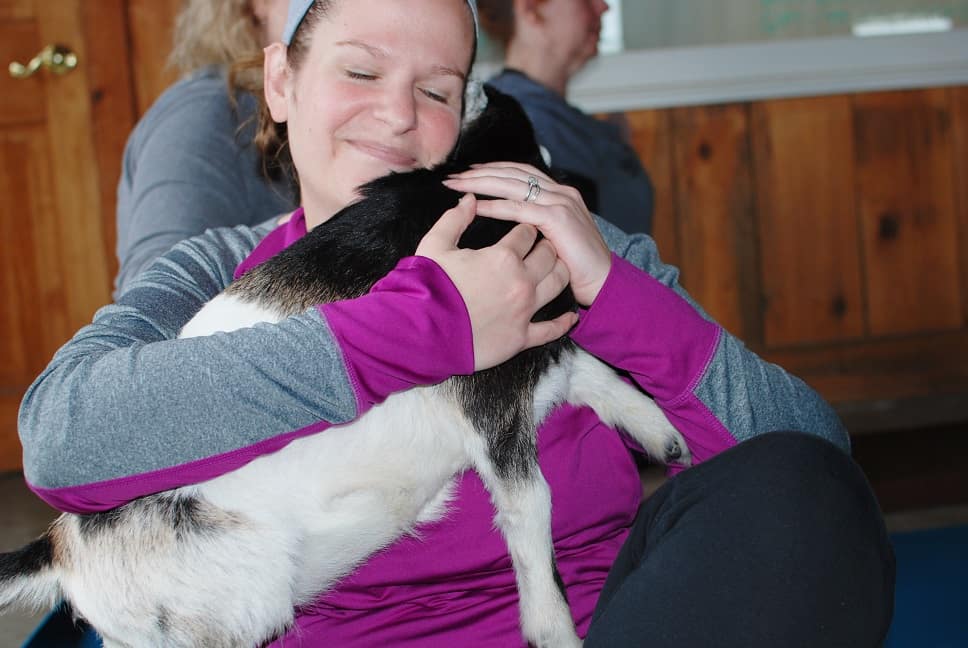 Whether you need an outlet to de-stress a bit, or you feel a little blue and want an event that'll cheer you up – or you just want to grab some amazing goat yoga selfies – I highly recommend trying this out.
If you're local and want to try a goat yoga class in Massachusetts, Heifer Farm offers the following classes this summer for just $20 per class:
June 3, June 17, July 15, July 29, August 12, August 26
Two Sessions Each Day 10-11:30 am & 12 pm – 1:30 pm
*Minimum Age 12
For more details on how to register, check out the Heifer Farm website here.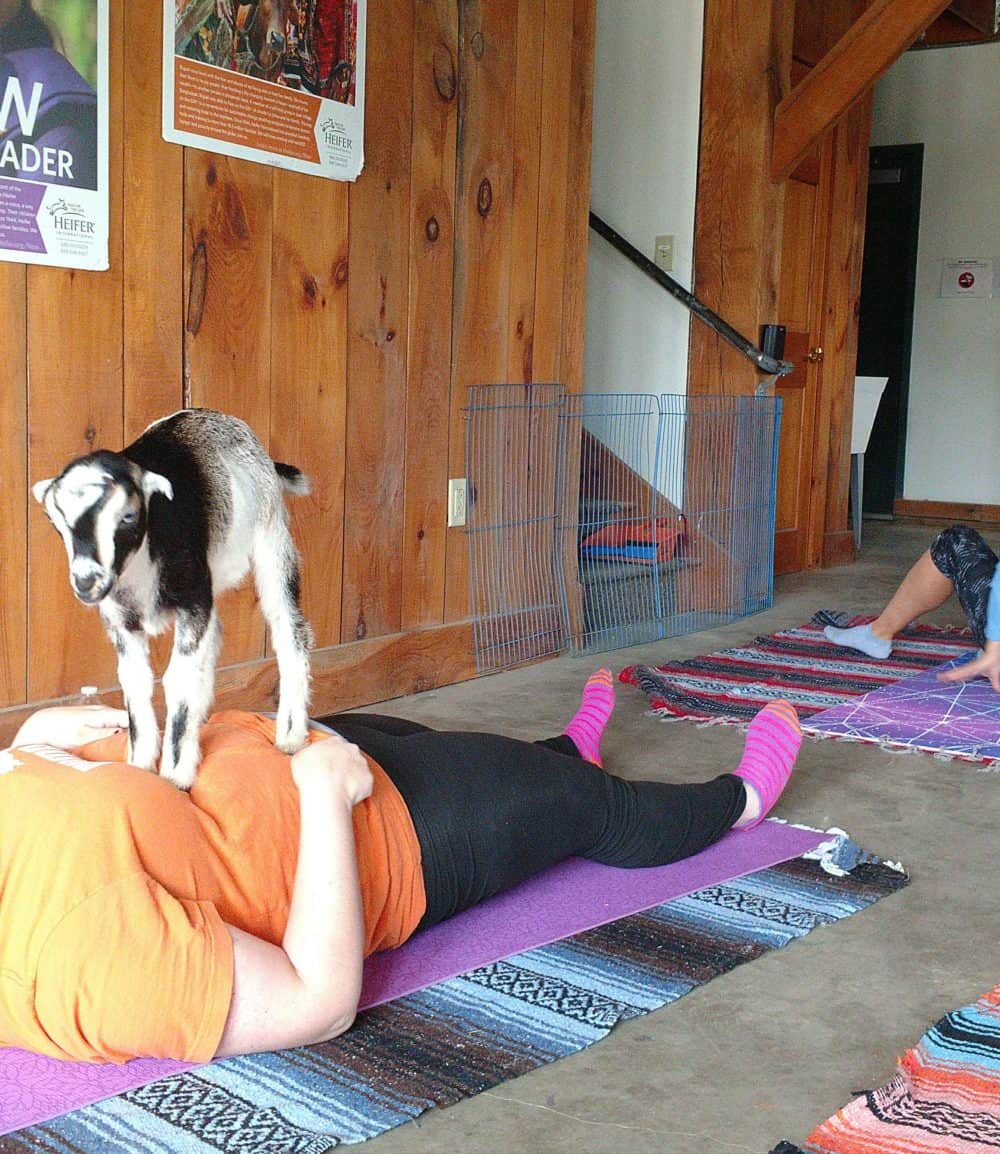 A few tips for your first class:
Dress in comfortable workout gear. Keep in mind your class might be inside a barn or outside on the farm, so I recommend dressing in layers according to the weather forecast.
Bring a yoga mat if you have one; the farm has some for use but if it's a big class you want to ensure that you have one.
The goats will nibble on any clothing or shoes or anything that you leave out on your mat, but the farm offers a side room to store any extra belongings so you can toss everything in there.
Keep your phone/camera handy because you will definitely want to snap some photos!
Keep in mind there's an extremely slim chance that a goat might pee on you (it happened to one woman in our class, lol – the goat was standing on her back and started to tinkle on her). You may want to have a spare set of clothes in your car *just in case*.
PS – If you're thinking you've heard of Heifer before, you probably have – Heifer International works tirelessly to help end hunger and poverty through agricultural projects. They help connect small scale farmers to market opportunities, increasing their likelihood of success and economic stability. You can make monetary donations that support providing livestock and agricultural support to international families in need. Heifer Farm, where I took the goat yoga class, is one of the organization's learning centers. Located in Rutland, Massachusetts, they offer educational experiences and events for children and adults.
Share with me: Have you ever taken a goat yoga class? Do you think you'd be into it? Are there any other fitness trends you're seeing right now?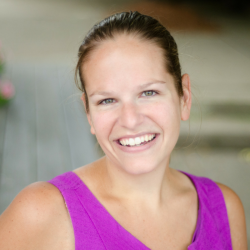 Latest posts by Chrissy Carroll
(see all)