This healthy Cajun potato salad combines delicious petite pure gold potatoes, a spicy Greek yogurt dressing, and blackened shrimp for a flavor-packed side dish. Whether you want to bring it to a summer barbecue (yes, it may be September but, I'm still clinging to summer!) or a dinner party with friends, it's versatile and a crowd-pleaser.
Disclosure: Side Delights® potatoes sponsors this post through Kitchen PLAY. As always, all opinions are my own.
Potatoes: Why I Love 'Em
For some reason, potatoes have gotten a bad boy reputation that they don't deserve at all.
Recently, I got a chance to chat with Jim Pitreau, a potato farmer with Green Thumb Farms in Maine. Jim filled me in on the fact that back when the Atkins craze was full steam ahead, there was a little dip in the amount of potatoes consumed in the U.S.. I'm hoping we don't see the trend repeat itself with all the sensationalized, erroneous headlines we get about carbs these days.
In reality, potatoes are a natural, plant-based source of healthy carbohydrates that come packed with lots of potassium and Vitamin C. This makes them ideal for active folks, like you, to include in your diet! They help stock your muscles with the energy they need to perform day in and day out.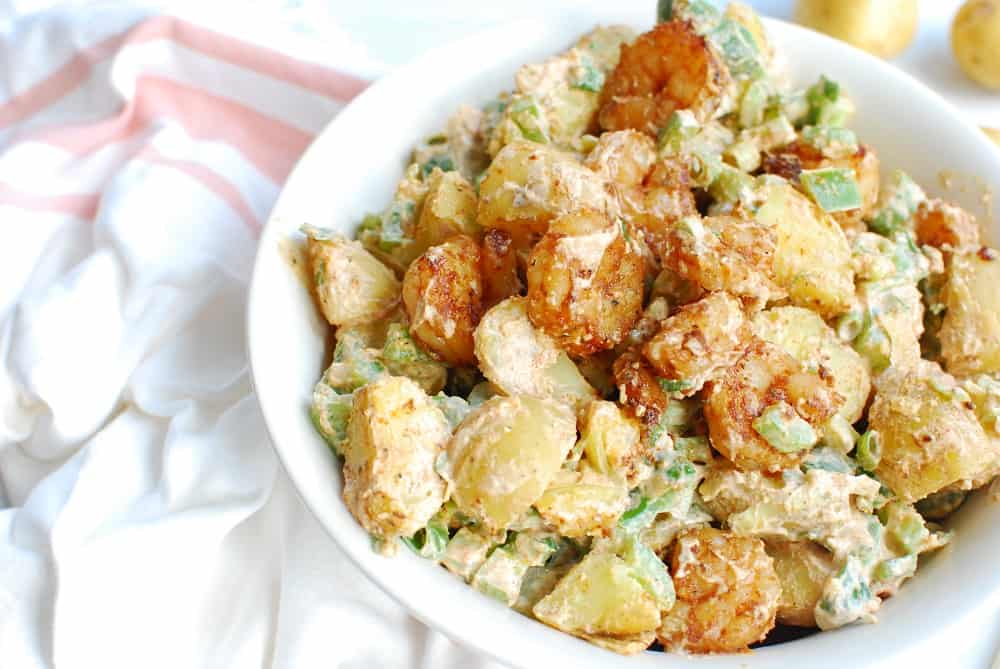 If you've seen my race potatoes recipe, you know they can also be functional during activity as well. In that recipe, I use potatoes and beef broth to create a rich/savory running fuel source that's ideal for any of you who are getting bored of sweet gels.
This Cajun potato salad is a great option to include as part of your everyday diet to support your fitness goals. The recipe gets a nutritional step up from the original classic by using Greek yogurt rather than mayonnaise – and before y'all kick me out of the barbecue, I swear it's still really good this way! Even my hubby loved it.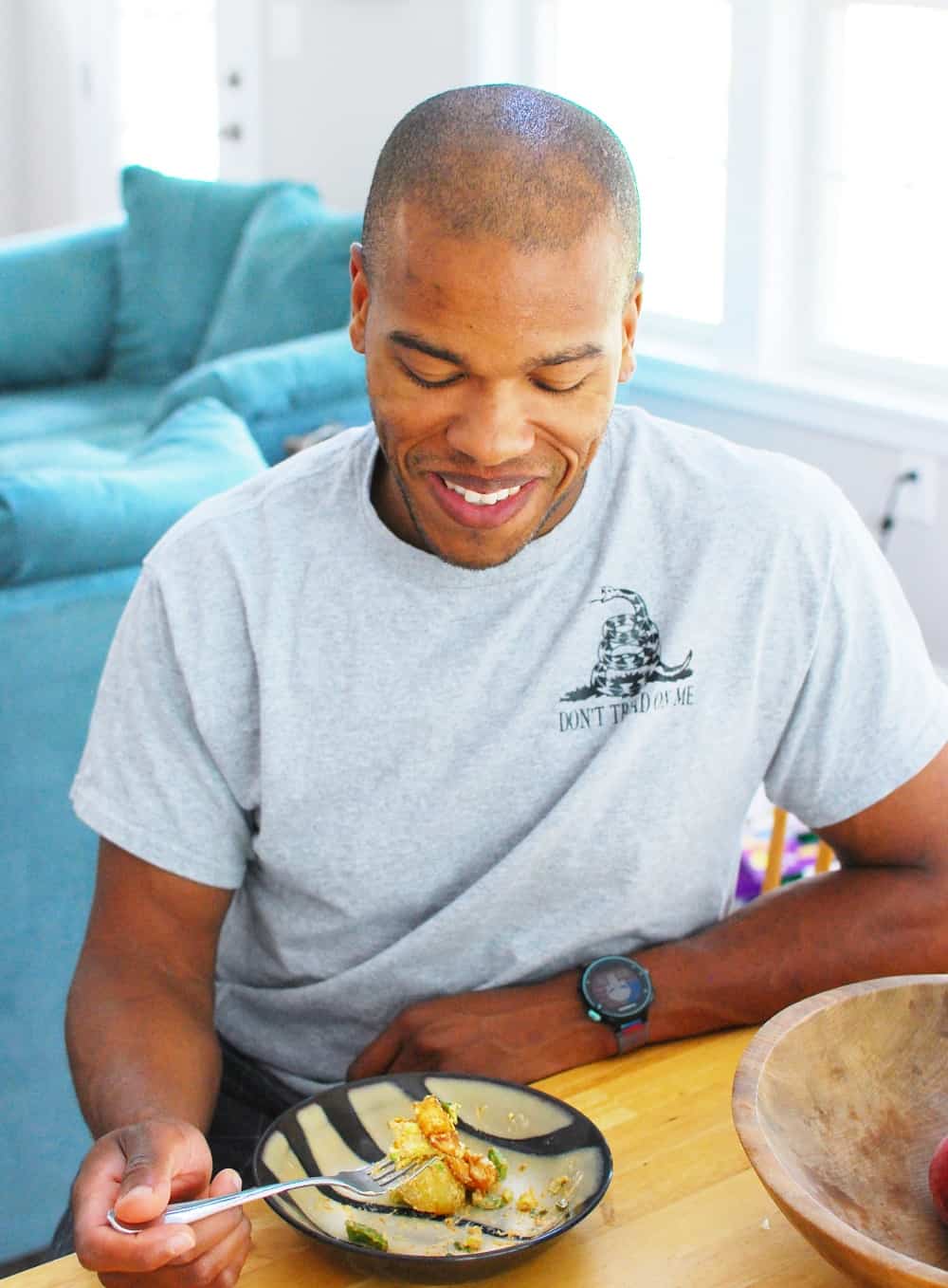 I've also added some blackened shrimp for extra lean protein. The result is a side dish that has a great blend of both carbohydrate and protein – and one serving packs as much potassium as three bananas!
How to Make a Healthy Cajun Potato Salad
Alright, so you know potatoes are good for you – now it's time to whip them up into a fan favorite side dish!
The first thing you'll need to do is make a blackening spice mix. I use the same spice mix from my black and blue burger recipe – it's so versatile!
Here's what you need for that:
Paprika
Italian seasoning
Garlic powder
Onion powder
Cayenne
Pepper
Salt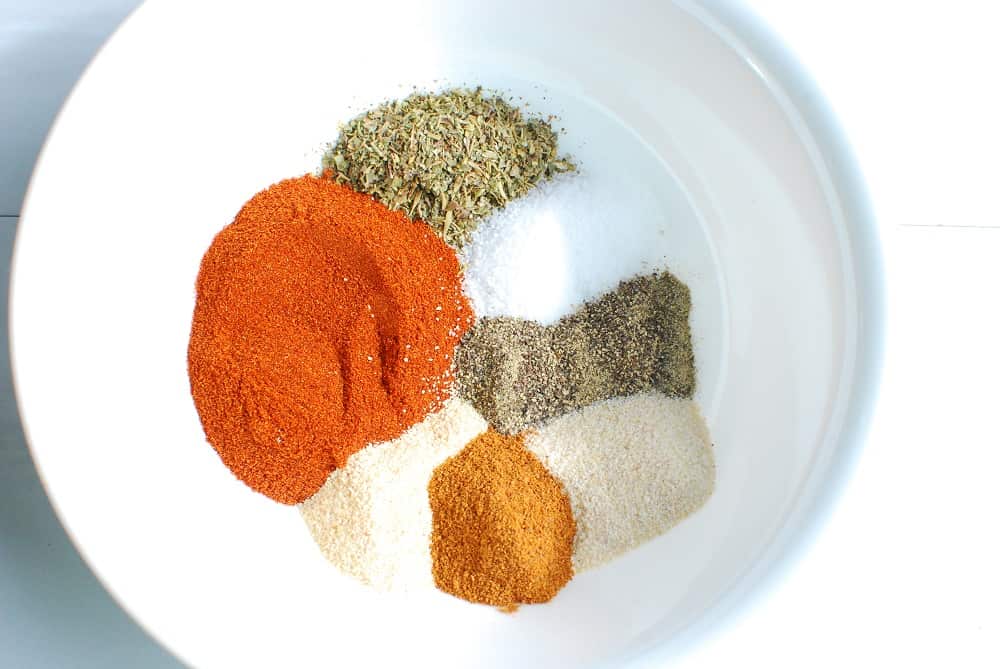 You'll mix up those spices and use them in two ways in this recipe – for the shrimp, and the dressing.
Now for the potato salad itself, here's what you need:
Green onions
Celery
Bell pepper
Shrimp
Olive oil
Blackening spice mix
Butter
First, you'll chop up your veggies and add them to a mixing bowl.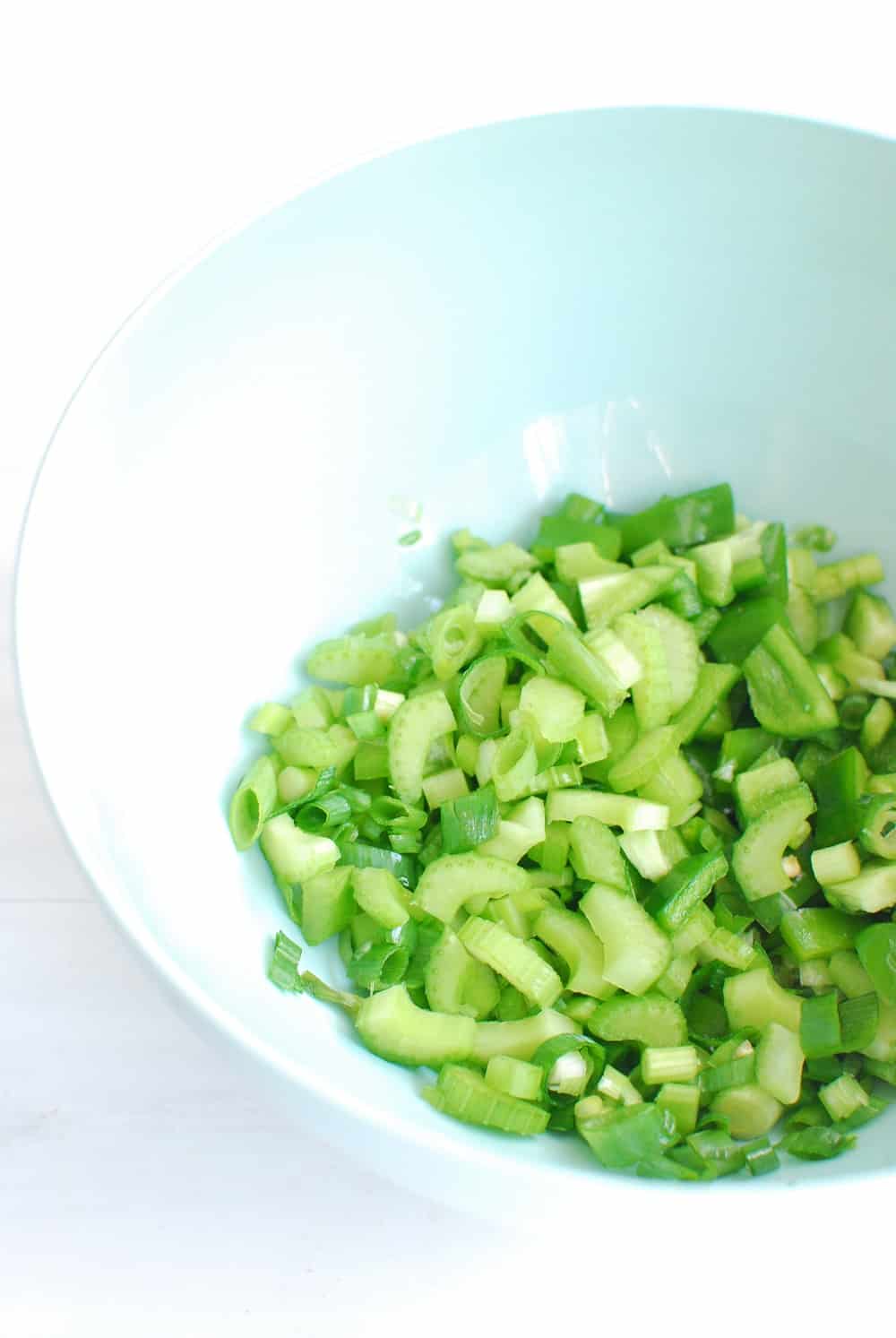 Then you'll chop and boil your potatoes. The Side Delights® Gourmet Petite Pure Gold potatoes are perfect for this recipe. They take on an almost luxurious quality in flavor and texture when cooked.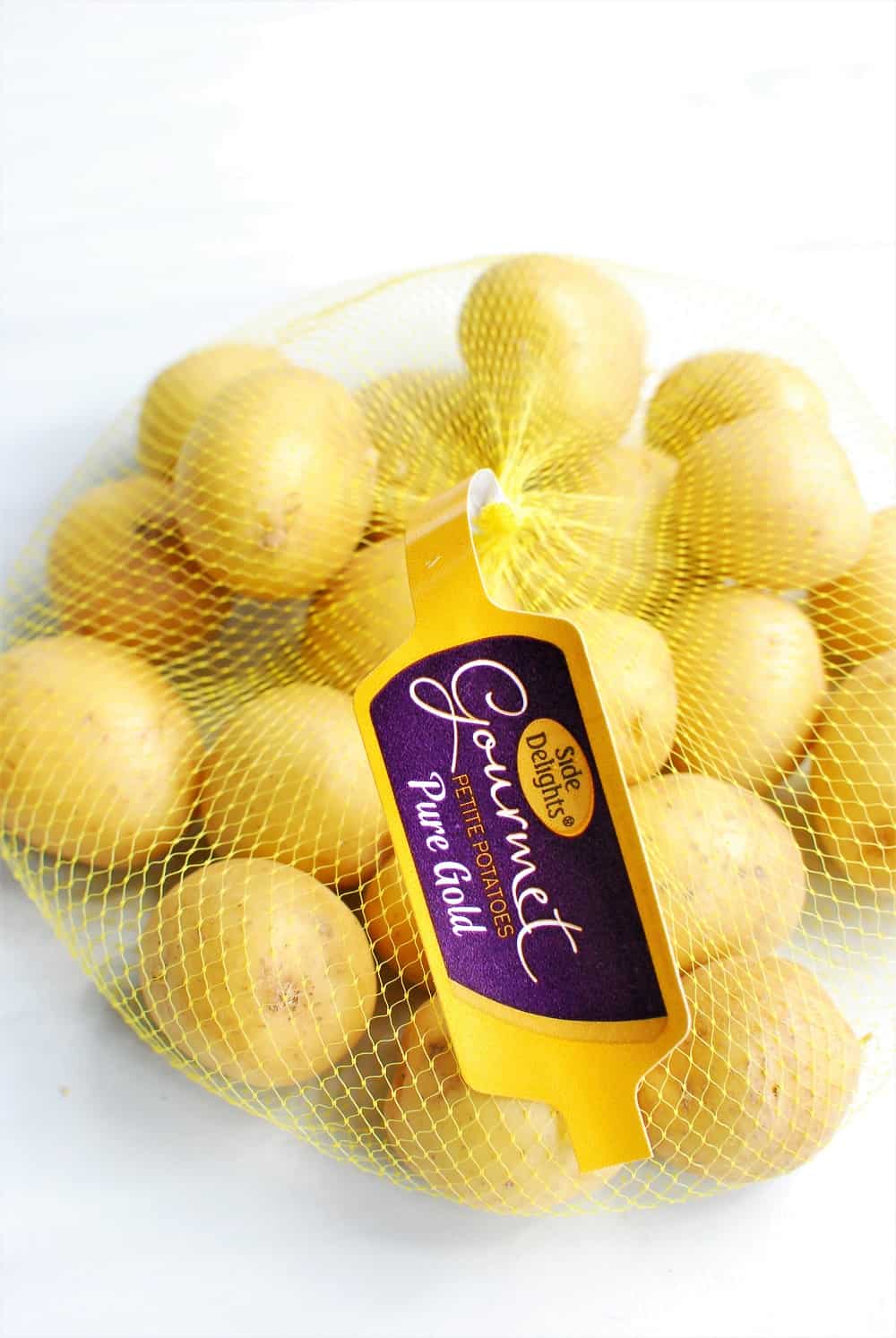 Or, if you'd rather not have two things going on the stove at once, you can also use Side Delights® Steamables 1.5 lb. bags instead. You can pop these in the microwave and they steam right in the bag in just 8 minutes!
While the potatoes are cooking, you'll cook your shrimp. Toss the shrimp in a little oil and blackening spice mix. Then sauté them in butter until cooked.
The last part you'll need to make is the dressing:
Plain Greek yogurt
Spicy mustard
Lemon juice
Blackening spice mix
You'll whisk all these together to make a tangy, spicy dressing that pairs perfectly with the potatoes and shrimp.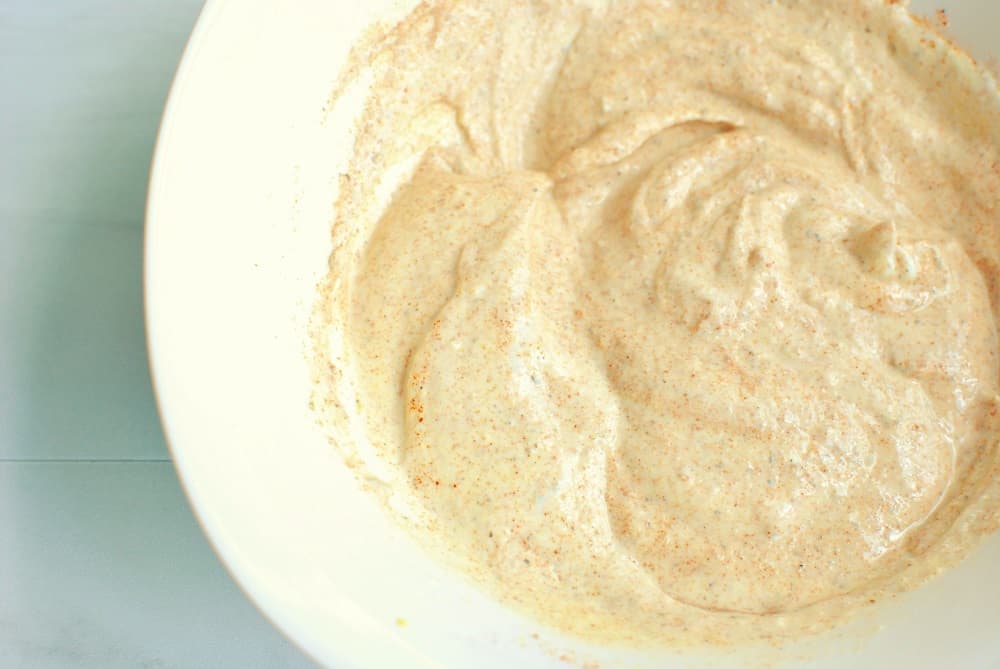 Toss everything together and boom – a flavorful potato salad that everyone will love. I recommend serving it warm, but you can also serve it cold if you prefer.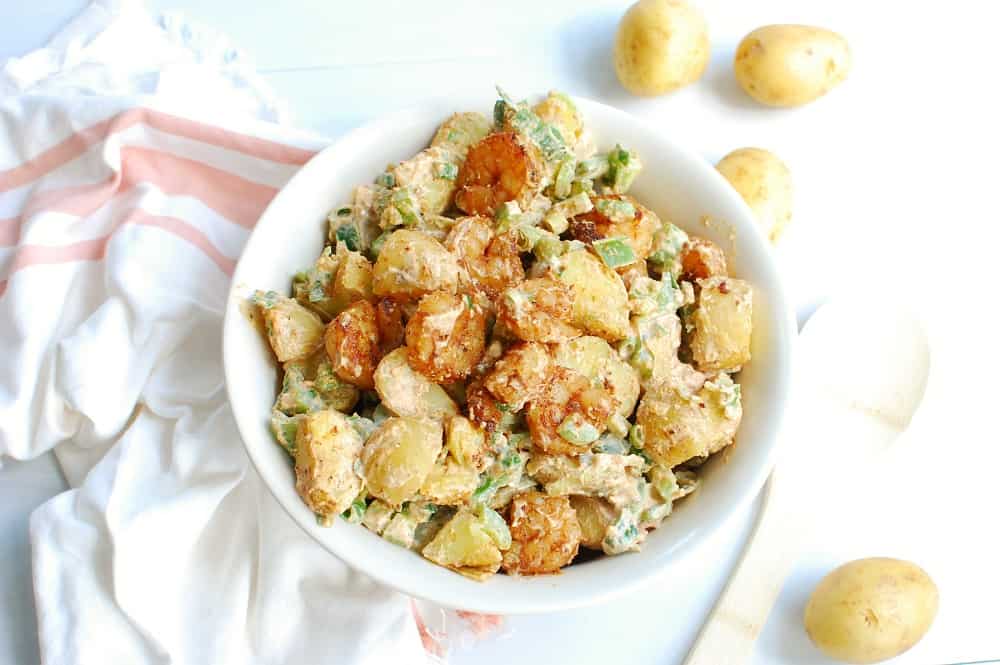 Appreciating where our food comes from
As a bit of an aside – when you make this Cajun potato salad, or any other delicious potato recipe, put a little good juju into the universe by feeling grateful for the farmers that make it happen.
My convo with Jim at Green Thumb Farms helped me better connect with how much work goes into getting those potatoes from the farm to our plates. Green Thumb Farms supplies some of the potatoes that go into Side Delights® products.
Farmers are amazing agribusiness men and women who are passionate about their land and feeding the US. These are the people that put food on our table, and I'm so grateful for their knowledge and intelligence when it comes to growing food.
They also put a lot of effort into maximizing every bit of food grown at the farm. For example, the most aesthetically pleasing potatoes will go to the supermarket. But that doesn't mean the rest is wasted. The next cut might go to foodservice operations. If there are potatoes where the skin isn't perfect, but they are still good to eat, they might be peeled and processed into value-added products. And then the last batch of 'em might go to the micro-distillery where they're used to make some boozy drinks.
And of course, just like us, all of these potato farmers are doing their best to support and raise their families. When asked his favorite part of being a farmer, Jim replied: "Having a son that loves tractors, and who asks me at the grocery store – Dad, did you grow those potatoes?".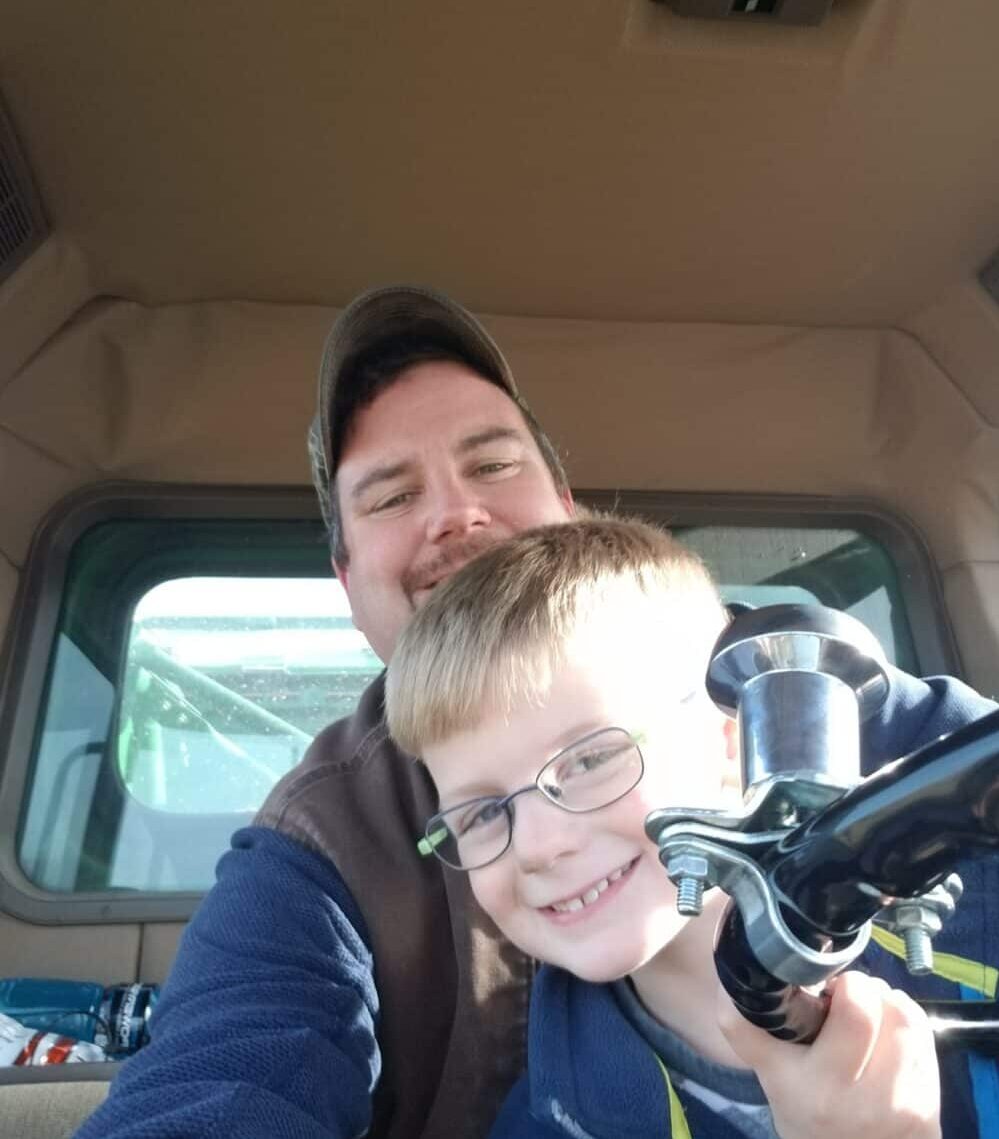 I'll leave you with this – I asked Jim to summarize what it was like to be a farmer, and his answer reminded me exactly of what a lot of us would say about being a runner or triathlete:
"There's a lot of heartaches, and it tests you emotionally, but it's the best job out there. When it's a good day, it's the best day. And when it's a bad day – there's always tomorrow."
Words of wisdom, friends.
Now go get yo' potato on with this tasty Cajun potato salad.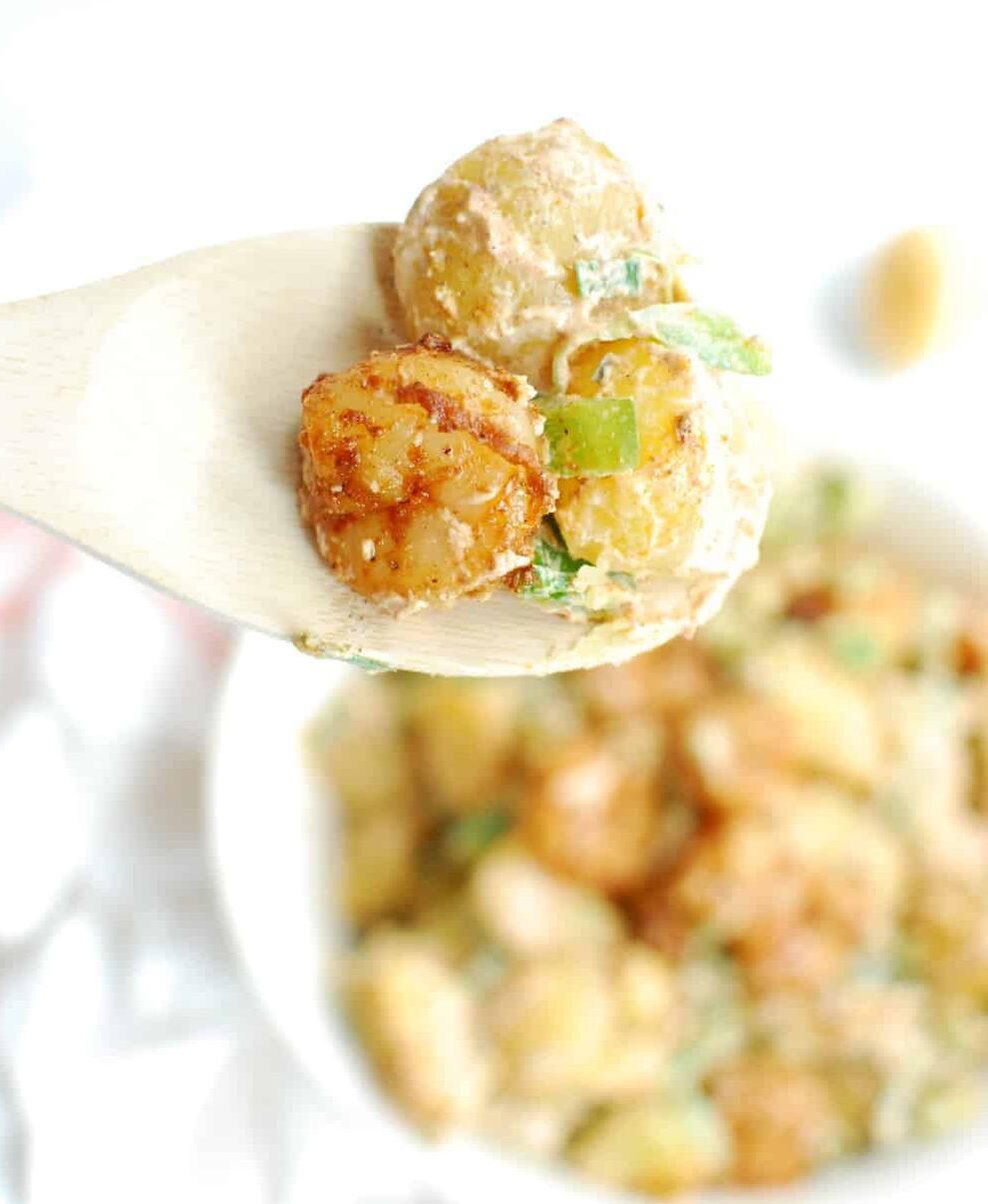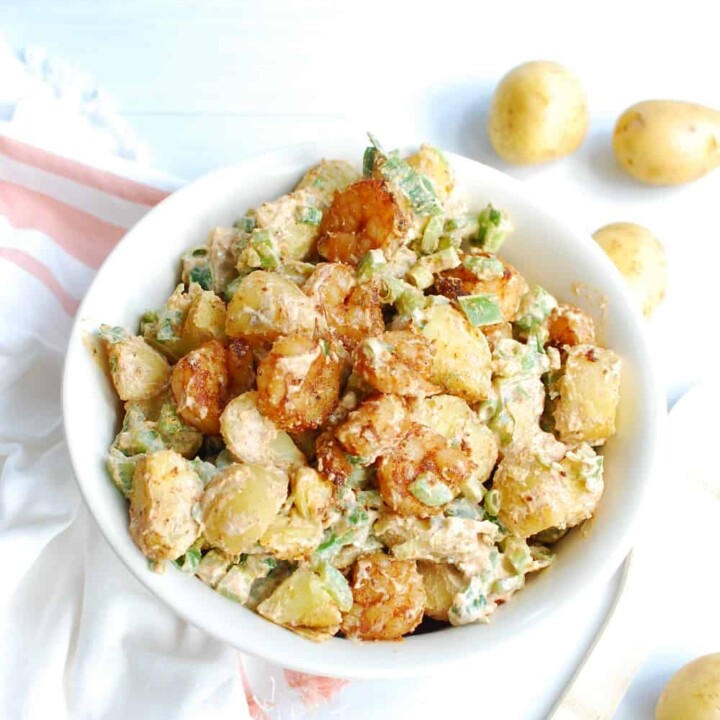 Healthy Cajun Potato Salad
This healthy Cajun potato salad combines delicious petite gold potatoes, a spicy Greek yogurt dressing, and blackened shrimp for a flavor-packed side dish.
Ingredients
Blackening Spice Mix:
1

tbsp

paprika

1

tsp

Italian seasoning

1

tsp

garlic powder

1

tsp

onion powder

1/2

tsp

cayenne

1/2

tsp

pepper

1/2

tsp

salt
Potato Salad:
3

green onions, thinly diced

2

stalks celery, chopped

1

bell pepper, chopped

2

lbs

Side Delights® Gourmet Pure Gold Petite Potatoes

1 1/4

lbs

raw shrimp, peeled, deveined, and tail removed

1/2

tbsp

olive oil

1

tbsp

blackening spice mix

1

tbsp

butter
Dressing:
1/2

cup

plain nonfat Greek yogurt

1

tbsp

spicy mustard

2

tsp

lemon juice

1

tbsp

blackening spice mix

(or more to taste)
Instructions
Add all the spices for the blackening spice mix to a small bowl, stir well, then set aside for now.

Chop your onions, celery, and bell pepper, and add to a large mixing bowl. Set aside for now.

Halve or quarter the potatoes (depending on your preferred size) and place them in a pot. Fill with water until all potatoes are submerged. Bring to a boil over medium heat on the stove and cook for about 10-12 minutes, or until tender.

Meanwhile, as potatoes are cooking: Toss your shrimp in the olive oil, then with 1 tbsp of the blackening spice mixture you prepared earlier.

Heat 1 tbsp butter in a skillet over medium heat. Add the shrimp and cook for about 2 minutes. Flip and cook for an additional 2-3 minutes, or until shrimp is cooked through. Remove from heat.

When potatoes are done, drain and add to your bowl with the chopped veggies. Add the shrimp.

In a small mixing bowl, whisk together the Greek yogurt, spicy mustard, lemon juice, and about 1 tbsp (more or less, according to taste) of the remaining blackening spice mix.

Pour the yogurt-based dressing over the potato/veggie/shrimp mixture. Toss everything well to combine. Serve warm and enjoy!
Notes
Nutrition analysis (approximate per serving):
270 calories, 4 g fat, 1.5 g saturated fat, 372 mg sodium, 31.5 g carbohydrate, 5 g fiber, 3.5 g sugar, 28 g protein, Vitamin A: 19%, Vitamin C: 62%, Calcium: 14%, Iron: 20%, Potassium: 36%
Nutrition
Share: Are you a fan of classic potato salad or do you prefer new takes on it like this? If you tried this Cajun potato salad, what did you think?
PS – Want to find out more about other Side Delights® products? From Steamables, Bakeables, Grillables, Flavorables and more – be sure to check out their website for a full look at all the convenient products they have to purchase at your local grocery store.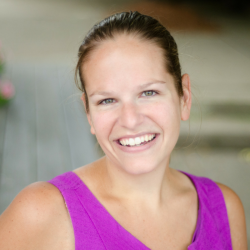 Latest posts by Chrissy Carroll
(see all)