I love any type of takeout food, but knowing that it's not great for health – or the wallet – means I don't indulge in it often. So lately, I've been on a quest to try to recreate healthier versions of some of my favorite takeout foods. This healthy chicken stir fry is a fantastic 'fakeout takeout' recipe!
Now, if it were up to the hubby, we would probably be making the hour long trek to Quan's, his favorite Chinese food place in his hometown, every week. He looooves that place. But I'd like to think I can create at least somewhat comparable, better-for-you alternatives.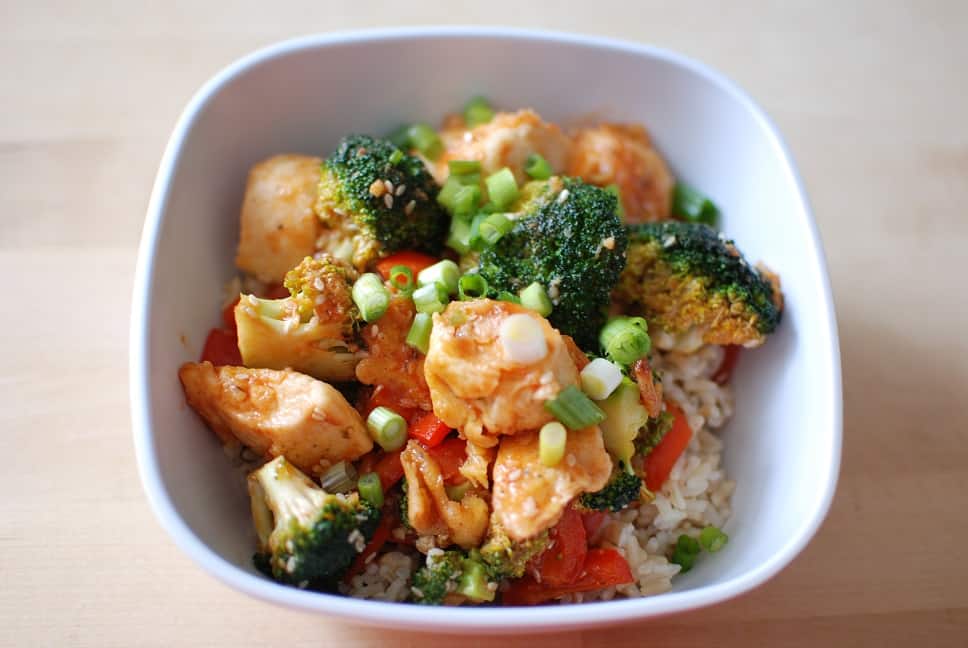 I actually made up this recipe with the goal of it being a healthy sesame chicken recipe. But I think the addition of the tomato paste and the rice vinegar to the sauce, plus the veggies (broccoli and bell pepper), made it more like a healthy chicken stir fry recipe instead. Either way, both my husband and I thought it was delicious.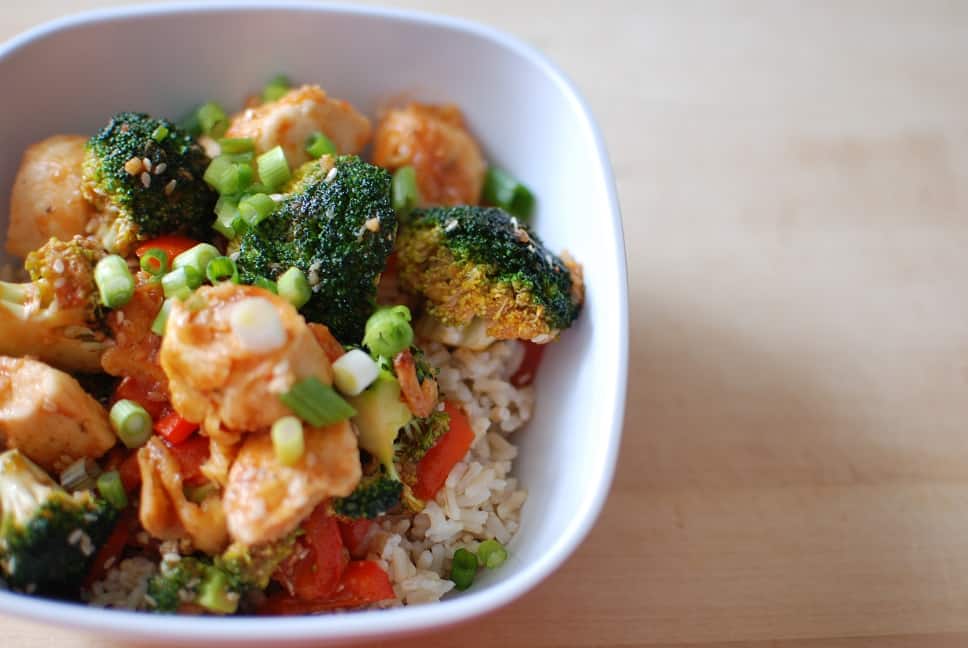 Why is this healthy chicken stir fry better than the takeout versions?
Broccoli and bell pepper add important vitamins, minerals, phytochemicals, and fiber to this meal.
Using brown rice rather than white rice gives you a less processed grain with more fiber.
I still use some added sugar (honey) in this recipe, but far less than many traditional takeout versions.
The sauce uses lower sodium soy sauce – a better choice than traditional soy sauce to cut down on salt content.
The chicken is only lightly sautéed in minimal oil – cutting down on added fat and calories compared to deep fried versions.
[Tweet "It's a takeout fakeout! Try this healthy homemade chicken stir fry for a healthier dinner!"]
Give this recipe a try today and let me know what you think!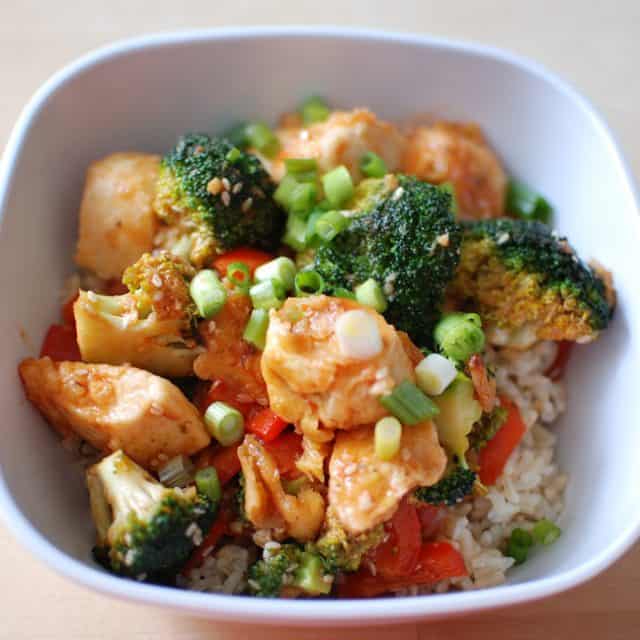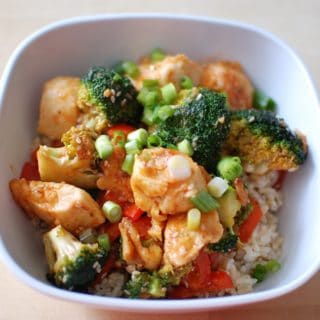 Healthy Chicken Stir Fry
This healthy chicken stir fry recipe is a perfect option when you're craving takeout but want something better for your health – and budget!
Ingredients
Ingredients:
1

cup

instant brown rice

(dry)

1

tbsp + 2 tsp

sesame oil

2

cups

broccoli

(chopped florets)

1

bell pepper, chopped

1

lb

chicken breast, cut into 1 inch pieces

1/4

tsp

pepper

2

eggs

3

tbsp

corn starch

1/3

cup

honey

1/4

cup

lower sodium soy sauce

2

cloves

garlic, minced

2

tbsp

sesame seeds

1 1/2

tbsp

rice wine vinegar

1 1/2

tbsp

tomato paste

3

green onions, thinly sliced
Instructions
Directions:
Prepare 1 cup instant brown rice according to package directions.

Meanwhile, heat 1 tbsp sesame oil in a large skillet. Add broccoli and bell pepper. Sauté for 5 minutes or until crisp-tender. Remove from pan and set aside in a bowl.

Whisk together eggs and corn starch in a bowl. The mixture should be somewhat thick.

Season chicken with pepper (I skipped seasoning with any salt, since you'll get plenty in the soy sauce mixture), then dredge in egg mixture. [There will be some egg mixture leftover; toss whatever is left.]

Heat remaining 2 tbsp sesame oil in skillet. Add chicken and cook until browned and fully cooked, approximately 5 to 8 minutes.

While chicken is cooking, prepare sauce in another bowl: mix together honey, soy sauce, garlic, sesame seeds, tomato paste, and rice wine vinegar.

When chicken is fully cooked, add sauce. Cook for a minute or two until heated through and thickened. Toss with cooked vegetables.

Serve chicken and vegetables over brown rice, and garnish with green onions.
Notes
Approximate nutrition analysis (per serving):
504 calories, 16 g fat (3 g sat fat), 670 mg sodium, 57 g carbohydrate, 4 g fiber, 33 g protein, Vitamin A: 15%, Vitamin C: 117%, Calcium: 11%, Iron: 19%; Potassium: 20%, B6: 45%, Vitamin K: 93%
Nutrition
Share with me: What's your favorite kind of takeout? Do you ever try to cook and recreate your takeout recipes at home? Do you think you'd enjoy this healthy chicken stir fry?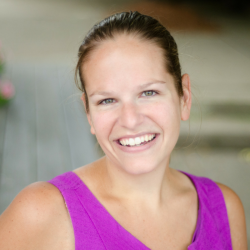 Latest posts by Chrissy Carroll
(see all)