If you're a fan of peanut butter, this list of holiday peanut butter treats was made for you! We all know PB is insanely delicious, and it can be used in so many different ways. Desserts are a classic way to use it – and there will definitely peanut butter dessert on my table at least once this holiday season.
From peanuts to peanut butter…
Back in September I was lucky enough to go on a tour of a peanut farm down in Virginia (sponsored travel, but this post is not), which was so interesting. Did y'all know peanuts grow in the ground? Check it out…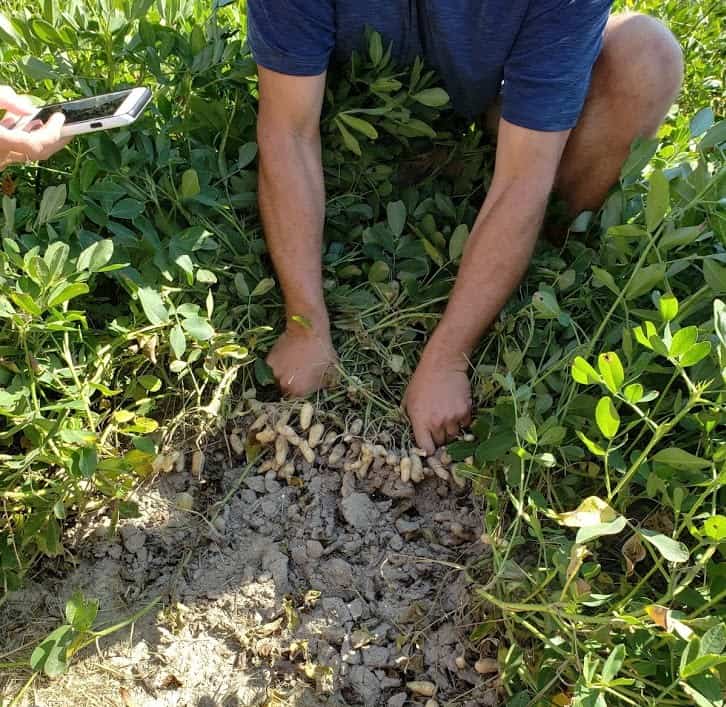 I also didn't realize that peanuts fresh outta the ground are "green peanuts" – fresh harvested nuts, which are often used for making boiled peanuts. But for most of us, we're used to seeing a later end product which is when the peanuts are dried out a bit to reduce their moisture content and make them shelf stable. It was interesting to taste both and experience the difference in flavor and texture.
Of course, from those delicious dried nuts comes one of my very favorite foods ever – peanut butter. You can actually make your own peanut butter at home if you've never tried it. Just process peanuts in a food processor intermittently until they turn into peanut butter. Delicious!
Clearly, I'm pretty serious about my love for PB…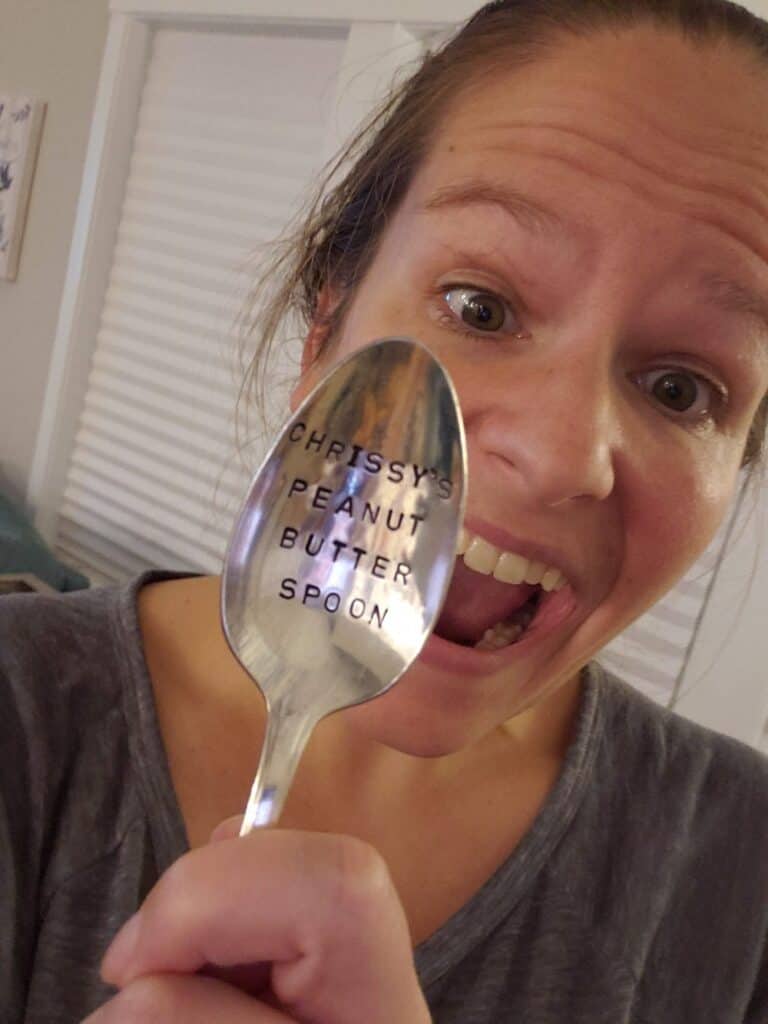 Because of this, I wanted to showcase some delicious peanut butter holiday recipes – those kinds of desserts that I think would be great this time of year. This roundup has some healthier recipes and some indulgent classics, so you're sure to find an option that works for what you're searching for.
10 Holiday Peanut Butter Recipes
Need a way to boost your energy this holiday season with a healthier holiday dessert? Try these peanut butter energy balls. They combine indulgent ingredients like chocolate and maple syrup with nutritious options like flax, oats, and peanut butter – to form a tasty no-bake dessert. Plus, these are naturally sweetened with raisins and maple syrup.
Who said apples were boring? In this recipe, apples are drizzled with peanut and some chocolate so you can cure that sweet tooth craving in a healthy(ish) way. These are a great option to put out for the kiddos and let them go to town.
This is a vegan and gluten free take on the classic cookie – great if you have dietary limitations and need a dessert that fits that. You'll use cassava flour instead of regular flour, and lightly sweeten the recipe with coconut sugar. (PS – if you're not vegan, you can just use regular Hershey's kisses rather than making homemade ones).
Hot chocolate with peanut butter?!?!? Mind. Blown. This is a fun take on the traditional hot chocolate drink, with options for making on the stovetop or in the instant pot. It's perfect for chilly holiday mornings and are great for kids while everyone is visiting. (Side note – if you're not dairy free, you can sub in regular dairy milk).
Holy moly, these look incredible. You've got two peanut butter cookies (that apparently are similar in taste to Do-si-do® Girl Scout Cookies!), with a chocolate coconut cream filling sandwiched in between. These are a show-stopper dessert.
These aren't your typical flapjacks, especially if you're thinking of pancakes. These take on the European meaning of the word – a delicious oven baked oat bar. These are made with healthy ingredients like oats, nuts, raisins, and banana – make them a great option for breakfast or dessert.
Just 5 ingredients and quick to make? That's my kind of recipe! Yes, these are full of sugar and butter….and I want to dive right in. 😉
This is a super simple and delicious old-fashioned peanut butter pie recipe that everyone will enjoy. You'll only need 7 ingredients to make this recipe.
These peanut butter banana apple balls are a great healthy snack for those hectic days of shopping, wrapping, and cooking. They're easy to make and nutritious, and perfect for kids and adults alike. You can also use them as a simple finger food dessert your guests will love.
Thumbprint cookies always remind me of being at a grandparents house – it just seemed to be that kind of classic dessert they had on hand. These cookies are great for family get togethers and holiday parties – they're kind of like peanut butter and jelly in cookie form!
Share: Which of these holiday peanut butter treats do you want to try?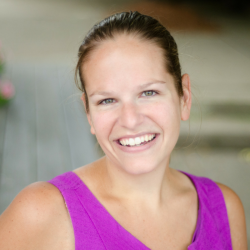 Latest posts by Chrissy Carroll
(see all)