Craving a fall dessert? Try this honey apple crisp! This recipe makes six servings, perfect for a family dessert. It's packed with sweet notes of apples, honey, and cinnamon, with a crisp oat topping.
Why use honey in your desserts?
I've gotten really into honey lately. I love that each bottle can vary a bit in flavor from one to the next, making for a slight surprise with every dessert you bake. That's because honey bees make honey from flower nectar, and the taste of this varies considerably from plant to plant.
Many media outlets assume honey is much better for your body for table sugar, but unfortunately, as a dietitian I'd argue that isn't really the case. There are a few small differences though.
Both honey and table sugar are comprised of mainly glucose and fructose. Table sugar is about 50% of each glucose and fructose, while honey is about 30% glucose, 40% fructose, and 20% comprised of some other compounds (disaccharides, oligosaccharides, water, etc). Because of this different breakdown, honey may have a slightly lower glycemic index compared to table sugar. (That said, this is likely insignificant in the grand scheme of your meal plan.)
Honey does contain more antioxidants than table sugar, though, which is a plus. And of course, some people enjoy knowing that it's less processed than other forms of sugar.
Keep in mind that because of the risk of botulism spores in honey, this dessert – or any honey products – should not be served to children under the age of one.
How to make this apple crisp
OK, now that you've stocked up on your honey – here's how to make this dessert! It's quite easy; beginner bakers should have no problem with this recipe. Full recipe instructions are in the recipe card at the bottom of this post, but here's a quick overview.
You'll start by making your filling, which is just a combination of sliced apples, flour, lemon juice, honey, and cinnamon.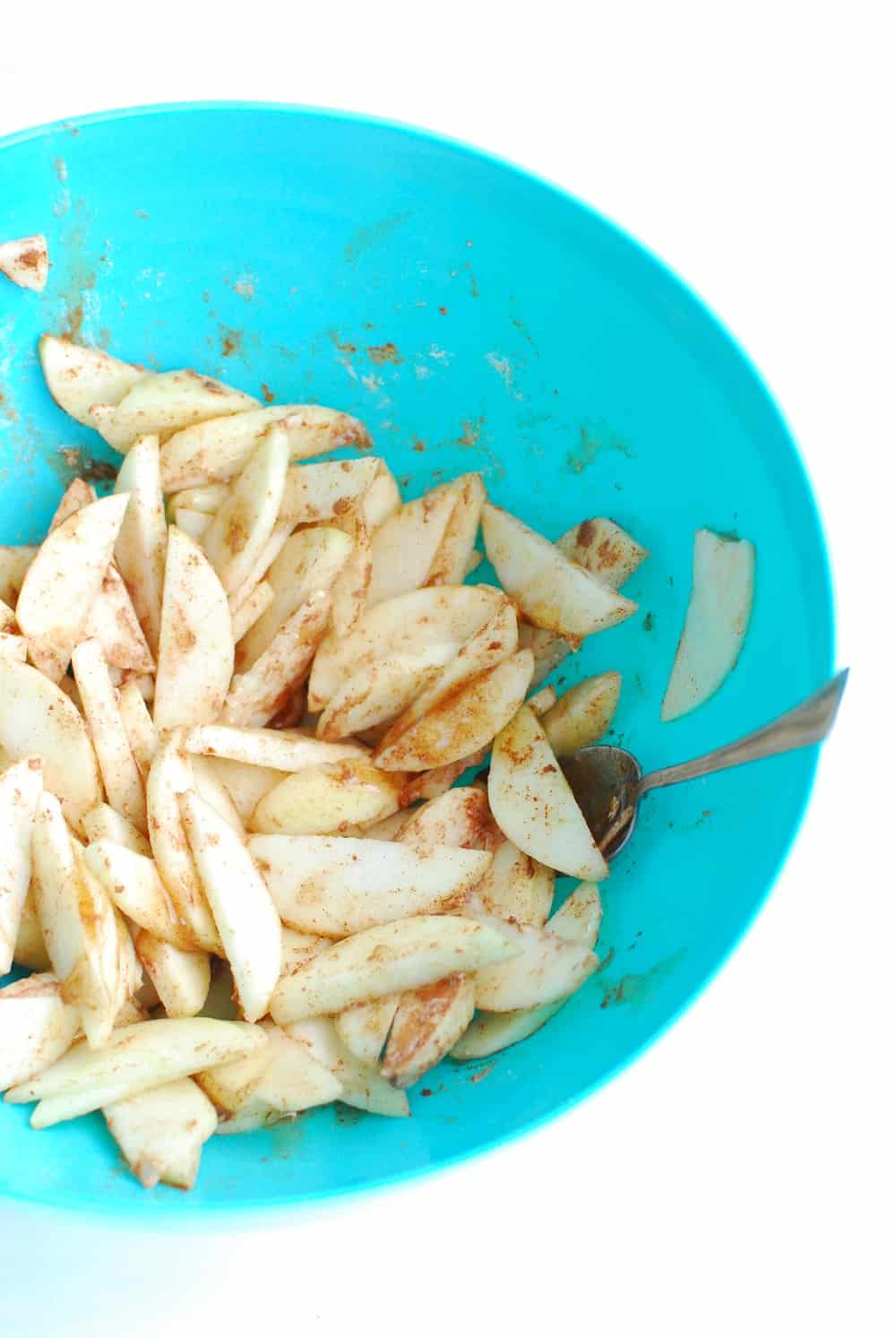 Then you'll make your topping, which is a combination of flour, oats, butter, honey, cinnamon, and salt.
You'll layer your filling then your topping in a baking dish and pop it in the oven. And that's it!
When it's done, let it cool down for a few minutes then serve it warm. I personally love it with a scoop of vanilla ice cream on top.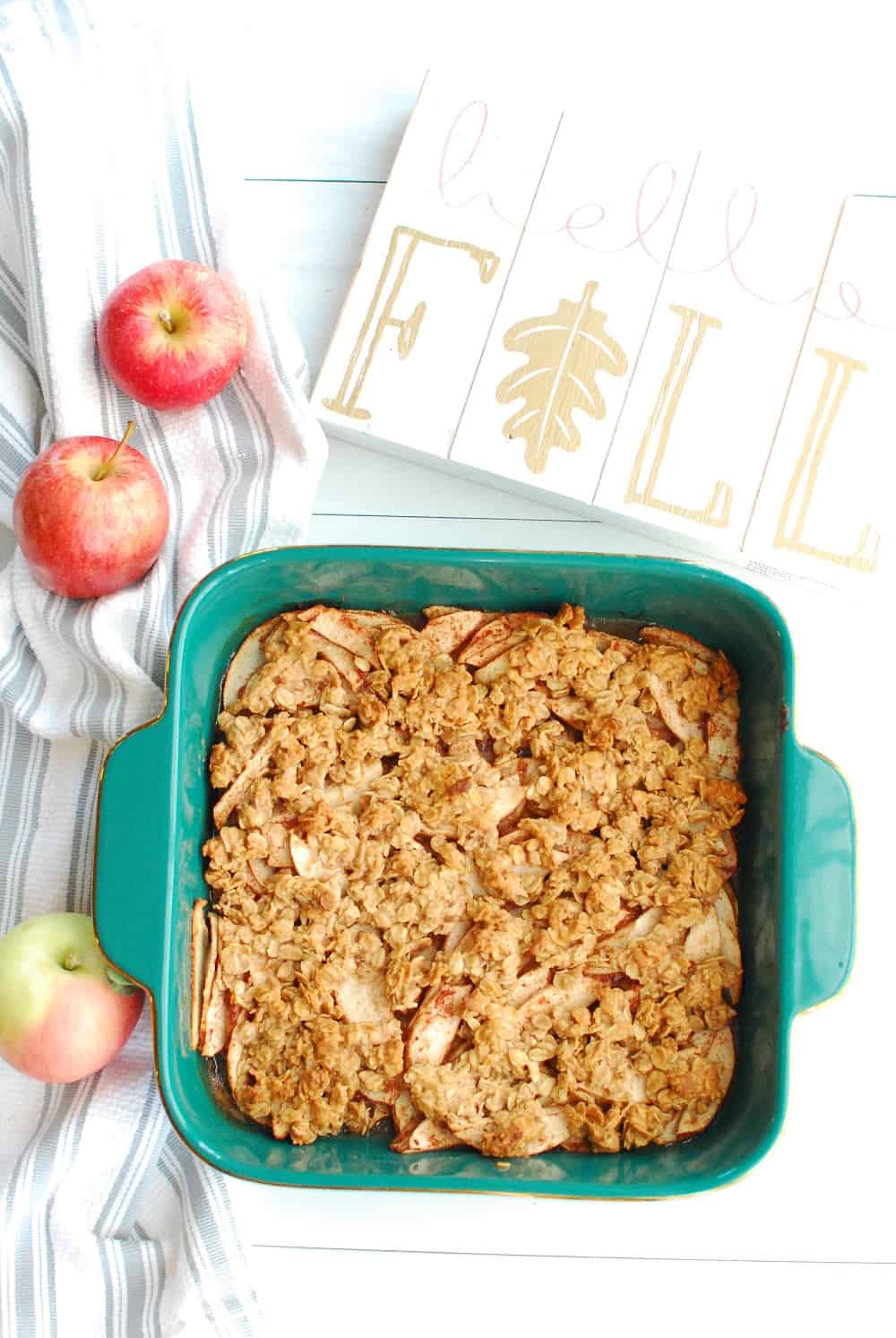 Recipe FAQ
Here are some common questions you may come across as you prepare this recipe:
What are the best apples for honey apple crisp?
When it comes to baked apple recipes (like pies and crisps), you ideally want apples that will hold their structure well and won't turn to mush with prolonged baking. Here's some of the best options for this:
Honeycrisp
Granny smith
Jonagold
Braeburn
Mutsu
Pink Lady
Zestar
Which kind of honey should you use?
Any kind will work for this honey apple crisp!
Locally, we're obsessed with Hudson Hives honey.  They have varietals like summer wildflower, Japanese knotweed, and wild blueberry.  By far my favorite though is the New England cranberry honey, which is sourced from areas where bees forage on cranberry bogs, giving it a sweet honey taste with hints of cranberry, cinnamon, and plum.  That's what I used when I made this batch!
If you don't have great honey locally to you, I also really enjoy Nature Nate's as a grocery store option. The product is high quality and very flavorful.
Can you make this recipe dairy free?
You sure can. Instead of using butter in the topping, use a dairy-free butter or avocado oil as a substitute.
Can you make this recipe gluten free?
Yes. Instead of using all-purpose flour in the filling and topping, use almond flour instead. Also, be sure to purchase certified gluten free oats.
How should you store leftovers?
Store leftovers in the fridge for up to 5 days. I usually just reheat it in the microwave, but you do lose out on the crispness of the topping in that case. If you want a crisp topping, reheat it in a toaster oven or conventional oven in a small oven-safe ramekin.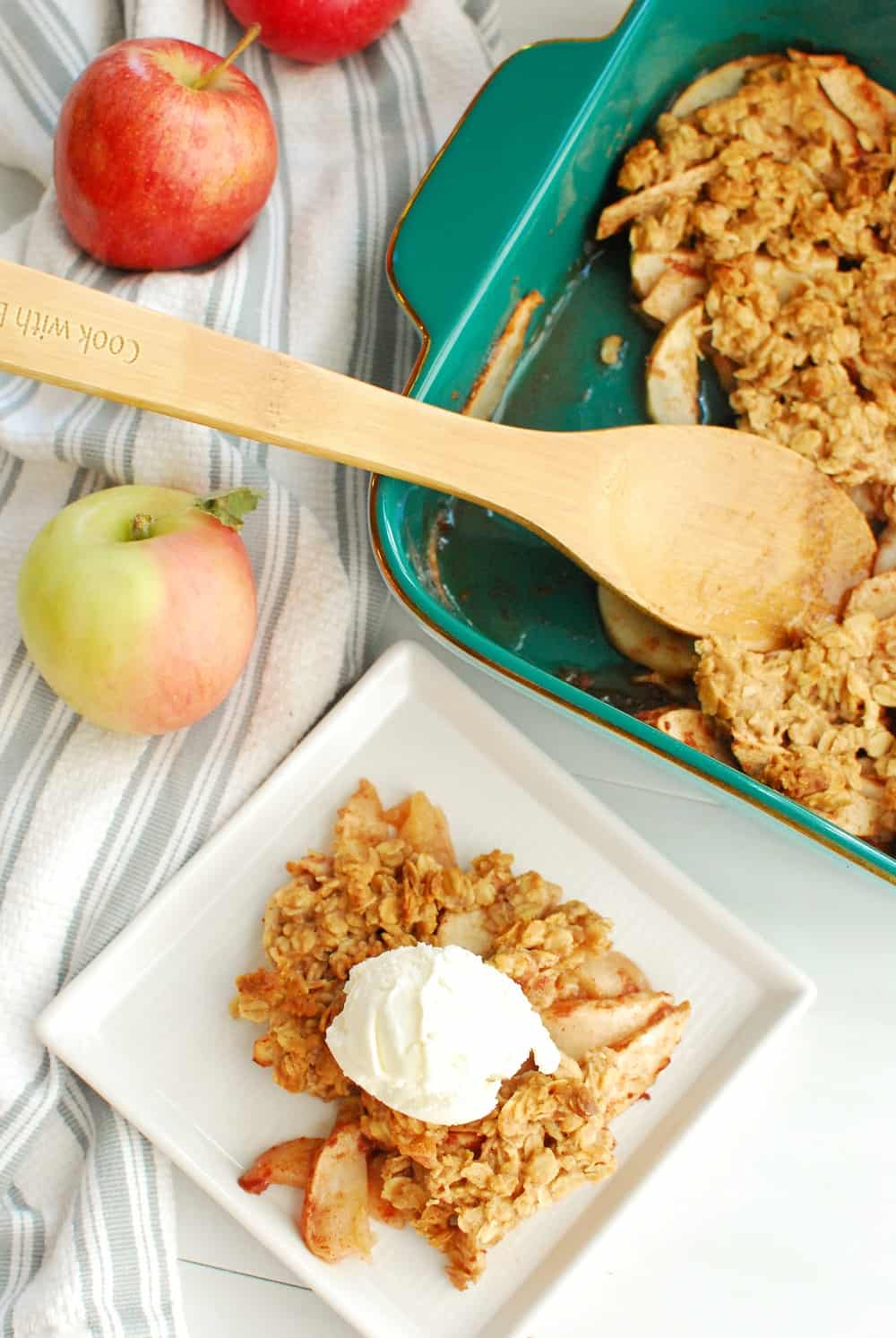 I hope you enjoy this recipe! My family was a huge fan – especially my son, who gobbled up his bowl of this super quickly, haha. If you get a chance to try it, please feel free to leave a recipe rating or comment below.
PS – Looking for more apple dessert ideas? Be sure to check out our caramel apple salad and our apple peanut butter energy balls.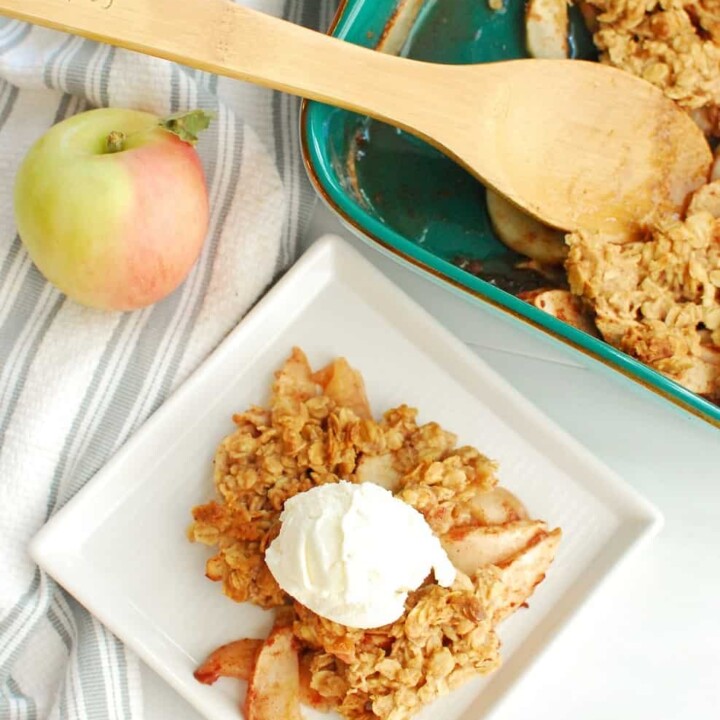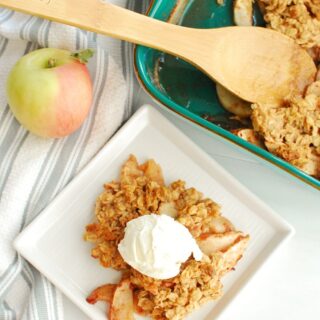 Honey Apple Crisp
Craving a fall dessert? Try this honey apple crisp, packed with sweet notes of apples, honey, and cinnamon, with a crisp oat topping.
Ingredients
For the filling:
1 ½

pounds

apples, peeled and sliced

(about 4 medium apples)

2

tbsp

honey

1

tbsp

all-purpose flour

2

tsp

lemon juice

1

tsp

cinnamon
For the topping:
¾

cup

rolled oats

⅓

cup

all-purpose flour

¼

cup

butter, softened

¼

cup

honey

¼

tsp

cinnamon

⅛

tsp

salt
Instructions
Preheat the oven to 350 degrees F. Grease an 8×8 or 9×9 baking dish.

In a large bowl, prepare the filling by combining the sliced apples, honey, flour, lemon juice, and cinnamon. Pour the filling into the prepared baking dish.

In the same bowl, prepare the topping by combining the oats, flour, butter, honey, cinnamon, and salt. Pour the topping over the filling in the baking dish.

Bake the apple crisp at 350 degrees F for about 40-45 minutes, or until the apples are soft and the topping is golden brown and crisp. Enjoy as-is or topped with a scoop of ice cream.
Notes
Nutrition analysis (approximate per serving): 257 calories, 8.5 g fat, 5 g saturated fat, 110 mg sodium, 45.5 g carbohydrate, 3 g fiber, 29 g sugar, 2.5 g protein, Calcium: 2%, Iron: 6%, Vitamin D: 0%, Potassium: 5%
Nutrition
Share: What's your favorite fall dessert recipe?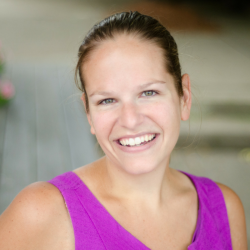 Latest posts by Chrissy Carroll
(see all)