How long does it take to run a mile? This is a question that many people ask, but there's no one "right" answer! Your mile time can vary based on age, fitness level, biomechanics, weather, and more. Let's take a look at some of these factors, as well as the average times for both men, women, and children. Plus, you'll find some tips on how you can run your best mile!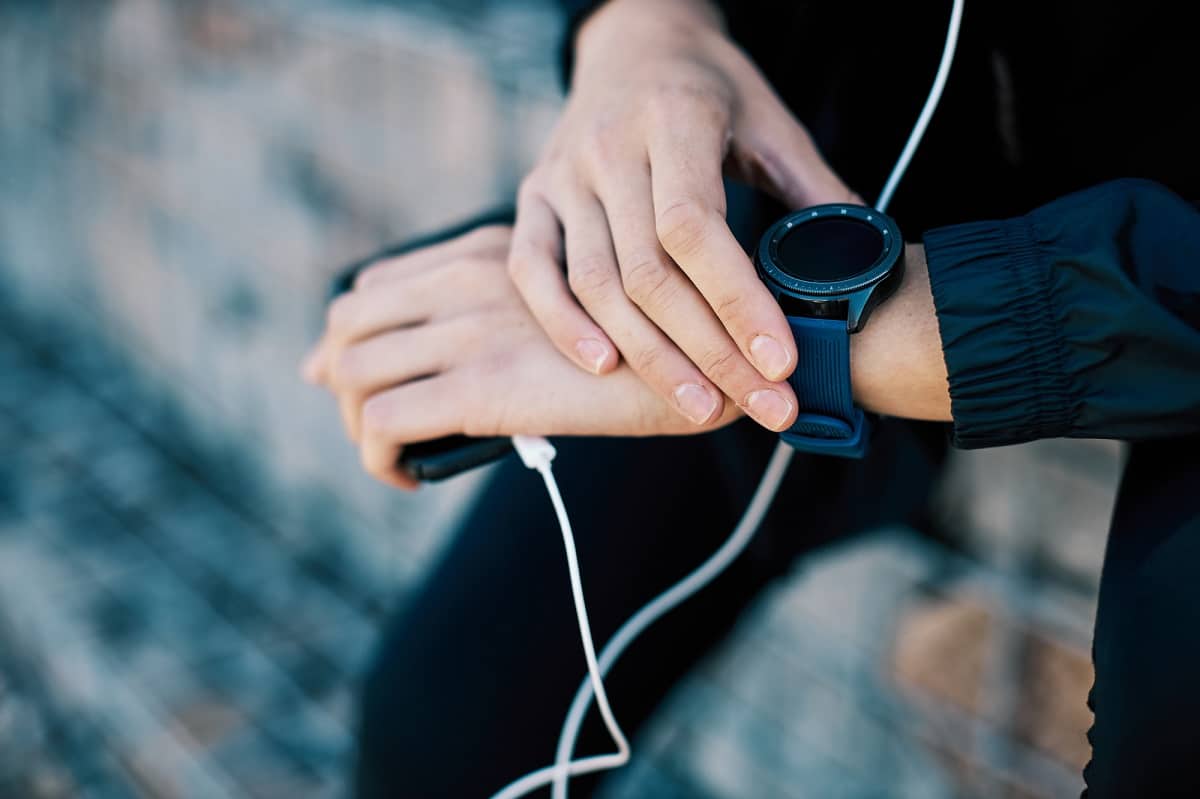 Average Mile Run Time – Adults
As a general estimate, most experienced runners can run a mile in around 8 to 11 minutes. Newer runners, or those who simply have a slower pace, may fall in the range of 10 to 15 minutes.
Curious what the actual statistics are when it comes to this? It's actually shockingly difficult to find research on adult mile run times.
There is limited data available from race results or exercise apps, but this is going to be skewed because generally a fitter segment of the population is using these apps or participating in races.
In addition, most of the data is for longer runs, so the data isn't particularly accurate for just the mile run. Most people would have a quicker pace if only being challenged to run one mile (as compared to a 5K, for example).
Nevertheless, I dug up the most recent information from the 2021 Year in Sport from Strava. This report provided insights for all the runs done using the app between October 1st, 2020 to September 30th, 2021. Here are the averages by gender for adults:
Male average pace per mile: 9:38 (calculated from an average distance of 4.1 miles and average duration of 0:39:30)
Female average pace per mile: 11:08 (calculated from an average distance of 3.4 miles and average duration of 0:37:42)
(Just emphasizing again that these estimates have a lot of limitations).
Average Mile Run Time – Children
When it comes to children, data is lacking as well. The mile run was previously collected as part of the School Population Fitness Survey, but it looks like this data was last collected in 1985. (Since then, other fitness data has been collected in the NHANES National Youth Fitness Survey, but this uses different cardiovascular tests instead of mile run tests.)
Looking back at the 1985 data, you'd see mean mile times for 9-17 year olds ranged from 10:47 to 7:27 (gradually decreasing each year with age).
Of course, much has changed in our world since 1985 – and average mile times for children have likely slowed down by now. Lower overall physical activity levels, sub-optimal diet, and increased screen time may all play a role.
More recent research supports this. In fact, data presented at the American Heart Association's Scientific Sessions in 2013 suggested that children age 9-17 are about a minute and a half slower in the mile run compared to thirty years prior. If we extrapolate that data to the 1985 information, we could estimate that current averages for US children would be around 12:17 to 8:57.
The most recent data I found came from a 2015 study which looked at mile run times among 24 urban public schools. The average mile time was 11:36 for students in 4th-12th grade.
Overall, it seems prudent to estimate that most children today would fall around a 9:00 to 12:30 mile.
[Read more about children and running in this post:
10 Kids Running Tips
.]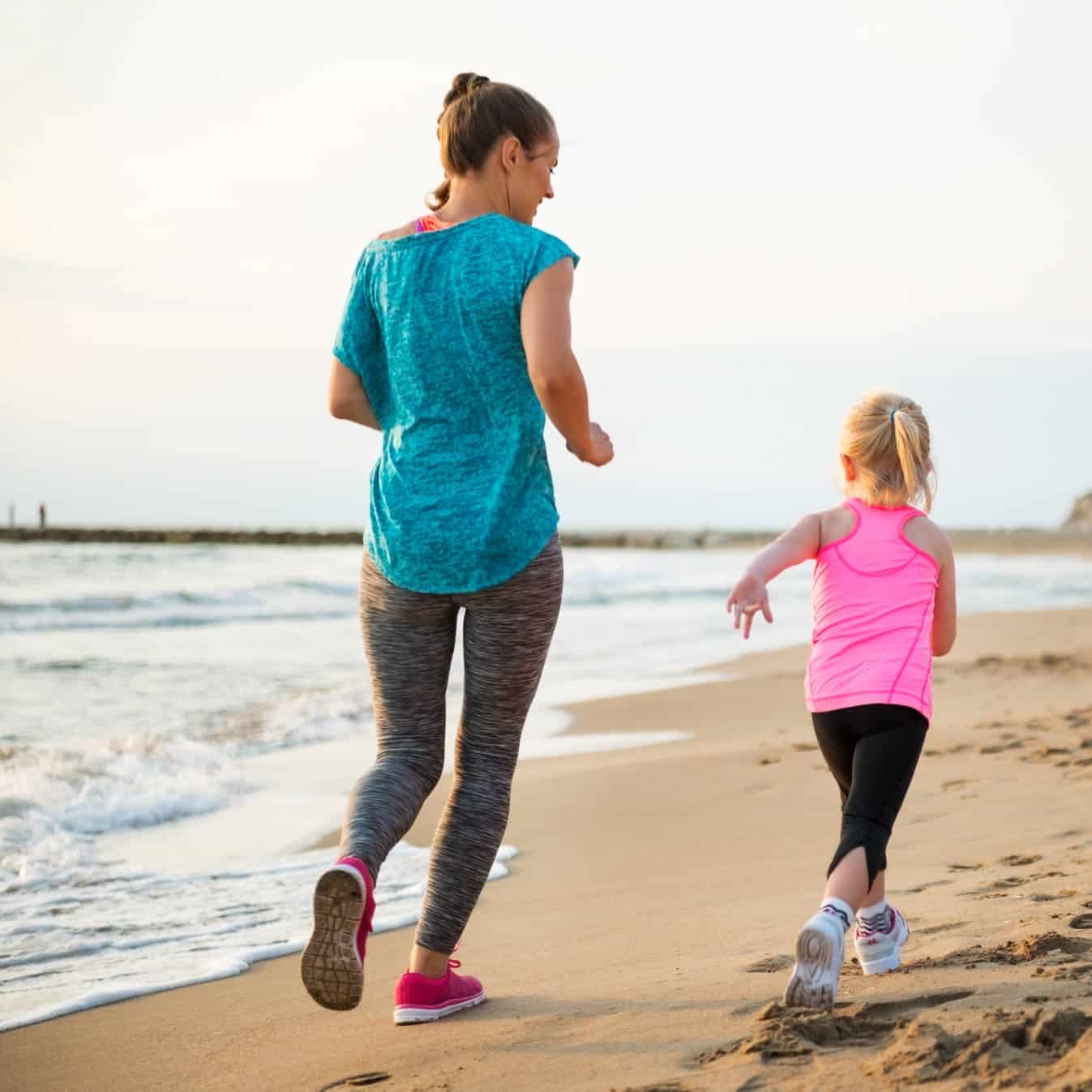 Factors that Affect Running Speed
As mentioned, there are many factors that can affect your running speed. Here are some of the most common ones:
Age
Generally speaking, younger adult runners tend to be faster than older runners. This decline generally starts to occur after 40 years of age. As we age, research shows our VO2max and endurance capacity decline over time. Older runners may also experience changes in form, utilizing shorter stride length and reduced muscle activation in the legs (source).
In addition, overall activity levels tend to peak in the 18-44 year old bracket, then decrease with age, which can lead to lower fitness levels in untrained older adults (source).
When it comes to children, though, young children are often slower than older children. Younger kids tend to have shorter legs, less muscle mass, and less control over pacing.
Gender
On average, men are typically faster than women at the mile run. Men tend to have more lean muscle mass and less body fat than women, and they also have higher levels of testosterone (involved in muscle repair and growth). Men also tend to have a larger heart and larger lungs compared to women.
Interestingly, the gender gap becomes far less prominent in ultra distance running. In a survey that analyzed more than 5 million race results from more than 15,000 ultra events, 100 mile races saw nearly equal times between men and women – and women were found to outperform men in races longer than 195 miles.
Fitness level
The fitter you are and the longer you've been running – generally the faster you'll be able to finish that mile!
If you're just starting out, don't expect to match the speeds of more experienced runners. It takes time and training to build up your endurance and muscle strength.
And keep in mind that every runner is different. Even if you've been running for years, you may simply have a slower pace than your training buddy. That's completely okay.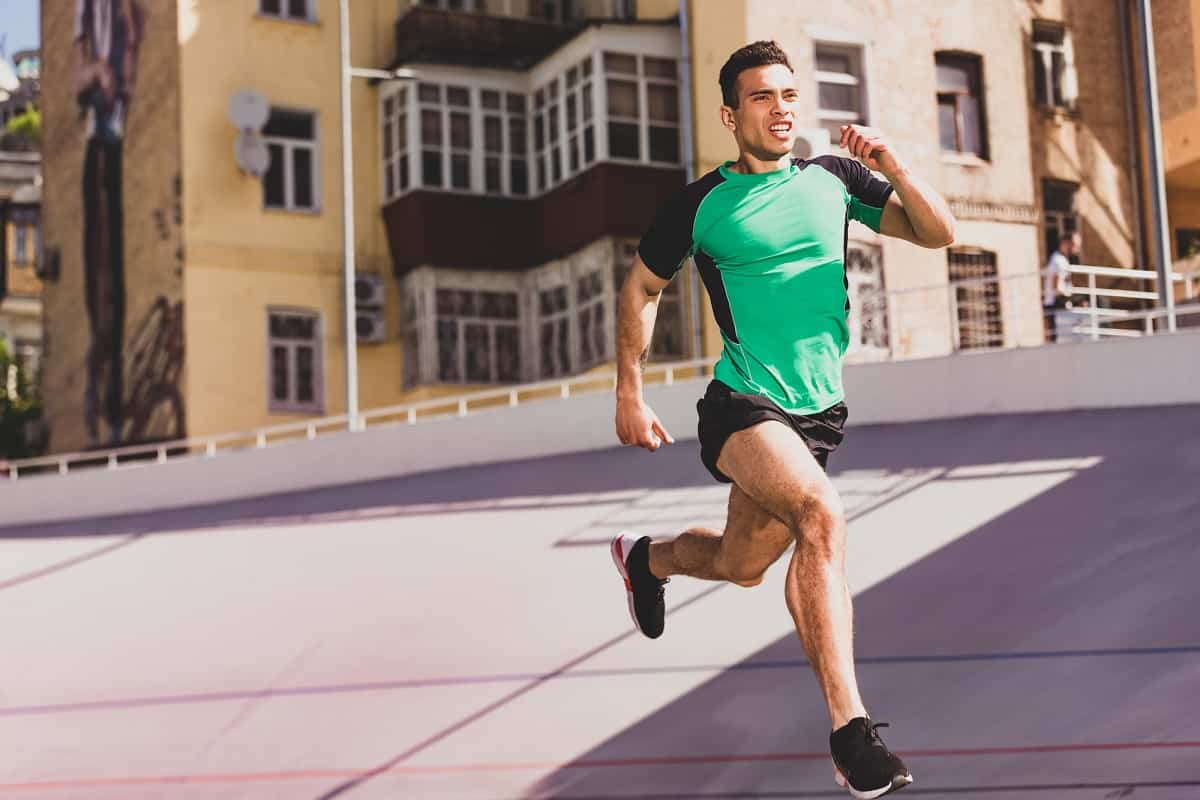 Biomechanics
Your running form can impact speed. Poor form can lead to inefficient movement and wasted energy, which will slow you down over time. Make sure you focus on keeping your body upright with a strong core, and avoid overstriding (landing too far in front of your center of gravity).
Altitude
Running at high altitudes can be tough, since there's less oxygen available to your muscles. This can lead to fatigue and a decrease in speed. If you're training at altitude, make sure you take it easy at first and build up your training slowly.
Weather
Extreme heat can negatively impact your pace. When it's hot out, your body has to divert some blood flow towards your skin to help cool your body. Temperature has been connected to slower times in various race distances (though it's generally a greater concern in longer races).
Interestingly, women seem to be less affected by heat compared to men, possibly because of smaller bodymass.
Terrain
Trail running is typically slower than road running, as you're navigating roots, rocks, and frequent changes in terrain. Similarly, running uphill requires more energy than running on a flat surface, so a hilly route will lead to slower mile times compared to a fast and flat course.
Weight
I generally take a weight-neutral approach to athletics, but since weight is often mentioned as a factor in mile time, I'll explain it cautiously here.
Yes, if everything else were equal (fitness level, diet, genetics), extra weight can make it tougher to run faster.
Several studies have examined the impact of weight on run performance. An early 1978 study found that for each additional pound added, running performance per mile slowed by about 1.4 seconds. More recent data estimated each extra pound lost would improve speed by about 2.4 seconds (give or take) per mile.
Why is this? Running is a weight bearing exercise. In other words, your weight impacts force when hitting the ground and also impacts the challenge of carrying that body weight over the mile. Larger bodied runners use more energy on the upward propelling phase of the stride.
All that being said – keep in mind that losing weight solely in the name of speed can often backfire. To do this, runners often under fuel and skip strength work, leading to reduced muscle mass and poor training adaptations.
I would much rather see runners focus on improving form, eating a nutritious diet, training more consistently, and adding in structured track workouts to improve speed – rather than heavily focus on weight.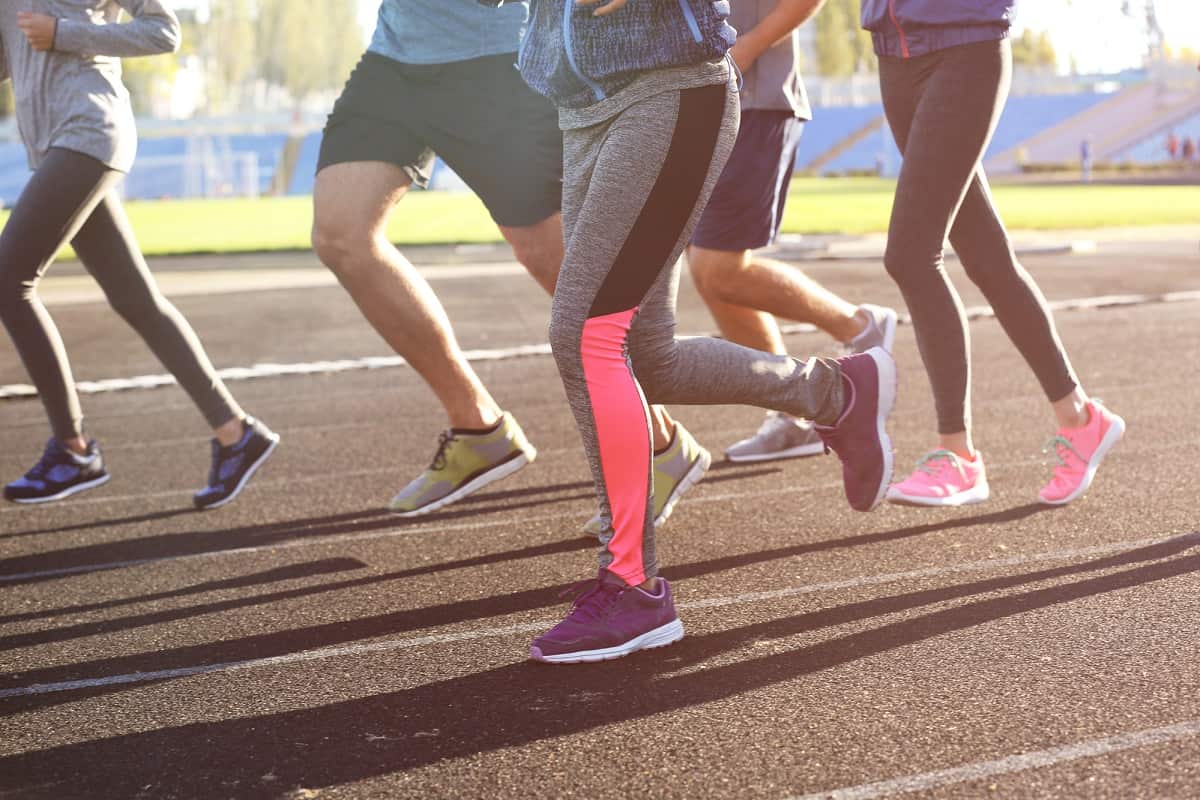 Tips on running a faster mile
You can get a ton of guidance in our full post about how to run a faster mile, but here are some initial quick tips:
Start slowly: If you're brand new to running and are struggling to complete a mile, start with a run-walk plan to build your endurance. (You'll find a free run/walk plan in our guide to start jogging).
Build speed: Once you can run consistently (and have been doing so for several months), work to increase your speed. This can be done by incorporating several different types of runs into your routine. For example, your week might include a few short easy runs, a longer endurance run, and an interval track workout.
Focus on form: Proper running form can impact speed as well as injury risk. If you're not sure what good form looks like, find a coach or experienced runner who can watch you run and give you feedback.
Cross-train: In addition to running, add in strength training and other forms of cardio to round out your training plan. Strength training in particular can be valuable to improving the power in your stride and maintaining the core strength necessary for proper run form. [Related: bodyweight exercises and resistance band exercises for runners.]
Listen to your body. If you're feeling tired or injured, take a rest day or cut back on your mileage. Pushing yourself too hard can lead to burnout or injury. Your body needs time to repair itself after tough workouts.
Have patience! Rome wasn't built in a day, and neither is a fast mile time. Be consistent with your training, and don't get discouraged if you don't see results immediately. With time and effort, you'll be able to reach (and even exceed!) your goals.
The Bottom Line
Hopefully this gives you a better idea of what it takes to run a mile, as well as how long it might take you when starting out. Remember that there are other factors that can affect your speed, so don't get discouraged if you don't hit the averages perfectly. Just focus on gradually improving over time, and you'll be sure to reach your goals!
Feel free to pin this post to share with others.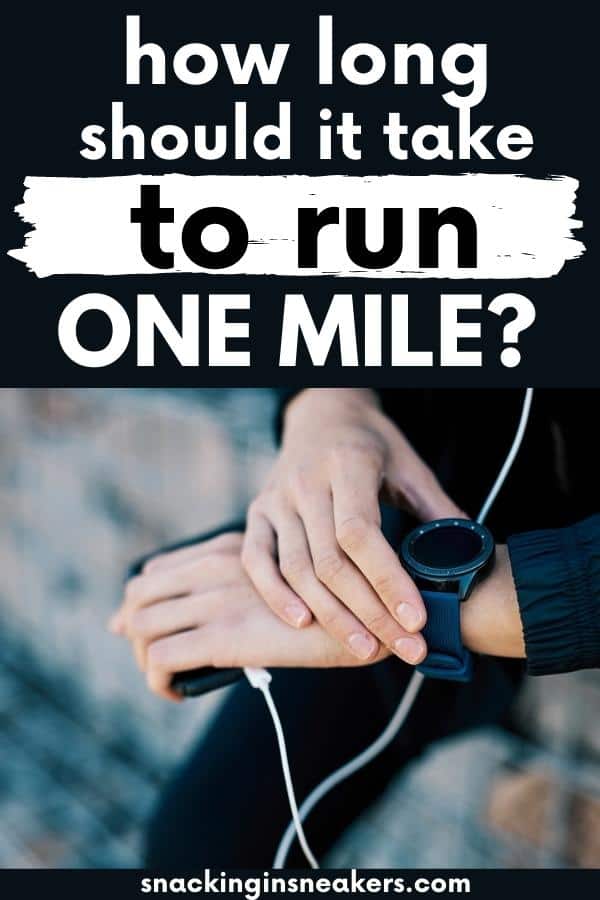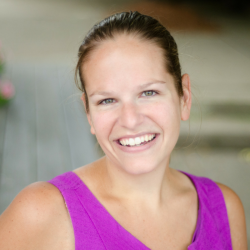 Latest posts by Chrissy Carroll
(see all)