Whether you are new to swimming or swam for decades, you've probably never heard these 10 crazy interesting swimming facts! From how strokes got invented to when swimming really started as a sport, read up on these fun facts so you're ready to pounce on the answers when you finally get a swimming question at trivia. 😉
Side note – I know we've got a lot of triathletes here, so I'd love to know – is swimming your favorite or least favorite part of the event? (It's my favorite!)
OK, onward to our fun facts!
1. Open water swimming was the first aquatic Olympic event.
Open water was the natural form of swimming in the early days. The first aquatic event started out in natural lakes and oceans for the first three editions of the Olympic Games.
Mediterranean Sea – Athens 1896,
Seine River – Paris 1900,
and an artificial lake in St. Louis 1904
Although swimming has been in the Olympic catalogue since 1896, open water swimming was replaced with the creation of man-made pools. It was not until the 2008 Beijing Olympics that open water marathon swimming officially became a standalone Olympic event (source).
2. Butterfly was born from the breaststroke.
Breaststroke is known to be the first and slowest stroke. Breaststrokers in the 1940s began to notice that recovering both arms forward above their heads would allow them to swim faster. Fast forward sixteen years later, butterfly gave its first Olympic appearance in the 1956 Games in Melbourne (source).
3. Long swimming trunks are not permitted at pools in the south of France.
In 2011, a traveler in the south of France tried to go swimming at a public pool but was forced to change out of his long swim trunks. Turns out, there is a rule that un slip de bain, (AKA speedos) or un boxer (AKA short briefs) are the swimsuits of choice for the men in France.
While it may seem unconventional to those of us here, the logic behind it makes sense (somewhat) – they don't want people to wear articles of clothing that could be worn throughout the day, bringing dirt and excess sweat into the pool (source).
4. Johnny Weissmuller was the first man to break 1-minute barrier in the 100-meter freestyle.
In 1912, Johnny Weissmuller became the first man to break the 1-minute barrier in the 100 freestyle, at the age of 18 in 1922 (source). He went on to win five Olympic gold medals in swimming and one bronze medal for water polo. He also set more than 50 world records during his swimming career – this dude was incredible.
However, you might know him not from his swimming, but from another role. Weissmuller is more famously known for his leading role in early renditions of Tarzan movies where he is known for the iconic Tarzan yell! (He actually was in 12 different Tarzan films).
5. The deepest swimming pool is 148 feet deep.
Deepspot, located in Poland, is currently the deepest pool in the world. It is about as deep as the length of a 15-story building, and requires the equivalent amount of water as 27 Olympic sized swimming pools. The depth of the pool is not its only attraction; Deepspot has an underwater bridge, underground restaurants, a hotel, and meeting rooms that look directly into the pool.
However, it may not be the deepest pool for much longer. The Blue Abyss, located in the UK, will reach 50 meters (164 feet) deep if it is completed. It will be used primarily for research, training, and test facility for deep sea and space research.
6. Benjamin Franklin invented swim fins.
This is probably my favorite fun swimming fact. We all know Benjamin Franklin was an avid inventor, and you're probably aware that he invented things like the lightening rod and bifocals.
But did you also know he invented swim fins? That's right, when he was just 11 years old, he came up with fins, which are more like many of us know today as swim paddles. They were worn on his hands to help catch more water and propel himself more with each stroke (source).
He was also a passionate swimmer overall, on one excursion swimming 3 1/2 miles. Because of his love and contributions to the sport, he was inducted as an honor contributor in the International Swimming Hall of Fame in 1968 (source).
7. There's a world record for the heaviest boat pulled by swimmers.
In 2018, a group of swimmers in Dubai broke the Guinness World Record for pulling the heaviest boat. These swimmers towed a 782,795-pound boat for 200 meters! (source).
8. In Japan, swimming was an essential skill of a Samurai.
Swimming was an essential survival skill due to the fact that Japan is an island and surrounded by water. The ancient samurai were forced to develop swimming techniques in order to have an advantage against enemies.
The importance of swimming led to the development of suijutsu, the art of combative swimming. Warriors were trained to climb on board a boat, use weapons, grasp onto ropes, and swim against strong currents. The samurai would swim through the water with their armor, which could weigh up to 44 pounds! (source)
9. A man swam 250 feet on one breath in 1 degree water.
Do you hate diving into a cold pool? Stig Seversin doesn't! Seversin, a Danish free diver, set the record for the longest swim under ice. In the icy waters of Greenland, Severinsen swam 250 feet on one breath, and only wearing swimming trunks and goggles. He completed this feat swimming underneath a layer of 80-100cm of ice and welcoming water temperature of just 1 degree (source).
With a wetsuit and fins, he managed to swim 500 feet without breathing equipment under the ice.
10. You may not notice, but you sweat while swimming.
According to a study, elite Australian swimmers lost an average of 138 ml/km for men and 107 ml/km for women. That means one of these male swimmers who completed a 3K (1.8 mile) swim was losing around 14 ounces of fluid from sweat (source).
Additionally, various environmental factors can contribute to amount of fluids lost in sweat. For example, warm pool temperatures or warmer air temperature can increase sweating. Even though it may not seem like you're sweating, you can be at risk for dehydration, so make sure your water bottle is nearby!
Share: Which of these interesting swimming facts were you surprised by? Do you know of any other fun facts to share?
PS – Be sure to pin this post so others can read about it too! 🙂 And if you're looking for more helpful swimming content, be sure to check out our posts about swim workouts for triathletes and swim drills for triathletes.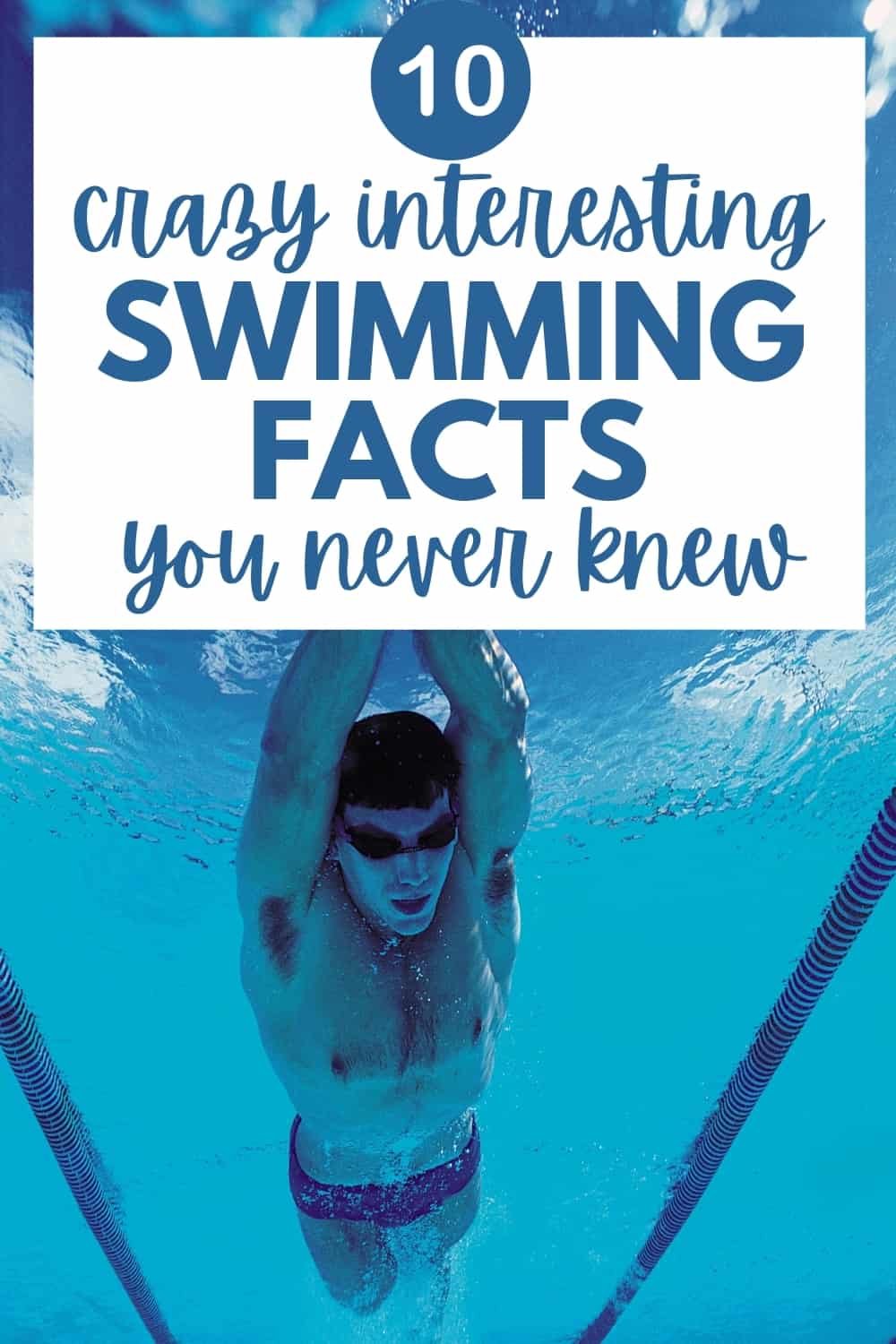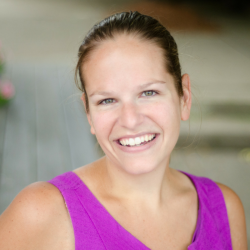 Latest posts by Chrissy Carroll
(see all)