Want to start working out but aren't a fan of the gym environment? Or maybe you're considering adding a new piece of equipment to your home workout space? Either way, the lululemon Studio Mirror is a must-have! This product combines live and on-demand classes shown on a reflective mirror, allowing you to see your form and follow along precisely. 
Learn more about why I love this product in my full lululemon Studio Mirror review below.
Disclosure: I received complementary product to test This post contains affiliate links, I earn a commission on qualifying purchases. As always, all opinions are my own.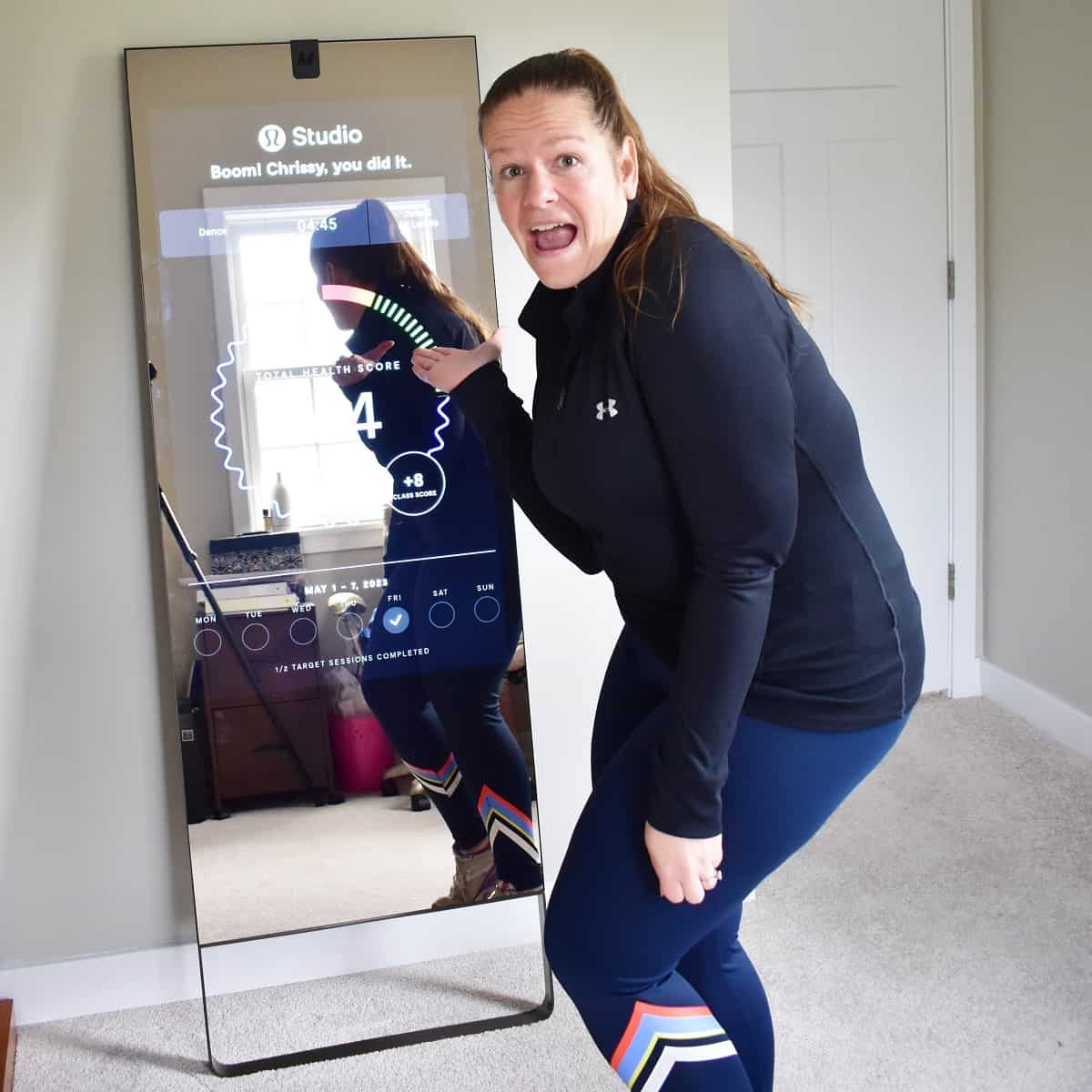 Quick Review
The lululemon Studio Mirror is a fantastic investment for home workout equipment, offering thousands of fun on-demand and live classes. It helped me add variety to my normal workout routine, was a perfect fit for a small room, and motivated me to stay even more active. You can buy the lululemon Studio mirror here.
Pros
Tons of classes (on-demand and live)
Diverse instructors
Easy set up
Incredible for small spaces
Stylish design
Good quality video/audio
Offers paid live 1-1 options
Cons
Moderate upfront investment plus monthly membership fee (but worth it)
No touchscreen (but easily controlled by the paired app – and kind of a pro, because mirror stays clean!)
Calorie burn sometimes inaccurate
That's the quick overview – now let's dive into all the deets!
What exactly is the lululemon Studio Mirror?
The Mirror is – like it sounds – a full body length mirror. But it's also a screen and speaker that can cast workout videos you select from the lululemon Studio app (you'll need a membership to the app to use your Mirror).
The dual nature of the mirror means you're able to watch the instructor but also see yourself at the same time! This is perfect for being able to adjust your form and ensure you're following along correctly. Essentially, you get the benefits of being in a fitness studio but in the comfort of your own home.
The paired app allows you to control the settings on your mirror like the volume of the music vs. the instructor's voice (so nice to be able to adjust these based on your preference, and a feature some other home exercise options don't offer!).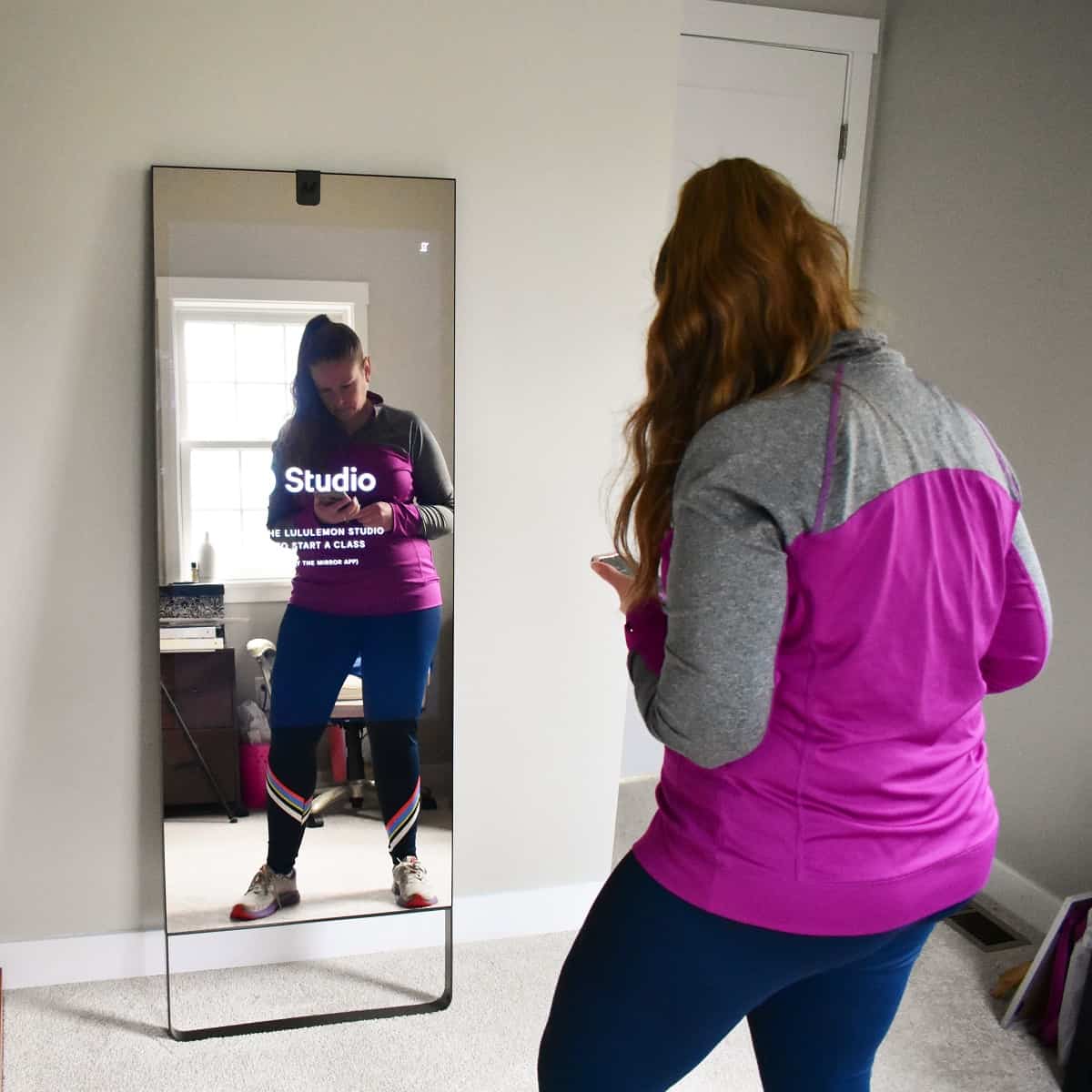 What is installation like? Is it hard?
Installation is so simple and easy! A company will deliver the mirror to your house, set it up, and remove the packaging.
Two guys came by my house at 8am on a Saturday, and were gone by 8:15 am with my Mirror all set up. They don't do wall mounting – they lean it up against the wall – but you can personally add the mount if you want.
After that, the Mirror had instructions on the screen about pairing it with my phone app. I had already previously downloaded the lululemon studio app which was attached to my email from the order, so all I had to do was connect my phone to the mirror wifi signal, then it connected back to my home wifi and it was all paired and ready to use!
The mirror and app really walk you through it all, so it's hard to mess up.
There was one time that the mirror became disconnected from my phone app, presumably due to a power outage we had during a storm. I just reconnected it the way I did the first time, and everything worked fine again.
What types of workouts are on the lululemon Studio Mirror?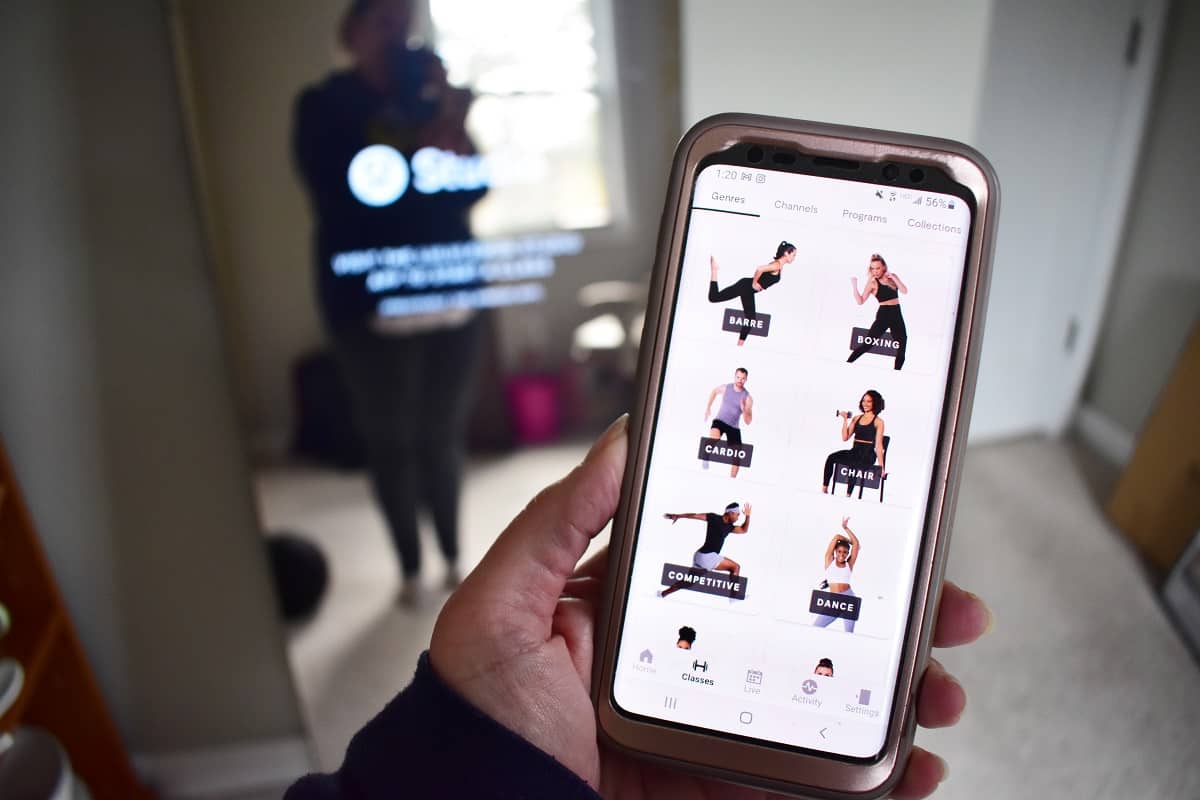 The lululemon Studio app has many different types of workouts for the Mirror, broken down into the following categories:
Barre
Boxing
Cardio
Chair
Competitive (this includes cardio bootcamp and cardio strength)
Dance
Family fun (meant for adults to do with their kids and includes family yoga, dance, cardio + strength, and boxing)
Kettlebells (you'll need your own to do these)
Kickboxing
Meditation
Pilates
Pre/postnatal (includes barre, strength, cardio, and yoga classes specifically for pre/postnatal times)
Step
Strength
Stretch
Tai chi
Toning
Yoga
Everyday, there are many live options for workouts that you can access by selecting "live" and looking at the schedule.
But there are also TONS of on-demand classes, so you can always find something that fits your schedule.
I love that the app allows you to filter the on-demand classes by things like class type, duration, and difficulty level. It made it really easy for me to jump into a quick workout midday when I had a 20-minute break from work.
How difficult are the workouts? Is it good for beginners?
I think any fitness level would find value in the classes on the lululemon studio app, since they offer beginner, intermediate, and advanced options.
For the most part, I felt that the difficulty level matched the intensity of the workout. Many instructors also provided modification suggestions, so that if something was too difficult or too easy, you could modify it to fit your needs.
Many of the instructors have great energy and fun personalities, which is essential to keeping any user engaged.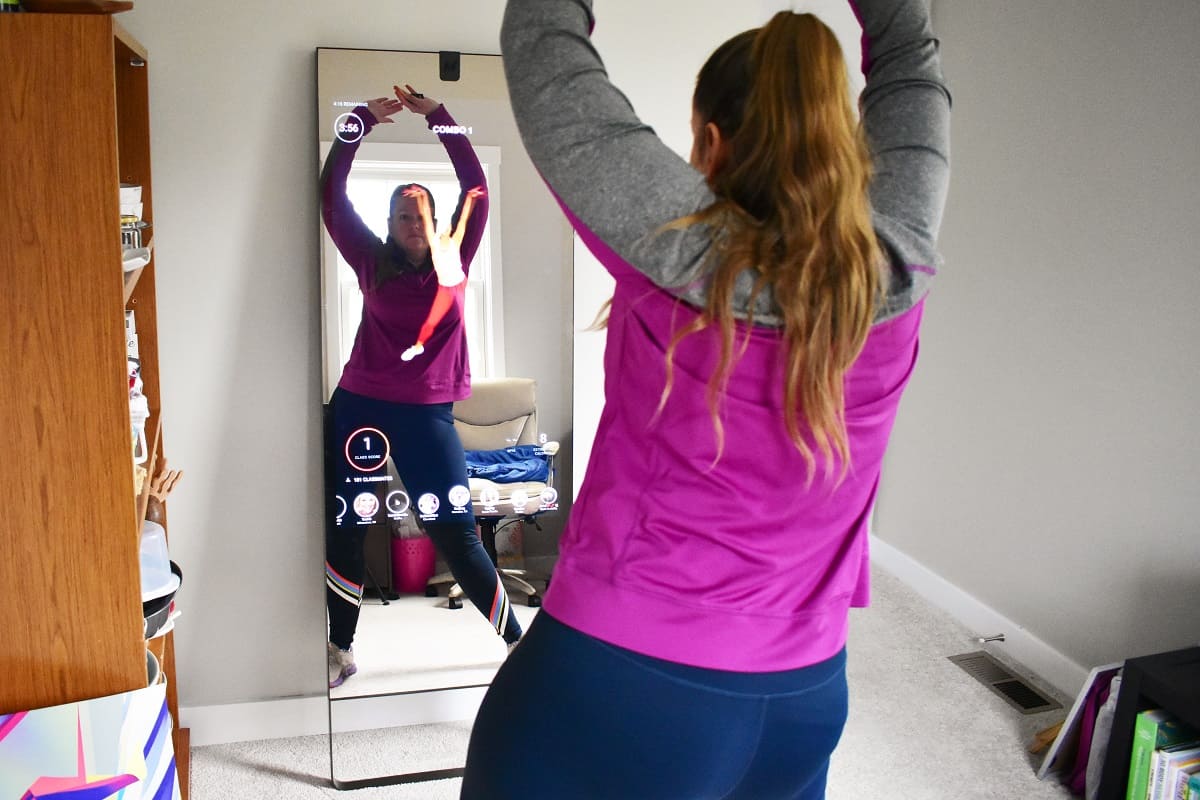 What are the channels in the app?
The lululemon Studio app has special studio partners that offer classes specific to their studio focus. These are found in the "channels" section of the app. These include:
Dogpound – strength and HIIT workouts
Forward space – hybrid of cardio dance, athletic training, and moving meditation
AARMY – high energy cardio bootcamps
Y7 Studio – yoga paced to the beat of music
Pure barre – proprietary barre classes
Rumble – boxing paired with resistance training
Yoga Six – yoga, bootcamp, and meditation classes
AKT – full body workouts with high energy music
What are the programs in the app?
In the app, there are programs built in that have put together a series of workouts. For example, this month, there is a "May Challenge" that's beginner-friendly and offers a 4-week total body program featuring a variety of class types (including bootcamp, cardio + strength, tabata, and total body strength classes).
There are other programs focused on certain skills or types of exercise too, like a golf skills & drills program, an intro to pilates program, an abs challenge, and more.
Are there any 1-1 workouts on lululemon studio?
Yes! I didn't personally test any of these, but I like the concept. You can sign up for a paid 1-1 session if you want personalized support. The mirror has a built-in camera, so you're instructor can give you live feedback.
There are a couple different types of paid live 1-1 sessions:
Pilates
Personal Training
Boxing
Stretch
Barre
Yoga
All of these are offered in 30-minute blocks for $40. The personal training option also offers a 60 minute block for $80.
Can you use the lululemon Studio app without the Mirror?
Right now, the lululemon Studio app option is exclusive to those who own the Mirror (though that could change in the future).
But as long as you own the Mirror, you can use the app without the mirror if you need to. For example, when you're traveling, you can use the app to take classes with your phone or tablet instead of the Mirror. Or if you're at work and want a quick meditation to relieve stress, you can pop into the break room and listen to one on your phone.
All that said – I definitely recommend using the Mirror when you are home, because it makes the workout experience so much more immersive. And it's incredibly useful to have that visual feedback on form, particularly for things like strength training.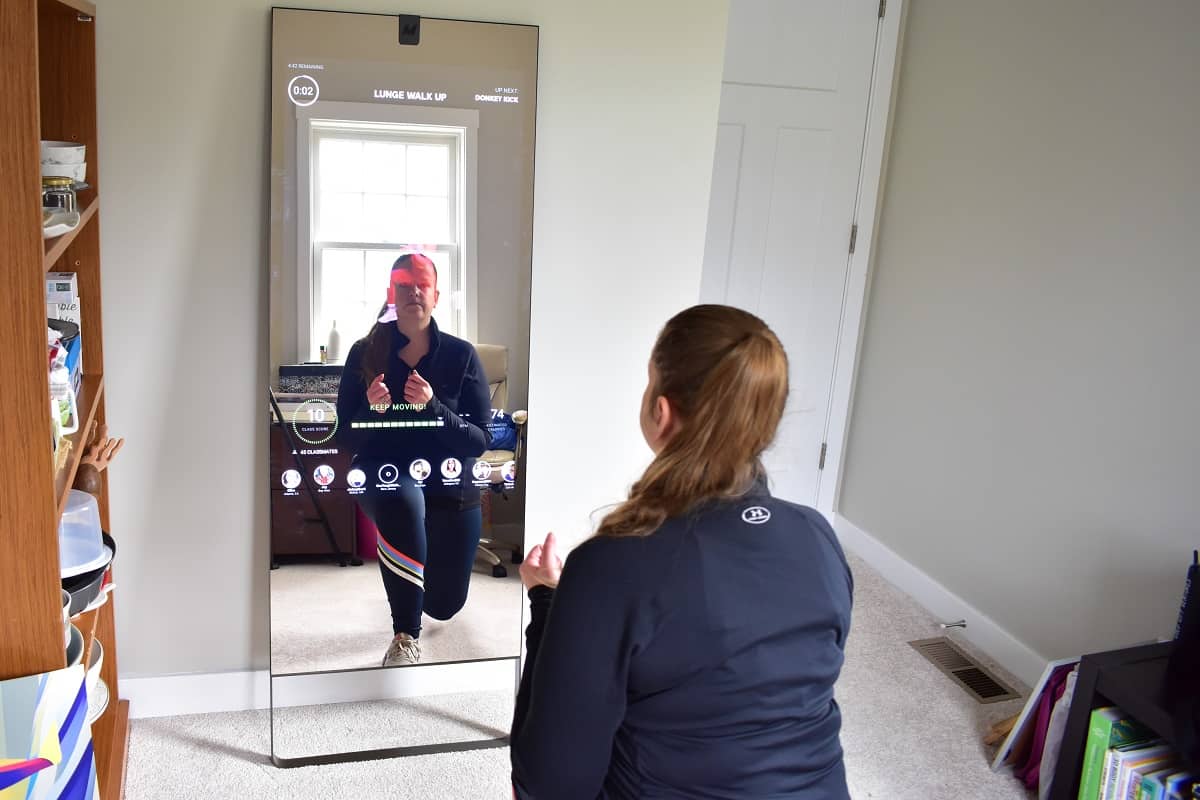 What is the price of the lululemon studio mirror?
There are two cost components here – the mirror itself, and then the subscription to the app which contains the live and on-demand workouts. This is similar to most connected home gym brands.
The mirror itself costs $995. If you don't love your mirror, they'll come pick it up and do a free return at no cost to you. It comes with a one year warranty.
The membership costs $39 per month (plus any tax) and has a 12-month commitment with the purchase of the lululemon Studio Mirror. I like that the subscription allows up to six household users; it's fun that my husband and I can both set up profiles to take the classes.
The membership does have some additional benefits outside of classes, including:
10% off lululemon gear
20% discount at partner fitness studios (if you want to get outside the house occasionally for a workout!)
Unlimited experiential classes at lululemon stores
Early access to special lululemon events
Mirror FAQ
Here are some additional questions and answers that may be helpful as you're deciding whether to purchase:
What is the best class on the lululemon Studio app?
This will depend on your preferences! There are so many great options to choose from. My personal favorites were the strength training classes with Morit, because I loved seeing body diversity represented on a fitness app.
What does the mirror look like when there aren't classes playing?
It looks just like any other full length mirror! It actually can blend really nicely into any home décor setting and doesn't look out of place.
What classes are not offered in the lululemon Studio app?
You won't find spin classes or treadmill classes on here, which makes sense – you can't do either of those with a mirror.
How do you turn off the lululemon Mirror?
After a while, the Mirror will go into a sleep mode when you're done using it. There's a power button at the bottom that you can use to turn it completely off.
Is the camera always on with the lululemon Mirror?
No. The camera settings can be turned on or off within the app when selecting a class. There is also a black privacy cover that you can leave on your Mirror at all times, only removing if you want to use the camera feature.
How accurate are the calories burned on the lululemon Studio app?
Like most pieces of fitness equipment, the calories are going to be an estimate (while I don't know how the company estimates them, it's likely based on age, weight, gender, and the estimated intensity of the workout). I found that the calorie burn tended to be overestimated with some workouts, but on par for others. If you're hoping for more precise data, wear a heart rate monitor and a device that takes that into account when estimating calorie burn (even those are just estimates, but can improve accuracy).
Do you need other equipment for lululemon Studio classes?
Many of the classes are bodyweight only, so you don't have to purchase other equipment. Some classes do require equipment, like dumbbells, kettlebells, or yoga blocks. These classes will note what they require on the app. If you don't have the equipment, you can purchase it, or simply select a class that doesn't require any!
Any other tips for using the lululemon Studio Mirror?
I'd suggest thinking about where you want to put it prior to getting it delivered, so that they can put it exactly where you want it. It's heavy, so not ideal to move around after the fact (though feasible if needed). I also recommend putting the plug into a surge protector, rather than plugging directly into a wall. That's smart practice with any important piece of equipment, especially if you live in an area where storms (snow storms, thunderstorms, etc.) may knock out power regularly.
The Bottom Line
Overall, I'm incredibly pleased with the lululemon Studio Mirror. I would recommend it to anyone that has a little extra disposable income and wants to invest in something fun that will encourage them to stay active. I found myself doing much more strength training (forever my weakness) and yoga with the Mirror, because having an instructor guide me is always easier than motivating myself to put together a workout. 5/5 stars in my book!
Transparency – How was this tested?
After delivery of the Mirror, I connected it to the app by following the prompts on screen, which allowed me to assess ease of set up and pairing. I played around on the app quite a bit in all the different sections.
I spent several weeks testing different types of classes, including both live and on-demand classes, and varying difficulty levels. I assessed the structure of the workouts, whether the claimed difficulty level matched the intensity, the instructor energy and personalities, and the form and modifications present in the classes. As a certified personal trainer, these are all aspects I am comfortable assessing.
I also assessed the quality of the video and audio settings, the design of the product, and the overall aesthetics, similar to how any other user might explore these functions.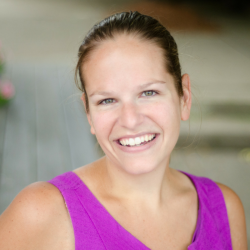 Latest posts by Chrissy Carroll
(see all)