When wintertime hits, I always miss the bounty of berries from the summer. I love making homemade crisps, crumbles, jams, and the like. But it's also fun to find creative ways to use the fruits available now, like pears and citrus. These pear and chocolate scones have become one of my very favorite wintertime treats.
Scones are obviously a bit of an indulgence, but with this recipe – you can actually enjoy them more often! Unlike the 500+ calorie options at most local bakeries, these clock in at just 270 calories. And that's not because they're tiny or miniature. No no, my friends, these bad boys are big 'ol full size scones.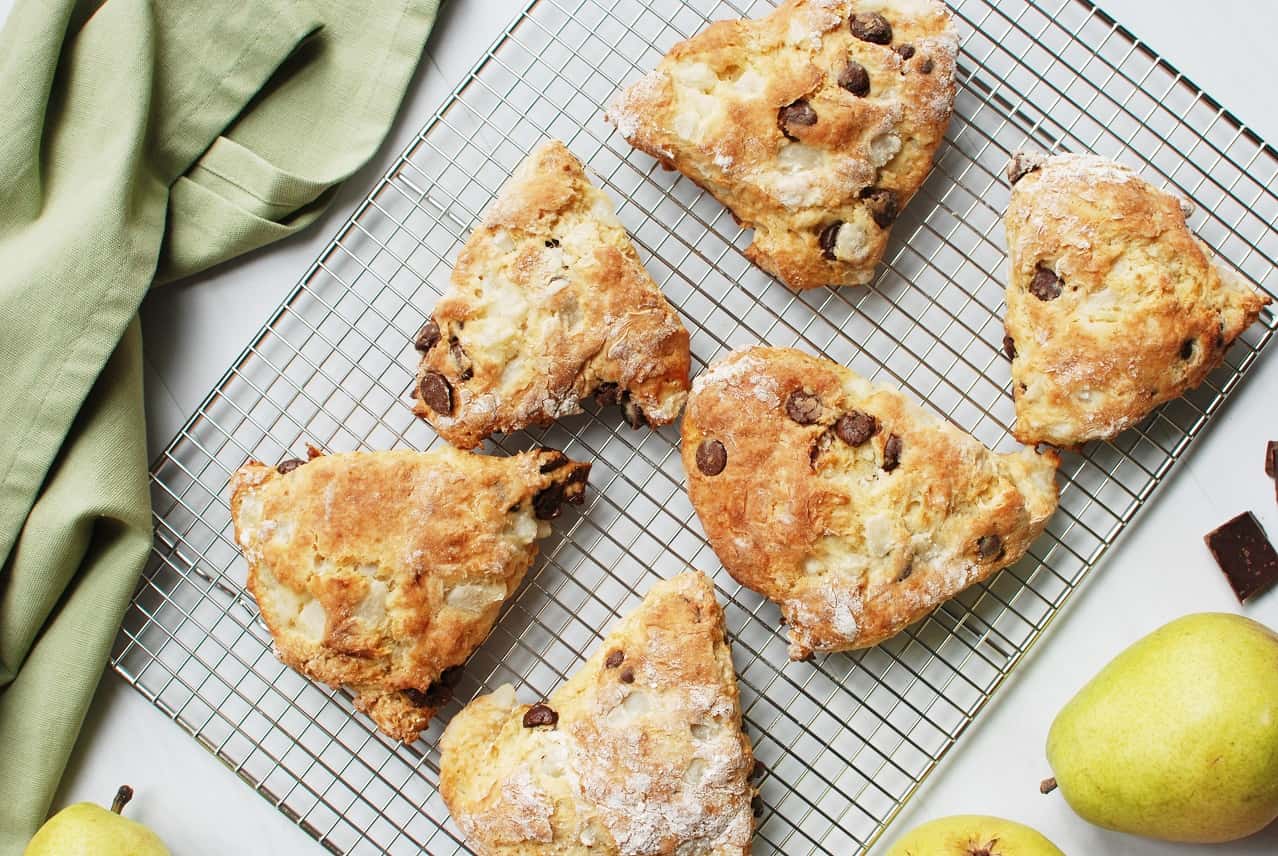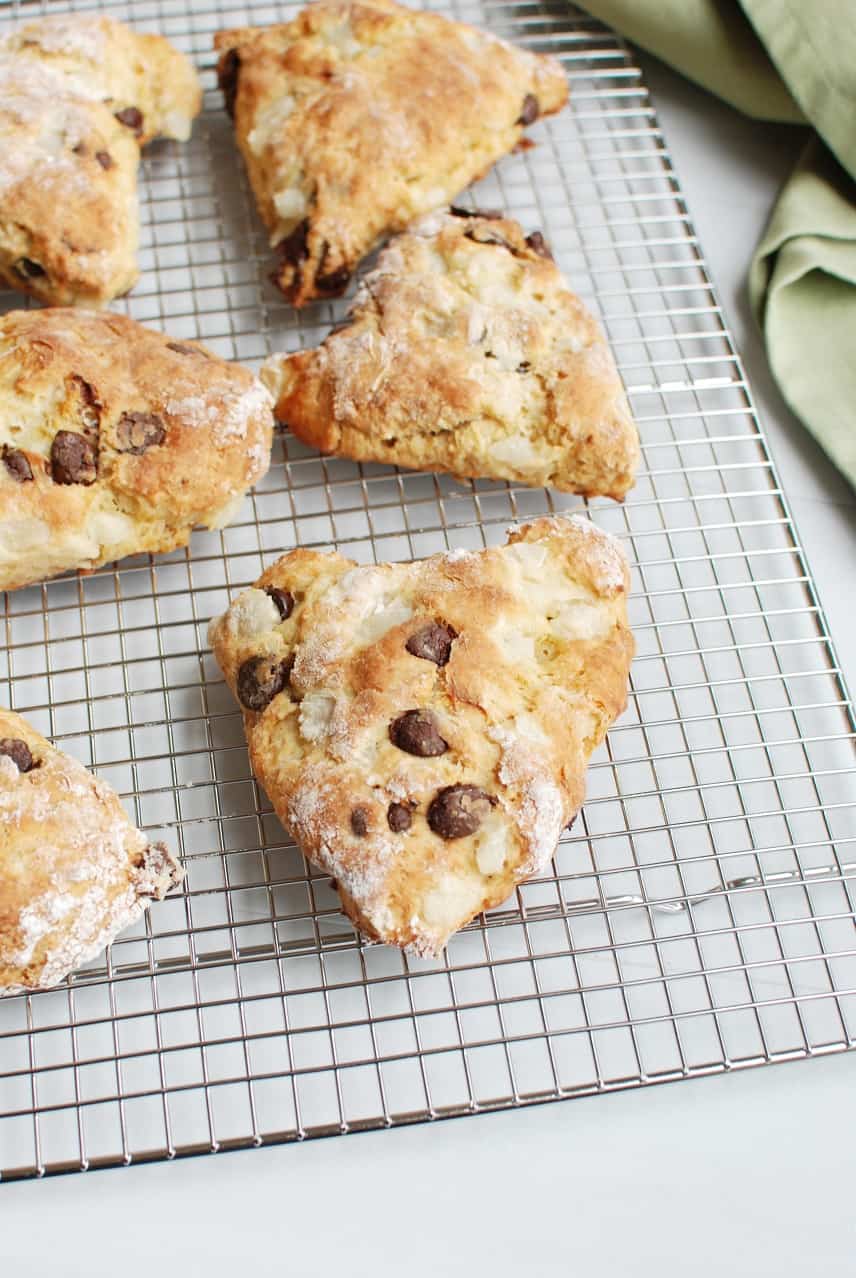 Side note – that whole tiny serving thing is my biggest recipe pet peeve! You know, when something calls for about 1000 servings and apparently, you're only supposed to eat a morsel of it and that's why it's "healthy". Anyone with me?
In addition to being in a reasonable calorie range, these are made with whole wheat pastry flour and only use 3 tablespoons of maple syrup for a natural sweetener. The recipe also calls for less butter than traditionally used, but adds in a bit of greek yogurt to help ensure that the inside stays tender and delicious (and add a little extra protein).
I seriously cannot get enough of these. My husband and son are also big fans. They've been a weekend staple around here lately. In fact, someone was getting a little impatient during the photo shoot for these…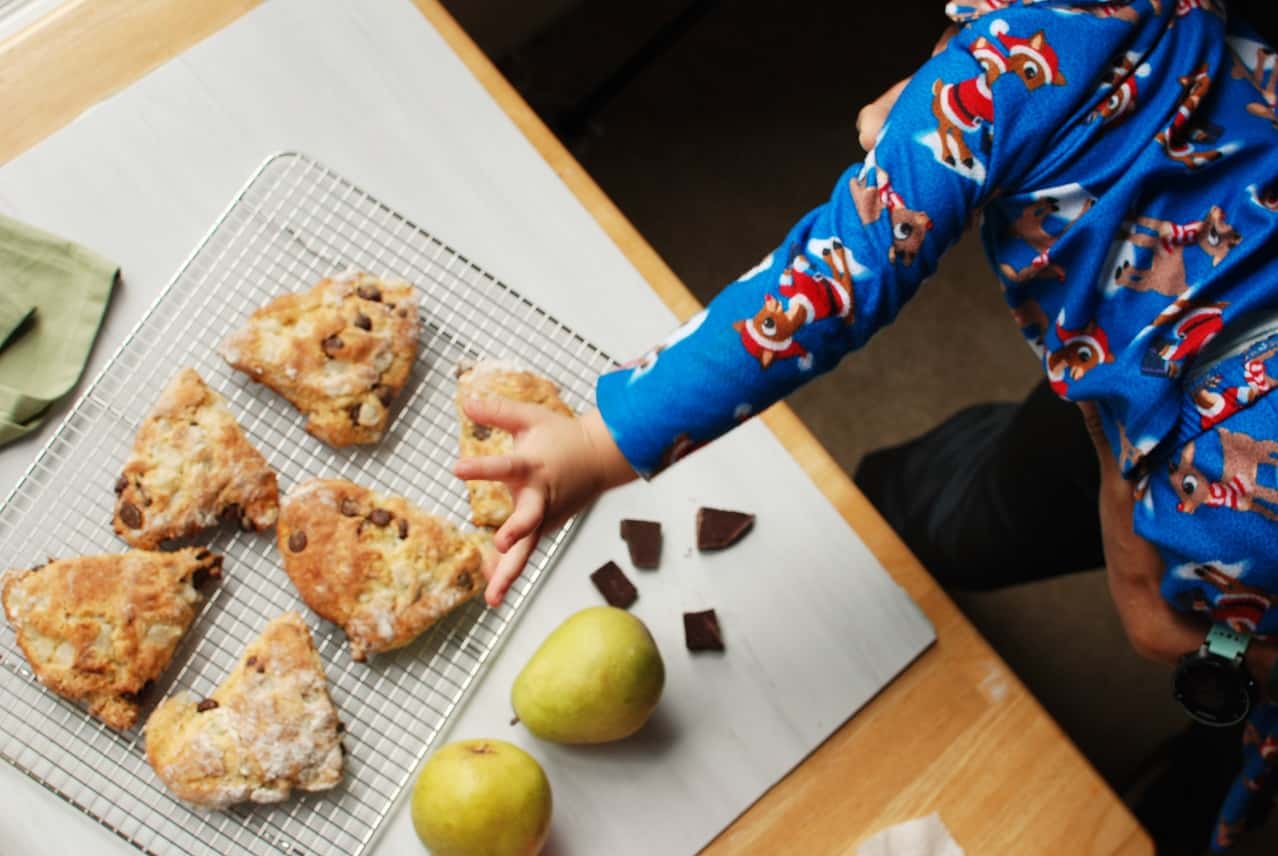 And if you're a runner or triathlete? I think you're going to love these for two reasons:
1. If you frequently run out the door sans breakfast before a long run or ride on the weekend, try these next time! Bake 'em ahead of time and scarf one down about an hour before your workout. Those carbohydrates can serve you well while pounding the pavement.
2. Or, try 'em my favorite way – as a recovery option. After my run this weekend, I enjoyed one of these delish scones as a treat alongside a glass of milk. Great balance of carbs & protein to help restock that energy in your muscles and start the muscle fiber repair process!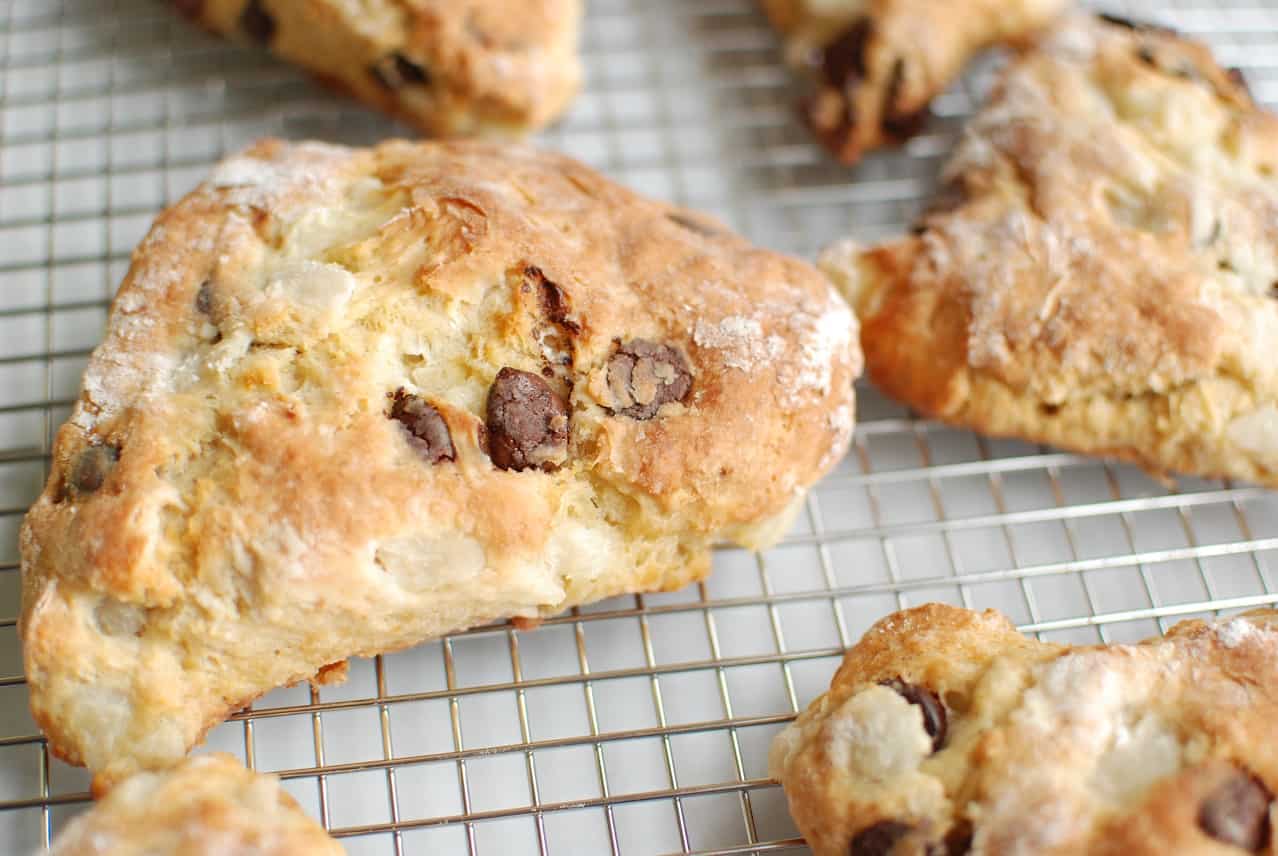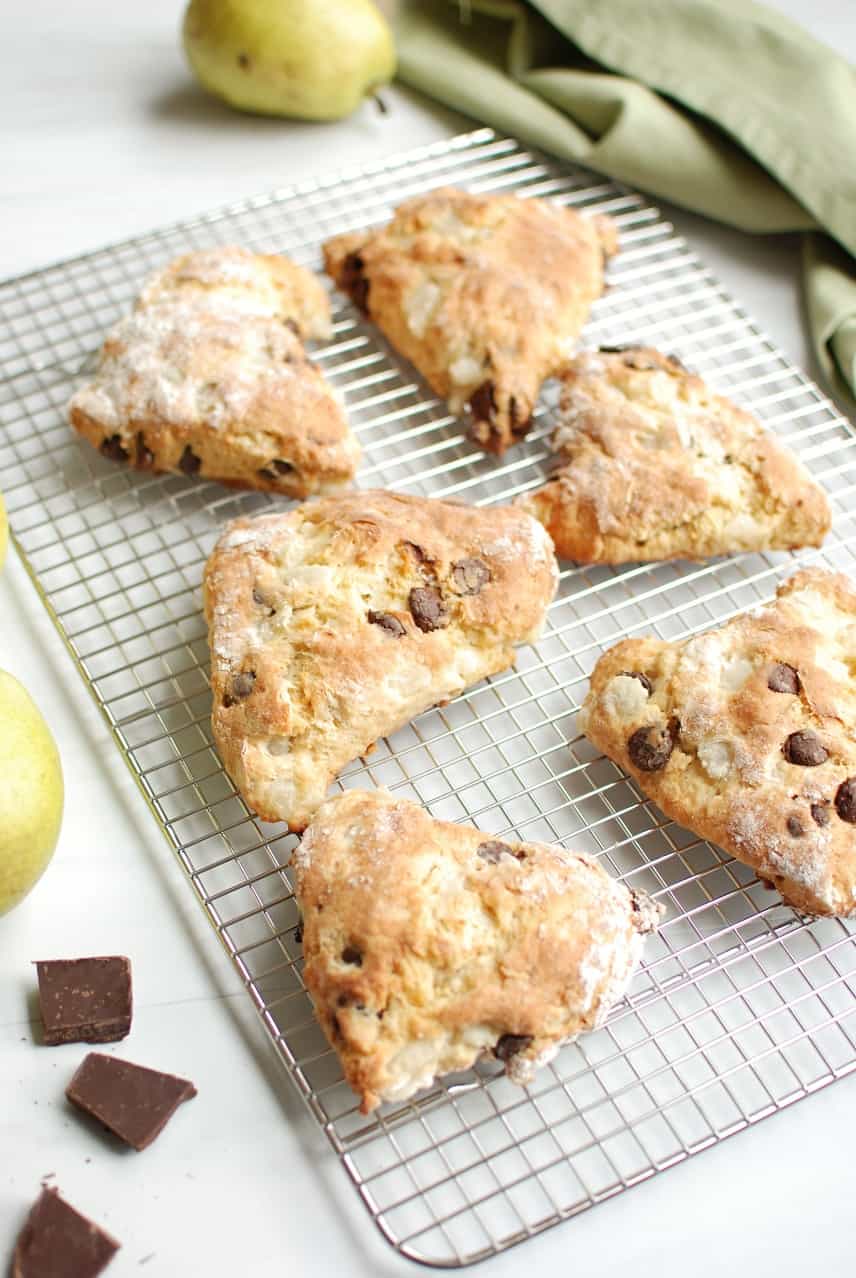 Regardless of whether you're focusing on fitness and want a healthier treat – or you simply just want something amazing to bake for your family over the weekend – these pear and chocolate scones are where it's at.
Give 'em a try soon and let me know what you think!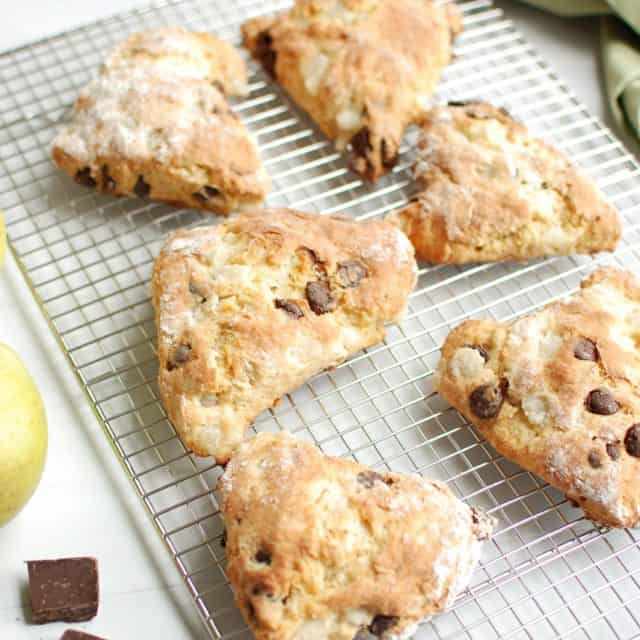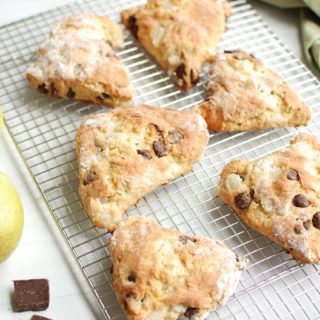 Pear and Chocolate Scones
Pear and chocolate scones are a delicious wintertime treat that's easy to whip up quickly on the weekend!
Ingredients
1 1/2

cups

whole wheat pastry flour

(or all purpose flour)

1

tsp

baking powder

1/2

tsp

baking soda

1/4

tsp

salt

3

tbsp

cold butter

1

egg

1/2

cup

plain greek yogurt

3

tbsp

maple syrup

1/2

tsp

vanilla

1

cup

diced pears

1/3

cup

dark chocolate chips

(or chopped dark chocolate)
Instructions
Preheat oven to 400 degrees. Line a baking sheet with either a silicone baking mat or parchment paper.

In a large bowl, mix together flour, baking powder, baking soda, and salt.

Cut in cold butter. (You can use a pastry cutter, but it's not a necessary tool. You can simply add the butter to the flour mixture and cut it with a butter knife repeatedly. Eventually there should be a lot of small pieces of butter incorporated throughout the mixture. You're good when they're all smaller than pea-sized.)

In a separate bowl, whisk the egg. Add the egg, greek yogurt, maple syrup, and vanilla to the flour mixture. Stir until just combined.

Fold in pears and dark chocolate.

Place your scone dough on a lightly floured surface. Turn it over a few times to get a little flour throughout the outside so it's easier to work with. Then press it down into a disc shape. Cut it into 6 triangles and place them on your baking sheet.

Bake at 400 for 15-20 minutes, or until scones are lightly browned and crisp on the outside and still soft on the inside.
Notes
Nutrition analysis (approximate per scone):
270 calories, 9 g fat, 6 g sat fat, 327 mg sodium, 40 g carbohydrate, 5 g fiber, 15 g sugar, 8 g protein, Vitamin A: 5%, Vitamin C: 2%, Calcium: 11%, Iron: 10%
Nutrition
Share with me: Have you ever tried pear and chocolate scones? What's your favorite type of scone? What kinds of recipes do you enjoy making with winter produce?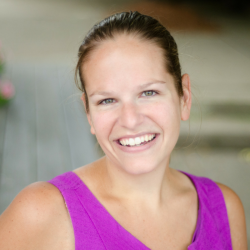 Latest posts by Chrissy Carroll
(see all)