Did you recently have a baby, and are starting to think about running again? Postpartum running can either be a liberating experience (getting the little break for yourself), a scary experience (the baby is all alone!), or even potentially an uncomfortable experience (from musculoskeletal pain or incontinence). Or it can be a combination of all three!
Don't worry – with a little time, your postpartum running will feel normal again and you'll treasure that time outside.
Let's start by answering some of the common postpartum running questions…
Disclaimer: I am not a medical doctor and this should not be construed as medical advice; always check with your physician for individualized guidelines.
How long do you have to wait after giving birth to start running again?
The doctors will give you a general guideline. Generally, if you've had an uncomplicated vaginal delivery, you will likely be cleared to start jogging again around 6 weeks postpartum.
If you feel ready before this, most women are safe to start walking regularly.
Some women may feel ready to run before that six-week mark, but for most women, it's best to wait. There are some issues with excessive laxity with joints and muscles that you need to consider in those early stages, and your body may need a little more healing time. Specifically, running too early may affect recovery of your pelvic floor muscles.
When it comes down to it, we are all different, and each person heals at various rates. If something is hurting or doesn't feel right, you want to stop and give your body more time.
What are some common physical challenges with postpartum running?
A 2017 study in Sports Health examined physical complaints with postpartum running, and found the following three were common problems:
1) Musculoskeletal pain
About 33% of women experienced pain, especially in the pelvic region, upon returning to running
2) Postpartum urinary incontinence
Approximately 27% of women experienced this after their first pregnancy, with higher rates among vaginal assisted deliveries and lower rates in C-sections. Note this can be a sign of pelvic organ prolapse, so if you're having issues with this while running – take a break and chat with a doctor first to make sure it's not a major concern. (Scroll down a bit for more info about running and prolapse!).
3) Abdominal separation
Also known as diastasis recti, this involves a separation of the two parts of the Rectus Abdominis muscle. 32% of women reported a problem with this. It's a concern for runners, because it can disrupt the stability of the abdominal wall and cause some pelvic instability, which may increase your risk for injury.
Some of the common "core exercises" we think of – like crunches and planks – are actually not good for diastasis recti. But there are many rehab exercises that can be done to address it! If you experience this issue, it's best to work with a physical therapist who is familiar with it to help you.
Preventing these:
Interestingly, weight training during pregnancy and pelvic floor exercises during pregnancy may help alleviate some of these problems postpartum – so if you are currently pregnant and continuing with your strength training (under your doctor's OK of course), that's great!
Can running postpartum cause prolapse?
Let's take a step back for a second here and talk about what pelvic organ prolapse actually is. Essentially, the muscles and tissues that typically support your pelvic organs (like your uterus and bladder) become weak. Because of this, these organs can drop down a bit – either putting pressure on your pelvic region, or in serious cases, dropping down into the vagina. Symptoms often include incontinence, pelvic pressure, or even seeing/feeling organs that have dropped down in the vagina.
This sounds super scary, but it's actually not uncommon – and there are several treatments to help. There are physical therapists specifically trained in how to address pelvic prolapse with exercises to help strengthen those muscles.
Childbirth and prolapse:
After having a baby, there are several factors that come into play which increase the risk of pelvic organ prolapse. Your body has produced hormones that relax the muscles and ligaments in order to accommodate the baby that was growing inside you. When you give birth, these stretch further.
This is one of the key reasons that you need time after birth to heal. You want to make sure that you are giving your body a chance to let those muscles return to normal. Adding in pelvic floor exercises after birth can help with this.
Running and prolapse:
So while running at other times of your life generally doesn't cause prolapse, running postpartum can increase the risk of prolapse if you haven't given your body a chance to recover. It makes sense if you think about it – if your muscles are still weak, and then you go and run, you're putting a lot of impact on a structure that's already struggling.
Here are a few tips for reducing your risk of prolapse with postpartum running:
Listen to your doctor's recommendations about recovery time. Research shows it takes about 6-10 weeks for most women's pelvic floor muscles to reach antepartum strength. So while common practice is 6 weeks before trying a light jog (if you ran prior to pregnancy), some women need longer – and some may even need up to 5-6 months of recovery before their pelvic floor is in a good place and ready for that higher impact activity.
If you're feeling pelvic pain or leaking urine when you start jogging, it may be a sign that you need more time to let your pelvic muscles heal, or have developed a prolapse. Talk to your doctor.
Even if everything feels OK, consider getting an appointment with a pelvic floor therapist to just check on how everything is before starting up your routine again.
Do pelvic floor exercises regularly that can help you recover from childbirth quicker.
Try running on lower impact surfaces, like grass or a track, instead of concrete.
Avoid a lot of downhill running at the beginning, which can put extra stress on the pelvic area.
Consider shorter runs rather than longer runs at first.
If you do end up with a prolapse, you'll want to prioritize pelvic floor rehab and take a break from running. A doctor may also fit you with a pessary, a device that goes in the vagina to help support your organs.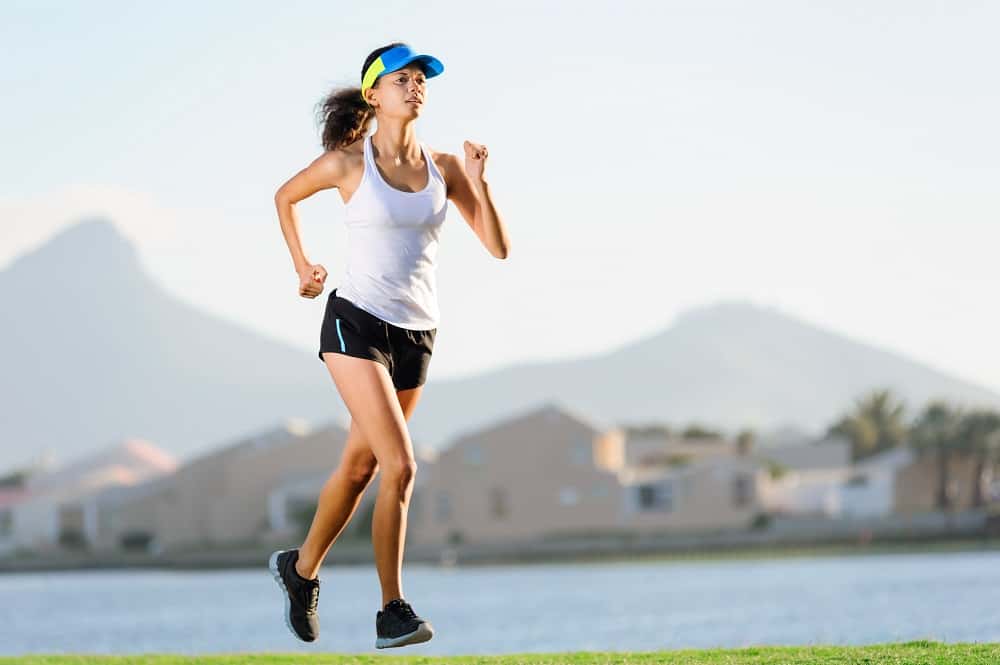 What are some common emotional challenges with postpartum running?
It may seem silly to include a section like this, but many women are familiar with the physical barriers to returning to exercise. Many women don't think about the emotional or mental health issues that can come up, though.
These can include:
Worry/anxiety over leaving the baby with another caregiver while you run
Frustration/sadness over losing your fitness level (especially common in competitive athletes)
And at a more serious level, postpartum depression – which can affect your mood, relationships, and interest in things you used to love (like running)
The first two issues may be things you can work through on your own – though you still may find value in talking to a counselor about them.
If you are struggling with postpartum depression, though, please see your doctor ASAP. It's not embarrassing or a weakness to reach out to your doctor – just like any other health condition, you want to find the best treatment.
When can you bring the baby in the jogging stroller?
Alright, mama – you're feeling good and you're ready to get running, and now you're probably wondering about bringing your little one along.
Because there are bound to be a few bumps and turns, it's best to wait until your baby has full head and neck control prior to bringing them with you for a run. For most babies, this is around 6-8 months.
However, before this, long walks are fine. You may be surprised at how much fitness you can start to regain simply be getting out there for a nice long walk.
Once you are able to bring the baby with you, I just want to give you a gentle warning – not all kids like the jogging stroller. 😉 My son was fine with it when he was around 7-12 months, and I did several longer 7-10 mile runs with him. But once he started walking not too long after that – he wanted nothing to do with being in the jogging stroller. I could run maybe 1 mile before he'd get cranky and start screaming.
He got better with that around 2 years old, but it was frustrating for me at first during that time. Just know that a solo run while the baby is with your partner or in a gym's childcare setting may be other options!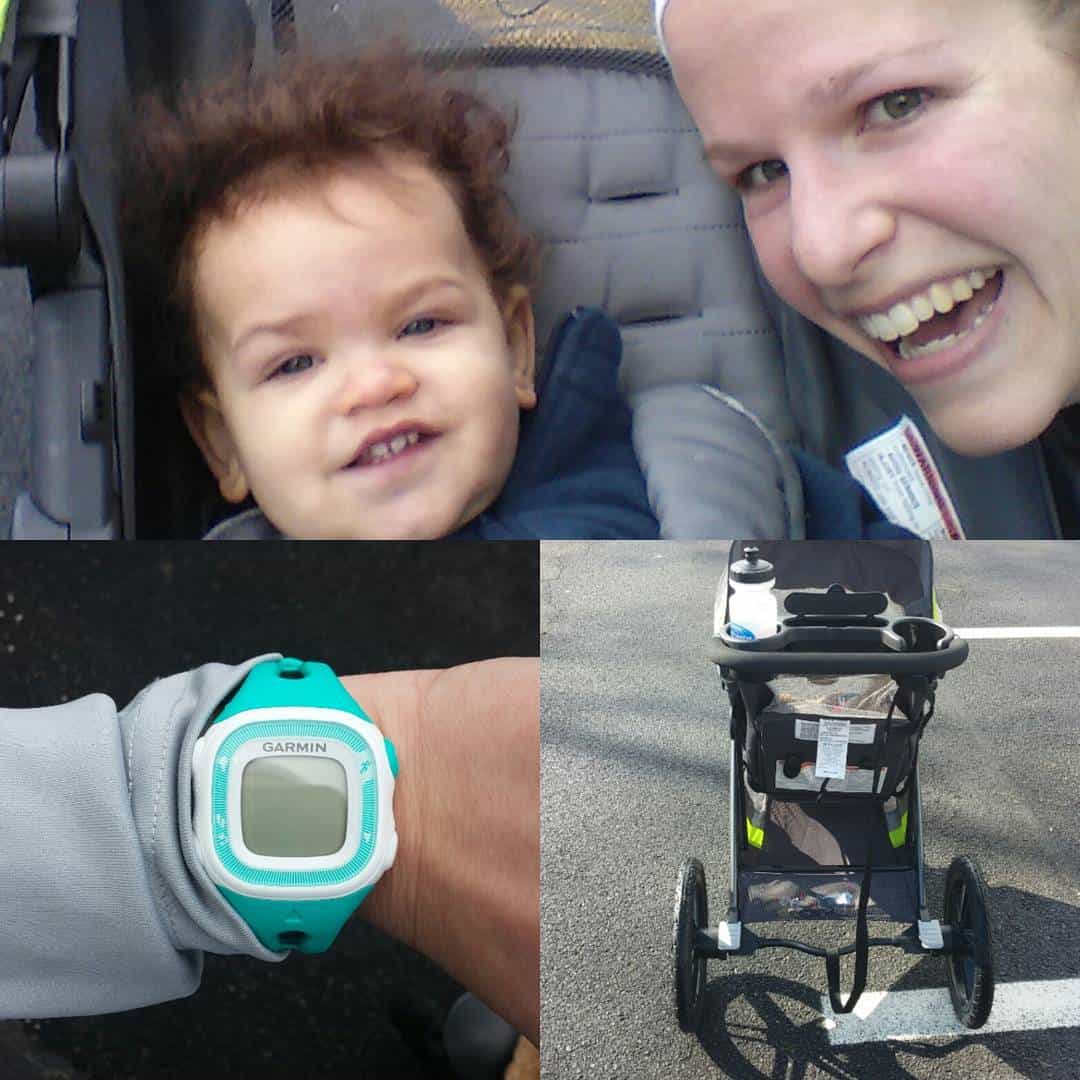 Other tips for postpartum running:
Take your time.
We are pressured way to often to believe that we should be back to our baby weight and normal exercise routine 3 months postpartum. It's not a healthy practice, physically or mentally, for most of us. It took almost a year to put on the weight and change your routine, so try to get comfortable with the fact that it can take the same amount of time to recover and bounce back afterwards.
Be sure you stay hydrated, especially if you're nursing!
Nursing makes you insanely thirsty, which makes sense because you're producing some liquid gold up in that body (called breastmilk of course). Even if you usually don't bring water for shorter runs, it's worth it to make sure you've got some on hand now.
Incorporate stretching in your routine.
After carrying a baby for 9 months, and now carrying around a baby while trying to get things done around the house – your posture is probably a bit off and contributing to some tight muscles. This doesn't just magically fix itself when you start to run, so you'll want to make sure you weave in some good stretching.
Get a good sports bra.
If you're nursing, your breasts are probably larger than pre-pregnancy, so you may need to invest in a few new bras during this time. You want something that's very supportive.
Nurse or pump first.
If you're breastfeeding, nurse or pump before you go out for a run. Your breasts will feel more comfortable while you're jogging and you're less likely to have leakage.
Ignore the naysayers.
Something about pregnancy and parenting makes people come out of the woodwork with their opinions. 😉 Whether it's someone shaming you for taking a little me-time, or someone telling you that running will affect your supply (as long as you're getting enough calories, it won't) – just let it roll off your shoulders and enjoy your runs.
Make it work in your schedule.
Figure out the best way to make your runs work in what's now probably a hectic schedule. Is it going solo first thing in the morning before everyone is up? Is it joining a mom friend at the track on the weekends? Taking your 8-month-old in the stroller with you? Figure out what's most enjoyable and what works best if your schedule.
My postpartum running experience
After my son was born back in 2016, I thought I would immediately bounce back to running postpartum. I mean, sure, they say to ease back into things, but I ran through my pregnancy, right? I should regain my pace quickly!
Unfortunately, it wasn't quite that smooth sailing experience I was hoping for, haha. I definitely had some soreness in my first few runs back. And it took a while (like a year) before I even came close to my pre-pregnancy pace.
But all in all, I was pretty lucky to not have any major issues returning to running post-baby. I was able to run with one of my Couch to 5K groups at 8 weeks postpartum (luckily, I didn't have any issues with pelvic floor weakness), and just listened to my body to make sure if felt right.
Ironically, my biggest postpartum injury was not with running, but teaching a boot camp class several months after giving birth. I came down on my ankle doing high knees, rolled it, and sprained it – which of course messed with my running for a while after that. But that goes to show the issues with continued joint laxity, even several months postpartum.
Your postpartum running journey
Everyone has different experiences with postpartum running, whether it's physical challenges or mental challenges. My best advice is to take it easy, give your body a chance to heal, and then just enjoy your journey back to running!
Share with me: What has your postpartum running experience been like? What other questions do you have? Are there other tips you'd like to share that I missed?
References:
Blyholder L, Chumanov E, Carr K, Heiderscheit B. Exercise Behaviors and Health Conditions of Runners After Childbirth. Sports Health. 2016;9(1):45–51.
Chang S, Chen K, Lin H, Lin, M, Chang T, Lin W. Association of Mode of Delivery With Urinary Incontinence and Changes in Urinary Incontinence Over the First Year Postpartum. Obstetrics & Gynecology. 2014: 123(3)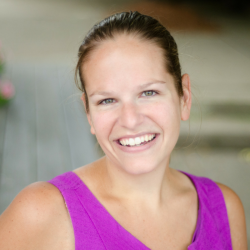 Latest posts by Chrissy Carroll
(see all)