Have you seen ads for Real Eats meal delivery service? Or maybe a friend told you about it and you're thinking about giving it a whirl? Read up on my honest experience in this Real Eats review – and find out why this is the only meal delivery service I've ever really loved.
Disclosure: This post contains affiliate links; I earn a commission on qualifying purchases. It does not affect your user experience at all.
(PS – Looking for a Real Eats coupon code? Scroll to the bottom of this post to find one!)
What is Real Eats?
Real Eats is a meal delivery service, founded by a busy single dad that wanted to feed his family nutritious meals.
One of the things that differentiates Real Eats from other meal delivery services is the method of cooking. There's no prep work that needs to be done on your end. Instead, everything is delivered in a box (chilled with ice packs) and each meal comes packaged in a sous vide bag. All you need to do is drop it into a pot of boiling water for 3 to 6 minutes.
The meals are all fully cooked beforehand in the Real Eats facility, so you're not cooking your meals from scratch but rather using this method to reheat them.
This is a game changer. Don't get me wrong, I love cooking. But I guess I never really understood the point of a lot of other meal delivery services. I mean, if I'm going to need to prepare all the ingredients and cook 'em myself, I'll can just go to the grocery store and buy food for meals I want to make (or order it on Instacart, haha).
With this though, it's like getting a restaurant-quality meal that's already made for you; you just need to heat it up in the pot. That's awesome.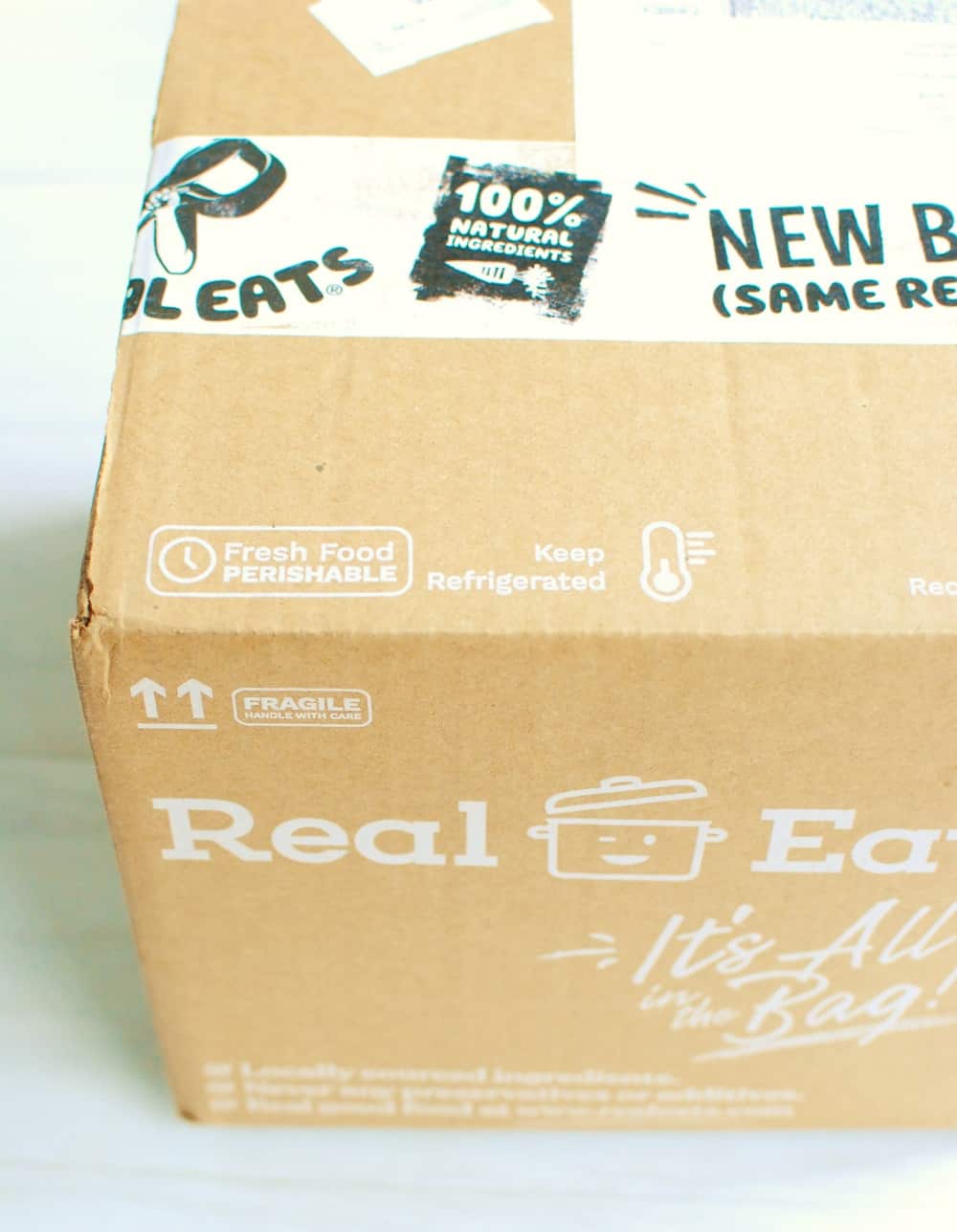 My Real Eats Review
On Real Eats, you can decide the plan and recipes that fit your needs. I decided to test out the four-meal plan. (Side note, I didn't get free meals or anything for this. I paid regular price for these meals because I'd heard good things and wanted to test out the service!)
I'm not going to lie, when they arrived in the mail my first impression was – holy moly, these bags look SMALL. I mean, I'm a pretty active woman, and I like to EAT. I was nervous the meals wouldn't be enough for me.
But good news – once cooked and plated, all the meals were totally was a normal size portion of food. There's just something deceptive about the bag size. Crisis averted, haha.
Here's a look at each meal I bought, including before/after photos from the bags to my plate:
This was by far my favorite of all the dishes, and it was the first one I opened up to try. Think creamy corn grits and spice-filled shrimp, all topped with a tart and crunchy jicama/apple salad. It was simply amazing.
PS – I learned something new with this dish. I knew I tasted curry but didn't see it on the ingredients list – though I did see "Vadouvan powder". After a little googling, I discovered Vadouvan is actually a curry spice blend. And now you know too. 😉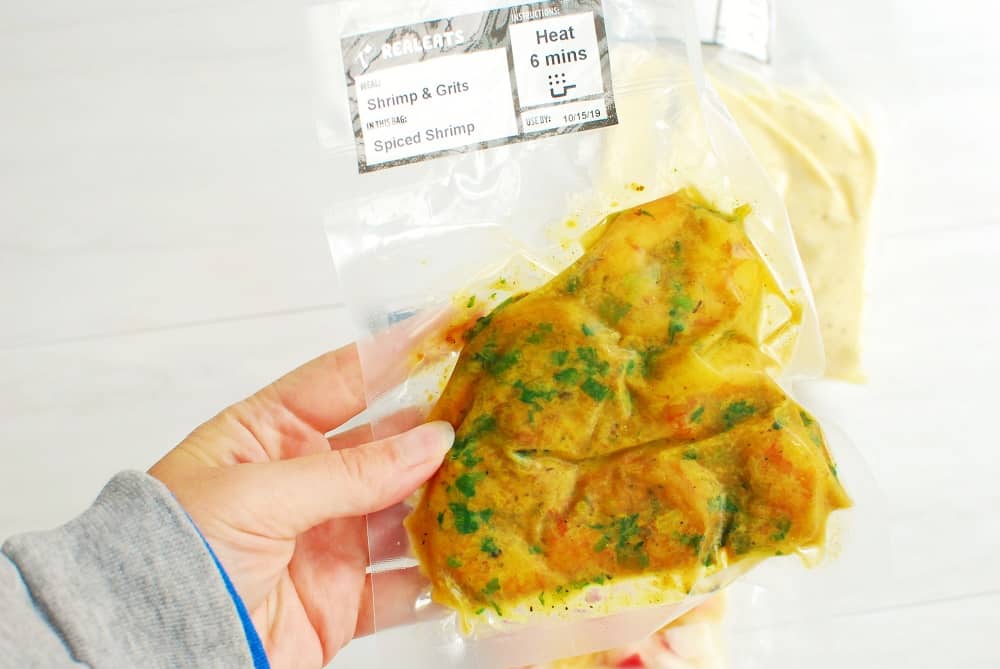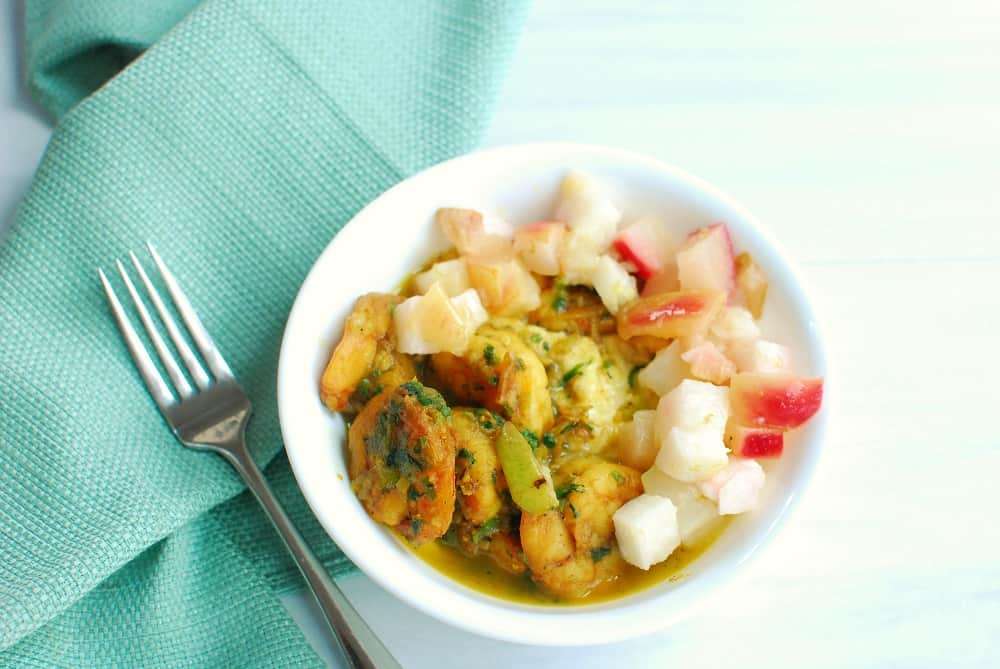 This was my second favorite of everything I've ordered, mainly because I was shocked at how crazy good the polenta was with the flavorful tomato beef mixture on top.
The greens were also delicious, and held up their texture during cooking. That's probably one of the things I liked best about the sous-vide style bags – the vegetables weren't super mushy like you often get when reheating frozen meals. Since these are bagged fresh, the vegetables still had a bite to them.
And, for 300 calories, I was surprised at how filling this dish was.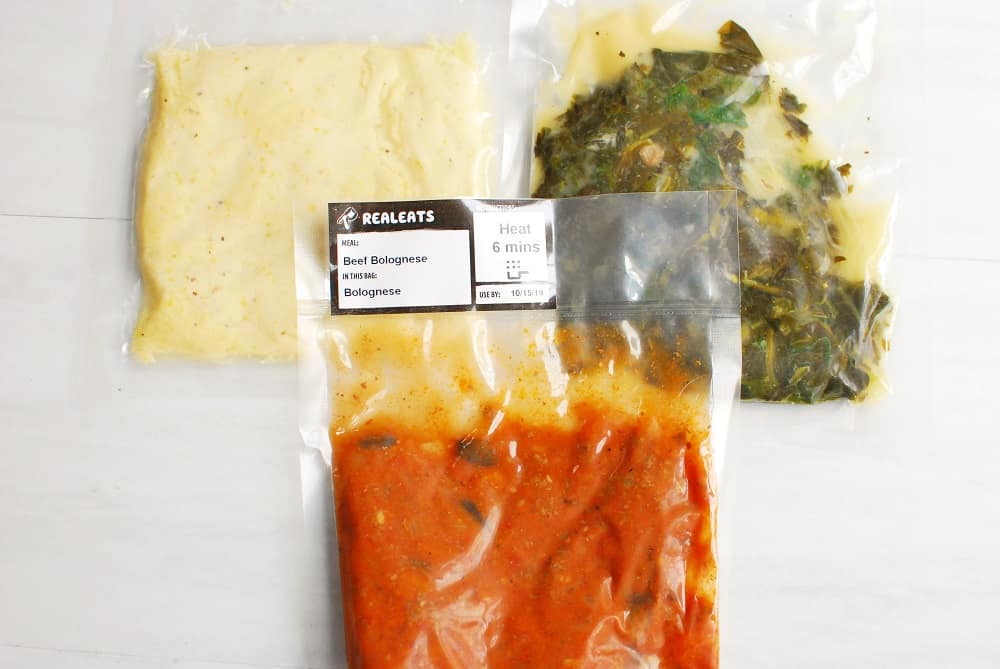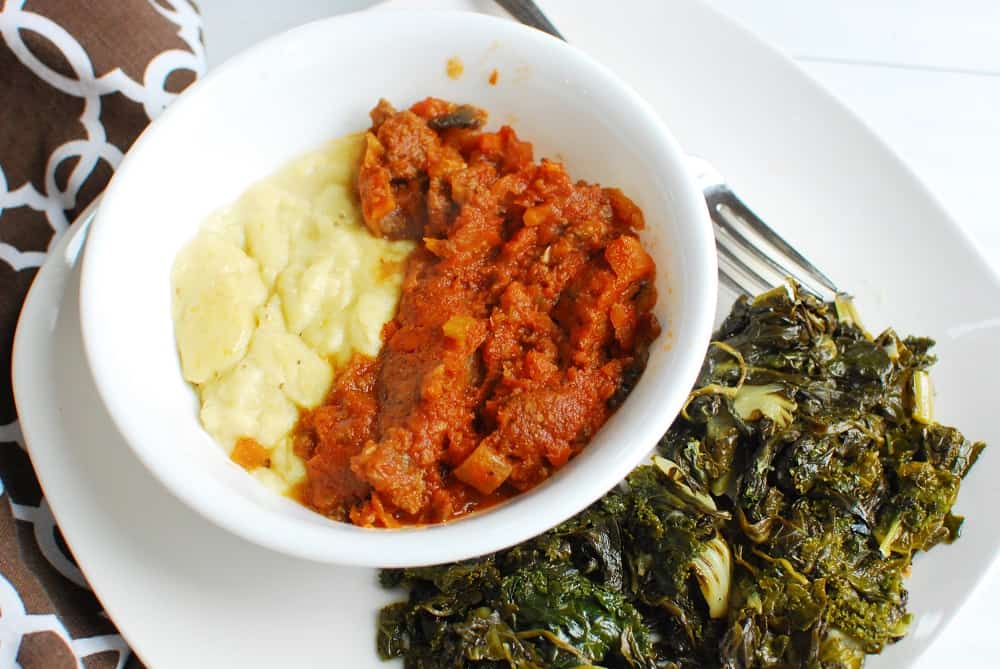 If I'm being honest in this Real Eats review, this meal was my least favorite – not because it was bad, but just because it seemed "normal." In other words, the other meals tasted like restaurant quality dishes with unique flavor and ingredient combinations. This one was just more basic.
Nevertheless, the salmon was cooked perfectly and the veggies were lovely. It was good – just not as outstanding as I thought the other three meals were.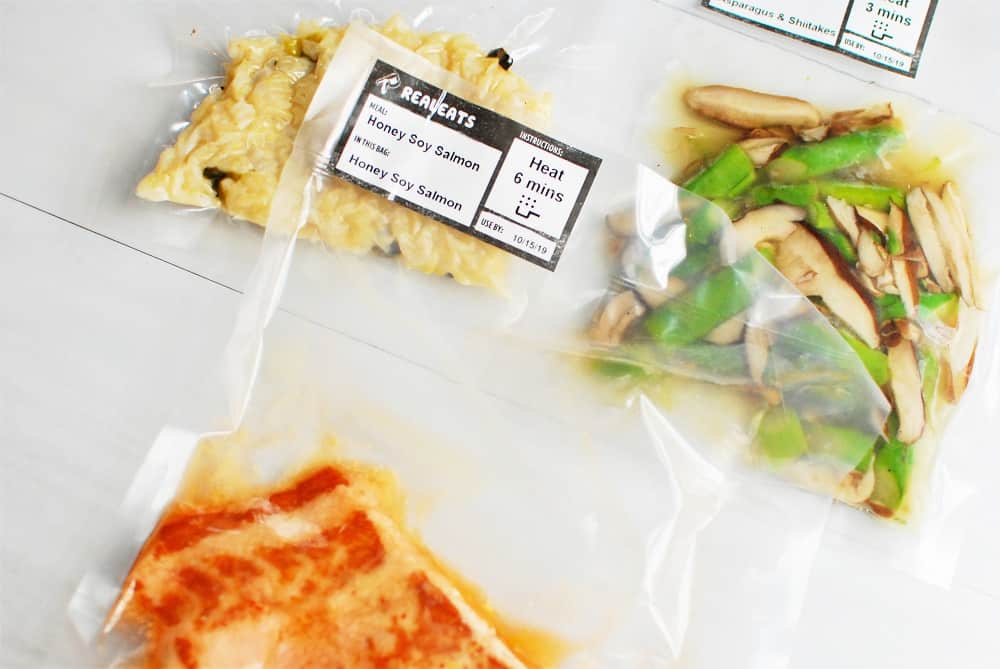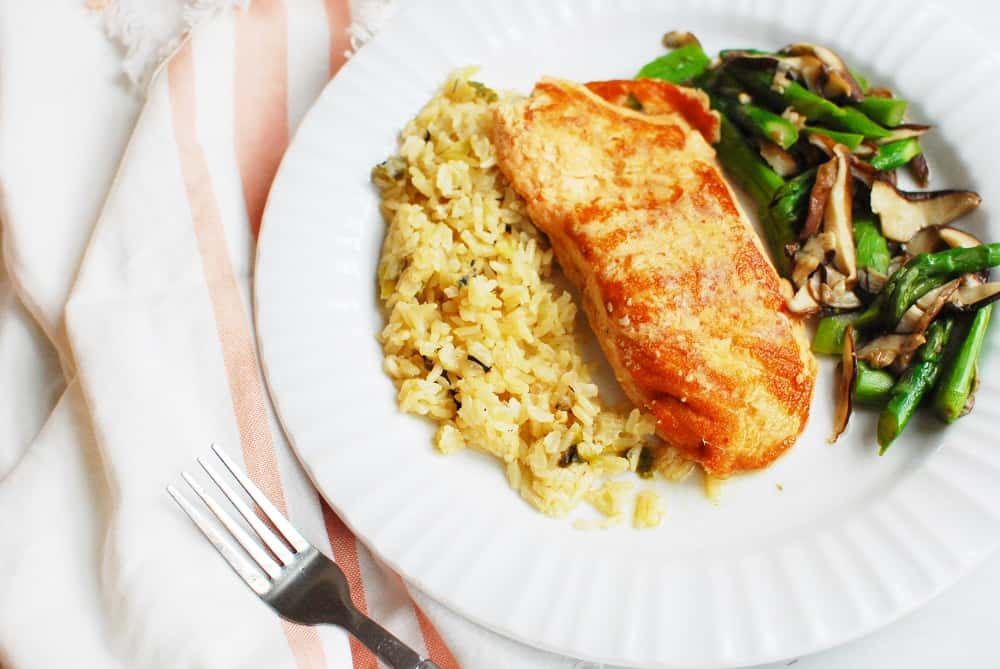 These vegetarian tacos were awesome. I liked that there were multiple components to the taco filling itself, between the smoky mushrooms, the black beans and corn filling, and the cilantro crema. There was also the right filling-to-tortilla ratio, so none were over- or under-stuffed.
This meal was also packed with fueling, healthy carbohydrates – making it a nice option for active women.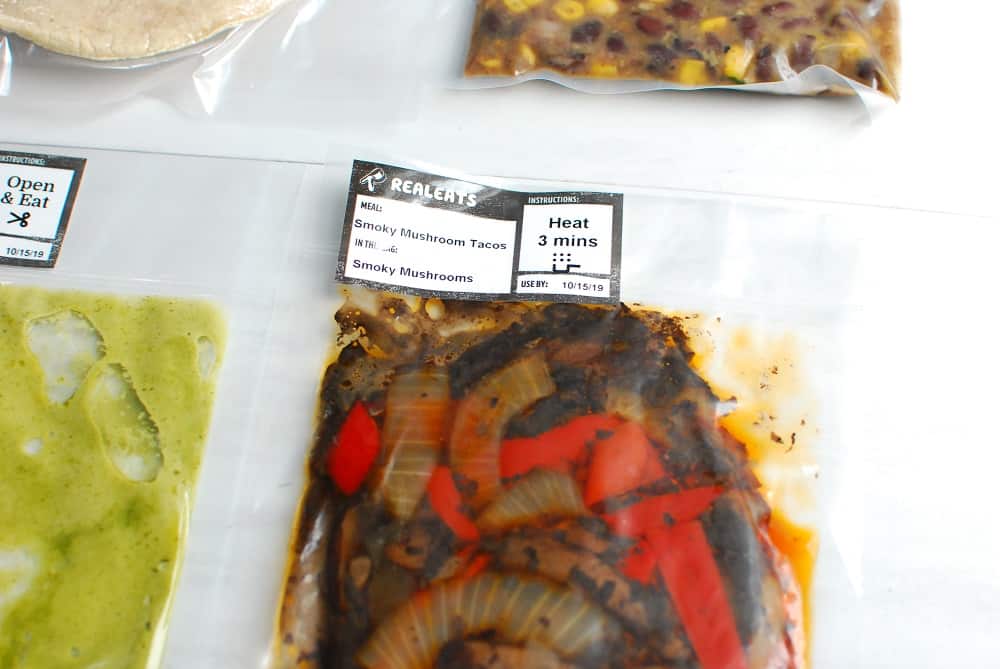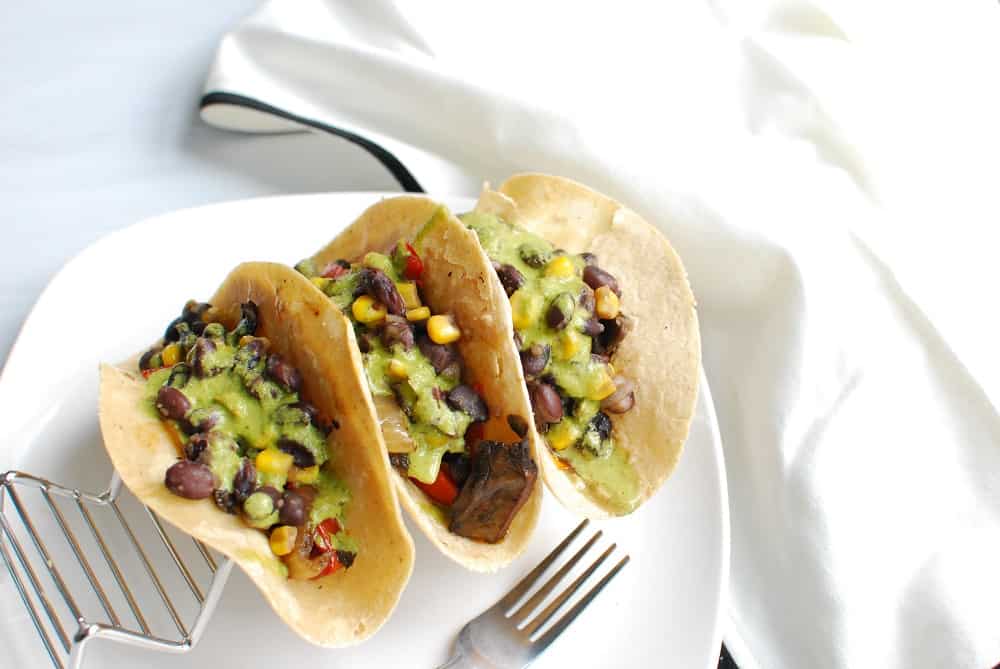 Here's a quick video of me making the smoky mushroom tacos so you can get an up close and personal look at how easy they were to make!
My overall impressions: I was really impressed at the quality, taste, flavor, and nutrition profile of each meal that I ordered. With 3 of these 4 meals being slam dunks – and one still being quite good – I was very happy.
Wondering how it works?
If you want to try it yourself, the ordering process is pretty simple and self-explanatory. You'll start by choosing the plan with the correct number of meals for you/your family. There are currently two different plan options and each has several choices:
Dinner only – you can choose from 4, 6, 8, or 12 meals
Dinner + breakfast – you can choose from 8, 12, 16, or 24 meals (which include half dinner and half breakfast)
Keep in mind these are single serving meals, so be sure to think about how many people you're serving and how many days you're planning to use these for when choosing your plan.
Once you choose your plan, you'll visit the meal selection page. There's currently around 15 options to choose from and it includes a little of everything – beef, chicken, fish, and a few vegetarian meals.
Under each meal, you can hover over the description and ingredients buttons for a quick view, or you can click on each of those – along with the nutrition button – for an enhanced view of the meal. You'll be able to get a feel for what the meal will taste like, and you'll also see a full nutrition facts panel.
For example, here's a quick glance at the shrimp and grits meal. You can see that it has 420 calories per serving, with 13 grams of fat, 42 grams of carbs, and 32 grams of protein. (That's a pretty nice little breakdown for all you active ladies; a great balance of different macronutrients).
Poke around the entrée choices and then choose the meals you'd like for your order that week.
Remember, if you're ordering for a family, you may want to select multiples of a certain meal. For example, let's say you have a family of four and are ordering the 12-meal package. That might mean that you choose 3 different entrees, and select 4 of each one to feed everyone in your family for each of those three meals. That would add up to your 12 total meals.
Once you've got your meals chosen and your plan set up, there's also the option to include "add-ons". These include extra soups, sides, snacks, and more. You can order these a la carte to go with your plan.
Then just sit back and wait for your food to arrive! If you use it as an ongoing subscription, don't forget to select your meal choices each week.
Answers to Common Questions
Here's some helpful answers to common questions about Real Eats – at least I know I had these questions before I ordered!
1) How much does Real Eats cost?
This varies based on the plan you select, but it ranges from around $59 for four dinner meals up to around $200 for 12 dinners plus 12 breakfasts.
2) Are there shipping costs?
You do have to pay for shipping on certain plans. Mine was $7.99 on the four-meal plan, so it added about 2 bucks per meal. You'll score free shipping on orders over a certain amount, and there are occasionally free shipping promos as well.
3) Are you locked into a subscription?
The system is set up as an ongoing subscription – however, you do not have to order weekly! There are a few options if you want to order more intermittently:
a) Skip an upcoming week. In this case, you just go to your account and scroll to the section that says "Manage or Skip Upcoming Order." From there, you can skip any upcoming week.
b) Pause your account. Here, you can click a button to easily pause any orders for 2 weeks or 4 weeks. This is a great feature if you'd like to order from Real Eats intermittently.
c) Cancel your account. If for any reason you were unhappy with it, you can cancel the account completely without any further charges.
4) When is your first delivery date?
As a heads up, they don't give you an exact delivery date before you place your order – or at least they didn't when I ordered from them. When I placed the order, I got an email prompting account set up. And in that set up area, I could then see the anticipated delivery date under "your current order."
It looks like most orders are processed on Thursdays, and then delivered out the following Tuesday or Wednesday. That means if you order anytime in a given week up until Wednesday, your order will most likely be delivered the next Tuesday.
Just keep this in mind when ordering your first week, as you don't want to order if you'll be traveling Tuesday or Wednesday of the following week.
5) Can you freeze Real Eats meals?
No, you shouldn't freeze them. They're cooked fresh and then transported, so you'll want to use them fresh in the appropriate time frame.
6) Are the plastic pouches safe?
As far as the plastic pouches, I can understand how some of y'all might worry about them. I looked into the details and according to the company, the pouches are food safe, BPA-free, Plasticizer-free, Phthalate-free and experience no leaching. If you've ever had sous vide food at a restaurant, it's probably the same kind of packaging used there.
Who should use Real Eats?
Alright, so you've read all of this and might be wondering – is this really a good fit for me? There are a few groups of people that I think this service is particularly beneficial for (and a few that I don't think should use it!).
To start, I think this is awesome for…
Work at home hustlers: Hello, I'm raising my own hand here. You'd think working at home would make it easy to eat nutritious meals at lunch, but I'm going to be real with you – unless I meal prepped earlier, I often find myself working until I'm ravenous and then grabbing whatever is quick from my kitchen for lunch. Real Eats meals make it simple to quickly get a healthy lunch on my plate.
Single folks: If you're flying solo, it can be easy to let food move to the back of your priority list. I know it's a pain to break out all the cooking gear and ingredients if you're the only one eating it. These meals offer a great option for healthy dinners that are great for any of you single peeps.
Date night couples: It seems like a good majority of the time, my hubby and I are limited to a "date night" in our own house while my kiddo is sleeping. For these times, why not order Real Eats to give you a restaurant-quality meal that's done quickly? Plate it up, throw some candles on the table, and boom – you've got a lovely little night right there.
Holiday gifts for a college student, new grad, etc: Y'all, it's that time of the year! This would make an excellent gift for a college student in a small apartment, or a new grad who's busy with their first job. I know I would have personally loved this during my dietetic internship. I spent those 6 months living off discounted hospital food and those crazy cheap little Debbie cosmic brownies, lol. If you order it as a gift, just input their shipping address for the order, and then let the subscription run for as long as you'd like to gift. When you're ready to cut the cord, simply cancel the subscription.
Who shouldn't use Real Eats?
This service is not for everyone, and I'm going to be straight with you about that.
If you're on a very tight budget and/or have a large family, it's probably not the best fit for you.
For example, if you've got a family of 4, you'd be spending $150 for three dinners (assuming you're ordering 4 servings of each). That's $50 a dinner, and while it's not as expensive as a restaurant – it would definitely add up over time for a whole family.
In those cases, I'd recommend shopping the sales and cooking from scratch to maximize your food budget!
Also, if you're an athlete in a sport where you need to eat a lot of calories – like powerlifting or a football linebacker, for example – the portion sizes for Real Eats would be too small for you.
Real Eats Review Verdict + Coupon Code
If you've got the cash for it, I highly recommend trying Real Eats.
For me, there were only a few small downsides. Obviously, it's a pricier service compared to some other pre-packaged meals and/or cooking on your own. It's also an ongoing subscription model versus being able to order as-needed – though that's really easy to get around by just skipping any weeks you don't need.
But the pluses make up for any of these downsides. The prep/cooking time is so minimal that it makes it super quick to get a meal on your plate. The quality of the food was fantastic, with bold flavors and the right textures. And almost all the meals available through Real Eats clock in at under 600 calories – most around 300-500 – making them ideal for those looking for nutritious yet filling single-serve meals.
If you decide to try it out, I've got a special coupon code right now that might be helpful. Use code REAL60 to score $15 off 4 boxes!
Visit Real Eats today if you're interested in ordering, or let me know what meal subscription questions you have – or services that you like! – below.
Share: Did you find this Real Eats Review helpful? Do you have any questions about Real Eats? Or have you tried it yet?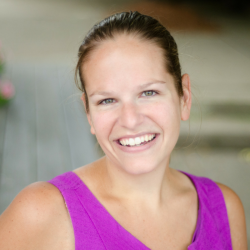 Latest posts by Chrissy Carroll
(see all)