Curious if it's safe to run in cold weather? If you live in a chilly climate, this is surely a question that's crossed your mind at one point or the other.
Running in the winter has a lot to offer, but there are some risks. If you're serious about keeping up with your miles during the cold season, there are a few things you have to take into account.
Let's take a look at some of the dangers of winter outdoor exercise and the measures to protect yourself against the cold while running. By the end, you'll be set and optimally prepared for winter outdoor training!
Disclaimer: This article was written by David Dack, a running coach and fitness author. It was reviewed by Chrissy Carroll, MPH, RRCA Certified Running Coach. This post is for informational purposes only and should not be construed as medical advice.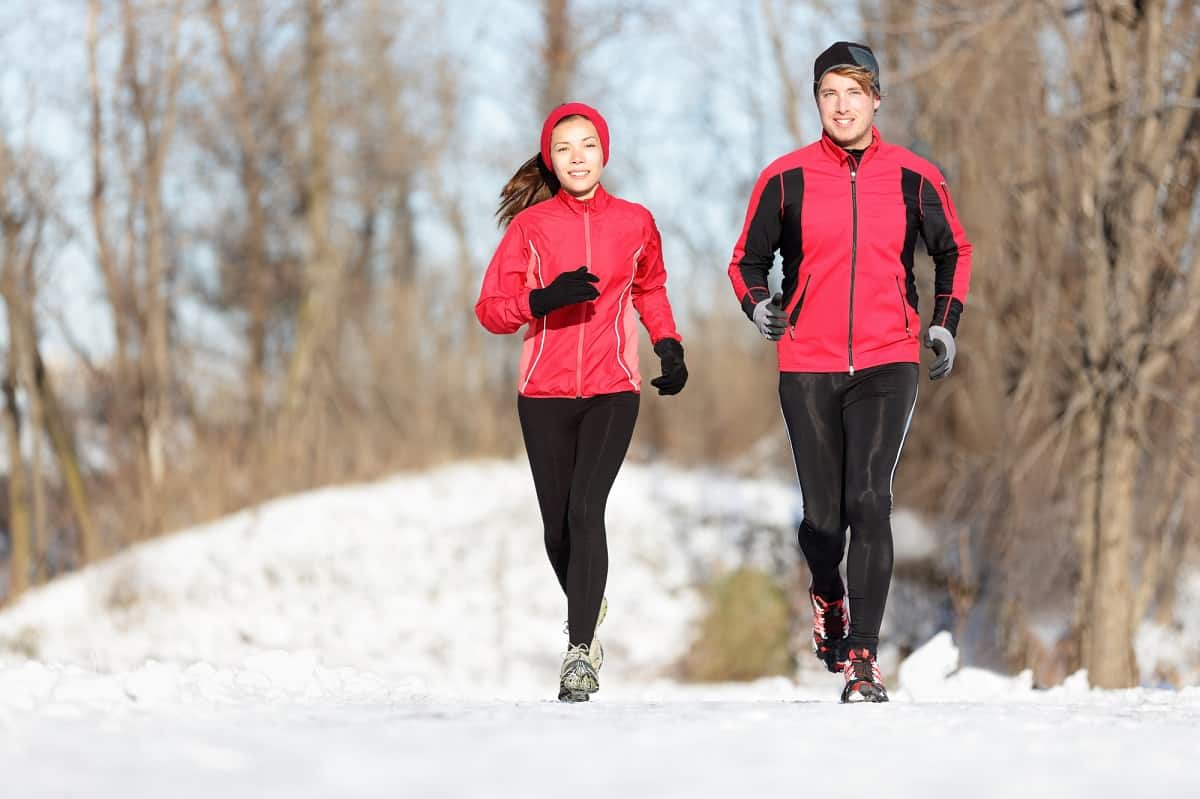 1. Lung Issues
Whether you've tried running in the cold a few times or are a seasoned winter runner, chances are you may have experienced some type of burning sensation in your lungs or slight chest pain during a winter run.
What's colloquially referred to as "frozen lung" isn't truly a risk of your lungs freezing – but the symptoms can be annoying enough to make some runners think twice before braving the cold weather.
So what is it all about?
When you breathe in the cold air, your lungs heat and humidify it as the air goes into your body. This cold air can irritate your lungs and force them to narrow, resulting in shortness of breath, coughing, and other unwanted symptoms.
What's more?
If you already have asthma, COPD, or any other respiratory condition, running in cold weather may make your symptoms even worse. This is often called exercise-induced bronchospasm (EIB).
Research suggests exercising in the cold when you experience EIB results in training sessions with lower exercise capacity and performance.
Here are some steps to keep the risk of lung issues at bay:
Try A Mask
To prevent lung problems caused by the cold, dry air, try wearing a mask or a scarf over your mouth. This helps warm and humidify the incoming air before its reaches your lungs. This can help soothe some of the stress on your lungs.
Drink Plenty Of Water
Staying well hydrated not only ensures optimal running performance but can also help your lungs to better handle the cold. That's why it's just as important to stay well hydrated during summer that it is during cold weather.
As a rule, aim to stay well hydrated throughout the day. Drink plenty of water before your runs, during (for runs exceeding one hour), and soon thereafter. And this is the case whether you're trying to improve your 5K time or just want to stay in shape.
Pay attention to your body.
If you do frequently suffer from exercise-induced bronchospasm, pay attention to the triggers as well as what helps your symptoms.
The American College of Allergy, Asthma & Immunology suggests warming up with lower intensity exercise proir to moving to higher intensity exercise, as well as trying to breathe through your nose to help warm up the air as it moves down to your lungs.
You may also notice that exercising below certain temperatures makes symptoms worse. If that's the case, you might switch to indoor workouts for those lower temperatures.
2. Cold Weather Injury
You risk falling victim to cold weather injury the longer you stay outside and the lower the temperature falls.
The two most common problemsare hypothermia and frostbite.
Hypothermia is an abnormal drop in body temperatures, plummeting to life-threatening levels.
Running in freezing conditions increases the chances of this condition. In most cases, hypothermia strikes once your body temperature drops below 95 degrees F (about 35 degrees Celsius).
When this occurs, all of your vital systems—including your cardiovascular, nervous system, and other organs will stop functioning properly. This sets the stage for a world of trouble.
In severe cases, one can experience heart problems, respiratory failure, even death.
As for frostbite, this cold weather-related injury happens when unprotected body surfaces come in direct touch with the cold and then freezes as a response.
As the condition progresses, it impacts all layers of the skin and tissues and requires a visit to the emergency room.
You're at risk of frostbite within 30 minutes when the air temperatures dip below -10 degrees under mild conditions.
Some of the most prone areas to frostbite include any exposed skin, such as the nose, cheeks, and ears. It can also trike the feet and hands.
Here are some steps to prevent these issues:
Check the Temperature and Wind Chill
The best way to deal with both hypothermia and frostbite is to prevent them in the first place.
Always check the weather forecast so that you know the estimated temperature and windchill. This can help you dress properly and assess if it's not a good idea to run outside.
Most experts suggest that if the temperature is below zero to negative 10 (with wind chill), it's smart to skip the outdoor run and take it to a treadmill workout instead.
Dress Properly
One of the best ways to protect your body against the cold is to dress properly for chilly weather.
When training in subfreezing conditions, it's key to wear the right layers to help keep your body warm and less prone to cold weather injury.
Here's how to layer properly.
1 – Start With a base layer of moisture-wicking material. This is worn directly over your skin, and its main purpose is to keep dry and warm. I'd recommend a thin layer of synthetic material, such as polypropylene.
2 – Add on an insulating middle layer. I'd recommend a winter running jersey or a fleece jacket, depending on the temperature—the thicker the layer, the better the insulation.
3 – When it's really cold or windy, but an outer shell for extra protection and insulation, preferably made of a breathable layer of nylon or Gore-Tex. I'd recommend a running vest or jacket made with water-proof and wind-proof fabrics.
Put On A Hat and Gloves
Since we lose a large percentage of our body's heat throughout the head, wearing a hat is non-negotiable. This is one of the best ways to maintain proper body temperature.
Similarly, hats and gloves protects sensitive areas like your fingers and ears from frostbite.
Know The Warning Signs
Be aware of the warning signs so that you can take action of any of them start to occur.
According to Mayo Clinic, symptoms of hypothermia include:
Confusion
Intense shivering
Clumsiness
Slurred speech
Extreme fatigue
Poor coordination
Energy loss
As for frostbite, it usually manifests as:
Cold, red, skin
Numbness
Tingling
Burning sensation.
If you suspect any of the conditions, head back inside and get medical care.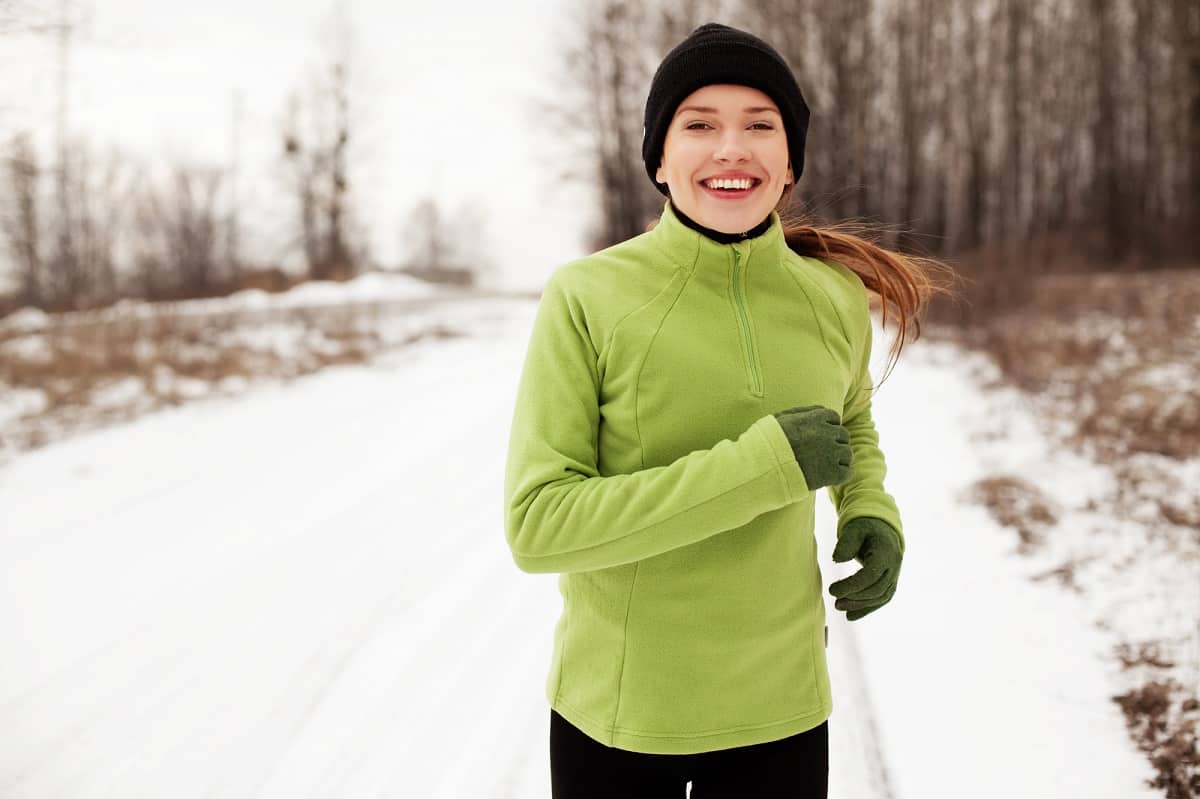 3. Slipping & Falling
Lung issues, frostbite, what else? Of course, you're also at risk of slipping and falling during winter runs. In fact, if you have never lost your footing when running in the rain/snow, you're either lucky or haven't been running enough.
So what should you do to stay steady on your feet while braving the slippery outdoors? Check the following tips:
Proper Shoes
Before you venture out, examine the bottom of your trainers and make sure that the outer sole isn't too worn down. Instead, it should have a grippy surface to keep you stable.
Stay on The Right Path
Make sure your running route has good footing and is safe and clear to navigate. I'd recommend sticking to well-plowed or salted surfaces. Some of the best places include college and university roads. These roads are also designed for pedestrians, and there is less traffic.
Add Traction
Planning on doing plenty of running on icey, snowy surfaces? Consider attaching snow or ice spikes to your running shoes, such as Yaktrax.
This should be enough to help you keep traction to lower the chances of slipping and falling.
Just keep in mind to stay away from hard surfaces, such as pavement, when using the spikes.
4. Skier's Nose
Roughly 60 to 90 percent of people get a runny nose when it's cold. This is what's known as "skier nose" or "cold-induced rhinitis." You're more prone to a skier's nose if you have asthma or eczema.
Why does the cold trigger this runny nose?
One of the main functions of your nasal mucus is to warm the air you inhale. This function needs adequately moisturized nasal passages.
However, the dry, cold air triggers the nerves inside the nasal passages, which transmits a message through your nerves to your brain. Next, your brain responds by triggering the mucous glands in the nose to produce more secretion to provide enough moisture. As a result, you get congested in your nostrils.
Take the following steps to prevent and soothe a running nose:
Wear a Face Mask or Bandana
While logging the miles in the cold, you can wear a mask that covers your nose to offer some protection from the cold and help warm up some of the incoming air before it reaches your nostrils.
Avoid a raw nose.
To ward off chapping and a raw, red nose, try putting on some Vaseline around it. This can help create a protective layer between your nose and any tissues you're using, as well as the dry air.
You can also carry moisturizing tissues with you to use when needed, which may feel better than bargain-brand options.
Consult your doctor.
There are a few research studies that have investigated the use of nasal sprays cold-induced rhinitis. For example, this study found that ipratropium bromide nasal spray helped relieve symptoms.
Always consult a doctor prior to self-treating with medication or nasal sprays, though.
Final Thoughts
By taking a few simple precautions, you can ensure your winter runs in cold weather are safe and succesful! Always check the weather prior to stepping outside, avoid icy surfaces, and consider masks or balaclavas to help warm the air to your nose and mouth. And when in doubt, an indoor treadmill run can prove just as effective as an outdoor run. Good luck!
About the Author: David Dack is a running coach and fitness author. When he's not training, he's doing research and trying to help as many people as possible via his blog. Check out his work at Runners Blueprint for more info.
Feel free to pin this post to share with others!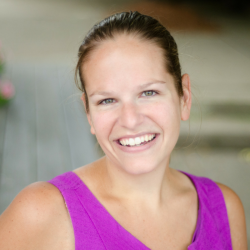 Latest posts by Chrissy Carroll
(see all)