Salt tablets for runners can be a useful addition for fueling a big race – but they're not always needed. Learn why some runners can benefit from the additional sodium, and how salt plays a role in our physiology during running.
Disclaimer: This post has been reviewed by Chrissy Carroll, Registered Dietitian. It is for informational purposes only and should not be construed as medical advice. Please consult a physician or dietitian for individualized nutrition advice.
Why do runners need sodium?
Have you ever noticed that after a long run, you might have those white lines on your face or skin? That's sodium from your sweat (when your sweat evaporates, the salt can be left on the skin)! It's not the most glamourous subject, but it is interesting and important.
Sodium is one of several electrolytes that play an important role in the body, involved in hydration status, muscle function, and heart function. Plus, sodium intake actually stimulates your overall thirst mechanism during exercise, which can help you stay hydrated on your long runs (source).
When you sweat during a run, you lose electrolytes. Sodium is the lost in the greatest amount, and you also lose much smaller amounts of potassium, calcium, and magnesium.
The amount of sodium lost during a run is not one set rate. It depends on the amount of sweat and the sodium concentration in the sweat, which varies based on genetics, heat acclimatization, diet, weight, and genetics (source).
Since it's the primary electrolyte you lose in sweat, it's important to consume some sodium when you're exercising for long periods of time. Generally, for exercise under an hour, you can hydrate with water – but once you get past an hour, it's time to add in electrolytes (aka sodium) along with that fluid.
Hydration and electrolyte balance can be tricky but by prioritizing fluid and electrolyte replacement as a part of your training routine, you can prevent issues like heat exhaustion, fatigue, and possible cramps.
Keep in mind the cramping benefit is only anecdotal, as most cramps are actually related to neuromuscular fatigue – but there's still athletes out there that say they have cramping issues when short on electrolytes, so always good practice to get enough.
What are salt tablets?
Salt tablets are concentrated sodium in a tablet or capsule. For the purposes of this article, we'll also look at electrolyte tablets, fizz tabs, and other salt products (like Base Salts).
No matter which product you're looking at, the goal of all are the same – to increase sodium intake during endurance exercise.
So, should you use 'em? Let's first look at the risks of too low and too high sodium levels during exercise.
Risks of low sodium levels
During endurance exercise, it's important to prevent low sodium. This condition is called hyponatremia – essentially, a dilution of blood sodium levels that can lead to dangerous consequences like bloating, nausea, vomiting, seizures, and occasionally death.
However, despite the definition – low blood sodium levels are most commonly caused by fluid overload. Drinking too much water alone does present a greater risk than drinking that water combined with sodium intake (either via the drink or via a salt tab). And the risk is greatest among slower distance runners that are cumulatively taking in more fluid over the course.
Because of this, it is important to get enough sodium during long exercise bouts – but it's even more important to make sure you're drinking the right amount of fluid.
Curious if you're hydrating right? Try a sweat test: weigh yourself before and after your run, without clothes on. If you've lost more than 3% of your body weight, you probably want to try drinking a bit more during your runs. If you've gained weight, you're probably drinking too much (which could put you at risk for hyponatremia during long races).
Risks of excess sodium levels
On a daily basis, taking in too much sodium may increase the risk of high blood pressure.
However, for athletes, acute sodium replacement during exercise should not have deleterious effects on blood pressure when used in the proper amounts.
Keep in mind that salt tablets can cause other side effects though, like upset stomach, nausea, or vomiting. Too much salt in the stomach can draw water into the GI tract, which is not ideal during a race.
In addition, if you took an excessive number of salt tablets during the race, it can cause too much sodium in the blood stream. This is a dangerous situation, as water rushes out of cells to try to dilute the sodium in the blood. This can cause damage to the cells, rupture blood vessels, and can cause excess fluid in the brain and lungs. It can be a medical emergency (source).
Clearly, there's a careful balance here! 🙂
Should runners use salt tablets?
As you can see, salt tablets can be helpful for runners to maintain proper hydration and electrolyte balance during long distance running. However, this only applies when they are used in the proper amounts and only when sodium needs are not replenished enough via other means (like an electrolyte drink or fuel source).
Runners are more likely to need additional sodium replacement (via salt tabs or another electrolyte option) in the following situations:
Hot weather: High temperatures can increase sweat rates. Sweating is the body's defense mechanism to prevent overheating and therefore, the hotter it is, the more sweat your body will produce.
Higher altitudes: Being at high altitude can increase fluid loss. If you have a race or are training in a new area with higher elevation than you typically are used to, you may need more fluid and electrolytes.
Very long workouts: The longer your workout, the more fluid and sodium you're losing. Marathoners and ultra-marathoners need to pay more attention to sodium intake compared to a 10K or half marathon runner.
How do you know if you're getting enough sodium? As a starting point, aim for around 500-700 mg of sodium per liter of fluid that you're drinking. Some athletes may need more sodium during higher, high altitude workouts (talk to a dietitian to figure out your needs).
If you're using a sports drink, you can figure out how much sodium it provides per liter and see if you're meeting this amount.
If you're relying on salt tabs, you can also use this range as a reference when thinking about how much water you're drinking per hour and matching up the correct number of salt tabs to that.
When using salt tablets or electrolyte tabs, though, do not exceed the recommended amounts on the package. Also, remember that any salt tab use may cause a bit of stomach upset.
Below is an overview of some of the different options on the market…
Salt tablet options
Disclosure: This section contains Amazon affiliate links. As an affiliate, I earn a commission on qualifying purchases.
Even though technically we're talking about tablets, let's look at the broader category of salt products on the market – from tablets to pills to fizz tabs, and everything in between. Here are some common options that athletes like:
1. Salt Stick Caps
Salt stick caps have been around for a while and are a favorite among many old school runners, as they were one of the first products on the market in this realm back in 2006.
The capsules can be taken as-is, or opened and poured into a drink. They recommend taking one capsule every 30-60 minutes.
Each capsule provides:
215 mg sodium
63 mg potassium
22 mg calcium
11 mg magnesium
100 IU Vitamin D
2. GU Roctane Electrolyte Capsules
GU Roctane Electrolyte Capsules are produced by GU, one of the largest manufacturers of endurance nutrition products. This product is formulated with the addition of a little ginger root, which is thought to help prevent GI upset associated with salt tab use.
They recommend taking 1-2 capsules per hour along with at least 3-4 ounces of water. As you'll notice below, this product is a bit lower in sodium compared to some of the others on the market, so you may need to adjust the number of capsules you're taking depending on your needs.
Each capsule contains:
140 mg sodium
0 mg potassium
0 mg calcium
9 mg magnesium
76 IU Vitamin D
3. Base Salts
Base Salts seem to be a new favorite among runners and triathletes. The product comes in little vials that can be shaken onto your thumb and then licked. The company claims that the direct sublingual absorption is less likely to cause GI issues compared to capsules.
They recommend taking 1-3 licks every mile that you run. It's hard to quantify that as far as nutrition facts go, but they do offer up the following nutrition facts for 1/8 of a teaspoon:
290 mg sodium
6 mg potassium
3 mg calcium
12 mg magnesium
4. Nuun Sport Tablets
Nuun tablets easily dissolve in water. You can bring them and pop them into your water bottle when you need extra electrolytes. They come in a variety of flavors and are easy to use.
Each tablet is meant to go into 16-ounces of water and provides:
300 mg sodium
150 mg potassium
13 mg calcium
25 mg magnesium
5. SiS Go Hydro
Another tablet-based product, SiS Go Hydro comes in a variety of flavors and mixes into approximately 16 ounces of water (technically 16.9, since they use a 500ml recommendation).
Each tablet contains:
334 mg sodium (some of the nutrition facts on the site are currently being fixed, but this amount was confirmed with SiS)
(no nutrition facts on the website for potassium, calcium, or magnesium)
6. GU Hydration Drink Tabs
Similar to Nuun and SiS, these Gu Hydration Drink Tabs dissolve into 16-ounces of water to essentially make your own electrolyte drink.
Each tablet contains:
320 mg sodium
55 mg potassium
0 mg calcium
0 mg magnesium
7. Actual salt
You don't have to get fancy here. You can grab a few salt packets the next time you're at a fast casual restaurant, and use those on your next run. Or pack a little pouch of pink Himalayan sea salt.
Either mix a little into your drink to provide extra sodium, or use the (kind of gross but effective) trick of licking the back of your hand, pouring a little on there, then licking again.
Here's the nutrition facts for 1/8 tsp of regular table salt (according to the USDA):
290 mg sodium
06 mg potassium
18 mg calcium
01 mg magnesium
It's difficult to find an exact breakdown for Pink Himalayan Salt, but Healthline suggests it provides around the same amount of sodium with slightly higher amounts of calcium, potassium, and magnesium.
Which is best?
There's no one right answer here. Your choice should depend on preference of administration (i.e. capsule vs. licking your hand vs. adding to a drink), the cost, and which sits best in your stomach.
While some would argue that certain electrolyte blends have better amounts of calcium and magnesium, it's important to realize those amounts lost in sweat are fairly minimal and easy to replace in your everyday diet. For most runners, sodium in the main electrolyte of concern, and potassium may be of concern for certain runners doing ultra-distance races.
Other ways to replenish sodium
Of course, salt tablets for runners aren't the only way to replenish sodium during or after a race. Here's a few other ideas:
Salty snacks: Foods like pretzels or salted potatoes can be used to fuel during events and provide both carbohydrates and sodium. Everyone tolerates foods differently, so be sure to practice during training with whatever fueling option you'd like.
After a race, you can also eat salty snacks to replenish what was lost. Pita chips and hummus, pretzels with peanut butter, beef jerky, and salty trail mix are all great options.
Sports drinks: Carb-rich electrolyte drinks like Gatorade, Powerade, or Skratch can be a good option for long races or training sessions. These drinks provide carbohydrates for fuel, fluid for hydration, and electrolytes (including sodium) to replenish those you're losing.
If you're a heavy salt sweater, there are options on the market that deliver higher sodium levels, like Gatorade Endurance.
Keep in mind that depending on how long you're exercising, drinking only a sports drink for both your fuel and hydration source may cause you to either underfuel or overhydrate. This tends to be an issue for runners who are out there for more than 4 hours.
Taking in too much fluid by overhydrating puts you at risk for hyponatremia, which is when your blood sodium levels become diluted. Remember, this can happen even when you're drinking a beverage with sodium (though it's less likely compared to drinking a beverage without sodium).
Electrolyte drinks: Similar to sports drinks, electrolyte-only drinks provide fluid and electrolytes – but unlike sports drinks, they do not provide carbohydrates. These can be great if you want to use an alternative fuel choice for your carb needs, but still want to make sure you're getting adequate electrolytes too.
Sports fuel (gus, blocks, etc): Sports fuel products vary widely in the amount of sodium that they provide. You'll need to check the labels to see how much sodium is in each, and whether the amount you're taking in will meet your needs. In most cases, you'll also need an electrolyte drink to take in alongside these fuel products to get enough sodium for longer training runs and races.
The Bottom Line
During runs lasting longer than an hour, runners should take in sodium in addition to fluids and carbohydrates. That sodium can come from real food, sports nutrition fuel products (like sports drinks or energy chews), or salt tablets/capsules/shakers. Choose an option that sits well in your stomach and works for your body. If you choose to use a salt tablet, be sure not to exceed the recommended dosage.
Share: Do you use salt tablets or other salt products during a run? What's your favorite option?
PS – Don't forget to pin this post to refer to later!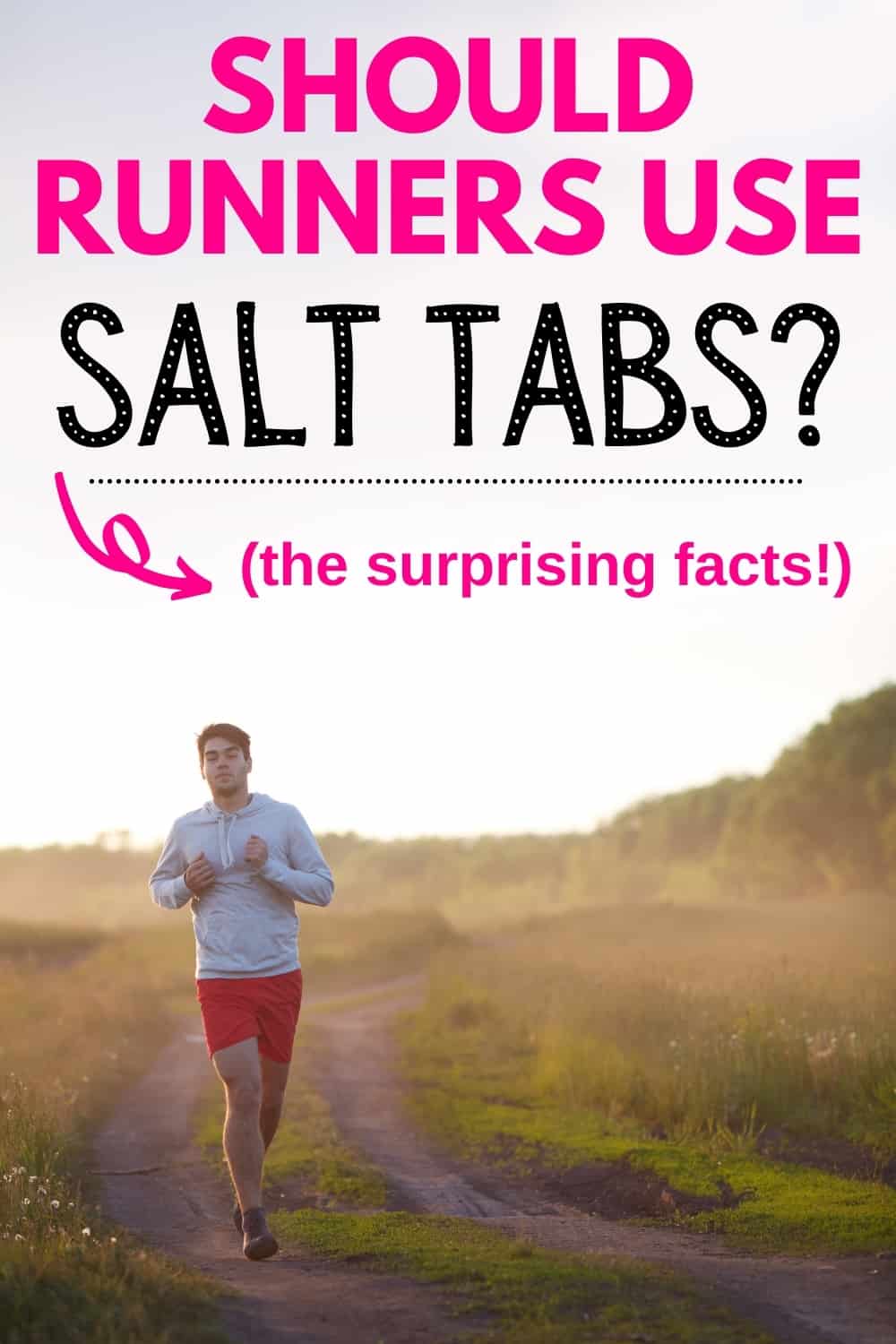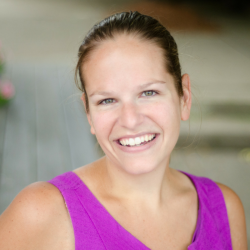 Latest posts by Chrissy Carroll
(see all)