Nothing says rustic comfort food more than bowl of homemade sourdough pasta. Made with just a few simple ingredients (including sourdough discard and whole wheat flour), this pasta has a tangy and hearty bite that tastes amazing with spicy sauce.
Disclosure: This post was sponsored by Otamot Foods. As always, all opinions are my own.
What is sourdough pasta?
Sourdough pasta is simply a homemade pasta made with the addition of sourdough starter discard. Why mix the starter into a pasta recipe? A few reasons:
1) Reduces food waste. I don't know about you, but I'm always looking for new things to make with the discard – it feels so wasteful to just toss it when I don't need to bake a loaf of bread that week.
2) Adds a nice tangy taste to the pasta, which means you get more flavor variety in your pasta meals. The hearty pasta in this recipe holds up well to a spicy or robust tomato sauce (which is why I use Otatmot sauces for this recipe!).
3) Potential nutrition benefits. While the research is very limited, one study suggests that pasta made with a whole wheat sourdough starter has a lower level of phytates ("anti" nutrients that compete with mineral absorption), a higher level of phenolic compounds (which have beneficial effects on health), and higher antioxidant activity compared to a traditionally prepared pasta (source). Another study found that sourdough increased the resistant starch in the pasta, which is good for gut health (source).
My initial thought was that the pasta would need a long resting time for the sourdough starter to take any action, but that first study only included 20 minutes of dough mixing prior to cutting (and in this study, pasteurizing) the spaghetti. That is fascinating to me that there could be some possible benefits with only short amounts of time for the starter to act on the other flour that's mixed in!
Of course, this is still very speculative. However, even if this was found to not be true, the other two benefits still very much apply.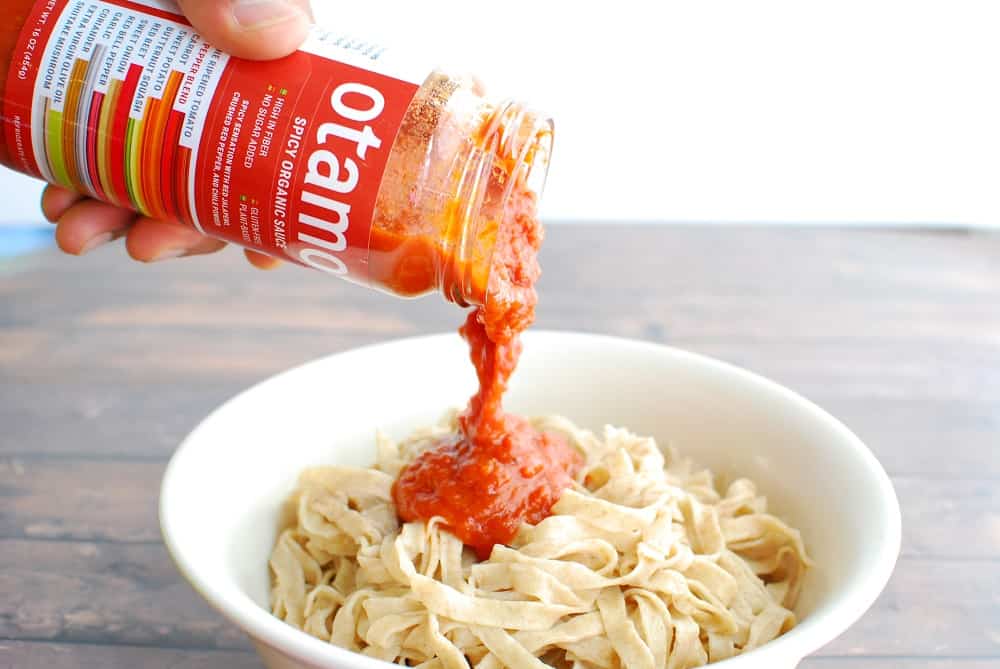 How to make homemade pasta
Making homemade pasta is easy, it just takes a bit of time. I find it simplest to make with a stand mixer and accompanying pasta attachments, but you can also make it by hand. Here's an overview of each, with helpful photos for the stand mixer instructions. You can find more complete instructions in the recipe card at the bottom of the post.
Using a Stand Mixer:
You'll combine your starter, eggs, olive oil, salt, and about 1 cup of flour in the mixing bowl for your stand mixer.
Use the dough hook attachment to start combining the ingredients. When well combined, add in about 1/4 cup flour at a time. When the dough is elastic and firm, let the mixer knead it for another minute or two and then it's ready to rest. Here's what it will look like: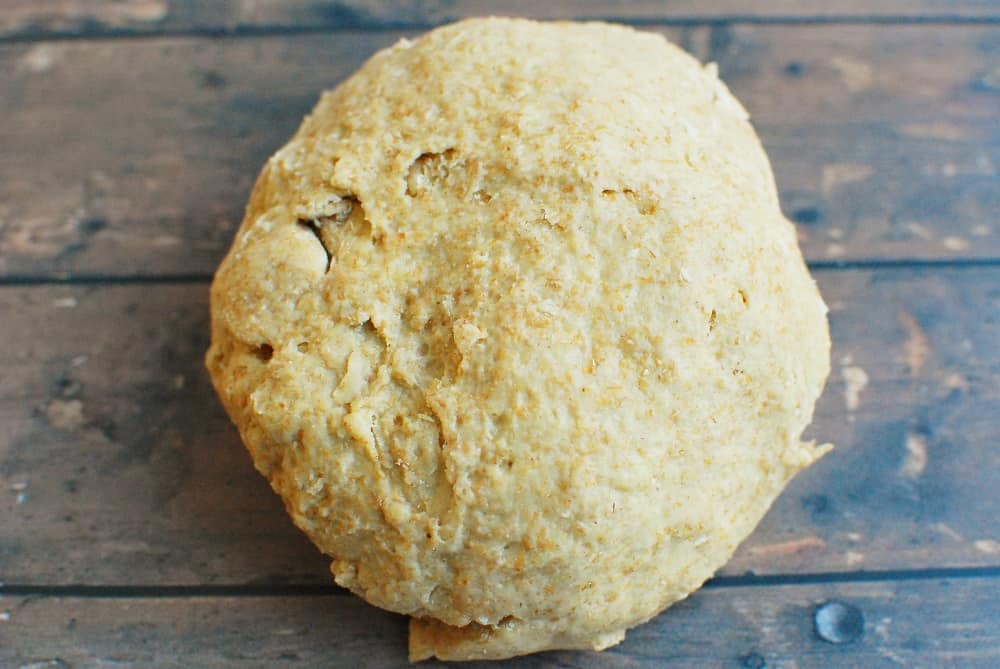 Wrap that up in plastic wrap for an hour. Then, roll it into a log and cut it into six pieces like this: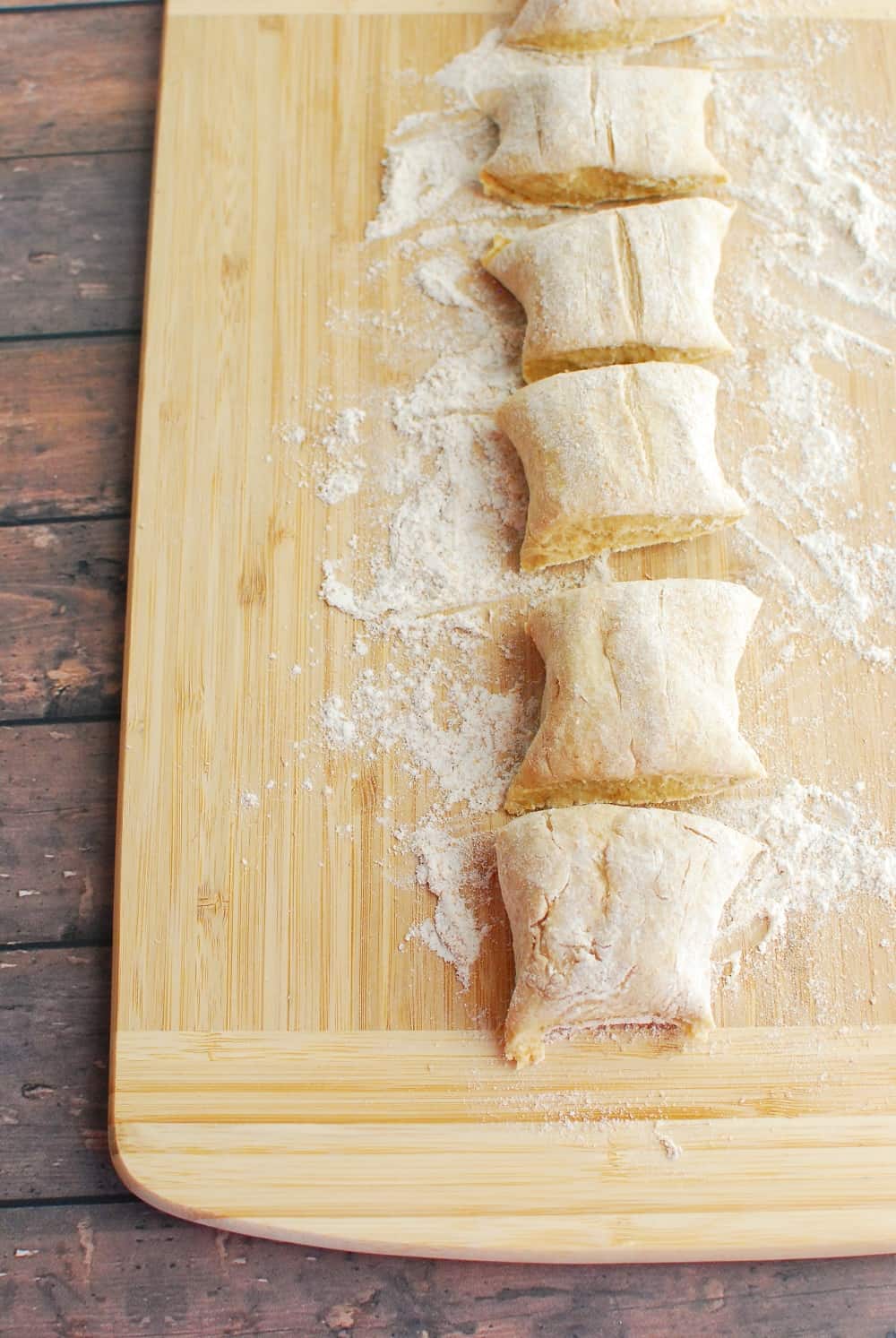 Flatten each of those pieces out into a rectangle. Use the pasta rolling attachment on your stand mixer to roll out each, flouring the pasta in between. Continue to adjust the settings until it reaches the right thickness.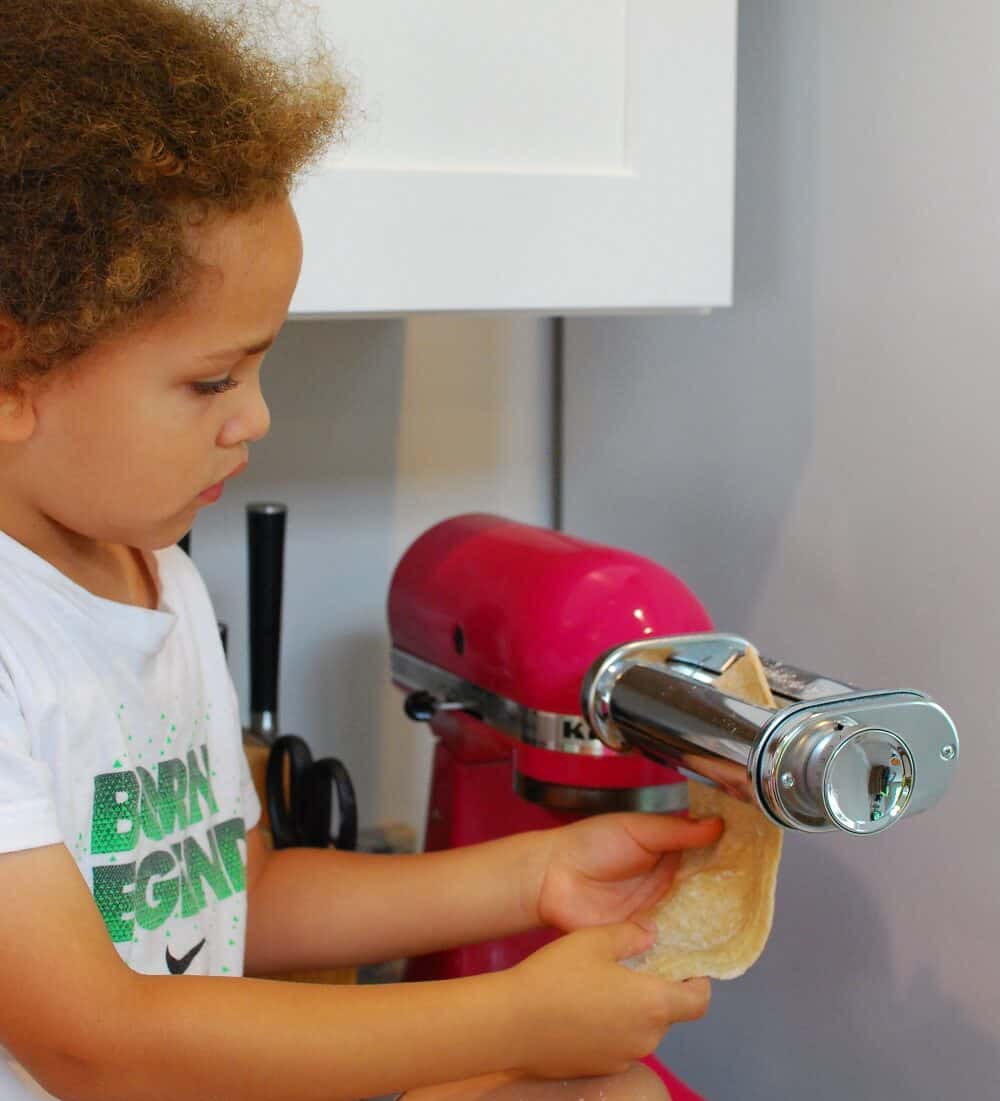 Next, change the attachment to the pasta cutter attachment. Feed your dough through to make fettucine or spaghetti.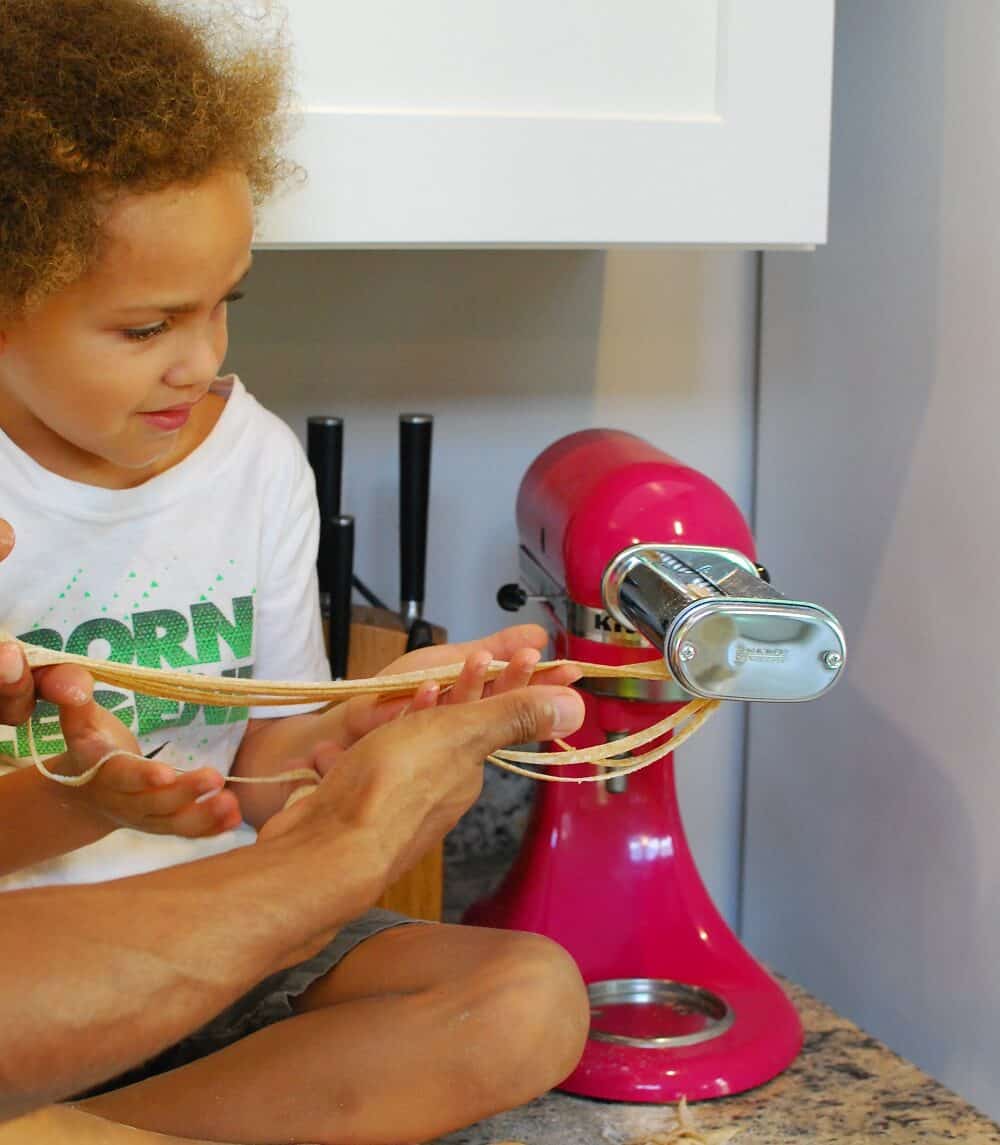 Place those noodles on lightly floured baking sheets or a drying rack and let 'em dry for a bit, and then they're ready to boil up and eat!
Making by Hand:
If you don't own a stand mixer, you can also make this recipe by hand. I don't have step by step photos for this, but I think you can handle it!
Pour 1 1/2 cups of flour out on your work surface. Form a well and crack the eggs into the well. Whisk them with a fork, then pour in the sourdough starter, salt, and olive oil. Slowly start to incorporate the flour from around the well, kneading by hand, until all the flour is incorporated.
If the dough is too wet at this point, add more flour; if too dry, wet your fingers with water and knead the dough again (that's usually enough moisture to address dryness).
Continue to knead for 5 minutes, and then wrap the dough in plastic wrap to rest for an hour.
For rolling the dough without a pasta maker attachment or stand-alone pasta maker, be sure to flour your work surface and top of your dough very well. Break the dough into several pieces, then use a rolling pin to roll out very thin. Cut the noodles by hand and follow the same drying instructions as above.
Sauce Recommendations
When you're making homemade pasta, you can use any sauce you love – but I have to share my very favorite go-to sauce, which is Otamot. I am obsessed with this sauce since it's made out of just vegetables, olive oil, and seasonings. That's right, there's no added sugar at all in this sauce (woohoo!).
Because it uses additional veggies besides just tomatoes, it boosts the overall nutrition content giving it a great blend of different vitamins and minerals. For example, a half cup serving has 15% of your daily potassium needs (key for muscle contractions and regulating blood pressure) and 25% of your daily Vitamin E needs (a helpful antioxidant).
There's also no dairy, which is great for anyone with a food allergy or following a vegan diet. I know back before my son outgrew his dairy allergy, it was actually quite tough to find good sauces without dairy!
The thick texture and robust flavor of Otamot sauces just works so well with this tangy sourdough pasta recipe.
When I'm eating it as a cozy weekend meal with the hubby, I veer towards the spicy sauce. You know how normally jarred pasta sauces that are labeled spicy end up being super mild? Not this one – and that's a good thing! When I want spice, I want SPICE, and this sauce has got it. It's made with a blend of three different hot peppers–red jalapeno, crushed red pepper and chile powder – to give you a kickin' bite.
If I'm making this as a family dinner for my kiddo, or eating it the night before a long run, then I go with the Essential sauce instead. Still packed with flavor, but not spicy and perfect for kids.
I highly recommend grabbing a few jars to try with this recipe! You can find their sauces nationwide at Whole Foods, or you can purchase directly on their website here.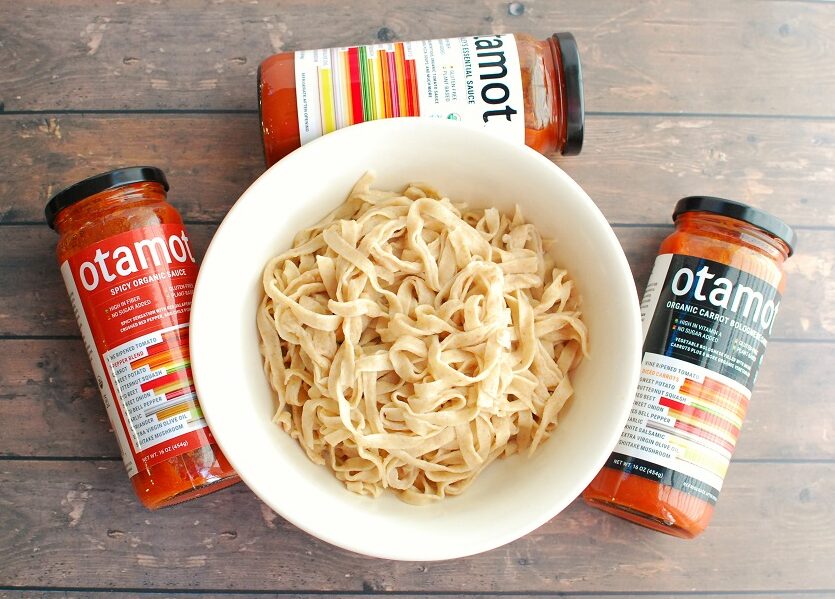 Recipe FAQ
Here are some helpful answers to questions that may come up as you make this recipe:
How much sauce should you use per serving of pasta?
I find this comes down to personal preference. For most people, about 1/4 to 1/2 cup of pasta sauce per 1 cup of cooked pasta is the correct amount. I like my pasta saucy, so I veer towards at least 1/2 cup.
What about 00 flour? I heard you were supposed to use that for pasta?
In other countries, flours are assigned numbers based on how they're ground. The grading system includes 00, 0, 1, and 2. The 00 flour is very fine with the bran and germ removed, and is often used for pasta making. The 2 flour, on the other hand, would be a coarsely ground whole grain flour where the germ and bran are still intact in the grind. Most 00 flour in the United States is similar in protein content to regular all-purpose flour, but 00 is just slightly finer and silkier than all-purpose flour.
In this recipe, I want a bit of heartiness to the pasta from a whole grain flour – both for texture purposes and health reasons. As such, I use a blend of whole wheat flour and all-purpose flour.
If you prefer, though, you could certainly use all-purpose flour alone, or try this recipe with just 00 flour if you're looking for a light bite to your pasta.
How do you store this pasta?
If you aren't planning to cook the pasta that day, you can let it dry for about an hour. Then, place it in the refrigerator to use the next day, or freeze it to use within the next month. If freezing, I recommend first placing it on a baking sheet in the freezer for about 20 minutes, then transferring to a large freezer-safe bag. This prevents the noodles from sticking together.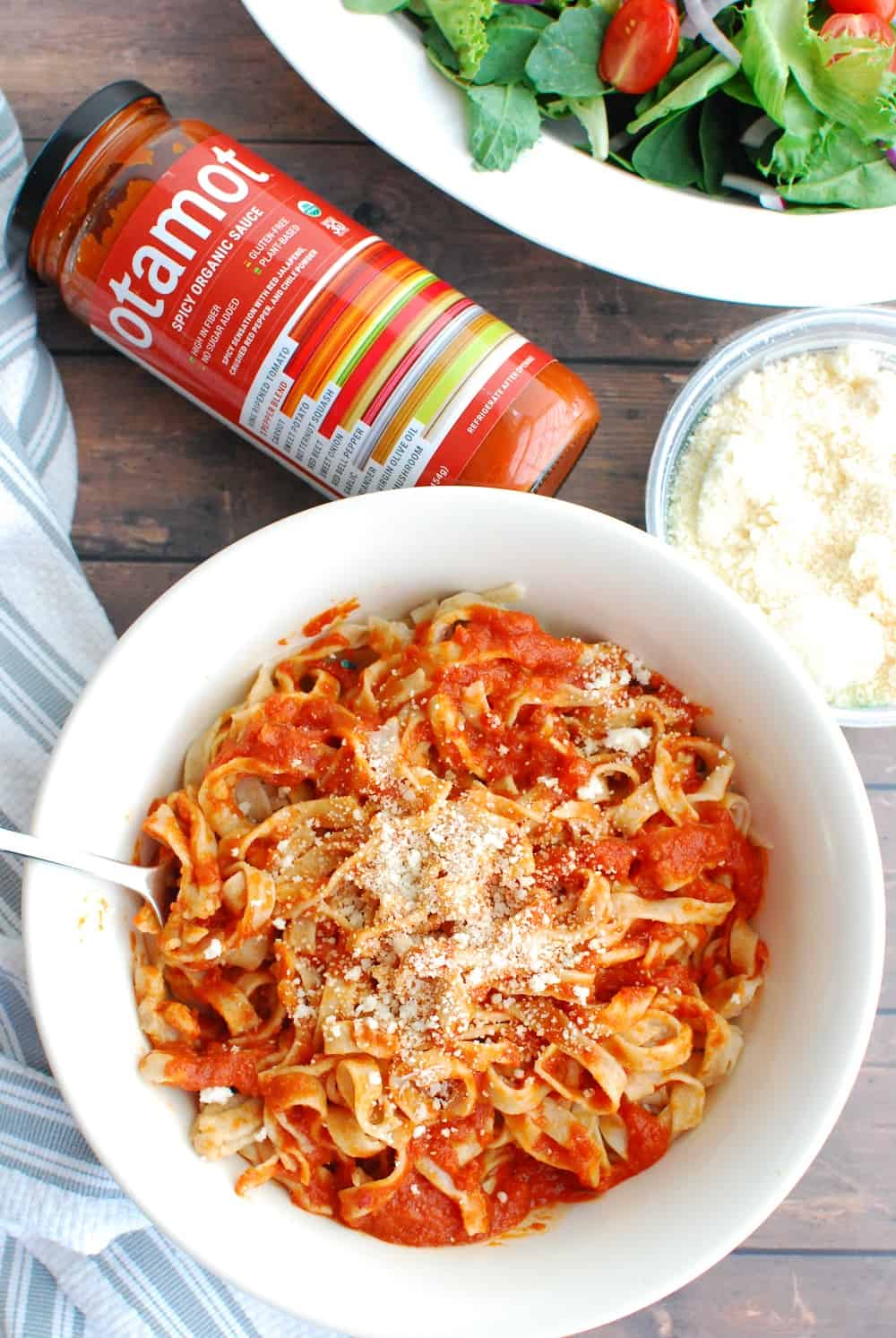 OK, time to get pasta makin'! I hope you enjoy this recipe as much as my family does. If you get a chance to try it, I'd love for you to leave a recipe rating or comment below.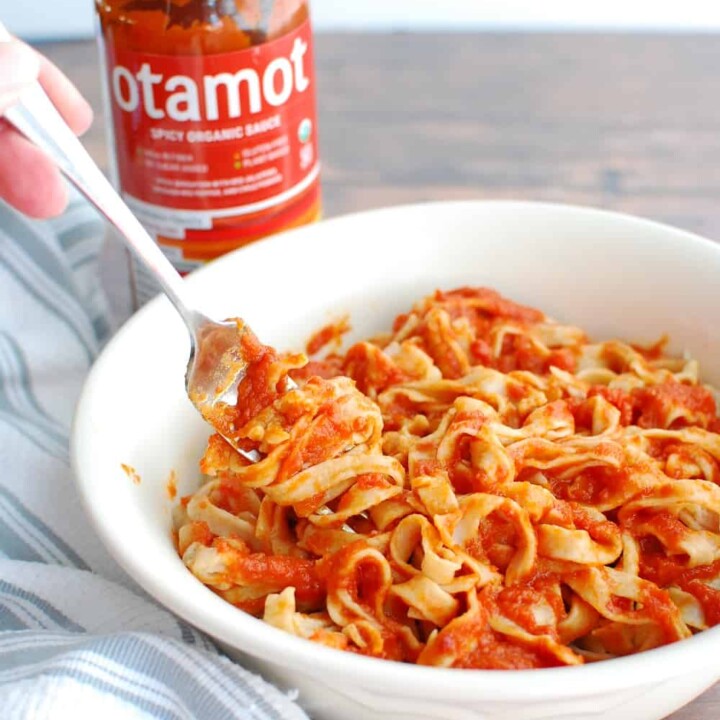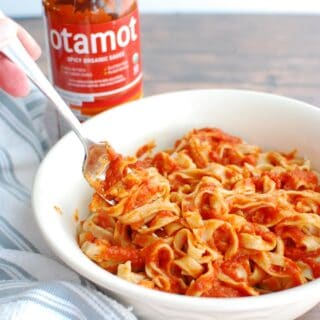 Homemade Sourdough Pasta with Spicy Sauce
Nothing says rustic comfort food more than bowl of homemade sourdough pasta. It's got a slight tang and a hearty bite that you'll love with spicy sauce.
Ingredients
For the pasta:
1

cup

whole wheat flour

1

cup

all-purpose flour

1/2

cup

sourdough starter discard

2

large eggs

1/2

tbsp

olive oil

½

tsp

salt
For the sauce:
1 to 2

jars of Otamot Spicy Sauce

(or Otamot Essential Sauce for a non-spicy meal)
Instructions
In a small mixing bowl, combine the whole wheat flour and the all-purpose flour.

Place the sourdough starter discard, eggs, olive oil, salt, and 1 cup of your flour blend in a stand mixer with the dough hook attachment. Turn on and let ingredients combine. Slowly add more flour a quarter cup at a time, until the dough forms into an elastic but firm ball. You may not use all your flour – that's normal. The dough should not be sticky, but should also not be dry and falling apart.

Let the mixer continue to "knead" the dough for a minute or two by keeping it on a slow speed. Then, wrap the dough with plastic wrap and let sit at room temperature for an hour.

Lightly flour your work surface (using any extra flour from your blend, or pulling some from a bag of flour). Roll the dough into a log and cut into 6 pieces. Flatten each of those pieces by hand into a rectangle shape.

Use the widest setting on your pasta maker attachment (or stand-alone pasta maker) to roll the dough into thin sheets. Fold and roll through again, then lightly flour and continue to move through the settings one-by-one until you get to the correct thickness (on my KitchenAid pasta roller, I stop at a 4 or 5 to make fettucine or spaghetti).

Use the pasta cutter attachment on your stand mixer to cut into fettucine or spaghetti, or cut by hand into the noodle shape of your choice.

Lay the noodles on floured baking sheets or hand them on a cutting rack to dry for 15 to 20 minutes.

Meanwhile, bring a pot of water to boil. When ready, add the noodles to the water and boil for 2-3 minutes. Drain, toss with sauce, and enjoy!
Notes
This recipe makes approximately 6 cups of fettucine pasta (give or take). One serving is about 1 cup cooked.
I used about 1 2/3 of my flour mixture when I made this, and that's what the nutrition facts below are based on. If you use more or less, note that it will slightly change the nutrition facts.
Nutrition analysis (approximate per serving, pasta only without sauce): 175 calories, 3.5 g fat, 1 g saturated fat, 220 mg sodium, 29.5 g carbohydrate, 2.5 g fiber, 6.5 g protein, Calcium: 2%, Iron: 10%, Vitamin D: 4%, Potassium: 3%
Nutrition analysis (approximate per serving, WITH 1/2 cup sauce): 285 calories, 8.5 g fat, 1.5 g saturated fat, 670 mg sodium, 44.5 g carbohydrate, 8.5 g fiber, 9.5 g protein, Calcium: 6%, Iron: 10%, Vitamin D: 4%, Potassium: 18%
Nutrition
Share: What do you like to make with your sourdough discard? If you tried this pasta with Otatmot sauce, what did you think?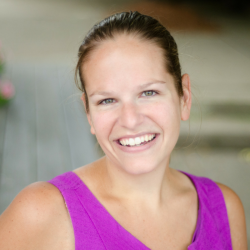 Latest posts by Chrissy Carroll
(see all)