!My husband and I are polar opposites when it comes to running.  He's a sprinter and excels at short distances – it's why he was a star athlete in high school and college for sprints, hurdles, and jumps.  I, on the other hand, am a slow and steady runner.  But it's what I like and what makes training for long distance races enjoyable for me.
Today, Janelle from Run With No Regrets is here to share her take on pacing for runners – and some tips on why slowing down a bit might just make you a stronger distance runner in the long run!  Enjoy…
—
Many of us as children read the fable about The Tortoise and the Hare.  When the Tortoise challenged the Hare to a race, the Hare was overconfident in his own abilities, so much that he took a nap during the middle of the race.  But while Tortoise was very slow, he was consistent and steady and was able to beat the Hare at his own game!
While we all admire the Tortoise in this story, for some reason the same doesn't apply when it comes to racing in real life.  The idea that you have to be fast to be a good runner is a myth that needs to be busted once and for all! Here are some reasons why you should slow things down to become a better runner, especially if you are a beginner!
Get to Know Your Body
When you first start running, let's be honest:  It's hard!  You're learning how to breathe, how to find your rhythm, and you're putting your body under a new type of physical stress.  Have you ever gone for a speedy run and got lost in the moment, only to realize once the run is complete that you're hurting?  If you start out running too fast, you could easily ignore potential problems.
When you're running like the Tortoise, pay attention to these few things:
How is your breathing? Is it heavy?  Shallow?  Uneven?  That's an easy sign that you should probably slow down.
Are your arms moving to your sides or crossing the midline of the body? If you do the latter, you can be throwing off your running form.
Are you landing comfortably on your feet with each step? There are different ways to strike the ground when you run:  forefoot, midfoot and heel striking.  Find out what works best for you.
Do you feel pain in your back, knees, hips, or feet? If these pains get progressively worse, don't ignore it!
Getting to know your body's strengths and weaknesses will help you to become a better runner, and you can take steps to make sure you're at your best!
Prevent Overuse Injuries
If you're a new runner, it can be so exhilarating to see yourself improve and get faster over time, but don't overdo it!  The biggest cause of running injuries is running "too much, too fast, too soon".  When I first started running a few years ago, I signed up for 5 races in 7 weeks.  What happened next?  Runner's Knee and several weeks of physical therapy.  Trying to do too much definitely derailed my training.  I was unable to train for the Philadelphia Marathon that year and ended up with my worst half marathon race ever.  I truly believe that if I slowed things down and was more patient like the Tortoise, things would have turned out so much differently!
It's great to work on your speed, but as a beginner, limit your speedwork to once every 1-2 weeks and spend more time building your endurance with slower runs.  Also, make sure you incorporate cross-training like weight training, bicycling, or yoga while you're training to prevent injuries.
Run Farther and Longer
One of the greatest benefits of running slower is that you will find it much easier to run longer distances.  And the farther that you run, the greater your endurance will improve along with your confidence!
If you start out your long run like the Hare, you can easily burn out and get discouraged.  As you get to know your body better, you'll learn when to push yourself and when to hold back – it just takes time!
Cross the Finish Line Strong on Race Day
If you're incorporating slow, easy runs throughout your race training, it will pay off in dividends when race day finally arrives.  You can always look for a training plan online or consider working with a running coach to make sure that you're running the right pace to have a successful race!
So don't ever be ashamed if you are a "slow runner".  The Tortoise had a happy ending and so can you if you follow these few simple steps!  Being too impatient just to be "fast" could have dire consequences and set you back…learn from the Hare!
About Janelle:
My name is Janelle and I blog at Run With No Regrets!  Run With No Regrets is a space for runners, fitness junkies and those committed to living a healthy life, all with a positive attitude!  I share tips on race training, injury prevention, healthy eating, and lessons learned with new fitness challenges.  You can sign up for my newsletter, or find me on Instagram, Facebook, Pinterest, and Twitter!
Share with me:  Have you ever slowed down your pace while training?  Did you see the benefits?  Share your thoughts below!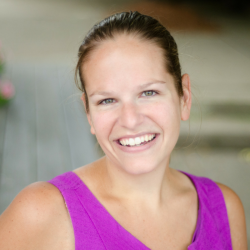 Latest posts by Chrissy Carroll
(see all)