Contemplating training for your first triathlon? Guest blogger Lauren from Lauren Runs is here today to share her top 3 tips that she wishes she knew prior to completing her first race.
—
Hi! Thank you to Chrissy for allowing me to take over her blog today! My name is Lauren and I blog about triathlons and running over at Lauren Runs. I'm currently training for Ironman Wisconsin (in my 5th year of doing triathlons) and love sharing my experiences and helping new people get into the sport!
So in thinking back on my first triathlon experience, I want to share with you some tips I wish I knew before my first triathlon!
Tip #1: Know your bike and how to use its gears.
It doesn't matter what type of bike you ride (I was on a hybrid mountain bike), you have some gears that you can use to make things easier! I had taken the big tip to put my bike in an easy gear to start the race (you spin faster and get blood flowing to your legs) but forgot to shift back to a harder gear once I got settled in! I was wondering why everyone was speeding past me so much more quickly, while I was turning my legs like a hamster on a wheel. Once I shifted up to my "big ring" in the front — with only 4 miles to go on the bike, I felt much more in my element.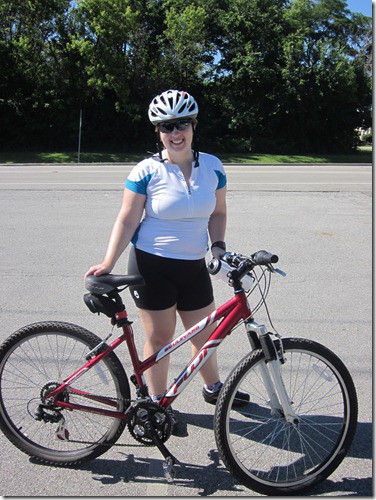 Tip #2: Practice an open water swim.
I know not everyone has easy access to open water, but it's critical to practice swimming outside in an open body of water before race day. This is an important part of your "race-specific preparation," one of the final phases of your training process. Many races will offer practice swims in the water where the race is, either in the weeks leading up to the race or at least the day before. Take them up on this whenever possible! Sometimes water is different than what you're used to. I recently did my first triathlon in salt water, and it was good for me to feel how my body floats differently in salt water, what the taste was like, and also get a feel for any currents going on in the water.
Tip #3: Find Your Team.
Training and racing with a team or a club to train and race with is incredibly rewarding. I am a member of two different clubs and love being a part of each of them. In one I train harder than I ever have before, and am motivated by my elite team members to push myself in training every day. In the second I am surrounded by friends and others interested in the sport. I can always find a training buddy, and am able to give back in the sport by sharing my experiences with others. Want to look up a club in your area? Check out USA Triathlon's listing of triathlon clubs to find out what clubs are near you!
Triathlon is an amazing and rewarding sport. I love that there's always something I can learn, something I can work on improving. If I get tired of working at getting faster in my run, then I can focus on the swim or the bike.
I hope you enjoyed these tips and that they help you in your first or future triathlons this summer!
Share with me: What are your tips for first time triathletes? Or if you're a beginner, what are you most nervous about?
About Lauren:
Lauren Wong blogs at LaurenRuns.com, where she shares her escapades in training and racing for triathlons and running events. Lauren's first run was around the block in a pair of grungy Vans when she was in middle school. Following that she's had fits & spurts of running, until a few years ago when she started chronicling her running experiences and training at LaurenRuns. Since then she's gone on to run 5 marathons and 10 triathlons, and completed her first Ironman triathlon in 2014. She likes swedish fish, red wine, healthy eating and trying new foods.
For more real-life tips like these, follow Lauren here:
Subscribe by Email
Facebook: Lauren Runs Chicago
Twitter: @runlaurenrun
Pinterest: @runlaurenrun
Instagram: @laurenruns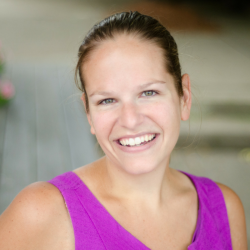 Latest posts by Chrissy Carroll
(see all)