You've just signed up for your first race, and you're getting into the swing of things with training. Woohoo – go you! Then those race day questions and worries start popping into your head, including that age-old inquiry: "Can anyone tell me what to wear for a triathlon?! Am I going to need fancy gear? Do I have to buy something new?"
Take a deep breath, my friend. There's no need to freak out over your triathlon clothing.
As far as what you'll wear for the bulk of the race, there are two main options to choose from:
Option 1: Triathlon Suit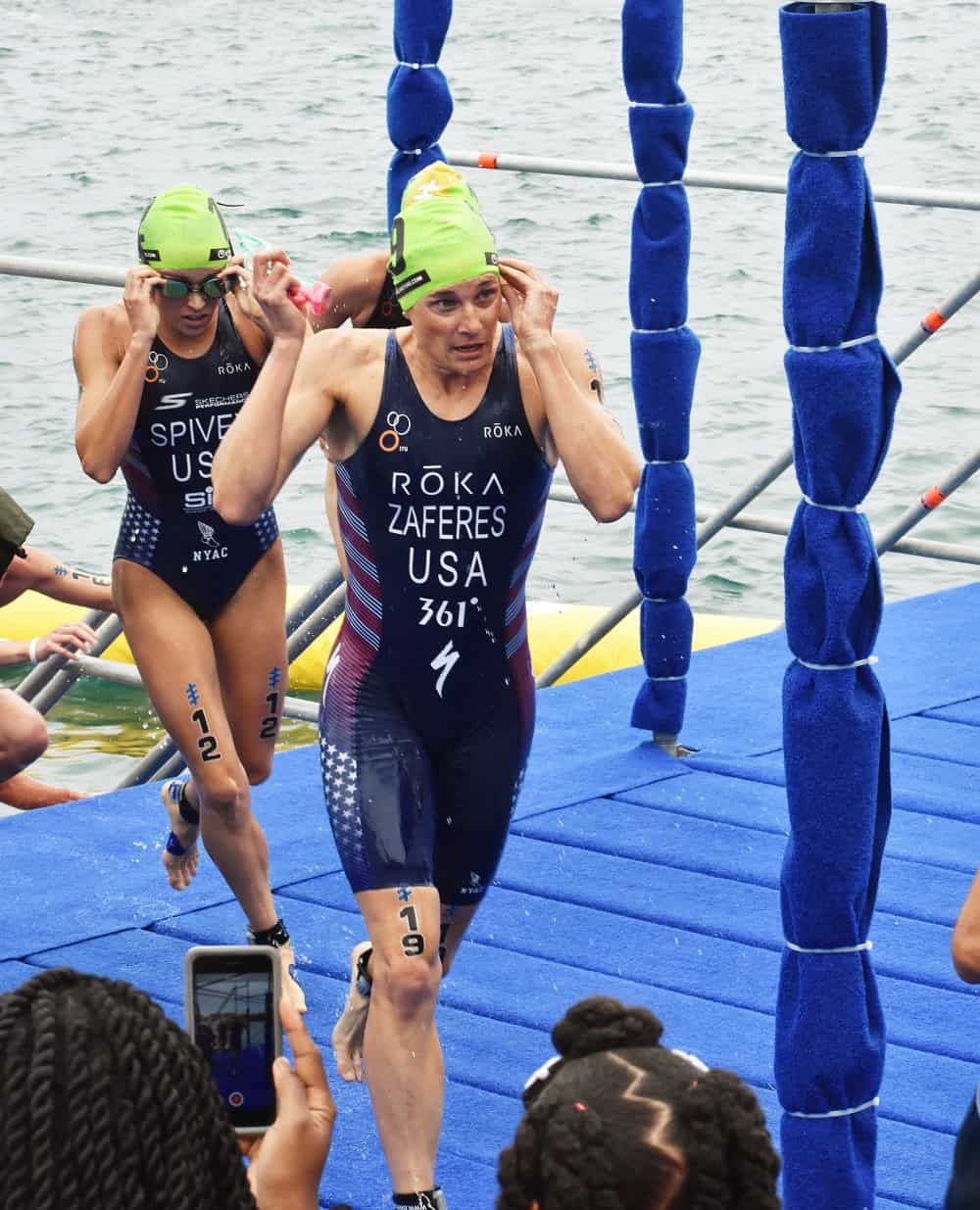 Most triathletes will race in tri suits. These are one-piece or two-piece choices of attire that are designed for – you guessed it – triathlon.
You put on your tri suit before the race and complete all three legs of the event in it. The tri suit is designed with quick drying fabric that will not retain much moisture as you move from the swim leg to the bike leg.
Tri suits also include a thin pad in the shorts for the cycling leg. It's not as thick as traditional cycling shorts, but it's enough to add a bit of comfort for the cycling portion.
One-piece vs two-piece tri suits
The choice is yours! A one-piece suit is a single clothing article that's essentially like a tank top & short jumpsuit, with a zipper in either the rear or front. A two-piece tri suit, often called a tri kit, has a separate top and short set. There are pros and cons to each:
One-piece suit:
With a one-piece, you're likely to deal with fewer issues of clothing riding up or falling down.
Smoother and tighter on the body = more aerodynamic.
Harder to use the bathroom.
Two-piece suit (tri kit)
Tops and bottoms may ride up or sag down.
Makes bathroom stops much easier. This is more of a concern in a longer race as opposed to a shorter race, but may be something to consider for sprint races if you know you're prone to frequent porta-potty runs.
You can mix and match options, and you may be more likely to actually train in your gear – helping you feel prepared for race day.
As you can see, either option can work depending on your preferences and race distance!
Option 2: Bathing Suit + Extras
Here ye, here ye – no one says you must do a triathlon in a tri suit. If you are just getting started and are testing the waters in the sport, you may not want to drop another hundred dollars (or likely more) on gear just yet.
That's completely fine. Instead, you can race in your swimsuit.
Sometimes people worry about looking like a newbie in a swimsuit, but I promise – google "elite female triathlete race" and you'll see women racing in swimsuits. In fact, here's a photo I snapped of some elite female athletes at World Triathlon Bermuda earlier this year: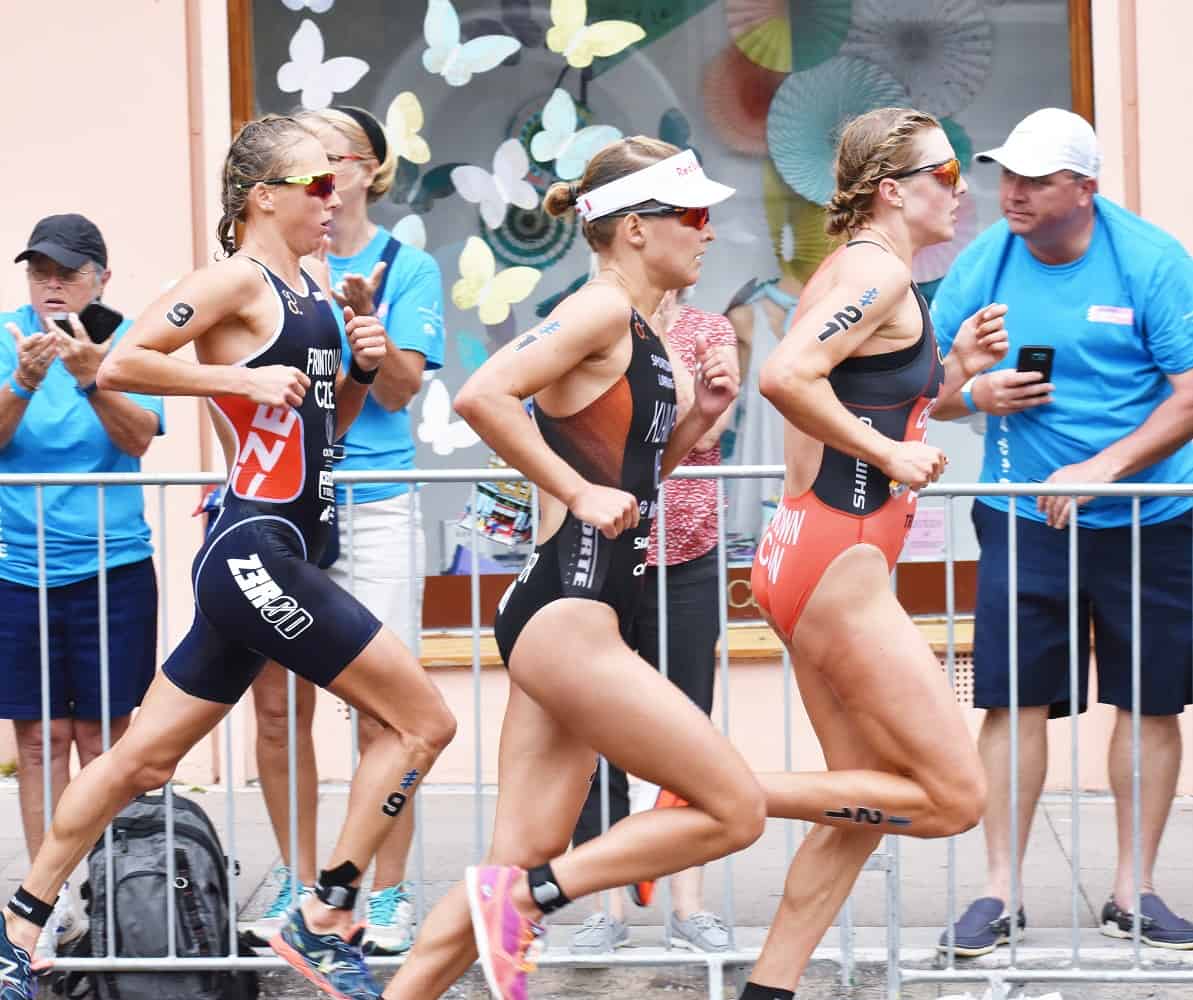 I'm pretty much at the opposite spectrum of elite 😉 , but I still race in my swimsuit today and I've been doing this for 10 years now.
There are a few things to consider when you're choosing this option:
Women:
I recommend an athletic style one-piece bathing suit. Many women will feel most comfortable wearing a sports bra underneath their swimsuit, since you'll be wearing this throughout the race. (I know I personally need the support during the run portion!).
After the swim portion of the race, when you get to the first transition, you can throw on a pair of shorts over this suit, and this is what you'll be cycling and running in. You can also throw on a shirt if you'd like, though it's not necessary if you've got a full one piece on.
Keep in mind some races have rules about no exposed torsos, so you generally want to skip the bra-top style two-piece swimsuit, and stick with a one-piece if that's the case.
Men:
Double check the race rules regarding exposed torsos. For example, ITU events are pretty specific that the torso must be covered for the entire event. However, most local triathlons don't have such rules, and even if they do – they're specific to the cycling/running portion, and almost never include the swim.
For most events, men would be just fine wearing an athletic style suit (like a speedo suit or tight swim trunks) for the swim. Then when you get to first transition, you throw shorts on over your suit and also throw a shirt on. Then you're good to go for the rest of the race.
Pros and cons to wearing a bathing suit for a triathlon
Obviously there is more involved in transition when you choose the bathing suit route, as you need to add attire at T1. With a tri-suit, you're ready to roll for the entire race.
Certain swimsuits may also cause chafing as well during the bike/run portions – a risk that's more likely compared to tri suits which are designed for all three sports. However, this can easily be tested out in advance of race day. Just practice running in your swimsuit and see if you have any problems. If not, there's nothing to worry about.
The benefit is saving money on race gear – especially if it's your first race and you're unsure about competing in the future. I did my first triathlon using the bathing suit method, and have gone on to do another 10-15 the same way. I honestly find it simple and low-key, and it's great for saving money.
[Tweet "Wondering what to wear for your first triathlon? Find the complete guide here!"]
What about the wetsuit?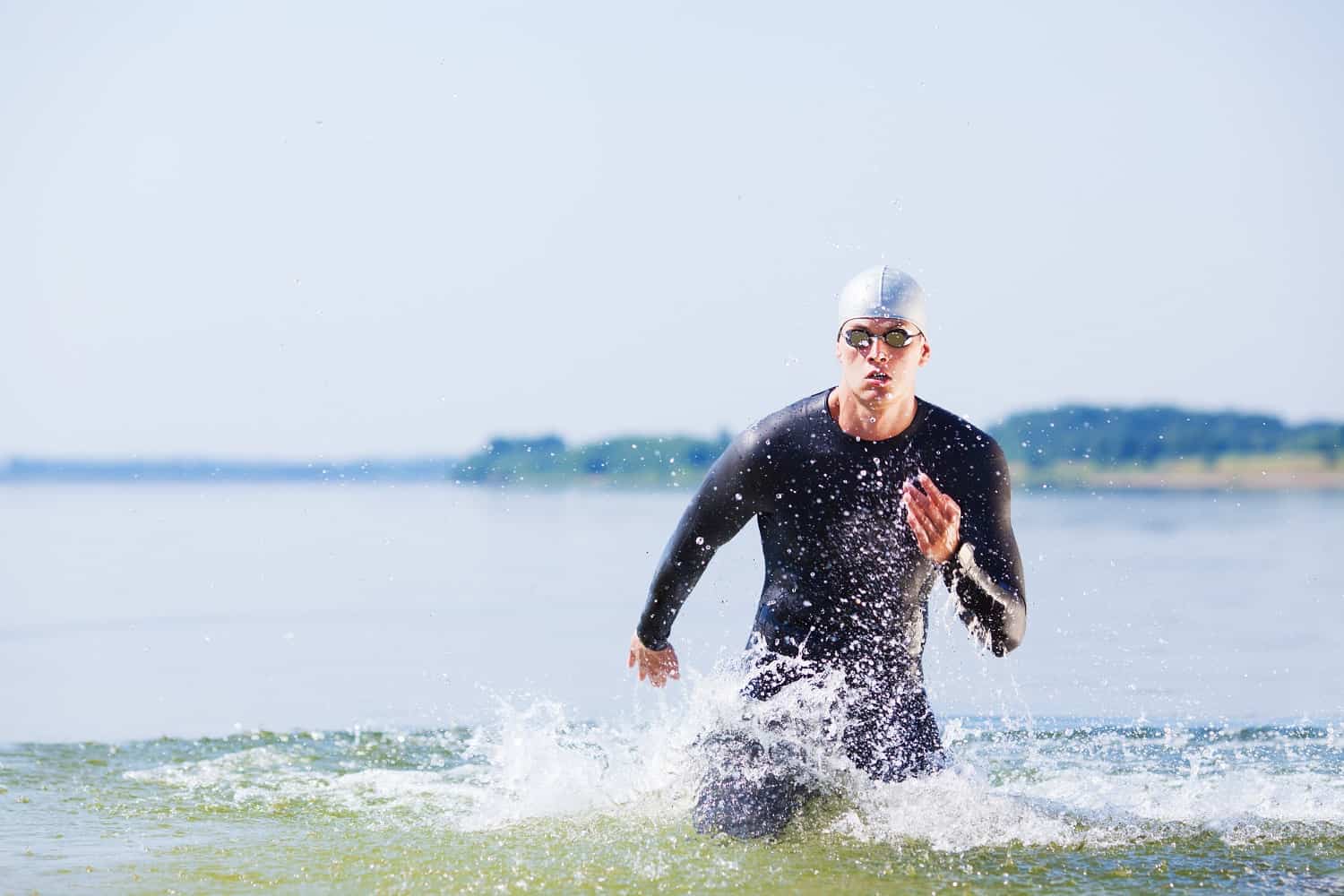 Wetsuit rules are governed by water temperature. Your race director will let you know race day morning if wetsuits will be mandatory (you have to wear one), allowed (you can wear one if you want), or prohibited (you can't wear one).
For most races, especially up where I am in the Northeast, wetsuits will be allowed. If you're racing in an area where it's unlikely that the water will super cold, it will probably be the same way for your race.
If you do decide to race in a wetsuit, you'll wear this over your tri suit or bathing suit. Then you will strip off your wetsuit in transition, after you exit the swim. I recommend practicing taking your wetsuit off a few times before race day so you can figure out the best way to do it.
Keep in mind: in these situations where wetsuits are allowed (but not mandatory), you don't have to wear a wetsuit. If you feel comfortable and strong during open water swims, you can simply swim in your bathing suit or trisuit. Wetsuits add buoyancy and warmth, but they are by no means a requirement if you don't own one and don't want to buy one (yet).
I did my first race without a wetsuit, and have done a few short sprint distance events without one when the water was comfortable. For early season events and longer swims, I prefer racing in my wetsuit.
What about other triathlon clothing and gear?
Aside from what you're physically wearing on your body, there's a few other must-have triathlon clothing items for race day:
Bike helmet – you can't race without it. (Obviously, you need your bike too).
Shoes – if you're new to the sport, you may only have running shoes that you'll both cycle and run in. That's fine! If you've been cycling for a while, you'll probably have a pair of cycling shoes for the bike leg, and then switch over to running shoes during your second transition to the run leg.
Goggles – Don't make the mistake I did in my race last weekend and forget about these!
Those are the absolute essentials. There may be some other gear that's definitely nice to have though, like sunglasses and socks. (Side note, socks are a hot topic in triathlon – most elites skip over them. I definitely prefer to run with them though!).
This packing list might help give you some ideas about any other gear you'd like to have.
A few last dos and don'ts when it comes to what to wear for a triathlon:
–> Do practice all three sports in whatever you plan to wear. The last thing you want to do is get to race day and realize that you never tried running in your new trisuit, and now the shorts are too loose and keep riding up.
–> Don't get nude in transition. This is a big no-no and is against triathlon rules.
–> Do pack everything you need the night before. You don't want to forget anything on race day!
–> Don't swim in cycling shorts. That pad will absorb massive amounts of water and you'll exit the swim feeling like you've got a heavy diaper on.
–> Do relax! Don't get too freaked out about what to wear during your triathlon race, and instead just know that as long as you have absolute essentials, you'll be fine.
Share with me: Did this help you with what to wear for a triathlon? Do you feel prepared now? What other triathlon questions do you have? Triathlete friends, did I forget anything?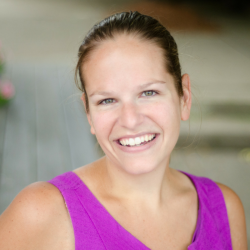 Latest posts by Chrissy Carroll
(see all)